SPOTLIGHTS
Five Quick Rounds 06.10.14: Fight Night 42, Bellator 121, Jones Ain't a Duck, He's Just a Troll, More
Posted by Evan Zivin on 06.10.2014

From Jon Jones finally agreeing to fight Alexander Gustafsson and Vitor Belfort failing a drug test to the results of Fight Night 42 and Bellator 121, 411's Evan Zivin examines these stories and more in Five Quick Rounds!

Hey hey, fight fans, and welcome back to Five Quick Rounds! I am your host, Evan Zivin, and I am more excited than a disqualification for timidity to be here once again!

You remember Pride? Or course you do. You're a fight fan. How could you not? Remember how the referee could issue yellow cards when fighters weren't engaging enough and, if needs be, the dreaded red card, penalizing the fighters by taking away a portion of their purse for not fighting? I always thought Western MMA could benefit from something like that but, as we learned on Friday night, one of the fouls the Unified Rules allows a ref to take points and disqualify a fighter for is "timidity." At the latest event for Resurrection Fighting Alliance, the promotion where Ed Soares gets to pretend he is Dana White, there was a fight between Sam Toomer and Daniel Aguiar where it became obvious that Toomer did not want to fight Aguiar on the ground and Aguiar did not want to fight Toomer on the feet. The fight turned into Aguiar flopping to the ground at the slightest touch and Toomer refusing to follow him down. Referee Mike Beltran took action by issuing warnings and taking a point from Aguiar but, when it appeared the shenanigans weren't stopping, he disqualified Aguiar. The fight was definitely getting really silly at that point so I applaud the finely-mustashioed Beltran for his knowledge of the rules and his bravery to implement them. We need more refs willing to take points and DQ fighters for this kind of nonsense. If you're not going to fight the guy then what are you doing fighting in the first place? Common sense is a limited resource, I guess.

All right, so with fighter introductions out of the way, I have five more rounds of MMA news and opinions to throw at you. This week, we look at Jon Jones finally agreeing to fight Alexander Gustafsson, Vitor Belfort admitting he failed a drug test, and the results of Fight Night 42 and Bellator 121. Let's to it do it.

FIGHTER YOU READY!!!!
FIGHTER YOU READY!!!!

FIGHT!!!!




Round One: Jon Jones Doesn't Want to Fight Alexander Gustafsson, Agrees to Fight Alexander Gustafsson

***TOUCH OF GLOVES***

We start off by talking about the best pound for pound fighter on the planet now that Renan Barao lost (right, Dana?), Jon Jones. The UFC Light Heavyweight Champion successfully defended his title against Glover Teixeira and now everyone is waiting with baited breath to see what his next move will be. Well, other than posting, and then subsequently taking down, another video from Instagram making fun of all the outrage over the fact he likes to fight dirty sometimes. We all know what his next move should be: a rematch with Alexander Gustafsson. The Swede originally fought Jones at UFC 165 last September, taking the fight to the champ like no one had been able to in Jones' entire career. Jones has yet to suffer a legitimate defeat but Gustafsson was the first man to show that, just like every other top fighter on the planet (right, Dana?), Jones is hittable, Jones can be taken down, and Jones can be beaten. There were many who even thought Gustafsson did enough to win that fight. I wouldn't go that far but I was extremely impressed with Gustafsson's toughness and technique and, if anybody deserves another shot at that belt, it's him. The only other fighter who is even an option right now to challenge Jones is Daniel Cormier but DC, who stole Dan Henderson's soul at UFC 173, is in no condition to fight for the title right now due to a knee injury he suffered in training for the Henderson fight. Yeah, it didn't stop him from eating Hendo for breakfast but he'd be smart to heal up before taking a fight with Jones. Besides, I'm sure Jones would love to fight Gustafsson again. The man is a competitor, so why wouldn't he not be interested in another shot at the toughest opponent he has ever faced?

Maybe because he likes to screw with us. I don't know but Dana White revealed early last week that Jones wasn't interested in fighting Gustafsson again. Dana said he had been negotiating with Jones' management to get him to sign the bout agreement that Gustafsson had already signed and that Jones wasn't interested in doing it. Dana said Jones wanted a fight with Cormier instead. Was that what Jones actually wanted or was that just "Troll Bones" at work (note to self: think up a better name for Jones' heel persona)? Maybe he was trying to pull some Anderson Silva shenanigans. Silva was notorious for not being interested in certain opponents before ultimately agreeing to face them. Maybe Jones wanted to see how badly DC wanted a shot, as Cormier said he would postone getting his knee fixed for a title shot. Cormier even made the suggestion of having an interim title fight between himself and Gustafsson while Jones continued his back-and-forth with the UFC. That definitely wasn't going to happen. I mean, what is this, Bellator? So, after a few days of uncertainty over who Jones was going to face and if Gustafsson would get the rematch he deserves, it was announced on Thursday that the rematch has indeed been signed. it will take place on September 27th at UFC 178. It won't be a stadium show in Sweden but it's not like UFC was actually going to take a title fight out there anyway. So congrats to Gus for getting the fight and congrats to Jones for being a man and agreeing to the fight. No matter who wins, it should be another great fight. Also, Cormier is gonna manhandle the winner. It's inevitable.

***HORN SOUNDS***




Round Two: Vitor Belfort Failed February Drug Test, May Prove NAC to be Completely Useless Next Week

***TOUCH OF GLOVES***

Man, what a crazy year Vitor Belfort has had so far. After scoring 3 head kick knockouts to close out his 2013, The Phenom was all set to challenge Chris Weidman for the UFC Middleweight Championship at UFC 173. That changed in late February when the Nevada Athletic Commission (NAC) voted to ban the issuing of Therapeutic Use Exemptions (TUE) for Testosterone Replacement Therapy (TRT) in the state. This had an effect on a number of prominent UFC fighters including Belfort, who for years was a big fan of cheating--I mean, supplementing his body's levels of testosterone to bring them up to what would be considered normal. Regardless of whether you're okay with that or not (you're probably not), the athletic commission was cool with it as long as fighters submitted to and passed random drug tests. Then, the commission decided to not be cool with the practice and all hell broke loose, including Vitor getting pulled from the title fight. Well, he was either pulled or he voluntarily stepped down to give himself time to transition off TRT, even though Belfort disputed that being what happened. There was discussion that Belfort was removed from the fight in response to a drug test the NAC asked Belfort to take on February 7 at the World MMA Awards, the night Brittney Palmer became a 2-time Ringcard Girl of the Year among other things no one cares about. Belfort wouldn't divulge the results of the test, and his lawyer said the results weren't relevant to the situation, so we were left in the dark over what the results were and if they could have been the reason for his removal from the title fight.....until now....

That's right. With the news of Vitor subbing in for Wanderlei Silva against Chael Sonnen at UFC 175 (because Wandy ran from a drug test), Vitor has gone ahead and revealed the results of that February drug test and...yep. FAILED IT! This shouldn't come as a surprise to most since, if Vitor had tested negative, he would have been shouting from atop that Jesus statue in Rio de Janeiro all about it. What happened was, according to Vitor, he was going to apply for a TUE but the NAC requested he take a drug test first. Vitor complied but he had just gotten a dose of sweet, sweet testosterone the day before and, as a result, the test showed his testosterone levels to be above the normal therapeutic range. Vitor said that all tests he has taken since then showed his levels to be in the normal range but none of that mattered since he couldn't get a TUE anyway and he had already been pulled from the fight. Besides, once he failed that test, he should have been denied a license to fight. That's why the NAC hearing set for next Tuesday, the one that will determine if Vitor will be granted a license to fight at UFC 175, will be interesting. If we look at similar situations in the past, like when Alastair Overeem failed a drug test in 2012 or Bigfoot Silva failed one last year, Vitor should not only be denied a license but should end up being suspended from applying for one for 9-12 months. That's assuming the post-Keith Kizer NAC has any integrity and won't just bow to the UFC's interests because they already announced the fight and you don't make Dana White look like a fool even though he shouldn't have booked the fight until it was assured both men could get licenses. We'll see what happens next Tuesday. I sure hope that, if the NAC actually does their job, UFC has a Plan C figured out. Maybe they'll just let Chael sit in the cage for 15 minutes reenacting a CM Punk promo or something. I'd play to watch that.

(I wouldn't pay to watch that).

***HORN SOUNDS***




Round Three: Fight Night 42, Ben Henderson is Finally Smooth Enough to Finish a Fight in the UFC

***TOUCH OF GLOVES***

Live, from the Tingley Coliseum in Albuquerque, New Mexico, it was UFC Fight Night on SATURDAY NIGHT!!!!!!

That's right. I also thought it was just a nonsense word from a Weird Al song but it turns out Albuquerque is totally a real place. Not only is it a real place but it's also the home base of one of the current meccas of MMA training centers, the Jackson-Winklejohn Gym. Greg Jackson is one of the most revered men in the sport, whose sage wisdom and tactical gameplanning helped turn men like Georges St-Pierre and Rashad Evans into world champions. The gym is currently the home of UFC Light Heavyweight and Ultimate Trolling Champion Jon Jones as well as other top fighters like Carlos Condit and Tim Kennedy. With the show in their backyard, it's no surprise that a number of Jackson-Winklejohn fighters appeared on the card, including Erik Perez, John Dodson, Diego Sanchez, and headliner Rustam Khabilov. The Dagestani fighter has been known for two things thus far in his UFC career: getting confused with Khabib Nurmagomedov and wrecking dudes. The man suplexed Vinc Pichel to death in his UFC debut and spinkicked Jorge Masvidal in the neck in his last fight. He's still relatively unproven as far as facing ranked competition but he has proven to be a fighter not to take lightly. So UFC decided to just go ahead and throw him into the deepest waters they could find, booking him in a main event against former UFC Lightweight Champion Benson Henderson. The Arizona-based fighter has proven extremely tough to beat, even in fights he clearly lost (you won a decision in my heart, Josh!) and has been unstoppable against anyone not named Anthony Pettis. So, did that still hold true on Saturday or did Khabilov suplex the MMA world into a state of total shock?

Well, if there's one thing that Khabilov showed us on Saturday, it's that he is capable of throwing down with the best fighters in the world. Khabilov got off to a good start in the first round by tying up with Henderson and getting him to the ground a few times. If Khabilov was going to win this fight, he was going to have to be relentless with his takedowns and his pressure. It seemed like Khabilov was game to do so even though he was never able to keep Henderson on the ground for very long and, try as he might, he wasn't able to get much of a suplex off on the former champion. That greatly upset the pro wrestling fan inside of me. His name is Ned and he totally marked at the Seth Rollins turn. Anyway, Khabilov managed to take the first round from Ben but he couldn't keep the pressure up in later rounds, as Ben was able to get up quickly from every takedown Rustam came close to landing, even pressuring Khabilov with some takedown attempts of his own. The real difference maker in this fight turned out to be the striking, as Ben was on point for most of the fight, hurting Khabilov with punches while taking all but a few in return. Then, in the fourth round, Ben connected with an uppercut and a straight left that dropped Khabilov and Ben, proving he does have killer instinct, jumped on Khabilov's back and cinched up a nasty rear naked choke, getting the tap seconds later. For the first time in four years, Ben Henderson finished a fight. That's huge, especially as he tries to earn another championship fight. Who knows how the 155 division will shake out from here, especially since the title won't be defended again until freakin' December, so we'll see what UFC does with Ben next. Until then, congrats Ben and, of course, congrats Jesus. You did it again.

***HORN SOUNDS***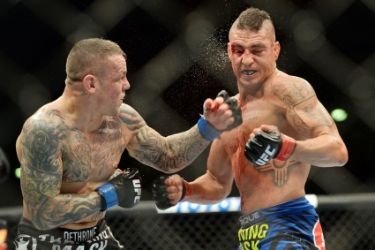 Round Four: Rest of Right Night 42, Seriously, Judging is All Kinds of Screwed Up

***TOUCH OF GLOVES***

The co-main event of the evening was a clash between two Ultimate Fighter winners in Diego Sanchez and Ross Pearson. Man, remember when the idea of seeing two Ultimate Fighter winners compete against each one another was almost a big deal? That was years ago before everyone and their mother was good enough to fight on the show. I mean, how else is UFC going to keep this bloated corpse of a roster afloat, right? That was disgusting and made no sense, which is something it has, at least vaguely, in common with the Sanchez-Pearson fight. As far as action goes, there wasn't a whole lot of it in this one. All three rounds played out similarly: Sanchez chased Pearson around the cage but didn't throw a whole lot of strikes except for a random flurry in the last 15 seconds. I don't know why Sanchez couldn't keep the intensity he showed at the ends of the rounds during them but he allowed Pearson to win rounds quite easily by landing more strikes and doing more damage than Sanchez. From where I sat, I scored all three rounds for Ross but when the judge's scores were read, we learned that not only did two judges score the fight for Sanchez, giving him the split decision win, but one of them scored all three rounds for Sanchez. What the hell is that? That's completely wrong. Sanchez didn't win a round and it wasn't even close, even though all the MMA sites are being conservative by calling it a "controversial decision." No. There was no controversy. Ross won all three rounds. Will someone please hold these judges accountable for screwing up another fight? Please?

I told John Moraga not to feed John Dodson after midnight but he didn't listen. I don't care that the fight didn't happen after midnight. I had planned to make an awful Gremlins joke here and I always follow-through (ladies....). Either way, Dodson is a fast and aggressive fighter and he showed that against Moraga, who had trouble trying to slow Dodson down with takedown attempts and ate a lot of punches in return. Dodson ended the second round by crushing Moraga's nose with a knee that was bad enough to cause the ringside doctor to stop the fight between rounds. Dodson continues to prove that flyweights can finish fights but the inactivity during some of the second round will ensure the division continues to get no respect among most fans. Jason High proved to be a game opponent for Rafael dos Anjos. High managed to take the Brazilian down a few times but dos Anjos was always able to get back up and punish High with punches and kicks. The strikes proved too much for High as dos Anjos hammer-fisted his way to a second round TKO. In other action, Piotr Hallman used a complete game to shut down and choke out Yves Edwards, Bryan Caraway removed a little more shine from Erik Perez's star with a second round submission, Sergio Pettis (HE'S SO CUTE!) got back to his winning ways with a decision against Yaotzin Meza, and Patrick Cummins scored his first UFC win with a second round TKO of Paul Narvaez. So he went from the co-main event to being the only fight stuck on Fight Pass. Well, I'm sure it's still better than working in a coffeeshop but that's not saying much. Good job, Durkin. I'm sure Daniel Cormier is proud, assuming he still remembers who you are.

And that was Fight Night 42. UFC is back this Saturday with UFC 174, featuring Flyweight Champion Demetrius Johnson vs. Ali Bagautinov. If the buyrate for the show is poor, will people use it as a reason for why flyweights were a bad idea in the first place? Only time will tell. Also, I hate people.

***HORN SOUNDS***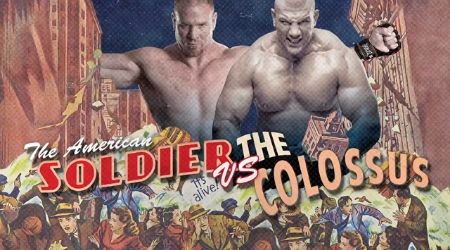 Round Five: Bellator 121, All Hail the Freaks

***TOUCH OF GLOVES***

Bellator returned to our lives last Friday with the first event since their relatively successful Payperview. The show was supposed to be headlined by the big rematch between Bellator Featherweight Champion Pat Curran and 2-time tournament winner Patricio "Pitbull" Freire but the fight was postponed when Curran suffered a calf injury. If you're a fan of Pitbull complaining about Bellator's business practices and Pat not wanting to fight him, I'm sure you were thrilled by that news. For the rest of us, we were given two consolations to make up for the loss of the fight. The first was a heavyweight fight between former tournament winner Eric Prindle and journeyman extraordinaire James Thompson. Prindle is known for winning a tournament after having his testicles kicked back into his body cavity by Thiago Santos only to return the favor later. Thompson is known for losing to Kimbo Slice on CBS after his ear exploded. The match-up is a freak show fight, in the sense that both men are freaks, and Bellator had no issue promoting it as that. I thought the fight would be at least somewhat competitive but that didn't turn out to be the case. Thompson got a takedown relatively quickly and within two minutes the ref was stopping the fight due to unanswered punches. Prindle was complaining about shots to the back of the head but it was just a pathetic attempt to make up for a pathetic performance. I'm happy that Thompson won, mainly because he got a post fight interview afterwards and, even though I couldn't understand a single thing he said, he had me in stitches. The guy is great. Bellator better keep finding more useless big men for him to fight so I can continue to pretend Thompson is a good fighter.

The other prize we got for losing the Curran-Pitbull II sweepstakes was the man they call Sokoudjou, or the man they would call Sokoudjou if anyone knew how to spell it or say it correctly. Did you know the guy is only 30? It seems like forever ago that he won that fight against Antonio Rogerio Nogueira in Pride that he's been riding the success of ever since. Well, he's one fight into his Bellator career and he already looks better than he did in the UFC, as he got a first round submission victory over...uh...some guy. Terry Davinney actually had success early in the fight by taking Sokoudjou down but Sokoudjou was able to sweep and work to full mount. When Davinney turned to avoid Sokoudjou's punches, the Cameroonian locked up a rear naked choke and got the tap in a little over four minutes. It was an excellent debut for Sokoudjou and it will be interesting to see how Bellator uses him from here. I imagine he'll find his way into a tournament this fall. They'll need his name if the men involved in this year's Summer Series Light Heavyweight Tournament is any indication of the talent Bellator has right now. That's not to say the fighters are bad but who are any of them? Phillipe Lins? Kelly Anundson? Egidijus? That's a name? That is an actual person's name? Maybe one of these guys will prove to be an elite-level fighter. If not, then they'll all just be more names for Rampage to knock out or Tito Ortiz to disgrace since it's impossible to give him credit for winning a fight at this point in his career. Oh, MMA community.

And that was Bellator 121. Bellator 122 is July 25th and will feature the finals of the Season 10 Middleweight and Welterweight tournaments. You think they'd be better at scheduling this stuff so it ends during the season it started.

***HORN SOUNDS***


That's it for Five Quick Rounds. Thanks for reading. If you have any questions, comments, or suggestions, and it is always appreciated when you do, leave them in the comments section. I will be back in 7 for another Five Quick Rounds. The little guys are out to prove they can perform on Payperview this Saturday. Enjoy the fights and remember to fight clean, fight hard, fight fair, and never leave it in the hands of the judges...




LATER!!!!!!!!!!!!!!!!!!!!!!!!!!!!!!!!!!!!!!!!
comments powered by