SPOTLIGHTS
Looking at The Greatness of Demetrious 'Mighty Mouse' Johnson
Posted by Robert Winfree on 06.13.2014

With his fourth title defense coming up this week, 411's Robert Winfree examines UFC flyweight champion Demetrious Johnson and why his mindset is perfect for a UFC champion!

Hello everyone, nice to see you Locked in the Guillotine again. While you're here, or anywhere really, check out the Radulich in Broadcasting Network. It's home of the weekly 411 Ground and Pound radio show as well as a host of other shows. You're guaranteed to find something that you enjoy, so please give it a try.



More Pop Culture Podcasts at Blog Talk Radio with

Mark Radulich

on BlogTalkRadio



The UFC title is the most prestigious championship in the world of MMA. The UFC is home to the best fighters on the planet, being a champion there should be the goal of every fighter out there. Unfortunately we've seen the title not only be a source of inspiration, but in some cases a virtual noose around the neck of a fighter. A fighter who was putting on exciting fights, finishing his opponents, or was just able to generate buzz around his name before becoming champion seems to lose a bit of that once the belt is around their waist. Now some of this is due to the increased level of competition, expecting Jon Jones to crush Rashad Evans or Alexander Gustafsson in the same fashion he did Vladimir Matyushenko or Brandon Vera isn't terribly realistic, but some of it is the psychological impact of having something to lose. Jose Aldo at one point felt no hesitation about trying a flying double knee strike seconds into a fight with Cub Swanson, now he's going the distance with Ricardo Lamas or waiting for Chan Sung Jung to separate his shoulder before turning on the pressure. Between increased competition and having something important to lose, champions tend to fight a little safer than they did when they were working towards contention. Not all of them fall into the habit of fighting not to lose, Georges St-Pierre fought to win he just didn't always fight to finish, but it's become almost expected that a champion wont put on the same level of performances that he did when earning the title as he does when defending it.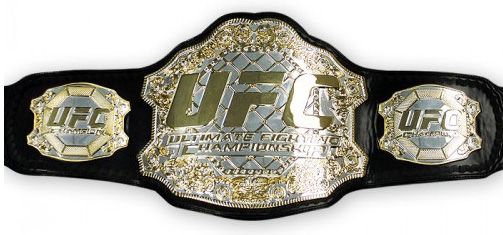 There has been one shining exception to that trend in recent history, UFC flyweight champion Demetrious "Might Mouse" Johnson. Johnson hasn't been treading water as champion, he's been improving. Johnson became the first ever UFC flyweight champion in September of 2012 when he scored an upset win via split decision over Joseph Benavidez. The title fight was a closely contested affair that could have gone either way, which wasn't too far from the norm for Johnson at that point. Johnson was fortunate that an addition error by the Australian athletic commission prevented him from going to a fourth round against Ian McCall in the first flyweight fight in UFC history because he looked to be slowing down and McCall came on strong during the third round. Johnson won the rematch with a clear cut unanimous decision, but going the distance with Benavidez in a close contest could have foreshadowed a title run filled with split decisions and close fights. In fact, for many champions it would have. Instead that fight was the last time Johnson came close to losing.

In his first title defense Johnson took on Ultimate Fighter winner John Dodson, and while he was hit and rocked in the first round he came on stronger as the fight progressed. Johnson showcased not just his impressive quickness and wrestling prowess, he worked exceptionally well from the clinch and overwhelmed Dodson from that position en route to winning a unanimous decision. Up next for the champion was John Moraga, a fighter with not only power in his strikes but an overwhelming style of striking that was thought could possibly trouble the champion. Johnson nullified Moraga's offense, he timed his takedowns impeccably and displayed a high level of grappling and submitted Moraga with an armbar at 3:43 of round five which stands as the latest a fight has ever been finished in the UFC and it was a fight Johnson had dominated to that point. A clear cut unanimous decision would have gone the way of Johnson, instead he chose to attack with a submission and get the finish in a fight he had completely dominated. Johnson's third title defense was thought to be his most difficult. Johnson would be facing Joseph Benavidez in a rematch of a fight that many people thought Benavidez won. Joseph Benavidez was on a tear, he'd finished his last two opponents with strikes and much was being made about the addition of Duane Ludwig as a striking coach at Team Alpha Male. With a strong wrestling and grappling base and developing striking skills combined with raw punching power, Benavidez was a live pick to win the title and even those picking Johnson to retain thought it would be a tough fight. If Johnson was aware of what experts were saying about how this fight would go he didn't show it. Johnson scored the most impressive win of his career thus far when he landed a picture perfect right hook to the jaw and sent Benavidez into unconsciousness in the first round. What was thought to be the stiffest possible test for the champion wound up being the quickest victory of his WEC and UFC career.




So what makes Johnson so different from other champions? Why is he able to avoid the pitfall of maintenance mode once the title was belted around his waist? The answer is his mentality. If interviews are to believed, Demetrious Johnson is focused on becoming a better fighter first and foremost. Too many champions stop improving once they become champion, their skillset is clearly at an elite level but they seek to maintain, to remain in a holding pattern rather than push forward and continue to improve. And in a sport as young and full of possibilities as MMA is, if you're not evolving and moving forward then the sport will move forward without you. Johnson has been improving ever since he nearly lost his bid to become the first ever flyweight champion, his technique on the ground has improved, his footwork is virtually flawless, and working on his striking technique has improved the power and quality of strikes he lands. Johnson was a talented fighter to begin with, but the dedication to improvement and the mentality that improving as a fighter will lead to retaining his title is turning him into a monster. To the other UFC champions, and those who would be champion, take a lesson from Demetrious Johnson: never rest on your skills and accomplishments, never stop improving.



Robert Winfree is a libra, long time contributor to the MMA zone of 411mania.com, current live coverage guru, and host of the weekly 411 Ground and Pound radio show.
comments powered by