SPOTLIGHTS
411's MMA Roundtable Preview - UFC 174: Johnson vs. Bagautinov
Posted by Dan Plunkett on 06.13.2014

Demetrious Johnson defends the flyweight title against Ali Bagautinov at UFC 174! Plus Rory MacDonald fights Tyron Woodley, Andrei Arlovski faces Brendan Schaub and more! Check out the full roundtable for all the details and join 411 for LIVE coverage of the event Saturday night!




WELCOME:
Demetrious Johnson defends the flyweight title against Ali Bagautinov in the main event of UFC 174! In the co-main event, welterweight contenders Rory MacDonald and Tyron Woodley fight. Also, former heavyweight champion Andrei Arlovski returns to the UFC against Brendan Schaub. Plus, Ryan Bader battles Rafael Cavalcante, Ryan Jimmo vs. Ovince St. Preux, and more!

THE STAFF:


From MMA's 3R's, Jeffrey Harris!


From Five Quick Rounds, Evan Zivin!


He's your host for 411 MMA Fact or Fiction, Wyatt Beougher!


And he's got you locked in the guillotine, Robert Winfree!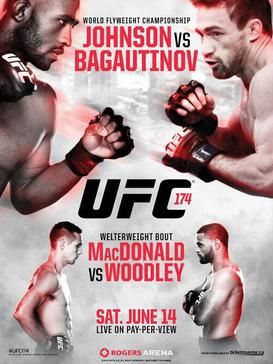 THE PRELIMINARY CARD:




First two prelims stream on UFC Fight Pass, rest on FX (not Fox Sports 1).




Lightweight Bout: Jason Saggo vs. Josh Shockley



Jeffrey Harris: Jason Saggo, Submission, Round 2
Evan Zivin: Jason Saggo, Submission, Round 1
Wyatt Beougher: Saggo, Submission, Round 2
Robert Winfree: Jason Saggo, Decision
The staff picks Jason Saggo, 4-0.



Bantamweight Bout: Roland Delorme vs. Michinori Tanaka



Jeffrey Harris: Roland Delorme, Decision
Evan Zivin: Roland Delorme, Decision
Wyatt Beougher: Tanaka, Decision
Robert Winfree: Roland Delorme, Decision
The staff picks Roland Delorme, 3-1.



Lightweight Bout: Kajan Johnson vs. Tae Hyun Bang



Jeffrey Harris: Kajan Johnson, Decision
Evan Zivin: Kajan Johnson, Submission, Round 2
Wyatt Beougher: Bang, Decision
Robert Winfree: Tae Hyun Bang, TKO Round 2
The staff picks a draw, 2-2.



Bantamweight Bout: Yves Jabouin vs. Mike Easton



Jeffrey Harris: Mike Easton, Decision
Evan Zivin: Mike Easton, Decision
Wyatt Beougher: Jabouin, Decision
Robert Winfree: Mike Easton, Decision
The staff picks Mike Easton, 3-1.



Welterweight Bout: Daniel Sarafian vs. Kiichi Kunimoto


Jeffrey Harris: Daniel Sarafian, Submission, Round 2
Evan Zivin: Daniel Sarafian, Decision
Wyatt Beougher: Kunimoto, Decision
Robert Winfree: Daniel Sarafian, Decision
The staff picks Daniel Sarafian, 3-1.

---




THE MAIN CARD:




Light Heavyweight Bout: Ryan Jimmo vs. Ovince St. Preux



Jeffrey Harris: Ryan Jimmo lucked out here getting the opening spot on a UFC PPV since he's Canadian and the card is in Vancouver. Jimmo's been fairly unimpressive throughout his UFC run, barring a quick knockout win in his UFC debut against Anthony Perosh. He managed to get a knockout in his last fight over a tomato can in Sean O'Connell. He also got a crappy decision over Igor Pokrajac. Ovince St. Preux on the other hand has done quite well for himself so far. Despite the fact that he won't be the hometown favorite, St. Preux is clearly the favorite to win this fight. St. Preux is a dangerous striker and he showed he has some submission range as well with his submission win over Nikita Krylov with a Von Flue Choke in his last bout. He's going to thrash Jimmo and quickly put him away.

Winner: Ovince St. Preux, TKO, Round 1

Evan Zivin: This is a decent match-up between two light heavyweight prospects. This is also a tough fight to predict. Jimmo has lost twice in the UFC and OSP is undefeated so far but OSP hasn't faced anyone I would consider on the level of a Jimi Manuwa or a James Te-Huna. At least not yet. This has potential to end violently, as both men love the knockout, or it could end in a close and highly contested decision. Eh, I'll go with Jimmo if only because I want to see him do the robot dance again. That better be in the new EA UFC game.

Winner: Ryan Jimmo, Decision

Wyatt Beougher: I know a lot of the 411 guys are/were high on Ryan Jimmo after his UFC debut, but he's done very little to impress me since that seven-second knockout. That's not to say that he's been bad, but he's beaten the guys you'd expect him to beat and lost to James Te-Huna and Jimi Manuwa. And while St. Preux's competition in the UFC hasn't been exactly stellar, he's lost only one fight since 2010 and that was to Gegard Mousasi, who I'd rank *justslightlyhigher* than Jimmo. On the feet, I think this should be a pretty even match-up and I think that's Jimmo's best chance to win this fight; however, OSP has proven to be pretty good at imposing his will on his opponents and forcing them to fight his fight, and I think he's going to keep this one on the canvas as much as possible. Jimmo's shown good takedown defense thus far, but I'm of the mind that St. Preux is going to put that to the test en route to a late TKO.

Winner: Ovince St. Preux, TKO, Round 3

Robert Winfree: This is your hot opener for a PPV? You couldn't do better than Ryan Jimmo? Jimmo's fights in the UFC go one of two ways, he either finishes his opponent quickly in the first or we get a long drawn out uninspired decision. Ovince St. Preux hasn't lost yet in the UFC and his greatest strength is his top control and ground and pound. If OSP can avoid the big shot early, get a takedown and work from top position he can win. I'm hoping he can, mostly because Ryan Jimmo's continued employment baffles me.

Winner: Ovince St. Preux, TKO Round 3

The staff picks Ovince St. Preux, 3-1.

---




Heavyweight Bout: Andrei Arlovski vs. Brendan Schaub



Jeffrey Harris: It's interesting because a lot of fans and MMA journalists are high on Arlovski when he's outside the UFC, but now that he's back everyone is trashing it. I'm generally unemotional about it. I don't see what is so terrible about Arlovski getting another shot in the UFC. The heavyweight division has definitely seen better days, but this is hardly the worst match-up I've seen put together for the division. Neither guy has a renowned chin. Brendan Schaub actually has some fairly underrated grappling skills. And say what you want about Schaub, but he has a winning UFC record. I'm picking Schaub to win here by taking Arlovski down and choking him out.

Winner: Brendan Schaub, Submission, Round 2

Evan Zivin: Andrei Arlovski is back! Hell yeah! When Andrei is on his game, he is one of the funnest fighters to watch compete. That makes this fight harder to call than it should because Andrei has looked decent over the last year. Also, Schaub is susceptible to getting knocked out by aging legends (Big Nog for one...). Most likely, Schaub is going to try to take this to the ground and try to win it there. Arlovski has never tapped before but it is possible Brendan came ride him for 15 minutes. Still, I'm going to pick Arlovski because I WANT TO BELIEVE!!!!!

Winner: Andrei Arlovski, TKO, Round 1

Wyatt Beougher: Hmmmm...guy who used to be relevant by virtue of being one of only two heavyweights in the UFC at the time versus Tim Tebow's bodyguard? To quote the big cheese here at 411 MMA, "SMELL THE BUYRATES!" This is basically an attraction fight and it's Arlovski's last chance to make an impact on the heavyweight division. And while it's certainly possible that he could fight a smart fight and pick up a decision win over Schaub, I'm afraid that Schaub's athleticism and relative youth (he's only four years younger than Arlovski, but in terms of "MMA Age", I'd say he's roughly a decade younger) is going to force the Pitbull to look for a big finish, which will in turn leave his oh-so-questionable chin open to Schaub. I want Arlovski to win because Schaub's time on the The Ultimate Fighter still leaves a bad taste in my mouth, but I just can't see it happening.

Winner: Brendan Schaub, TKO, Round 3

Robert Winfree: Well the guy who can aim the air conditioning should be getting the bribes in this fight, because a well timed stiff breeze could rock either man. Arlovski gets his big return to the UFC and is presented with a winnable fight, Schaub doesn't have the stoutest chin in the world and Arlovski still has punching power. What Schaub does have is grappling, and if his last few fights are any sort of indicator he's learned he can't throw leather indiscriminately and has been using his ground game more and more. I think Schaub is able to take Arlovski down and work from there, but Arlovski landing a power punch and starching him isn't out of the question either.

Winner: Brendan Schaub, Submission Round 2

The staff picks Brendan Schaub, 3-1.

---




Light Heavyweight Bout: Ryan Bader vs. Rafael Cavalcante



Jeffrey Harris: Ryan Bader is a solid fighter who always falls short in his big opportunities to break through as a top 5 contender. Feijao actually looked like a strong prospect at one point. He's a one-time Strikeforce champion, and he does have dangerous knockout power. His record is questionable, though, because of steroid use. He went 1-1 in the UFC last year, losing to Thiago Silva and then knocking out Igor Pokrajac. Bader does have some heavy hands. He's a great wrestler and a tremendous athlete. His problems though are his questionable chin and bad game planning. For this fight, I think Bader will play it a little more conservatively and grind out a win over Cavalcante.

Winner: Ryan Bader, Decision


Evan Zivin: The former Strikeforce champion hasn't had the strongest start to his UFC career but he did wreck Igor Pokrajac in a minute last time out. Bader is a tough match-up for him. Rafael can definitely knock him out but Bader can do the same and Ryan also has the wrestling to give Rafael fits. Bader is a lot more aggressive than other wrestlers Feijao has faced, such as Dan Henderson, so I think Bader will take this one without too much trouble.

Winner: Ryan Bader, TKO, Round 2

Wyatt Beougher: This is essentially a fight to see who becomes the official gatekeeper of the light heavyweight division, but that doesn't mean that I think it'll be a bad fight. Bader showed a lot of promise early, but I'm not sure he ever regained his confidence after losing to Jon Jones (and then to Tito Ortiz *shudder*). Cavalcante, on the other hand, is a former Strikeforce light heavyweight champion and handed King Mo his first loss (back before we realized maybe that wasn't as big of a deal as it had initially seemed). This fight is really going to come down to the takedown - if Bader can successfully put Cavalcante on his back, I can see him winning a pretty easy decision, or using his impressive ground and pound to earn a stoppage; however, if Feijao manages to keep the fight standing, I think he can pick up the win. Bader probably has more left in the tank at this point, but I'm actually picking Cavalcante in this one, as I think he frustrates Bader long enough that he's able to catch Darth coming in for a takedown attempt and either pound him out or catch him with something nasty in the clinch.

Winner: Rafael Cavalcante, TKO, Round 3

Robert Winfree: This is bordering on do or die for Ryan Bader if he wants to remain an upper level fighter in the division. Bader is good enough to reach a certain level, but every time he's stepped beyond that level he's failed, and failed spectacularly. The question is if Cavalcante falls into that category of upper level fighters. Cavalcante has a good ground game and legitimate power in his punches, he'll just have to avoid the wrestling of Bader and being controlled for three rounds. Given that Bader's chin is a little suspect and Cavalcante has good technique and power, I'm leaning towards him finding Bader's chin and taking home the win.

Winner: Rafael "Feijao" Cavalcante, TKO Round 1

The staff picks a draw, 2-2.

---




Welterweight Bout: Rory MacDonald vs. Tyron Woodley




Jeffrey Harris: This match-up is interesting to me because I could see it going many different ways. Some of those ways might not lead to an exciting fight, but I'm still curious to see how this one will turn out. Woodley has proven he can be incredibly formidable when he moves forward and he lets his hands go. We've seen he has knockout power and great wrestling. MacDonald had two awful performances against: one an awful win over Jake Ellenberger; and the second was when he looked flat against Robbie Lawler. He even admitted his performance was "garbage" after he lost the fight. I think if either guy wants to be a serious contender at welterweight, they really need to put their past performances to bed. Woodley did get a knockout over Koscheck, and he did beat Condit. But a lot of people believe his win over Condit is marred due to the leg injury, whether that's fair or not. Granted, MacDonald did get a comeback win over Demian Maia, but that was after Maia dominated him for a round and appeared to gas. I'm just unconvinced by MacDonald's mental game. He seems to sabotage himself in these big meaningful fights, and he hasn't looked like a dangerous killer in a while. I'm picking Woodley to get the upset here.

Winner: Tyron Woodley, TKO, Round 2

Evan Zivin: Woodley shocked the world in his last fight by looking competitive against Carlos Condit (he was winning the fight before the injury happened). It appears Woodley has been learning from past mistakes and is rising to the occasion against top competition. Can he do it again against Rory, the man who was supposed to be the welterweight division's Chosen One? I think so. Rory is a good fighter but he hangs back too much in fights, which works against lesser competition but not against guys who know what they are doing. Robbie Lawler showed that a strong, aggressive strategy can work against him and I think Woodley can emulate that quite easily. The T-Wood train is a-rollin'. Can Rory stop it? I don't think so.

Winner: Tyron Woodley, Decision

Wyatt Beougher: If Winfree's covering this one for the site, this'll be the dullest, most lackluster fight of the year, which really shouldn't be much of a stretch considering Woodley and MacDonald's respective track records. And honestly, it's in Woodley's best interests to clinch up with MacDonald and grind him down, especially with this fight basically being a title eliminator. There's always a possibility that the MacDonald who finished twelve of his first thirteen opponents shows up, or that Woodley looks for his fourth win in a row via stoppage, but I think it's more than likely that we'll see GSP-lite versus the ultra-conservative fighter who rattled off three boring decisions en route to a shot at the vacant Strikeforce welterweight title. Blame it on my newly wedding bliss or what have you, but I'm still optimistically hoping that this fight is an exciting, and hotly contested, one.

Winner: Tyron Woodley, Decision

Robert Winfree: This fight has the possibility to make your eyes bleed. MacDonald hasn't had the type of fire and monster performance that got people talking about him a couple of years ago. Woodley still doesn't quite know how to deal with a fight if he can't finish you with one punch, he tends to revert to wet blanket mode if you don't go down right away. If MacDonald fights smart he should win, he could control distance with his striking, tire Woodley out in the second, and go for a finish from top position in the third. I don't think that will happen, MacDonald just hasn't looked like a serious fighter in too long and Woodley is good enough to avoid falling into a jab exchange for fifteen minutes.

Winner: Tyron Woodley, Decision

The staff picks Tyron Woodley, 4-0.

---




UFC Flyweight Championship Bout: Demetrious Johnson vs. Ali Bagautinov



Jeffrey Harris: This is an interesting, underrated match-up. Demetrious Johnson was 411's Fighter of the Year for 2013. He was the only UFC champion to defend his belt three times last year. Not only that, he appears to only be getting better and improving with each passing performance. He submitted John Moraga in a fight where he dominated him and was up on the scorecards. In his rematch with Joseph Benavidez, he knocked out Benavidez in the first round. Before these fights, Johnson was criticized for not being able to finish fighters or knock them out. He put a lot of those criticisms to bed. Bagautinov made waves very quickly in the flyweight division, dominating every fighter who stood in front of him. He's part of a new Dagastan contingent in the UFC that seems nearly poised to take over multiple divisions. Dagastan has great wrestling, which could challenge Johnson's own formidable wrestling and takedown skills. However, I think Johnson's speed will be the great equalizer here. I see this being a tough battle, but the champion will come out on top.

Winner: Demetrious Johnson, Decision

Evan Zivin: I know some may not feel Bagautinov isn't deserving of this fight but he's 3-0 in a division that's still building itself up. Plus, he's a Dagestani. You know how dangerous those guys can be. I feel that Ali will definitely make this a competitive fight but he won't be able to beat Mighty Mouse. While Ali was barely getting past John Lineker, Demetrious was submitting John Moraga and knocking out Joseph Benavidez. The champion is getting better with each fight and may be the closest MMA has to a complete fighter right now. His wrestling is good, his submissions are good, his striking is dangerous...and he's only 27. He hasn't entered his physical prime yet and he's already this good. Of course, all this bragging could blow up in another Barao-Dillashaw moment but I don't see that happening. At least not in this fight. Johnson will handle Ali and then move on to....someone...else...maybe?

Winner: Demetrious Johnson, Submission, Round 4


Wyatt Beougher: HERE HE COMES TO SAVE THE DAY! I was sour on Johnson for a while after I felt he received a gift draw against Ian McCall during the tournament to crown the UFC's initial flyweight champion, but all he's done over the past two years is win, and he's won me over in the process. I was one of the people who thought Johnson was possessed of speed and little else, but his last three wins, all title defenses, have shown a fighter who has finally realized his full potential and best determined how to utilize all of his abilities for his maximum benefit. To his credit, Bagautinov is no slouch, compiling an 11-fight win streak since 2011 (admittedly, against lesser competition than Johnson has faced during that time), and while his title shot is more a matter of lack of depth in the flyweight division than a truly sterling resume, I do believe that he'll be able to hang with the champion, at least in the early stages of the fight. Through the first three rounds, I think it'll be a pretty even contest, even if Bagautinov doesn't end up close on the scorecards; however, by the fourth round, I think Johnson will be able to force Bagautinov into a mistake and catch him in a submission.

Winner and STILL UFC Flyweight Champion: Demetrious Johnson, Submission, Round 4

Robert Winfree: This should be a fun fight. Demetrious Johnson is one of the most technically skilled and well rounded fighters in the sport. Ali Bagautinov is riding an eleven fight win streak and has shown off a variety of skills in his UFC tenure. Ali used his counter punching to great effect against Tim Elliot, showcased grappling and punching power against Marcos Vinicius, and used all of his skills to beat John Lineker. Johnson isn't just the champion, he's improved his skills since first winning the belt, he's become one of the most proficient fighters in the sport. I can't pick against Johnson, he's just great anywhere the fight goes.

Winner: Demetrious Johnson, TKO Round 4

The staff picks Demetrious Johnson, 4-0.

---
Remember to join 411's coverage of UFC 174 on Saturday night!
comments powered by