SPOTLIGHTS
Five Quick Rounds 06.17.14: UFC 174, Gangsters Don't Die, They Just Retire, More
Posted by Evan Zivin on 06.17.2014

From Chael Sonnen's drug test failure and subsequent retirement from MMA to the results of UFC 174 and Bellator's new "World Title Pool," 411's Evan Zivin examines these stories and more in Five Quick Rounds!

Hey hey, fight fans, and welcome back to Five Quick Rounds! I am your host, Evan Zivin, and I am more excited than the Jon Fitch Curse to be here once again!

If there was such a thing as a "Jon Fitch Curse" in the past, it would have been akin to something like "being the second best fighter in your weight class but never being considered for a title shot because you already got beat by the champion and you aren't entertaining enough as a fighter or a personality to be given a rematch by your money-grubbing boss." If that wasn't a curse, then what Fitch is experiencing right now, and what World Series of Fighting is dealing with in finding him an opponent for their July 5th card, has to be. Fitch was originally going to headline WSOF 11 against Rousimar Palhares in a Welterweight Championship fight. Those plans changed when Palhares' Mother's Day present turned out to be him pulling out of the fight. WSOF kept Fitch on the card and matched him up with the debuting Jake Shields in what was, at the very least, a slightly intriguing match-up. That changed when Shields pulled out with an injury and was replaced by Josh Burkman, the man who choked Fitch unconscious in Fitch's WSOF debut. It wasn't a title fight but a rubber match between those two would have been fun. Now, we've learned that Burkman is out with an injury and has been replaced with longtime veteran Dennis Hallman, the man known for beating Matt Hughes twice back in the Stone Age and also for having his penis poke out of his speedo on live Payperview. Well it's...uh...better than nothing? Then again, Fitch fighting nobody would draw in the same number of viewers, if not more. Still, props to WSOF for the clutch matchmaking. I look forward to seeing who Fitch's next opponent will be after Hallman has to pull out.

All right, so with fighter introductions out of the way, I have five more rounds of MMA news and opinions to throw at you. This week, we look at Chael Sonnen's drug test failure and subsequent retirement from MMA, the results of UFC 174, and Bellator creating a pool of title challengers. Let's to it do it.

FIGHTER YOU READY!!!!
FIGHTER YOU READY!!!!

FIGHT!!!!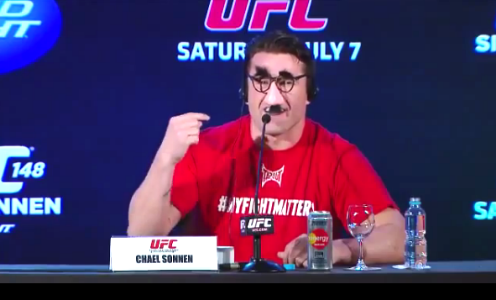 Round One: Chael Sonnen Fails Pre-Fight Drug Test, Wanderlei Silva is Proven a Certified Genius

***TOUCH OF GLOVES***

The story of this Chael Sonnen-Wanderlei Silva-Vitor Belfort love triangle just gets more and more bizarre. Unfortunately, this story may be coming to an end and it'll take two rounds to explain why. First, let's recap, since everyone knows MMA fans love reading recaps. After bickering back and forth for years over the amount of filth Brazilian children may or may not be playing in or whether or not the quality of belts handed out by the Nogueira brothers are of comparable quality to fast food restaurant toys, Chael Sonnen and Wanderlei Silva were finally going to fight. Sure, the fight got pushed back from May until July due to Wanderlei chipping a nail during their infamous TUF Brazil "brawl" but the fight was still going to happen....until the Nevada Athletic Commission pulled Wandy from the fight. During the weekend of UFC 173, when this fight was originally going to take place, the NAC asked both Sonnen and Silva to submit to a random drug test just to make sure all was "good in the hood," as it were. Sonnen complied but Wanderlei, in his infinite wisdom, took a more rational approach: he ran. Literally, if Chael is to believed (of course he is). Wanderlei said he'd take care of everything after the TUF Brazil Finale took place but the fact of the matter is you don't run from a drug test. That just makes you look guilty. In the eyes of the commission, and everyone else, running is just as bad as failing the test. That's why Chael didn't run. He's a man and is drug-free and is always ready to prove it. That's why he took this test and passed with flying colors....right?

Wait, do drug tests have colors? Maybe I'm getting drug tests confused with pregnancy tests. I dunno. Both involve peeing onto something. It's an honest mistake. Anyway, Chael, living up to his potential as the manliest man to ever man inside a cage, failed the hell out of that drug test. This isn't the first time Chael has failed a drug test (duh) but this situation is different from when he didn't disclose his TRT usage before UFC 117 and tested with a testosterone level a little higher than normal (only 17 times higher than normal -- no biggie). No, he didn't fail because of TRT. He failed because he was trying to get off of TRT. Getting one's body to start producing natural testosterone again after using the synthetic stuff for so many years is a rough process. There are substances, such as Clomiphene, that can help restart testosterone production. Clomiphene is a legal substance but it's banned in sports competition along with Anastrozole, an anti-estrogen inhibitor mainly used in breast cancer treatment. Chael was using both of these substances to deal with fertility issues and other problems in his transition off of TRT. Chael is claiming ignorance over the NAC's rules not being made very clear in how these substances, which he claims he needs to stay healthy during the transition, were to be made allowed. It's hard to believe he hasn't been checking with the commission on this considering his problems with the NAC in the past so a lot of the blame for this falls squarely on Chael and his camp. Well, at least we learned he fixed his fertility issues and got his wife pregnant. Can you imagine a little Chael running around, insulting countries and stealing from pro wrestlers, just like his Dad? Just 9 months to go. Only...on Payperview.

***HORN SOUNDS***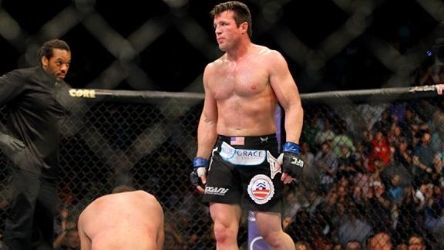 Round Two: Chael Sonnen Retires From MMA, Will Only Have Cushy TV Job to Pay the Bills

***TOUCH OF GLOVES***

Despite all the confusion over Chael's drug test failure and who may or may not be at fault because they were too lazy to pick up a phone and call the athletic commission to make sure their drug regimen was in compliance with official guidelines to ensure their big fight doesn't fall apart and cost their employer countless millions of dollars in new promotional materials and new Linkin Park songs to sync up with the new TV spots they have to produce, Chael is a fighter at heart. He knows that what he was doing was a necessary step in ensuring his personal health in the wake of all these changes that were forced on him by the athletic commission, or at least that is what he's saying, and he will fight the repercussions that come with this drug test failure. He felt an injustice had been made when he failed the test at UFC 117 and he fought that, convincing the California State Athletic Commission to chop his year-long suspension in half by declaring that, instead of Chael purposely using testosterone to give himself a competitive advantage, he was just an idiot who didn't disclose his TRT usage because he suffers from hypogonadism that he may or may not have given himself due to past steroid abuse. Chael successfully fought those charges, relatively speaking, so I imagine Chael will appeal this too. He may not be able to resolve things to the point of getting back on the UFC 175 card but I'm sure he'll back grappling men to death in no time.

In this case, "no time" may mean "a long time" as Chael announced on UFC Tonight last Wednesday that he's retiring from active MMA competition. Well, that was anti-climatic. This story was really getting good and he's just going to up and quit before the real fun begins with the athletic commission? The NAC was supposed to have their big meeting with Vitor Belfort and Wanderlei Silva today over their respective drug test transgressions. That meeting was guaranteed to be a mess. Chael, couldn't you have at least waited until after today to retire? I was so pumped but now it's not happening and Vitor has been pulled altogether from UFC 175. Oh well. At least we can now speculate on how long it takes before Chael comes out of retirement. He wouldn't need to do it for financial reasons, as Chael will continue his hosting duties on Fox Sports 1 with Kenny Florian's hair, but you know he's going to get the itch to fight again fairly quick. That, combined with how thin UFC stretches its roster and how desperate they are for main event-level talent, especially for their smaller shows that aren't worth $10 a month just to sleep through, means Dana is going to be begging Chael to return sooner than later. Right now, a break is good for Chael anyway. He needs to get himself completely healthy again and, as soon as he does, I'm sure the OG from West Linn will be ready to ride again. So congrats on a successful career, which includes reigns as UFC Middleweight and Light Heavyweight Champion *WINK* and we'll see you again soon. Specifically, tomorrow night. And every Wednesday night. He's gonna be fine.

***HORN SOUNDS***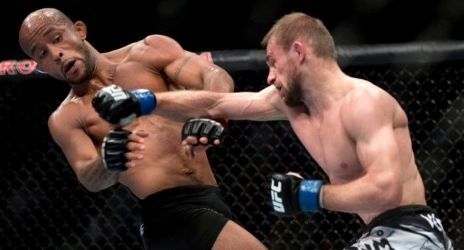 Round Three: UFC 174, Mighty Mouse Holds Back Second Wave of Dagestani Invasion

***TOUCH OF GLOVES***

Live, from the Rogers Arena in Vancouver, British Columbia, it was UFC 174 ON SATURDAY NIGHT!!!!!!!

Ladies and gentleman....well, mostly gentleman...the UFC is under attack. If there's one thing the United States has been good at over it's short history, it's making enemies and on Saturday, the U.S., along with its ally Canada, was threatened by one of the most dangerous enemies it has ever seen. Who was it this time? Germans? North Koreans? Russians? Was it Russians? It was probably Russians, right? We've been begging for a good Russian invasion since the last Rocky movie came out. Was it Russians? Well, sort of. Dagestanis are technically considered Russian even if the people of the North Caucasus region couldn't be any more culturally different. Does that work? They do produce really good fighters. A worn-torn region with a very strong wrestling and combat sport history, Dagestan has produced the likes of Khabib Nurmagomedov, Rustam Khabilov, and Ali Bagautinov, all of whom have proven to be dangerous threats in their respective weight classes. The first wave of the Dagestan invasion was thwarted last week when Ben Henderson submitted Khabilov in a very dominant performance. Last Saturday saw the second wave unleashed, as Bagautinov challenged for Demetrious Johnson's UFC Flyweight Championship. Ali had been dominant in using his wrestling to rack up 3 wins in the UFC in the lead-up to this fight. Demetrious has been nigh unstoppable since dropping to flyweight. Would Johnson be successful in stopping Ali and preventing another Red Dawn remake from happening?

Relax, America. You can take a breath and sleep safely tonight, for "Mighty Mouse" was successful in defeating the Red Menace. Actually, Ali was pretty red by the end of the fight due to all the knees he took to the body. Ali tried to win the fight by closing the distance and using his wrestling and sambo skills to tie Demetrious up and dump him on the ground. It worked a little bit in the first round. Demetrious was able to cancel out most of Ali's efforts in the clinch but Ali did manage to get the fight to the ground. Unfortunately for Ali, it only stayed there for a split second before Demetrious popped back up. The first round was the closest Ali came to getting the fight where he wanted it, as every round after saw him try to pull Demetrious down and get nowhere, eating elbows and knees in the process. The fight ended up being another case of a fighter being unable to match Demetrious' pace and falling further and further behind until the fight is over. It's up for debate if Demetrious truly is the best pound-for-pound fighter on the planet (Dana will say he is if it gets you to pay for his fights) but I think it's safe to say he's the fastest fighter on the planet. The way he uses his speed and cardio for 25 straight minutes to overwhelm and frustrate opponents is just incredible. It's hard to tell if there's anyone out there who can beat it, although it sounds like someone might be getting another try in Johnson's next title defense. If anyone from 135 wants to drop down to give Demetrious more competition, I'm sure Dana will make your path to the title a quick one. It's called the Florian Principle. Someone please pay to watch him fight.

***HORN SOUNDS***




Round Four: Rest of UFC 174, Tyron Woodley Won the First 2 Minutes, Rory MacDonald Won the Last 13

***TOUCH OF GLOVES***

You know it was a bad night when Dana White starts throwing around the word "choke" after your fight. That was the case for Tyron Woodley who, after a shocking win over Carlos Condit in March, was placed in another big fight, this time against hometown...er, home-province...hero, Rory MacDonald. Seriously. There were people in the crowd with shirts that spelled "Rory." It's like people were treating the fights as if it were an actual sporting event. Weird. What wasn't weird was Tyron's performance. The man absolutely punished...his friends and family with a disappointing fight. Tyron looked good in the first round, pressing Rory against the cage and even taking him down but, much like in the main event, Rory would pop right back up. It wasn't a dominant round for either man, as Rory stuffed most of Tyron's shots and landed some good strikes, but it seemed like the rest of the fight was going to be a close one. That is, until it wasn't. Tyron did little of anything in the second and third rounds while Rory pushed him around the cage and continued to hurt him with punches and kicks. The end result was a dominant unanimous decision for the young Canadian, who has to be one win away from a title shot assuming he doesn't get the next crack after Robbie Lawler and Matt Brown punch each other into dust. As for Tyron, I think I saw an ad on TV for pills that can help with performance issues. Someone should tell him to call.

So who thought that Andrei Arlovski would return to the UFC and actually get the win over Brendan Schaub (well, aside from me...)? Of course, the decision doesn't tell the story of the fight, although there's not much of a story to tell because the fight sucked. Both found some success on the feet and in the clinch, but on the whole, neither man really did much. In the end, Schaub probably won a decision but I'm not too upset because I like Arlovski. Schaub is almost never in an entertaining fight unless it involves him losing his consciousness, so YAY! THE PITBULL IS BACK! Ryan Bader can now say he was at least good enough to be a Strikeforce champion after a one-sided decision win over Rafael Cavalcante. "Feijao" just couldn't handle Bader's pace and pressure and ate a ton of punches. I think Ryan is ready to fail against another top light heavyweight. He may end up getting Ovince St Preux next, who outclassed Ryan Jimmo in all aspects and got a verbal submission after breaking Jimmo's arm. OSP still has a long way to go before reaching title contention but he's definitely on his way. I still want my robot dance. On the undercard, Mike Easton sucked...again..., a woman named Letourneau did something that wasn't illegal, and two Japanese fighters and one Korean fighter came to North America and won fights impressively against an American, a Canadian, and a Brazilian. Yeah. It was a weird night.

And that was UFC 174. UFC will be back on June 28th with...another double header? Oh goddamit. Is anybody out there any good at doing play-by-play coverage? Go talk to Larry.

***HORN SOUNDS***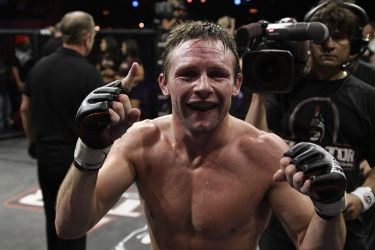 Bellator Creates New Pool of Title Challengers, Other Fighters Better Learn How to Swim

***TOUCH OF GLOVES***

If there's one thing that has defined Bellator in its short history more than anything else, it's the tournament format it has used to create champions and challengers for title fights. There are definite positives and negatives to using that kind of business model. The main positive is it's the purest way to create new challengers your audience can agree are deserving of a title fight. If you can win three fights in three months, I say you're worth a shot. Of course, Bellator has tried to manipulate the tournament at times to get fighters they like to title fights *COUGHRAMPAGEJOEWARRENCOUGH* but, on the whole, it's still a more honest system than Dana White picking title fights based on his mood that day. Of course, the system falls apart when either A) there's no tournament winner for the champion to fight that season, B) there is a winner but he gets injured, or C) the guy Bellator tries to hotshot through to a title fight doesn't make it. In the past this resulted in champions taking non-title fights to remain active, which no one liked. In recent years, Bellator has begun instituting changes to compensate for the faults in the tournament process, which also have the result of devaluing the tournament format. First, they declared that instant title rematches can happen if the situation calls for it (or doesn't -- you're welcome Pat Curran), and second, they set up a system for picking a title challenger from the previous season in case the winner can't compete. So now, not only can you bypass the tournament to get a rematch, you can get a title shot without even winning the tournament. But hey. Who needs integrity when you gots title fights, right?

As important as Bellator tournaments look now after those additions to the rules, it looks like the tournament is taking another hit. This is because now, not only do you not need to win a tournament to get a title shot, but if you win a tournament, you may never need to compete in another one ever again. Bellator has just established a "World Title Pool" that all tournament winners are automatically entered into. If you are a part of that pool of fighters, it means you are now eligible to receive a title fight without having to go through another tournament. Apparently the "Toughest Tournament in Sports" is a little too tough to risk putting these guys through another one. Well, some of them. President Bjorn Rebney says that some of these winners may be placed in tournaments again, while some may be able to earn title fights off victories in non-tournament bouts. There's no rule that determines which of these men will earn title shots or how they'll go about doing so...so yeah. It's all kind of arbitrary, just like how Dana does it. It's clear why Bellator is doing this: it's just a natural extension of all the Eddie Alvarez fuss where he didn't feel he needed to go through another tournament to get another title fight. Now guys like King Mo and Cheick Kongo and Michael Chandler don't have to go through tournaments ever again and if Bellator feels like they are worthy of another title shot, especially if they need someone marketable for a title fight on Payperview or something, then BAM! They get a shot. So if you've been baffled by some of the booking decisions Bellator has made in the past, then don't you worry because things are about to get a whole lot crazier. Wait, did I say "don't worry"? Scratch that. You should probably worry.

***HORN SOUNDS***

That's it for Five Quick Rounds. Thanks for reading. If you have any questions, comments, or suggestions, and it is always appreciated when you do, leave them in the comments section. I will be back in 7 for another Five Quick Rounds. There's a World Series of Fighting card this Saturday, if you're into that sort of thing. Enjoy the fights and remember to fight clean, fight hard, fight fair, and never leave it in the hands of the judges...




LATER!!!!!!!!!!!!!!!!!!!!!!!!!!!!!!!!!!
comments powered by