SPOTLIGHTS
Five Quick Rounds 06.24.14: Bellator, Now with 100 Percent Less Bjorn, More
Posted by Evan Zivin on 06.24.2014

From Scott Coker replacing Bjorn Rebney and Wanderlei Silva admitting to using diuretics to Chael Sonnen signing on for a jiu-jitsu match and the results of WSOF 10, 411's Evan Zivin examines these stories and more in Five Quick Rounds!

Hey hey, fight fans, and welcome back to Five Quick Rounds! I'm your host, Evan Zivin, and I am more excited than Urijah Faber missing out on Paperview revenue to be here once again!

Usually, fight card lineups don't elicit much of a reaction from the fanbase. Sequencing fights is a simple science: the biggest fights at the top of the card while the crap no one cares about gets dumped on the prelims. That science has changed a bit since UFC started airing prelims on TV. Airing prelims is great not only for fans who want to watch every fight from a Payperview card but airing free fights is a good way to get a few last minute buys for the PPV. This usually results in UFC saving a seemingly decent fight or two to air on the prelims to hype fans up in a way that Dana White and Joe Rogan yelling over Baba O'Riley alone isn't able to. I get that but it's still a little baffling that they would take Urijah Faber, arguably the most popular lighter weight fighter in the organization, and place him on the prelims for UFC 175. Yeah it's against Alex Caceres but Bruce Leroy is a surprisingly decent fighter so that should be a good fight. On paper it's a much better fight than Uriah Hall vs. whoever he's fighting and whatever the fifth main card fight is (seriously, don't act like you care about Marcus Brimmage vs. Russell Doane just to make me feel stupid). Maybe it will increase last second buys but maybe it'll just convince people there's little reason to buy the PPV when only two, maybe three, of the fights are worth paying for. It's a gamble for the UFC. Will it pay off? Find out on Payperview! Or don't.I don't care. I'm just happy Stefan Struve is back. Yeah, Skyscraper.

All right, so with fighter introductions out of the way, I have five more rounds of MMA news and opinions to throw at you. This week, we look at Bjorn Rebney stepping down as the head of Bellator, Scott Coker being announced as his replacement, Wanderlei Silva admitting to using diuretics, Chael Sonnen signing on to compete in a jiu-jitsu match, and the results of WSOF 10. Let's to it do it.

FIGHTER YOU READY!!!!
FIGHTER YOU READY!!!!

FIGHT!!!!




Round One: Bjorn Rebney Removed from Bellator, Must Fight in Tournament Next Season to Get Job Back

***TOUCH OF GLOVES***

And here I was thinking it was going to be a quiet week for MMA. We had all the nonsense with Chael Sonnen last week and, with no UFC events last week (remember when you used to have to wait a month or longer for the next UFC event? I wish I could), it seemed like we might get a brief break from major MMA news. It would have given us time to focus on other things not related to MMA. We could have done all the things we planned to do before UFC started putting shows on every week. We could have spent time with all the people we shunned from our lives because they weren't interested in seeing flyweights main event a Payperview...or at all. Eh, what do they know? Well, other than how to live. One thing that we, the most hardcore of MMA fans (or, as Dana White calls us, "suckers") know is that shit is going down over in Bellator. After rumors started to swirl online late last Tuesday that things were going to be shaken up at the top of the Bellator hierarchy, we learned the truth on Wednesday. It was announced that Bjorn Rebney, the man who founded Bellator MMA and led the promotion as chairman and CEO, was being removed from his position at the top of the company. Tim Danaher, President and COO of Bellator, is also leaving but most fans don't know him and don't care. Bjorn, though, you guys! Bjorn Rebney is leaving Bellator! Isn't that awful, you guys? ...you guys?

It wasn't until news came of Bjorn leaving Bellator came out that I realized how many people in the MMA community have a hatred for the man. I find that a little surprising. In his time as HMFIC he definitely did some detestable things, the biggest being the whole lawsuit fiasco with Eddie Alvarez. He screwed around a whole bunch of fighters, including former champion Zach Makovsky, Tyson Nam, and Patricio Freire, among others. He messed around with matchmaking to create certain fights or put guys in positions to vie for titles when it made little to no sense and just pissed everyone off. He also betrayed the tournament format he championed for years by introducing new rules and policies that made it easier to book title fights without even needing the tournaments, even though he still intended to keep them around. He did a lot of stupid, questionable things but there are two things that I think makes some of the hate unnecessary. One is that Dana White said and did things as stupid, if not stupider, than Bjorn, and many of the people who curse Bjorn praise Dana (many people hate both so fair enough). The other is we don't know how many of Bjorn's decisions, especially since 2011, were his own decisions or ones that were made for him by Viacom executives. Viacom owns a majority of Bellator so they can do whatever they want and Bjorn had no choice but to go along with it. He had to tow the company line whether he agreed with how things were being handled or not. Hopefully Bjorn will tell his side of the story at some point. I know no one will believe a thing he says but it should be an interesting story. Just leave out all the dick-ridin'. We don't need to hear about that. Farewell, Bjorn. We hardly knew you, or at least some people wish they did.

***HORN SOUNDS***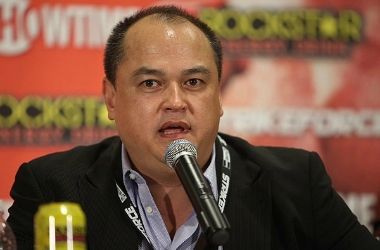 Round Two: Scott Coker Named President of Bellator, Frank Shamrock Gives Big Sigh of Relief

***TOUCH OF GLOVES***

So, if Bjork -- I mean Bjorn (DAMN YOU DANA!!!!)-- is gone as the head of Bellator, who is going to run this joint? Who will be in charge of enforcing restrictive fighter contracts? Who will continue to sign and promote UFC washouts and has-beens, many of whom are still decent draws despite what the hardcore community will have you believe? Who will continue to devalue the very concepts upon which the company was founded? Scott Coker, that's who. You read that right. HE'S BACK! The man who created a locally successful kickboxing promotion and turned it into a nationally and internationally successful MMA promotion is back in the saddle once again. The man behind Strikeforce did a great job creating legitimate competition for the UFC to the point that Zuffa figured it was worth it to buy out the promotion in 2011 than continue to compete against it. That says a lot right there. Of course, Coker didn't always make the best decisions and took a lot of risks trying to win an uphill battle against a promotion that already had strong name recognition in the U.S. (not to mention almost every top fighter in every weight class). Still, Coker did a lot of great things. He brought Cung Le to MMA. He promoted the first women's title fight in a major MMA promotion. He signed Fedor. Everyone knows how hard Dana tried to do that. He'll act like it's no big deal now, especially after Fedor lost, but we know the truth. We know, Mr. White.

In a conference call last Wednesday, Coker, along with President of Spike TV Kevin Kay (another of Dana's bestest buddies) gave the impression that with the change in management will come other changes to the promotion. They didn't say too much but it sounds as though the tournaments will be seriously downplayed moving forward. The tournaments were already being made less important but now it sounds like they may not be used at all for determining title challengers. I liked the tournaments for their ability to turn virtual unknown fighters into seemingly deserving title contenders. It created a simple, reliable process for creating contenders but it's not a perfect system, as Bellator has learned over the years. Not using tournaments gives the promotion more freedom to book the fights they, and presumably the fans, want to see but I hope they don't do away with the tournaments entirely. They're still a good way to make names out of nobodies. Coker also hinted at other changes, such as doing away with weekly events and possible co-promotion with other companies. it sounds like Coker is looking to try things that he didn't get a chance to do in Strikeforce before Zuffa bought it. It will be interesting to see what he does and if he succeeds in making Bellator bigger than it currently is, especially if he can make enough changes to make the company attractive to higher profile talent. He still has a good relationship with fighters like Josh Thomson and the Skrap Pack guys so who knows who might come over. It's too early to tell what Coker can do for Bellator but if Viacom was looking for someone to take the promotion to the next level, Coker is the man to do it. Just don't do any more cross-promotion with TNA, okay? I don't want Bellator 2.0 to end up like EV 2.0, okay? Some of my readers just cringed while the rest don't know what that means. Ha. Readers. I'm funnier than I realize sometimes.

***HORN SOUNDS***




Round Three: The Week in Athletic Commission Hearings, Wanderlei Silva Did Run Away, So Sayeth the Prophet Chael

Last Tuesday, the Nevada Athletic Commission (or Nevada State Athletic Commission, if you care about such silliness) held their June meeting but they had a bit more on the agenda this time than voting on the level of approved starchiness in referee shirts or whatever the hell it is the commission does half the time. Last Tuesday was the continuation of the Chael Sonnen/Wanderlei Silva/Vitor Belfort saga that started with Chael and Wandy fighting before the fight was scrapped after Wanderlei refused to take a drug test and was replaced by Vitor Belfort, who had failed his own drug test, until it was learned that Chael also failed a drug test and ripped a hole in the Earth, which caused demonic creatures to pour out and claim Renan Barao is deserving of an instant rematch against TJ Dillashaw. You know how this kind of thing goes. A big part of the meeting was going to be Vitor coming before the commission in an attempt to get a license to fight Chael at UFC 175 on July 5th. I still find it beyond stupid that UFC went about acting like the Chael/Vitor fight was a done deal despite the fact that, even though Vitor's drug test failure was out-of-competition, he still failed the test and should have been suspended for it. He may still be but, with Chael failing his own test and "retiring" from the sport, Vitor has no fight upcoming so he has no immediate need to get a license to fight in Nevada. I'm so glad everything worked out for you, UFC. All according to plan.

So, even though Vitor was not part of the meeting last week, Wanderlei and Chael were (ar at least their attorneys were). So what happened? Well, we know the reason why Wanderlei avoided the drug test last month: because he would have failed it. I know. What a shocker. I try to approach most drug matters as an "innocent until proven a dirty, lying cheater" but the doubt has been removed from this case. Wanderlei is a dirty, lying cheater. Sort of. Wanderlei was using diuretics to help reduce inflammation from a fractured wrist he suffered in everyone's favorite TUF: Brazil "brawl." Diuretics don't give you a competitive advantage. They just make you pee, but athletes can use them to mask drug use so they are banned in sports competition. Was Wanderlei using them to mask drug use? It's possible. This is where it would have benefited Wanderlei to have submitted to the drug test instead of running because now there will always be doubt to why he was actually using diuretics. Oh and yes, Wanderlei did run from the test, as Chael claimed a few weeks back. When Wanderlei saw the collector enter his gym, he calmly and coolly escaped out a back door. So Chael got that part wrong. It wasn't a side door. It's okay Chael. I still love you, and so does the commission even though they are giving you a suspension for your drug test failure even though you retired *WINK* The specific punishments for Wanderlei and Chael will be determined at a later date. For now it's back to voting on the thickness of turnbuckle padding and not holding judges accountable for bad decisions. You know. Usual commission stuff.

***HORN SOUNDS***




Round Four: Chael Sonnen to Compete in Submission-Only Jiu-Jitsu Event, Wait, Seriously?

Well that didn't take long. It's only been two weeks since Chael's big, heartbreaking announcement that he was retiring from mixed martial arts competition. It was a big shock to the MMA world and I imagine most of you should be through at least three of the Five Stages of Grief at this point. Yeah, I know. Most of you either don't care or are relieved to see that convicted felon finally remove himself from the purity of mixed martial arts. Still, even if that's your view of him, you can admit you're at least slightly interested whenever it's announced he's going to fight. Well, guess what? He's coming back. CHAEL SONNEN IS COMING BACK!!!! WELL, SORT OF!!!! IT'S BEEN ANNOUNCED THAT...sorry. Damn caps lock. It's been announced that Uncle Chael will be returning to active competition this August but it won't be MMA. He will be competing in the main event of Metamoris 4. Metamoris is a Brazilian jiu-jitsu promotion that focuses on submission-only competition. Wait, is he allowed to do that? Does Metamoris go through any athletic commissions to sanction their events? I don't know but, if they do, there might be an issue considering the whole "he just failed a drug test and is waiting to get suspended by Nevada" thing. It's even better because Metamoris holds their events in California, the state where Chael had his first drug test failure. This would actually mark the first time Chael has competed in the state since that night at UFC 117. Maybe Chael will go to dinner with the head of the California State Athletic Commission while he's out there. They have some catching up to do.

So, the biggest question that I imagine is popping into most people's heads upon hearing this news is "Huh?" It's a little baffling to think that Chael has agreed to compete in a BJJ match since one of the weakest areas of his MMA game was always his jiu-jitsu. It was his lack of submission defense that prevented him from winning the UFC Middleweight Championship (and deprived us of the clusterfuck that would have resulted from him failing a drug test AND being stripped of a championship at the same time). 8 of his 14 MMA losses came by submission and now he's going to take a fight where the only way he can win is by submission? Does he think that, because he caught Shogun Rua is a lazy guillotine that he's a jiu-jitsu wiz now? I guess we'll find out, since his opponent for the event will be André Galvão. Galvão is highly accomplished in the jiu-jitsu world. A third degree black belt, Galvão has won gold multiple times at every major jiu-jitsu championship you can think of. ADCC, Mundials, Pan Ams, the World Jiu-Jitsu Cup. Yeah. BJJ has it's own World Cup and Galvão has won there too. Granted, Chael's wrestling is good but the only way he wins this is by riding out the time limit and scoring a draw with Galvão. A draw is as good as a win here for Chael so best of luck to him. The Metamoris 4 card actually sounds decent so far, as Josh Barnett will be competing against Dean Lister, the man who had the Launchpad McQuack look going years before CB Dollaway was fighting. Should be a fun show this August.

***HORN SOUNDS***




Round Five: WSOF 10, Jessica Aguilar and....Yeah

***TOUCH OF GLOVES***

Does anybody care if I talk about World Series of Fighting? I hope it's not that big a deal since I'm sure most of you aren't paying any attention to the promotion. It's all right. I don't blame you. It's hard to keep track when their events get so little promotion, even from the major MMA websites, and they get paid to care about this crap. What does it say that I, someone who gets paid jack to string words together that contain some tangential relationship with the concept of people punching each other in the face professionally, is more willing to invest himself in this promotion than people who claim to do this for a living? Probably nothing that my therapist isn't already aware of. World Series of Fighting 10 was never going to get much attention anyway, not even from WSOF. They've got a much bigger event coming up in two weeks because, not only is WSOF 11 airing the same night as UFC 175 (the start time is earlier so as to not compete with the Payperview portion of the card), it's airing on big NBC. It will be the first WSOF event on the network and the first major MMA event NBC has ever aired. That's pretty significant. I mean, has UFC ever been on NBC? That's right. This means there will be more eyes focused on this event than there normally would, even with the piss poor attempts at promoting the card (WSOF events have always suffered from a lack of promotion). Plus, the main event features a guy with only one hand. How will that play out in the general media? If Justin Gaethje wins, will he get attacked for beating a "cripple"? Only one way to find out.

But that's on July 5th. Now, as for the card that went down last Saturday...there...um....well, there were fights on it. That sure sums things up pretty well, doesn't it? There were actually three title fights on the card, the most significant one being the first defense of Jessica Aguilar's WSOF Strawweight Championship. Aguilar is one of, if not the top women's strawweight fighter in the world, especially right now while all the others are in lockdown waiting for TUF 20 to start filming. Jag became the company's first women's champion in January and successfully defended it on Saturday against the Special Attack Angel herself, Emi Fujino. Aguilar had a pretty easy time in this fight, hurting her with strikes and taking her down without much trouble. Short of finishing the fight, Aguilar did everything she needed to maintain her top dog status at 115. The event also saw the culmination of a middleweight tournament to crown the company's first champion at 185 when David Branch, who you may remember for getting slam KO'd by Gerald Harris at UFC 116, defeated Jesse Taylor, who missed out on winning The Ultimate Fighter after being a drunken idiot at the Fertitta brother's casino, by submission. The event also saw Rick Glenn take Georgi Karakhanyan's featherweight championship when Georgi couldn't answer the bell for round three. Also, Tyson Griffin lost. Yep. Tons of surprises on this card. I've got to remember to get the sarcasm key on my keyboard fixed.

And that was WSOF 10. Please watch WSOF 11. C'mon, do it. It will be fun. Well, it might be fun. It's MMA. You never know what you're going to get.

***HORN SOUNDS***

That's it for Five Quick Rounds. Thanks for reading. If you have any questions, comments, or suggestions, and it is always appreciated when you do, leave them in the comments section. I will be back in 7 for another Five Quick Rounds. There are two UFC events this Saturday, smack-dab full of...excitement? Enjoy the fights and remember to fight clean, fight hard, fight fair, and never leave it in the hands of the judges...




LATER!!!!!!!!!!!!!!!!!!!!!!!!!!!!!
comments powered by