SPOTLIGHTS
Five Quick Rounds 07.01.14: Fight Nights 43 and 44, Wheaties Are Still A Thing?
Posted by Evan Zivin on 07.01.2014

From Chael Sonnen's second failed drug test this year and Pat Miletich getting inducted into the UFC Hall of Fame to the results of UFC Fight Nights 43 and 44, 411's Evan Zivin examines these stories and more in Five Quick Rounds!

Hey hey, fight fans, and welcome back to Five Quick Rounds! I am your host, Evan Zivin, and I am more excited than someone who learned an EPO isn't just a health insurance plan to be here once again!

Hey, guess what? Chael Sonnen failed another drug test. Yes, it has happened. Reports are saying that, after Chael was randomly drug tested by the Nevada Athletic Commission during UFC 173 weekend, a test that he would fail, the NAC asked Chael to take another random drug test on June 5th as part of the lead-up to his fight with Wanderlei Silva that fell apart due to all this rampant drug testing by rogue athletic commissions. The first test saw Chael test positive for clomiphene and anastrozole, drugs he admitted to using as part of his treatment to recover from years of synthetic testosterone use for his fighting career. This time he again tested positive for anastrozole but he also tested positive for human growth hormone (HGH), recombinant human erythropoietin (EPO), and human chorionic gonadotropin (hCG). It can be said that some of these substances may be part of his treatment but some of them, such as HGH and EPO, are clear PED's. Chael will be part of an NAC hearing on July 23 to explain what happened and we will see if the NAC has the gall to not only punish a retired fighter, but to punish Chael Sonnen. THE Chael Sonnen. Should be interesting. I wonder if Vitor Belfort still wants to fight him now. Probably.

All right, so with fighter introductions out of the way, I have five more rounds of MMA news and opinions to throw at you. This week, we look at the results of Fight Nights 43 and 44, Scott Coker's open letter to Bellator fans, Pat Miletich being inducted into the UFC Hall of Fame, and Anthony Pettis joining Team Wheaties. Let's to it do it.

FIGHTER YOU READY!!!!
FIGHTER YOU READY!!!!

FIGHT!!!!




Round One: Fight Night 43, Nate Marquardt Submits James Te-Huna Because God Told Him To

***TOUCH OF GLOVES***

I slept decently last Friday night. Thanks for asking. I woke up refreshed and ready to take on the day, only to realize after logging on to 411mania (the only website I'm contractually allowed to visit) to realize I missed an entire UFC fight card. UFC held a fight card in the middle of the night. How could they do that? Don't they realize that's when people sleep. Well, I suppose people were awake in Auckland, New Zealand, where Fight Night 43 emanated from. It featured a main event between Nate Marquardt, who was returning to middleweight after losing 3 fights in a row at 170, and Jame Te-Huna, who was cutting down to middleweight for the first time after losing his last 2 fights at 205. Yeah. A real riveting backstory there. At least the fight turned out pretty good,although I'm sure it didn't go the way most people were expecting. It was reasonable to think that, with two dangerous strikers going at it, one of the fighters would be smart and attempt to grapple. That man was Te-Huna but his takedown attempts were stuffed and reversed quite easily by Nate, who secured mount with about two minutes left in the first round. From there, Nate move towards an arm, locked up an armbar, and got the tap inside the first five minutes of the fight. I don't expect Nate to do much at middleweight but at least we can pretend he's a threat for a few months. Actually, he'll be a threat if he keeps the beard and afro. You only need one to be a champion. Having both means Nate could become the greatest fighter of all time. Sorry, Renan. Dana White will soon have a new favorite fighter to pimp when he's desperate for Paperview buys.

There aren't too many New Zealanders under a UFC contract right now so that meant Australians were also called upon to compete on the card, including Soa Palelei. He fought in the co-main event against Jared Rosholt and had a rough time against the accomplished wrestler. Palelei defended well against Rosholt's shots early in the fight but he couldn't keep it up forever and Rosholt was able to take over with his grappling. Rosholt did a good job of mixing up strikes and takedowns and took a unanimous decision against the game Ozzie. Also game was Charles Oliveira, who battled Hatsu Hioki for jiu-jitsu supremacy. Oliveira performed better in the clinch and was more successful with his takedowns but Hioki came close to tapping Oliveira on a few occasions. After a bad eyepoke in the second round to Oliveira, both men went at it on the ground again, with Oliveira finishing the sequence by locking up an anaconda choke and submitting Hioki for the first time in his career. Does anyone remember when Hioki was considered one of the best featherweights in the world? Anyone? We also saw Robert Whittaker work his standard striking game to pick up another unanimous decision, Neil Magny have a rough first round against Rodrigo de Lima before finishing him with strikes in the second round, and Gian Vilante get back in the win column with a close split decision against Sean O'Connell. I mention those three because none of the other fighters on the card have Wikipedia pages. And UFC wonders why people have trouble caring about most of these fighters...

And that was Fight Night 43, but those weren't the only fights UFC gave us last Saturday. That's right, THERE'S MORE!!!!!

***HORN SOUNDS***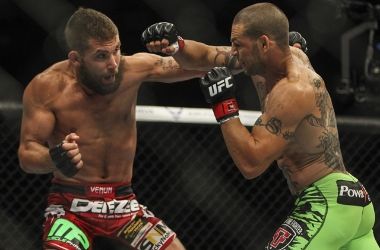 Round Two: Fight Night 44, Cub Swanson Rallies Against Jeremy Stephens, Just Like Everyone Else on the Card

***TOUCH OF GLOVES***

Now let's move on to the other card from last Saturday. That's right. Apparently UFC can no longer do a show in some far-off part of the world that airs at an odd hour without also having a card closer to home the same day. Is this their attempt to apologize to American fans for focusing on other markets and watering down their fight cards as a result? I dunno. At least most of these shows are reliable enough to produce a decent fight or two. The main event of the Fight Night San Antonio card was a featherweight title eliminator between Cub Swanson and Jeremy Stephens. Cub has been knocking on the door of a title shot for quite a while and, finally, he was ready to get one. All he needed to do was win one more fight, this time against Stephens, who has looked unstoppable since dropping to 145. Stephens definitely came ready to fight and looked good through the first two rounds, coming forward and beating Swanson to the punch time and again. It wasn't until Swanson connected with a hard body kick in the third that momentum really swung in his favor. Swanson became the aggressor in the last two rounds and used his technique to land the more accurate strikes. In the end, the judges unanimously awarded the decision to Swanson, mainly because he has more tattoos than Stephens. C'mon, we know they don't actually watch the fights. Now we'll likely get to see how long Cub can last against Jose Aldo this time. I'll say...12 seconds. I'm bold. I know.

It's amazing how fight cards can unfold sometimes, to the point that a theme develops among a series of fights. That happened on Saturday night as almost every main card fight featured the betting favorite faltering in the first round only to bounce back in the last two and do enough to win a decision. We saw Kelvin Gastelum get dragged around by Nicholas Musoke only for Gastelum to find his striking range in the last 2 rounds. We saw Hacran Dias push Ricardo Lamas against the fence only for Lamas to do the same to him in rounds two and three. We saw Clint Hester and Joe Ellenberger get caught off guard by Antonio Brago Neto and James Moontasri only to find a way to convince two judges that they won their respective fights. Definitely a lot of examples of how a fight can change from one minute to the next. A lot of relatively uninteresting examples, but examples nonetheless. If we learned anything from the prelims, it was the importance of training submission defense. Carlos Diego Ferreira dragged Ultimate Fighter winner (that's right) Colton Smith to the ground and tapped him using a rear naked choke with no hooks in 38 seconds. Seriously, he just wrapped his arms around the guy and squeezed until he got the tap. That technique shouldn't work at this level of competition. Neither should a neck crank, which Oleksiy Olinyk used to win his fight against Anthony Hamilton. He used the same move to defeat Mirko Cro Cop last year. Could this man become the Ronda Rousey of neck cranks? I doubt it but wouldn't that be fun?

And that was Fight Night 44. There are two more UFC events next weekend, plus a World Series of Fighting show. Your choice will be to either watch these shows or get drunk and blow yourselves up with fireworks. Yeah. I know. That's not really a choice at all.

***HORN SOUNDS***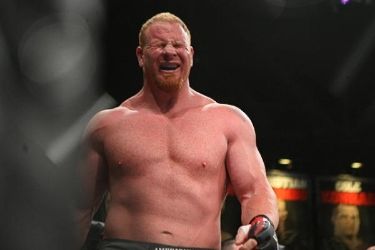 Round Three: Scott Coker Shows Us How Much He Loves Bellator By Firing Half the Roster

***TOUCH OF GLOVES***

It's been almost two weeks since it was announced that Viacom felt Bjorn Rebney looked too much like Dana White and removed him from the company, replacing him with Strikeforce founder and CEO Scott Coker. It seems there is a lot of excitement in the air over what Coker brings to the table and what changes he can make to turn Bellator into a true competitor to the UFC. There haven't been any specific details revealed yet as to what Coker plans to do differently but, whatever his long-term goals for the company may be, they don't include the 19 fighters who just got cut this past week. Actually, the fighters were supposedly released before Coker was installed as head of the company but the announcement wasn't made until the change in management had taken place. Maybe that's because Viacom wants Coker to get credit for finally letting Eric Prindle go? I dunno, but I wouldn't have kept him around after the Josh Thompson fight. That was just sad. The former heavyweight title challenger (seriously, that happened) was the biggest name among the Bellator 19. There's a couple of guys who competed in tournaments, like Travis Marx, Rodrigo Lima, and Nathan Coy, but no one you need to care about and definitely no one who is UFC bound after this. Well, unless Dana wants to stick it to Bellator for letting these guys go. Would Dana be that petty to do something like that? Do I even need to answer that question?

The first "official" order of business for Scott Coker as the new don of the Bellator mafia was to issue an open letter to the MMA community as a show of goodwill to those who may be upset over the changes that have taken place. I don't think I've seen too many people who are broken up at all over the change but I'm only basing that opinion on what Ben Saunders posted on The UG last week. He seems to be on the pulse of people who vehemently hate Bjorn Rebney so I can trust what he has to say. There's nothing too shocking in what Coker wrote. He says stuff about how he wants to make Bellator events special and a "first-choice destination" for fighters and all that jazz. The one thing I like about the letter is his desire "...to showcase the fun side of the sport..." Hopefully that means what I think it means: more freak show fights. If Bellator ever hopes to be legitimate competition to the UFC, it has to present itself as a different product, as an alternative to UFC. Bellator can't pretend they have the best fighters on the planet because they don't and we know that. Instead they need to take a page out of Pride's book and focus on the entertainment factor and the spectacle that MMA can be. Sign fighters with unique personalities and put them in fights that complement their style to produce either hard fought wars or highlight reel finishes. I'm not saying to fix fights but to make entertaining match-ups regardless of rankings or any sort of logical booking sense. The hardcore community may laugh at it but the casual fans will eat it right up. If you doubt it can work, then just remember: Kimbo Slice. Speaking of him, is he signed yet, Coker? Get on that.

***HORN SOUNDS***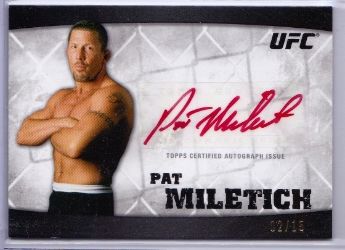 Round Four: Either Pat Miletich is Hall of Fame Bound or Jason Thacker Is

***TOUCH OF GLOVES***

Does anybody really care about the UFC Hall of Fame anymore? It's been around for about 11 years now and, while there are definitely some deserving names in there, such as Royce Gracie, Chuck Liddell, and Dan Severn's mustache, it took a bit of a hit last year when UFC inducted both Forrest Griffin and Stephan Bonnar. The 411 staff debated it at the time (I still remember when there were enough writers who still showed up to have those kinds of discussions) and we all agreed that it was kind of a joke. I get that their fight at the first Ultimate Fighter Finale was hugely instrumental as part of the UFC's rise in popularity through the late 2000's but it's hard to say either man had a Hall of Fame worthy career. It's easier to make the case for Forrest since he won the first Ultimate Fighter and became UFC Light Heavyweight Champion, but you can't do it with Bonnar. He was never a champion, he never competed for a title, he never even beat a single top ranked opponent. He had a likable personality and a fun fighting style but that alone does not a Hall of Famer make. At least it shouldn't. I mean, if UFC is using the WWE's Hall of Fame as an indicator for who is worthy, then it works but if they want the Hall of Fame to have any integrity, well...they need to do better. Then again, who needs integrity when you can have a bird? Koko B. Ware had a bird. Birds are awesome.

It sounds like UFC will do better this time. After mentioning that they plan to induct another name into their hallowed hall of MMA immortality, and after Dana trolled everyone by saying the entire first season of TUF should get inducted into the Hall of Fame, it appears as though the next inductee will be none other than the Croation Sensation himself, Pat Miletich. You know Pat, right? That guy who calls fights on the Mark Cuban channel next to the guy with the funny accent who constantly says "Goodnight, Irene" even though I don't think he's ever called a fight featuring anyone named Irene? Before Pat was doing that, he was a fighter. A good fighter. He was the first welterweight (then called lightweight) tournament champion in UFC history and went on to become the very first UFC Welterweight Champion, defending the championship 4 times. Then, after losing the title, he wound down his fighting career to become the most successful trainer of the early and mid-2000's, leading Matt Hughes, Jens Pulver, and Tim Sylvia to UFC Championships. Pat has accomplished a lot in his mixed martial arts career and it's great to hear that UFC is recognizing his contributions to the sport by enshrining him in the Hall of Fame, where he will forever reside next to greats like Randy Couture and Mark Coleman and Tito Or---oops. That's a no-no word. And when the hell is Frank getting in? C'mon, Dana! Quit being a brat and let him in. To think that Dana would rather let guys like Lodune Sincaid and Sam Hoger in and not Frank Shamrock. Just incredible.

***HORN SOUNDS***




Round Five: UFC Brings "Pride Neva Die" Tour to Japan, Anthony Pettis Shocks World by Proving Wheaties Still Exist

***TOUCH OF GLOVES***

Dana White is bringing his traveling MMA circus back to the Land of the Rising Hello Kitty Tentacle Porn on September 20 and he is looking to make a big push into the Japanese market with this event. The main event is already going to be killer, with Roy Nelson and Mark Hunt both guaranteed to spend 25 minutes trying to knock each other's respective blocks off. Very few fighters have the knockout power these two have and almost nobody possesses the granite chins these men have been blessed with. They will be working hard to give each other brain damage and it will be interesting to see if either man can put the other away inside the distance. That's a great fight but that's not all we're getting. It's been announced that, in addition to former Pride Lightweight Champion Takanori Gomi fighting on the card, UFC has brought back Yoshihiro Akiyama and Norifumi "Kid" Yammamoto for the event. Neither man has competed in MMA in over two years but both are very well known among the Japanese faithful so I get the logic in bringing them back. We're also getting the UFC debut of Rin Nakai, who is partly known for being unbeaten in 17 fights but is mainly known for appearing in weird fetish videos where she dresses up like a rabbit and pours milk over herself, among other disturbing things that some of you are enjoying the thought of way more than you should, you sickos. So get ready to stay up all night like you did in the old days to watch live Pride fights. UFC is counting on you to. Somebody has to be watching these Fight Pass shows, right?

And we'll end the week talking about something that is very near and dear to every fighter's heart, assuming that is where they keep their checkbook: sponsorships. Many fighters rely on sponsor money to supplement the meager incomes they make shortening their lifespans for our amusement and, with the relative lack of mainstream attention MMA still gets, it's usually considered a big deal when a major company chooses to sponsor an MMA fighter. From Gatorade signing Georges St-Pierre and Nike signing Jon Jones, it's always good to hear when a new brand enters the MMA scene. Maybe they only do it because Peyton Manning asks for too much money but, hey, we'll take it where we can get it. This time, it was UFC Lightweight Champion Anthony Pettis getting a high profile sponsor in Wheaties. Yes, the breakfast cereal in the orange box that people buy because of the athletes that get featured on the front of the box and not because people actually like to eat Wheaties. I've had Wheaties a few times. I usually got through the experience by dumping half a bag of sugar into the bowl and lying to myself that I was eating Frosted Flakes, but I knew the truth. I knew. I'm impressed that Wheaties was willing to throw their support to Pettis, especially since he hasn't fought in almost a year and it's another six months before he fights again. Still, Showtime Kick, right? That solves everyone's problems, especially if your problem is not having had anyone jump off a cage and kick you in the face. So congrats to Anthony and I hope he shares some of his cereal with Ben Henderson, It's the least he can do since Ben isn't getting a title shot as long as Anthony is champion. Bon appetit!

***HORN SOUNDS***

That's it for Five Quick Rounds. Thanks for reading. If you have any questions, comments, or suggestions, and it is always appreciated when you do, leave them in the comments section. I will be back in 7 for another Five Quick Rounds. Weidman-Machida, Rousey-Davis, Penn-Edgar III, and a title fight featuring a guy with one hand. Is that enough MMA for you? Enjoy the fights and remember to fight clean, fight hard, fight fair, and never leave it in the hands of the judges...




HAPPY BIRTHDAY, AMERICA!!!!!!!!!!!!!!!!!!!!!!!!!!!
comments powered by