SPOTLIGHTS
5 Questions For This Weekend's MMA Events
Posted by Dan Plunkett on 07.01.2014

From whether Chris Weidman is a draw to if BJ Penn has anything left in the tank, 411's Dan Plunkett takes a look at five questions for this upcoming weekend of MMA!

With three major shows, this Fourth of July weekend promises to be quite noteworthy. On Saturday afternoon, World Series of Fighting debuts on NBC. Later that night, UFC hosts its traditional pay-per-view coinciding with International Fight Week. On Sunday, another season of The Ultimate Fighter wraps up along with a big name trilogy. Let's take a look at five questions that should be answered this weekend.

Is Chris Weidman a draw?

When Floyd Mayweather and Manny Pacquiao defeated Oscar De La Hoya in 2007 and 2008 respectively, De La Hoya's star power rubbed off on them and two big draws were created where there had previously only been one. Prior to his leg injury, Anderson Silva was second-biggest draw in the UFC. His summer 2013 fight against Chris Weidman, then close to an unknown, drew an estimated 550,000 buys on pay-per-view. That total nearly doubled – to 1,025,000 – for their December rematch, which was strongly supported by Ronda Rousey vs. Miesha Tate on the undercard.

Weidman certainly didn't end the year as an unknown, but he also didn't become the Mayweather or Pacquiao to Silva's De La Hoya. For December's big event, Google search numbers, a good indicator of interest, were weakest for Weidman of the four headliners. When he knocked out Silva with a right hand last July, Anderson Silva losing was the story. When Weidman's well-timed check snapped Silva's leg, the attention was again directed towards Silva, not the victor.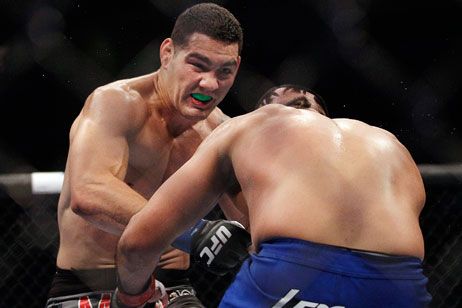 Still, Weidman is coming off a year where he won two high profile fights seen by millions. Last year, he had the most appearances of any athlete on ESPN's SportsCenter. He's the middleweight champion of the world – a title that should mean something after the last champion became the all-time greatest with the belt wrapped around his waist.

By all rights, a show with Weidman and Ronda Rousey, which Saturday's UFC 175 happens to be, should draw no fewer than 500,000 buys. Rousey is frequently touted as UFC's biggest star, but her opponents, with few exceptions, are unknowns due to the relative infancy of UFC's women's bantamweight division. Weidman's dance partner, on the other hand, is a known fighter that has drawn in the past. With Rousey and Machida providing support, Weidman is being given a solid shot to succeed.

If he does draw, it will be a relief for UFC, who can count only Rousey, Jon Jones, and Cain Velasquez as proven draws among active champions. Eventually, Weidman may have to prove himself against an opponent with little name value and little undercard support, but the first test is Saturday night. If he doesn't draw, it's a condemnation of the UFC's ability to promote new stars and pay-per-views while ramping up the number of television and UFC Fight Pass events.

Will Weidman be a dominant champion?

The division ruled by Anderson Silva was among the weakest in the company. Thanks to key additions from Strikeforce and a transfer from the light heavyweight division, UFC's middleweight division is stronger at the top than perhaps ever before. Vitor Belfort, Ronaldo "Jacare" Souza and Luke Rockhold are all interesting title contenders, but Lyoto Machida may be better than all of them. Machida will present Chris Weidman will a number of problems on Saturday. His distancing is uncommon, he is tough to hit, and he is difficult to take down. A win against Machida does not mean Weidman will go on to beat Belfort, Souza, Rockhold, or whatever foe crosses his path, but convincing, consecutive wins against Anderson Silva and Lyoto Machida is a feat only great champions could accomplish.

Does placing a star in the Fox Sports 1 main event make a difference?

Not often does the third-biggest fight on a card end up on the prelims. That's why it didn't make sense to people that Urijah Faber, the biggest lighter weight name in the UFC without lady parts, is fighting on the Fox Sports 1 portion of the card Saturday against Alex Caceres. If Faber isn't the biggest name to appear on a televised preliminary card, he's close to it.

According to The Wrestling Observer, the card placement came at the behest of Fox Sports 1, which was apparently tired of people it had never heard of headlining its preliminary card coverage. For the UFC, there are two potential benefits to placing a big name fighter on the preliminary card as opposed to the pay-per-view. The first is that it should draw a stronger than normal television number, but UFC is locked down with Fox for four more years so their domestic television rights fees aren't changing anytime soon.

The other potential benefit is it could lead to more purchases of the pay-per-view. The problem with that is, with one exception, there has never been any indication that the televised prelims move pay-per-view numbers. Maybe the missing element all along was taking a star off the pay-per-view and slotting him or her on the prelims, but probably not.

Does BJ Penn have anything left?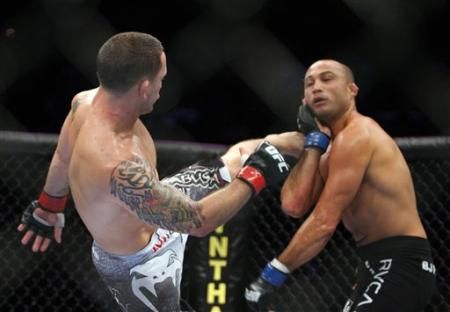 It's been nearly four years since BJ Penn won a fight. The 35-year-old's career took a sharp downturn after he ran into Frankie Edgar in 2010. Penn entered his UFC 112 fight against Edgar coming off career best performances against Kenny Florian and Diego Sanchez. He was flatter against Edgar, but in the eyes of many still did enough to win a decision. Then Edgar took the decision, which included one ludicrous 50-45 score, and an immediate rematch was made. Penn openly didn't train hard for the rematch, believing more rest would lead him to victory. That wasn't the case, and Edgar was totally dominant.

Four years later, Penn is moving down to featherweight for the sole purpose of fighting Edgar. A win would be huge not just for Penn, but for the UFC. The featherweight division has never drawn in the UFC, while Penn is the biggest lighter weight draw in UFC history. If the need to make featherweight has made Penn stay in shape, he could look better on Sunday than he has in a long time. However, the odds aren't in his favor. Penn has taken a lot of damage in his career (although he still hasn't been knocked down), he's slower than he once was, and it's unlikely he'll be able to match Edgar's pace.

Is World Series of Fighting a player?

The biggest show in World Series of Fighting's short history is being overshadowed by two UFC events, but it's a very important show for the company. WSOF debuts on NBC Saturday afternoon with Justin Gaethje vs. Nick Newell, Jon Fitch vs. Dennis Hallman, and Melvin Guillard vs. Gesias Cavalcante.

Thus far, the company has drawn between 94,000 and 365,000 viewers on NBC Sports Network. Their numbers are okay for Saturday nights on that channel. However, by all accounts, World Series of Fighting isn't being paid for that time, but rather working on a barter agreement. That makes live gates and advertising key revenue streams. Without question, Saturday's show will be their biggest ever, and a successful show (drawing a strong rating in key demos) should help the advertising money come the next NBC special. Perhaps even more interesting than this Saturday's show will be the follow-up show on NBC Sports Network, to see if the NBC exposure transfers over there.


Dan Plunkett has covered MMA for 411Mania since 2008. You can reach him by email at plunkettdan@yahoo.com.

comments powered by