SPOTLIGHTS
MMA's 3Rs 7.03.14: UFC Fight Night 43 and Fight Night 44 Edition
Posted by Jeffrey Harris on 07.03.2014

From the effective end of Chael Sonnen's career and Nate Marquardt's career-saving win over James Te Huna to Cub Swanson's defeat of Jeremy Stephens and more, 411's Jeffrey Harris breaks down the Right, the wRong, and the Ridiculous from the week in MMA!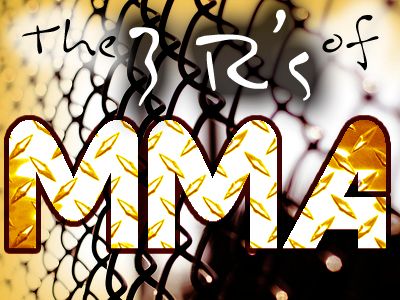 *The Column Concept*
Greetings loyal readers and welcome back to a brand new edition of the MMA's 3R's, where we look at the Right or the good, the wRong or the bad, and the Ridiculous or the absolute worst in the MMA world.

The UFC was back with two fight cards last weekend. We had UFC Fight Night 43 in Auckland, New Zealand on UFC Fight Pass, and UFC Fight Night 44 was in San Antonio, Texas on Fox Sports 1. And the UFC will be back with two more events this weekend. So let's get busy!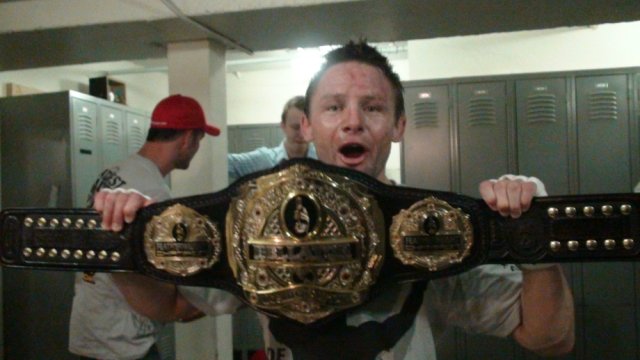 THE RIGHT:


Nate Marquardt vs. James Te Huna: Both guys desperately needed a win here. Marquardt was on a three-fight losing streak. Te Huna had lost his last two. It was Marquardt who would come out on top, submitting Te Huna with an armbar in the first round. I realize Marquardt had been having a bad run at welterweight and was knocked out twice, but a lot of people forgot that when he move down to welterweight, he was still one of the best middleweights in the world. He was still dominating and beating guys at 185. His UFC middleweight record was also 10-4. On the other hand, I can sort of understand why Marquardt was the betting underdog. Te Huna was the bigger guy moving down in weight. He was still ranked No. 14 in the official UFC light heavyweight rankings before this fight, believe it or not. Still, this was a great win for Marquardt, who salvaged what was left of his career here.


Nate Marquardt submitted James Te Huna in the main event at UFC Fight Night 43.

Cub Swanson vs. Jeremy Stephens: Despite what Deadspin might say, this was a great freaking match-up to put together for a cable TV main event, and it did not disappoint. Did we see a finish? No. Was it a great fight? Yes. This was a tough, five-round battle. However, it was Swanson who ended up rising to the occasion and fought like a champion in this fight. I scored rounds one and two for Stephens, but two through three for Swanson. I'd say Swanson without a doubt has earned a shot at the champion for his next fight. He shouldn't fight Korean Zombie. He should wait and see what happens at UFC 176. But even if he got knocked out in eight seconds by Aldo, he is not the same fighter anymore. He's earned his right to fight for the UFC featherweight title.


Cub Swanson defeated Jeremy Stephens in the main event at UFC Fight Night 44.

Charles Oliveira vs. Hatsu Hioki: I realize Hatsu Hioki is not the contender many thought he could be when he came into the UFC, but if you look at his record with 27 wins, no one has ever been able to finish with him. All of Hioki's career losses were decided by the judges. At UFC Fight Night 43, it was Oliveira who became the first fighter to ever finish Hioki in a fight. Oliveira has definitely been looking good as of late. He's now won his last two fights, and all of his UFC wins have come by way of submission. He had some initial trouble at featherweight, but now he looks like he's growing more comfortable. Hopefully, he is due for some bigger named opponents for his next outings.

Ricardo Lamas vs. Hacran Dias: This actually turned out to be a fairly surprising, competitive little affair for both guys. What really annoyed me was this fight got 30-27 on two scorecards, which I thought was absurd. I scored the fight with Lamas as the winner, but Diaz clearly won that first round. I like Lamas, and he got back on track with a win here. But if he ever wants to fight for a title again, he will need to step his game up. I was really more impressed with Dias' performance here than anything.

Kelvin Gastelum vs. Nicholas Musoke: Now I will get to Gastelum missing weight earlier, but this was a good competitive fight. Musoke actually came out strong in the early round and was dominating Gastelum. Gastelum managed to wake up in the second and pushed forward to salvage the fight for himself and come out of it with a decision win. He actually showed off some impressive, dynamic striking and he kept a good pace, despite how bad he looked in the first and that he missed weight the day before.


Kelvin Gastelum defeated Nicholas Musoke in the co-main event at UFC Fight Night 44.




THE wRong:

Johnny Bedford vs. Cody Gibson: Now generally, I think it is alright in many instances for the referees to err on the side of caution when fights are stopped. And that's because these fighters are getting hit in the head and who knows how that type of damage will affect them later. The referee saw Bedford get blasted here and go down, and I suppose that's why he stopped the fight. However, it appears he definitely jumped the gun. Bedford was hurt, but hit the mat and was pulling guard. Gibson jumped into guard and didn't even land a solid follow-up shot that would hurt Bedford. We see too many instances of leniency in situations like this as well. Realizing there can sometimes be a very thin line on this issue, I believe this was a bad stoppage and a bad call to stop the fight.


Johnny Bedford was knocked out by Cody Gibson at UFC Fight Night 44. The stoppage was controversial and criticized for being early.

Kelvin Gastelum misses weight: Before this fight, Gastelum made it sound like he was on weight and he was no longer working with Mike Dolce to help with his weight cut. He had struggled with making weight against Rick Story, though he did so. However, he came in over two pounds overweight in this fight, where he was fighting in the co-main event. I like Gastelum. I think he's got a ton of potential and could be a great fighter. I think his ranking at No. 11 in the welterweight division is ridiculous. He's won only two fights at welterweight now, and one of those wins was a close split decision over Rick Story. Gastelum said that Mike Dolce is too expensive. Well he got 20 percent of his purse deducted for not weighing in, so was it more expensive than that? I'm not going to rail on Gastelum but just say, let this be your wakeup call. You missed weight. You still managed to win, but you almost got tooled in the first round. So get it under control now. If this continues to be an issue, the UFC will not be happy with you. How can the UFC count on putting you in a title fight if you fail to make weight?


Kelvin Gastelum failed to make weight for his UFC Fight Night 44 fight with Nicholas Musoke.
THE RIDICULOUS:

Chael Sonnen: YOU'RE FIRED!: OK, so Chael Sonnen was able to get out of his last drug testing issue fairly unscathed. He claimed he was using medication for having to get off his TRT regiment. Now before TRT was banned earlier this year, TRT was technically legal and commissions granted special exemptions to use it. Despite his past issue with his elevated testosterone levels, Sonnen was granted a TRT exemption by the Nevada State Athletic Commission before. Sonnen went by that excuse and "retired" from MMA. He was still likely able to salvage his career with Fox Sports as a broadcaster though. However, word came out last week that he failed an additional drug test, testing positive for even more banned PED substances such as HGH and EPO. As a result of the scandal, UFC and Fox Sports pretty much had no choice but to cut ties with Sonnen. For anyone that's on Sonnen's side here, I'll say this. Chael Sonnen only has himself to blame. He knew what he was doing. He knew the risks. He rolled the dice n his career, and he got caught. These are the consequences. Now to be clear, I think everyone in MMA is jacked up on something. Any athlete that says, "all these guys are doping, but I'm clean," I don't believe them. I refuse to believe any pro athlete that says he's clean. And the reason I believe that is because time and time again it's been proven otherwise. Every athlete who failed a drug test claimed ignorance or said "I don't use steroids." If over half the industry is juicing, is it such a stretch to believe a lot of these guys are not on their honor system and doing something shady? The thing that angers me to know end though is that fan and pundits who are so sanctimonious over this issue always give Pride FC and Pride fighters a free pass. Am I really supposed to believe all those fighters in their heyday in Pride were on their honor system and not juicing? Sorry, but I don't believe it. Anyway, I like Chael Sonnen, but this is no one else's fault but his own. If I was Chael, I would let this blow over and lay low. Don't sign with Bellator and be their new spokesman.


Chael Sonnen has been effectively fired by UFC and Fox.


That's it for the R's. But what else is going on at 411mania.com with yours truly, the 411mania Jack of All Trades?

In movies, check out my official review of cool, new sci-fi flick Snowpiercer.

Over in games, check out some of my official E3 2014 coverage with my previews of The Order: 1886 and Middle-Earth: Shadow of Mordor.



* TWITTER *
* http://www.twitter.com/411mma *
* http://www.twitter.com/411wrestling *
* http://www.twitter.com/411moviestv *
* http://www.twitter.com/411music *
* http://www.twitter.com/411games *
comments powered by