SPOTLIGHTS
411's MMA Roundtable Preview - UFC 175 & TUF 19 Finale
Posted by Dan Plunkett on 07.04.2014

Chris Weidman defends the middleweight title against Lyoto Machida at UFC 175! Plus Ronda Rousey takes on Alexis Davis while Frankie Edgar faces BJ Penn at TUF 19 Finale! Check out the full roundtable and join 411 for LIVE coverage on Saturday and Sunday!




WELCOME:
Chris Weidman defends the middleweight title against Lyoto Machida in the main event of UFC 175! In the co-main event, Ronda Rousey defends the women's bantamweight belt against Alexis Davis. At heavyweight Stefan Struve returns against Matt Mitrione. Headlining the preliminary card, Urijah Faber looks to rebound from his title match loss against Alex Caceres. Plus, the staff gives their picks for Sunday night's main event on Fox Sports 1, Frankie Edgar vs. BJ Penn!

THE STAFF:


From 411's MMA Rankings, Jonathan Solomon!


From MMA's 3R's, Jeffrey Harris!


He's got you locked in the guillotine, Robert Winfree!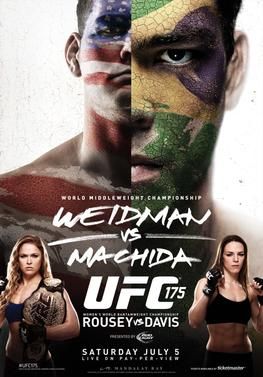 THE PRELIMINARY CARD:




First two prelims stream on UFC Fight Pass, rest on FX (not Fox Sports 1).




Middleweight Bout: Kevin Casey vs. Bubba Bush



Jonathan Solomon: Kevin Casey, TKO, Round 1
Jeffrey Harris: Bubba Bush, TKO, Round 3
Robert Winfree: Kevin Casey, Decision
The staff picks Kevin Case, 2-1.



Middleweight Bout: Luke Zachrich vs. Guilherme Vasconcelos



Jonathan Solomon: Guilherme Vasconcelos, Decision
Jeffrey Harris: Guilherme Vasconcelos, Decision
Robert Winfree: Luke Zachrich, Decision
The staff picks Guilherme Vasconcelos, 2-1.



Bantamweight Bout: George Roop vs. Rob Font



Jonathan Solomon: Rob Font, Decision
Jeffrey Harris: George Roop, Decision
Robert Winfree: George Roop, TKO Round 2
The staff picks George Roop, 2-1.



Middleweight Bout: Chris Camozzi vs. Bruno Santos



Jonathan Solomon: Bruno Santos, Decision
Jeffrey Harris: Chris Camozzi, Decision
Robert Winfree: Chris Camozzi, Decision
The staff picks Chris Camozzi, 2-1.



Welterweight Bout: Kenny Robertson vs. Ildemar Alcantara



Jonathan Solomon: Ildemar Alcantara, Decision
Jeffrey Harris: Ildemar Alcantara, Submission, Round 2
Robert Winfree: Ildemar Alcantara, TKO Round 2
The staff picks Ildemar Alcantara, 3-0.



Bantamweight Bout: Urijah Faber vs. Alex Caceres



Jonathan Solomon: Urijah Faber, Submission, Round 2
Jeffrey Harris: Urijah Faber, Submission, Round 2
Robert Winfree: Urijah Faber, Submission Round 1
The staff picks Urijah Faber, 3-0.

---




THE MAIN CARD:




Bantamweight Bout: Marcus Brimage vs. Russell Doane



Jonathan Solomon: Brimage will make his 135-pound debut Saturday night while Doane is 13-3 as a bantamweight. Marcus Brimage was undefeated in the UFC until he ran into Conor McGregor last year in Sweden and spent most of the time since then recovering from an Achilles injury. Russell Doane, out of Honolulu, has earned bantamweight title honors in a series of fight groups across his hometown and also became the Tachi Palace Fights champion last fall when he knocked out former UFC fighter Jared Papazian. Doane debuted in the octagon in January with a triangle choke win over Leandro Issa and is the more explosive fighter both in terms of his boxing and jiu-jitsu.

Winner: Russell Doane, Submission, Round 1

Jeffrey Harris: Interesting little fight. Brimage actually had some good performances as a featherweight before he ran into Conor McGregor. Doane submitted Leandro Issa in his Octagon debut. Doane has a lot more fights and experience, but Brimage has upset fighters with such accolades before. I predict Brimage pulls this one out.

Winner: Marcus Brimage, Decision

Robert Winfree: This should be a decent, if mostly meaningless, fight to kick off the PPV. Lighter weight class fights are usually action oriented. Brimage is making his bantamweight debut here after getting schooled by Conor McGregor his last time out. Doane is coming off of a successful UFC debut when he choked out Leandro Issa. Doane has more fights and wont be trying to make a new weight class, so let's go with him.

Winner: Russell Doane, Decision

The staff picks Russell Doane, 2-1.

---




Middleweight Bout: Uriah Hall vs. Thiago Santos



Jonathan Solomon: Thiago Santos was a member of the second season of TUF: Brazil and was signed to a deal despite losing in the tournament phase of the show. Last summer, he was choked out in seconds by Cezar Ferreira. But, he turned his luck around with his first octagon win in March when he finished Ronny Markes in 53-seconds. This fight will mark the 30-year-old's debut in the United States. Uriah Hall will turn 30 at the end of the month and the Queens, NY native is back for the first time since his win over Chris Leben in December. It was a fight for Hall that staved off his release (his record stands at 1-2 in the UFC) but he'll likely need another good performance this weekend to give himself some breathing room. Hall is arguably the most physically gifted fighter in the middleweight division (Jacare Souza may refute that) and has the ability to stop Santos early on in the first round. Thiago will have to beat Uriah to the punch and make it a grueling fight that's less about powerful kicks and more of a gritty grappling match.

Winner: Uriah Hall, TKO, Round 2

Jeffrey Harris: Honestly I do not have any faith in Uriah Hall after his recent UFC performances. In his last fight, he beat up a completely shot and worn out Chris Leben. His performance before Leben was unable to answer the bell for round 2 was not all that impressive either. I simply think Uriah Hall is another Phillipe Nover, a guy who looks like fried gold dynamite on TUF but fails when he gets to the big stage in the UFC. I say Santos upsets Hall.

Winner: Thiago Santos, TKO, Round 2

Robert Winfree: I remember the staff here getting a little flack when we predicted Kelvin Gastelum to beat Uriah Hall during that season of The Ultimate Fighter, sadly Hall has fallen pretty far from that point. Hall managed to beat Chris Leben his last time out, but beating Leben in December of 2013 means nothing. Prior to that he lost back to back fights to Kelvin Gastelum and John Howard. Hall is someone the UFC really wants to be successful, he has a great look and his spinning kick KO on TUF remains incredibly impressive, sadly he's just not that good. Thiago Santos was a contestant on the third Brazilian TUF and is coming off of a win over Ronny Markes. If Hall can't have a good showing here it might be time to just cut that line and move on. I don't know which way this will go, but I'm picking Hall just because I think he knows he really needs some wins at this point.

Winner: Uriah Hall, Decision

The staff picks Uriah Hall, 2-1.

---




Heavyweight Bout: Stefan Struve vs. Matt Mitrione



Jonathan Solomon: Stefan Struve's return after a potential career-ending heart condition is an amazing sight. It was last summer that he was diagnosed with a leaking aortic valve and enlarged heart but medication improved his health. Now, he can focus on beating most of the average heavyweight talent in the UFC. Look across his five-year run in the octagon and his 9-4 record over that span (losses to Junior dos Santos, Roy Nelson, Travis Browne and Mark Hunt), he's on the cusp of becoming a legitimate contender. Matt Mitrione is a fighter Struve should overcome. Mitrione scored a knockout win against Shawn Jordan four months ago and has the benefit of being active (this is his fourth fight over the past 13 months). Aside from his height and reach advantages, the seven-foot-tall Struve is a dangerous grappler and should he get the fight to the ground, has the ability to control the fight and finish.

Winner: Stefan Struve, Submission, Round 1

Jeffrey Harris A lot of interesting factors here. Struve is coming off a long layoff after a heart ailment. Mitrione is coming off a win this time, knocking out Shawn Jordan in his last fight. So Struve has been out for a while, plus having to deal from having his jaw split literally in two by Mark Hunt, and he had a bicuspid aortic valve. Still, I think this has potential to be a fun heavyweight fight. Mitrione is a solid striker with some fast, heavy hands. Struve is a well-rounded fighter, but his major issue is his poor striking defense. He does not use his size or range very well. Still I think Struve's grappling skills give him an edge here. If Brendan Schaub can submit Mitrione, I think Struve can.

Winner: Stefan Struve, Submission, Round 2

Robert Winfree: Now this I can get behind, hooray for heavyweight slugfests! Both Struve and Mitrione are known for their striking, though Struve has some solid skills on the ground. The questions about Struve will be if he's really ready to come back after his heart issues and how he'll perform after the long layoff and medical issues. Mitrione has a decent striking game and is pretty light footed for a heavyweight, but his grappling is extremely weak, if Struve gets him down he should finish this quickly, and I think he will.

Winner: Stefan Struve, Submission Round 1

The staff picks Stefan Struve, 3-0.

---








UFC Women's Bantamweight Championship Bout: Ronda Rousey vs. Alexis Davis



Jonathan Solomon: Ronda Rousey is the best female fighter in the sport and has dominated all but one of her fights and in that one fight, Miesha Tate was never in a position to finish the champion. The only reasons to pick against Rousey at UFC 175 revolve around her busy schedule between filming multiple movies, training and fighting or Alexis Davis' stature as one of the most accomplished grapplers in the division. Davis is a Brazilian Jiu-Jitsu black belt with a 16-5 MMA record. She has never been submitted in her professional career and has not been stopped due to strikes since 2009 (technically a doctor stoppage). Davis is 8-1 since the fall of 2010 and has won five consecutive fights between Invicta and the UFC. What I'm interested in seeing in this match-up is how Rousey fights out of Davis' guard, or whether Alexis can actually get in a position where Ronda's back is on the mat. The only opponents I would consider having a great chance to stop Rousey would be Cris Cyborg or Holly Holm (maybe Marloes Coenen, too), so I cannot pick against her here.

Winner: Ronda Rousey, TKO, Round 3

Jeffrey Harris: Time and time again, we have seen how unpredictable this sport can be. So it is far from impossible that Alexis Davis can beat Ronda Rousey. Now am I expecting that? No. Am I betting that? No. But could it happen? Yes it could. Alexis Davis has had a prolific MMA career, but none of her UFC wins were particularly all that impressive. She's beaten a lot of good, experienced fighters. She's definitely earned this shot against Rousey. I do not see her getting the chance to get off her strikes and make it her fight. People also always underestimate just how good Rousey is with using her size in her fights as well as her world class grappling. I think Rousey eventually catches hold of Davis and submits her.

Winner: Ronda Rousey, Submission, Round 3

Robert Winfree: Ronda Rousey, armbar, round 1. Seriously, Rousey is just head and shoulders above the rest of the division right now. When a division is just starting up you tend to get champions who are just superior to everyone else until the division is able to grow. Urijah Faber was that at featherweight, Miguel Torres was that at bantamweight, Demetrious Johnson is that right now at flyweight, and Ronda Rousey is in that position for female fighters. There's no one under contract with the UFC I'd pick to beat her right now.

Winner: Ronda Rousey, submission (armbar) Round 1

The staff picks Ronda Rousey, 3-0.

---








UFC Middleweight Championship Bout: Chris Weidman vs. Lyoto Machida



Jonathan Solomon: Chris Weidman is definitively the best middleweight in the world, but can the 36-year-old former light heavyweight champion stop his reign before it really gets going? Lyoto Machida has appeared incredible since dropping down to 185-pounds, bludgeoning his buddy Mark Munoz before outclassing Gegard Mousasi in a five-round unanimous decision victory. He's faster, perhaps stronger and just as dangerous with his striking at middleweight as he was at 205-pounds. However, Weidman is a different animal altogether. The current middleweight champion is a powerful wrestler, capable of knocking anyone out and is skilled on the ground in his jiu-jitsu. All that fit into an equation where Machida won't be able to outpoint him across five rounds and while he may land a powerful strike here or there, can he follow it up and overwhelm the champion?

Winner: Chris Weidman, Decision

Jeffrey Harris: During this week's 411 Ground & Pound Radio Show, I was incredibly conflicted about this fight, and I still am. Few fighters have managed to dominate and figure out Machida. One was Mauricio "Shogun" Rua. In one fight, Shogun basically had the superior cardio and also managed to completely disrupt Machida's trademark rhythm. Jon Jones eventually just pounded on Machida and then just wrapped him up in a sick choke. I'm hoping Weidman's knees will not be an issue here. Machida has a style that is so difficult to deal with. He makes the best of fighters look like garbage against him. However, we cannot sleep on Weidman and his athletic talents and abilities. Say whatever you want, he was the man that ended the title run of Anderson Silva, and that counts for something. I think if Weidman has the right game plan, he will be able to deal with Machida's style and eventually beat him.

Winner: Chris Weidman, TKO, Round 4

Robert Winfree: I'm really excited for this fight. Chris Weidman is coming off of back to back wins over Anderson Silva, sadly both of those fights featured some circumstances that caused people to talk about what Silva did wrong as opposed to talking about the impressive things Chris Weidman was able to do. Machida presents a completely different set of problems for Weidman though, he's much more mobile than Silva, is more comfortable fighting safety first, and has better wrestling skills. Weidman will have to be looking to time Machida's movement, if he can land a blow when Machida is entering for a combination he can put him out or score a takedown. Machida will likely be looking to circle, land kicks from a safe distance, and frustrate Weidman into making a mistake that he can capitalize on. This should be a fun, tactical battle between two of the best middleweights on the planet. This fight could legitimately go either way, both men are superb fighters, but I'm picking Machida to make history and become just the third man in UFC history to hold titles in two different weight classes.

Winner: Lyoto Machida, Decision

The staff picks Chris Weidman, 2-1.

---




The Ultimate Fighter: Team Edgar vs. Team Penn Finale:



Preliminary Card:
Light Heavyweight Bout: Robert Drysdale vs. Keith Berish (Fight Pass)
Women's Bantamweight Bout: Sarah Moras vs. Alexis Dufresne (Fight Pass)
Light Heavyweight Bout: Patrick Walsh vs. Dan Spohn (FS1)
Lightweight Bout: Adriano Martins vs. Juan Manuel Puig Carreon (FS1)
Bantamweight Bout: Jumabieke Tuerxun vs. Leandro Issa (FS1)
Lightweight Bout: Kevin Lee vs. Jesse Ronson (FS1)

Main Card:
Flyweight Bout: Justin Scoggins vs. Dustin Ortiz
Heavyweight Bout: Derrick Lewis vs. Guto Inocente
Middleweight Bout: Eddie Gordon vs. Dhiego Lima
Light Heavyweight Bout: Corey Anderson vs. Matt Van Buren



Featherweight Bout: Frankie Edgar vs. BJ Penn



Jonathan Solomon: I am a fan of both fighters so it's not a situation of wanting to see one guy lose. Part of me would also enjoy seeing B.J. back finding success in the UFC, but this is just a weird fight. Penn has not fought since he was beaten by Rory MacDonald at the end of 2012 and the last two fights between these two men came in 2010. Meanwhile, Frankie Edgar has maintained his status as a quality fighter over the past four years. Even after dropping to featherweight, he gave Jose Aldo a fight for five rounds and picked up a win over Charles Oliveira last summer. B.J. is 35-years-old, will the first time he has cut weight to featherweight negatively impact him on fight night? Besides, when was the last time B.J. lasted five rounds and maintained his energy? The night he nearly killed Diego Sanchez, in 2009! Nobody finishes Frankie Edgar and when this fight goes into the 4th and 5th rounds, it will be Edgar picking up the pace and taking home another decision win over the legendary former two-division champion.

Winner: Frankie Edgar, Decision

Jeffrey Harris: I didn't mind this fight since it meant keeping more relevant fighters, contenders, and a title fight off of their season of The Ultimate Fighter. I'm not expecting a rebirth of BJ Penn here. He was always a natural lightweight. I think he wasted his time going back up to welterweight, which did him no favors. He would've been better served trying to fight other top lightweights to pursue another lightweight title run, which would've been more interesting for his career. Now their first fight was very close, and I scored it for Penn. However, I have been disappointed by Penn too much to believe he is going to have a career highlight performance at a new weight class and bust up his old rival in Edgar. Frankie dominates Penn and wins their third fight.

Winner: Frankie Edgar, Decision

Robert Winfree: I said before I don't especially care for this fight, and I stand by my assertion that BJ Penn wont make the weight. If I'm wrong about that and Penn does manage to make 145 lbs., I don't want to think about how poorly he'll perform. Edgar already has two wins over Penn, while the first was a dubious decision the second was a five round mauling, and I see no reason to think anything will be different this time around. It wouldn't shock me to see Penn quit between rounds four and five after being beaten up and dealing with the effects of the weight cut, but a decision for Edgar is more likely.

Winner: Frankie Edgar, Decision

The staff picks Frankie Edgar, 3-0.

---
Remember to join 411's coverage of UFC 175 on Saturday night!
comments powered by