SPOTLIGHTS
Looking at Machida's Chance at Greatness
Posted by Robert Winfree on 07.04.2014

Lyoto Machida has a chance to become just the third man in UFC history to hold titles in two different weight classes! 411's Robert Winfree examines why a Machida win would push him past BJ Penn and Randy Couture to a new level!

Hello everyone, thanks for getting Locked in the Guillotine again. I hope you haven't been slacking off in my absence. Before we get going you really should check out the Radulich in Broadcasting network, it's home to the 411 Ground and Pound radio show every Sunday at 8pm eastern. It's home to a bunch of other on demand audio shows as well, give it a listen.



More Pop Culture Podcasts at Blog Talk Radio with

Mark Radulich

on BlogTalkRadio



This Saturday at UFC 175 a unique historical opportunity is being presented to Lyoto Machida. Machida will be fighting in the main event against UFC middleweight champion Chris Weidman with the title on the line, a fight that I am personally looking forward to. Machida is a former UFC light heavyweight champion and will be attempting to become just the third man in UFC history to hold titles in two different weight classes. It's an impressive opportunity for Machida, not only to become a champion again, but to cement himself as one of the all time greats. Should Machida defeat Chris Weidman not only join the names of Randy Couture and BJ Penn as two division champs, he should surpass them.




The first man to hold titles in two different weight classes was Randy Couture. Couture became the UFC heavyweight champion in 2000 when he defeated Kevin Randleman, he defended the title twice against Pedro Rizzo before being defeated by Josh Barnett and Ricco Rodriguez in back to back fights. Couture, always an undersized heavyweight, decided to move down to light heavyweight and immediately challenged Chuck Liddell for the interim title. Couture defeated Liddell with strikes from top position in the third round, then defeated Tito Ortiz to capture the undisputed title. Couture would return to heavyweight and recapture that title years later after being defeated twice by Liddell and would defend that title successfully once before succumbing to Brock Lesnar.

BJ Penn exploded onto the MMA scene when he started fighting for the UFC, he had power in his hands, a world class ground game, and a personality that got people invested in him. Penn was tapped as a potential title holder in the lightweight division and after crushing Caol Uno he was the favorite against champion Jens Pulver. Pulver pulled off a numerical upset and defeated Penn by majority decision. The lightweight division ceased to exist not long after, Pulver left the company and the rematch between Penn and Uno to determine the new champion went to a draw and the division was scrapped until 2007. Penn moved up to welterweight after the lightweight division was disbanded and defeated Matt Hughes to capture that title when he choked Hughes out in the first round. Penn was stripped of the title when he left the company to compete at heavier weight classes, but his return helped spark the revival of the lightweight division. Penn fought Joe Stevenson for the vacant title after champion Sean Sherk was stripped of the title following a drug test failure, Penn dominated Stevenson and submitted him in the second round of one of the bloodiest fights in the promotions history.

It is no small thing to say Machida can surpass the accomplishments of Couture and Penn, but the reality is that if he can defeat Chris Weidman he will. Randy Couture succeeded at heavyweight, a division that until recently was laughably thin. His first heavyweight title run came when the sport itself was still relatively obscure, and his second during a time when Tim Sylvia was putting on some of the worst title fights of all time and fighting Andrei Arlovski every other fight. At light heavyweight Couture beat Vitor Belfort, a fighter he'd already dominated at heavyweight, Chuck Liddell once but was brutally knocked out in their other two encounters, and Tito Ortiz when Ortiz was coming off of a layoff and already starting to decline as a fighter. BJ Penn beat Matt Hughes when Hughes was overconfident and never defended the welterweight title, and at lightweight Penn was the beneficiary of a developing division. Both men still deserve high praise and are rightfully afforded a place in history for those accomplishments, but look at what Machida will have accomplished. Machida defeated Rashad Evans in 2009 to become the UFC light heavyweight champion when both men were undefeated, and Evans remains a top five competitor to this day. Machida would have just one successful title defense, a dubious decision win over Mauricio "Shogun" Rua before losing via knockout the Rua in their rematch. Beating Rashad Evans in 2009 was no mean feat, Evans was undefeated and had finished his two previous opponents, Chuck Liddell and Forest Griffin, with strikes. If Machida can defeat Chris Weidman, an undefeated champion with back to back finishes of all time great Anderson Silva, he wont only become the third man to become a two division champion, he will have done so against the very best both divisions had to offer when both divisions had talented fighters at the top.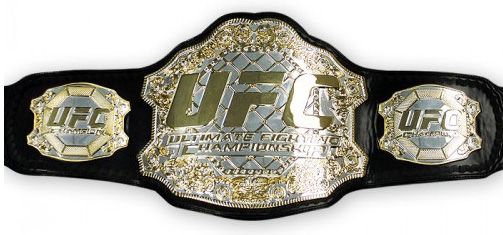 Can Machida obtain a second UFC title?



As a fun side note, Machida also holds wins over both Penn and Couture. If Machida can win on Saturday he isn't just becoming the first modern two division champion, he's firmly entrenching his name into the mythical "Greatest of all time" discussion. Machida has a chance to make history on Saturday, he just has to unseat another undefeated champion to do it. I for one can't wait to see what happens when Machida and Weidman are locked in the cage together.



Robert Winfree is a libra, long time contributor in the MMA zone of 411mania.com, host of the weekly podcasts Everyone Loves a Bad Guy and the 411 Ground and Pound radios show, plus current live coverage guru.
comments powered by