SPOTLIGHTS
Five Quick Rounds 07.08.14: The 4th of July Weekend Fighting Spectacular
Posted by Evan Zivin on 07.08.2014

From Ronda Rousey's destruction of Alexis Davis and Chris Weidman's decision over Lyoto Machida to the results of the TUF 19 Finale and WSOF 11, 411's Evan Zivin examines these stories and more in Five Quick Rounds!

Hey hey, fight fans, and welcome back to Five Quick Rounds! I am your host, Evan Zivin, and I am more excited than an empty chair on the UFC Tonight set to be here once again!

I mentioned last week how Chael Sonnen failed another drug test. It was the second time he had done so this year but this test was different from the first one as it found HGH and EPO in Chael's system, substances he can claim help him transition off Testosterone Replacement Therapy but are also PED's that one shouldn't be taking in preparation for a fight. Well, we still don't know what kind of punishment the Nevada Athletic Commission will hand down to Chael for these transgressions but UFC and Fox have already acted by releasing Chael from his contract as a fighter and as host of UFC Tonight. Yeah, I know. Now there's no reason to even watch the show but it was the right thing to do. No athlete should be able to get away with the things Chael has and still be supported by the sports promotion he works for. That is, unless they don't about having any integrity. UFC might not, though, considering how hard Dana said it was to let Chael go. I get where Dana's coming from by saying that as Chael was perfect for TV. He was one of the only guys in the company with a personality and he knew how to hype up a fight. He brought in viewers but he's also a dirty, lying cheater. So it wasn't the easiest decision but it was a decision that had to be made. Now we'll likely not hear about Chael ever again....until his fight at Metamoris 4 next month. Be strong, everybody.

So, with fighter introductions out of the way, I have five more rounds of MMA news and opinions to throw at you. This week, we look at the results of UFC 175, the results of the TUF 19 Finale, the results of WSOF 11, and the new main events for UFC 177 and 178. Let's to it do it.

FIGHTER YOU READY!!!!
FIGHTER YOU READY!!!!

FIGHT!!!!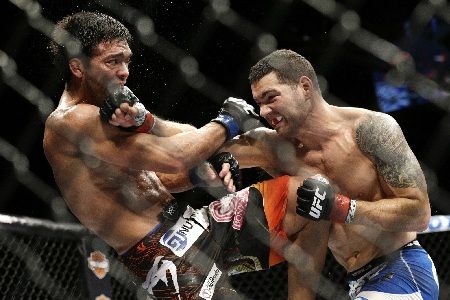 Round One: UFC 175, Chris Weidman Chases the Dragon, Emerges Victorious

***TOUCH OF GLOVES***

Live, from the Mandalay Bay Events Center in Las Vegas, Nevada, it was UFC 175 ON SATURDAY NIGHT!!!!!!

Saturday was an important night for the UFC. The number one MMA promotion in the world and one of the top Payperview providers in the country hasn't performed too well numbers-wise this year. UFC 171 and 172 both did decently (relatively speaking) but UFC 173 was said to have underperformed and it was reported that UFC 174 did one of the lowest buyrates the company has seen in a long time. We're talking "Babalu Sobral in a PPV main event" long time here. Also, a lot of events this year have sucked so UFC was in need of a good show to help re-energize the fanbase. Did they do that with UFC 175? I don't know. Who do I look like, Meltzer? I can't pull numbers out of my ass the way he can. All I know is that the show was decent, although lacking a bit in star power the way past Fourth of July weekend shows have delivered. The main event saw Chris Weidman defend his UFC Middleweight Championship against someone who isn't Anderson Silva. I know. You're disappointed but his opponent was Lyoto Machida, the former Light Heavyweight champion. You like him, right? I know Mike Goldberg and Joe Rogan do because they get to say "elusive" a whole bunch of times. Machida has always presented a tough puzzle to solve for most fighters but it's a puzzle that can be solved. Weidman had the tools to beat a fighter like Machida, which he was going to need because if the fight went to a decision, who knows who the judges would have picked. I assume they just flip a coin to decide Machida fights. I mean, how else did he get the Phil Davis decision?

Well, the fight did end up going to a decision, but it ended up being a good five round fight and one with little question as to who won it. Weidman had a bigger challenge than UFC Light Heavyweight Champion Jon Jones did when he fought Machida, being able to use his reach to troll Machida until he choked him out. Weidman didn't have a long jab to keep Machida at distance but he still did a good job of taking the center of the Octagon and keeping Machida's back towards the cage, which prevented a lot of the movement that is a key aspect of Machida's "elusive" style. Man, that is fun to say. To beat Machida, you need to constantly pressure him and keep him from finding a rhythm with his strikes but you also have to be good about moving in and out to avoid his lethal counters. Weidman did that pretty well and even managed to take Machida down in the second and third rounds, which is no easy feat. Weidman looked pretty comfortable through the first three rounds but Machida made things interesting in the fourth, backing the champ up with punches and punishing him with hard body kicks. Machida kept coming after Weidman through the championship rounds and definitely did some damage. In the end, Weidman was able to survive and won the fight by unanimous decision. It was a good fight and a very good test for the still undefeated champion. Weidman has just knocked off two of the best Brazilian fighters in MMA history so it will be interesting to see who tries to challenge him next. No, Wanderlei. I was referring to Vitor. Sit your ass back down.

***HORN SOUNDS***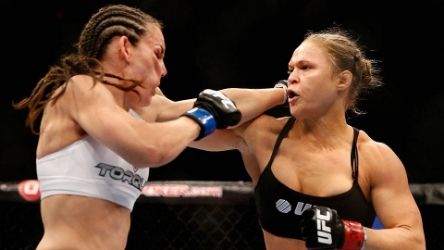 Round Two: Rest of UFC 175, Ronda Rousey Takes Alexis Davis Down, Steals Her Lunch Money

***TOUCH OF GLOVES***

I try to be fair to most fighters. I recognize that anything can and has happened inside the cage. Every fight we see has the potential to end in a monstrous upset but there's also the possibility that same fight results in a dominant, one-sided ass-whooping. We've seen plenty of examples of both this year. Hell, we got a few examples of both this past weekend. In thinking about that, I turn to the co-main event from UFC 175, UFC Women's Bantamweight Champion and Lady-GOAT, Ronda Rousey, vs. Alexis Davis, the tough gritty Canadian (assuming such a thing exists). Davis is a good fighter who had beaten some tough competition so far in her UFC career. Was it fair to say she could give Ronda a competitive fight? Perhaps. It didn't seem likely but it's a fight so the possibility is always there. Well, maybe the possibility would have been there it had been anyone other than Ronda, who hit Davis with a right hand, landed a knee into a headlock takedown, and pounded on her face until the referee stopped the fight. It lasted 16 seconds. It was the fastest finish of her career and she barely even did anything. She is lightyears ahead of her division in terms of power and skill and it's quite frightening. Who can Dana find to give Ronda an actual fight? It looks like things are getting better and better for Cris "Cyborg" Justino's chances of getting a UFC deal. Now get back to losing weight, fatty. Has she even tried a cut to 135 yet? Doesn't matter. Dana will get desperate enough to sign her anyway.

Saturday was supposed to be a special night for Stefan Struve. It was supposed to be his first fight back after being diagnosed and receiving treatment to repair a leaking aortic valve in his heart. It had been a long road since last August for Stefan to get healthy enough to return to fighting and he was all set to do that against America's Meathead, Matt Mitrione. Unfortunately, the fight would not happen as, early in the Payperview broadcast, it was announced that Struve had passed out in the dressing room. Doctors found Struve to have an increased heart rate and, out of concern for his safety, made the decision to cancel the fight. It was definitely a huge disappointment for Struve and all fans of tall, scrappy MF'ers and I can only hope this doesn't become a regular occurrence for Struve. If it does, he may have to call it a career. We also saw men named Uri(j)ah go 2-0 on the night, as Uriah Hall took a three round decision from Thiago "Maretta" Santos despite having a badly broken toe for most of the fight. Hmmmm...maybe Chael wouldn't have won the title if he had made it out of the first round with Jon Jones. Urijah Faber, the headliner of the prelims, since such a thing exists now, kept the very scrappy "Bruce Leroy" Alex Carceres at bay before throwing Caceres to the ground and locking up a rear naked choke in the third round. Remember, Urijah: your job was to increase buys. So if you didn't, you'll never get to fight on PPV again, and if you did, then you'll never get to fight on PPV again because they need you on the prelims. Enjoy not getting to cash in your PPV points!

And that was UFC 175. I wish that was it for MMA this weekend but it wasn't. There's more. There's always more.

***HORN SOUNDS***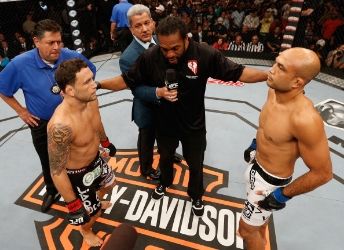 Round Three: TUF 19 Finale, ....But the TV Show Sucked

***TOUCH OF GLOVES***

So, after waking up on Sunday morning from an HGH and EPO induced hangover (Chael throws the wildest parties), we had to get ready for even more UFC action. This event wasn't just a regular UFC show, though. Oh no. this was the finale for The Ultimate Fighter 19, a season that will be remembered as one of the worst in the show's existence, which is saying something since, other than a few bright spots here and there, the show hasn't been good in years. UFC tried to change the format of the show up a bit when it moved over to Fox Sports 1 by focusing the content more on training and the fights themselves instead of "Let me bang bro" style shenanigans in the house, which drew a lot of criticism from the MMA community. The changes didn't make for a better show, though, because the fights sucked. This season was particularly bad for fights, with very few finishes or any indication that any of the fighters actually wanted to win. Well, I guess some of the guys wanted to win as, not only did Eddie Gordon and Corey Anderson win their fights against Dhiego Lima and Matt van Buren, they mauled the shit out of them. Both fights played out almost the same, as Gordon and Anderson swarmed their opponents with punches from the start and finished with strikes in a minute. Wow. Where was that during the show? Were they saving themselves for when they'd have the most exposure? Maybe they didn't want to create any "Uriah Hall-style" hype before proving themselves in an official UFC fight. I don't know but congrats to both men. Enjoy your new Harleys that Dana will kill both of you for actually riding.

And that led us to our main event of Frankie Edgar vs. BJ Penn. At featherweight. In 2014. What a wild, wild sport this can be. BJ hasn't competed in an MMA fight since 2012 but BJ is a fighter at heart so it was clearly hard for him to stay away. The allure of getting punched in the face one more time was too much for The Prodigy to pass up, especially against his toughest rival in Frankie Edgar. BJ wanted a third chance to beat Frankie so badly that he was willing to cut down to 145 for the first time in his career to do it and, bless his heart, he actually managed to do it. BJ got himself on the Dolce Diet and made a lot of changes in his fight preparation that made it seem like BJ was really taking this opportunity seriously. It's just too bad the fight didn't give that impression. The fight saw BJ stand completely upright in front of Frankie like some sort of old-timey boxer cliche. BJ stood directly in front of Frankie and threw very little, allowing Frankie to get his standard game going of moving in and out of the pocket throwing combinations. Frankie took BJ down with little effort, as BJ seemed content to lay on the ground for as long as the referee would allow him to before standing him back up. This is how the fight looked through the third round before Frankie unloaded with punches and got the stoppage. It was another good win for Frankie and a sad performance for BJ. This is what he came back for? To put in no effort and get his ass kicked? He better be retiring after that because I don't need to see that again. Thanks for everything, BJ. Now you'll have more time to hang out with the Diaz brothers. They could use the company. Also, absurdly high paydays. Keep fighting the good fight.

And that was the TUF Finale, but we aren't done yet. We have even MORE fights to talk about. Joy! Excitement!

***HORN SOUNDS***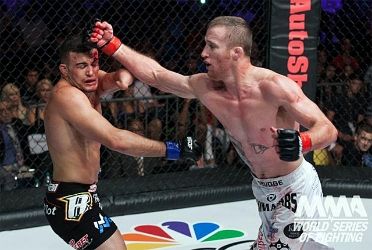 Round Four: WSOF 11, Justin Gaethje Defends Lightweight Title, Also Beats Up a Cripple

***TOUCH OF GLOVES***

Remember, the title of my rounds are intended as bad jokes, just like my writing in general. I'm not looking to make fun of the fact that a man with a physical handicap, who has accomplished a lot in his life in spite of said handicap, lost a fight. I'm making fun of the outrage that people could potentially have over what happened at WSOF 11 on Saturday afternoon, assuming, of course, that the mainstream media ever gave a crap about MMA to begin with. For World Series of Fighting's debut on big NBC, things went pretty well. Yeah, they got shoehorned into an afternoon slot so as to not compete with UFC 175 but it still gave us a memorable batch of fights. The main event saw Justin Gaethje defend his WSOF Lightweight Championship for the first time since winning it against the highly ranked...um...some guy with colored hair who took the fight on a month's notice. He managed to do so against the scrappy Nick Newell, a very high-level fighter despite only having one hand. Well, normally he looks high level. He didn't look too bad to start the fight but Gaethje's punches found their mark repeatedly and, after opening up a huge cut to start the second round, Gaethje dropped Newell and finished with punches to end the fight half-way through the second. Congrats to Gaethje and now we wait for the derogatory articles to be written. Everything was fine as long as Newell kept winning. Now that he's been defeated and finished, this could be 1997 all over again. Someone go wake up old man McCain.

Jon Fitch competed in the co-main event of WSOF 11, which is an incredible feat considering how many opponents he had drop out, from Rousimar Palhares to Jake Shields to Josh Burkman (not much of a People's Warrior if you ask me...) before longtime vet Dennis Hallman stepped up. Well, I give Hallman credit for trying, and for also wearing pants, but he couldn't stop Fitch from doing his thing, taking Hallman down and pounding on him from top position. At least Fitch was staying active and not just wet-blanketing Hallman, which is a victory in and of itself. Also, for Fitch, who earned an easy unanimous decision. Melvin Guillard was given a stiff test in his WSOF debut against Gesias "JZ" Cavalcante and, even though he missed weight for the fight, he didn't miss landing any punches against JZ. Well, actually he missed a lot, since Melvin likes to wing the shit out of his strikes, but what landed was doing damage. It forced JZ to try and get the fight to the ground in the second round. It didn't work and, before long, the referee had seen Melvin punch JZ enough times to stop the fight halfway through the second. We also saw Cody Bollinger who *SURPRISE* also missed weight but he made quick work of whoever the hell he was fighting, getting the rear naked choke in 2 minutes. C'mon, Cody. BJ was able to make 145. You have no more excuses. Well, unless you want your gimmick to be "guy who can never make weight." It's all right. Gabe Ruediger hasn't used it in years.

And that was WSOF 11. I think Yushin Okami is supposed to fight at WSOF 12 next month. Or something. I dunno, and, apparently, neither do they. Surprises are fun!

***HORN SOUNDS***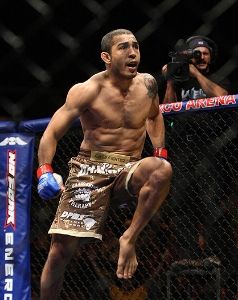 Round Five: UFC 177 and 178 Gain Main Events, UFC 176 Not So Much

***TOUCH OF GLOVES***

So, with the "action" "packed" weekend of fights we just had, let's look ahead to some upcoming main events that have become official. The first is one we knew was going to happen, as Jon Jones and Alexander Gustafsson will go at it one more time for the Light Heavyweight strap in the main event of UFC 178, September 27 in Las Vegas. The original rumor said the show would be in Toronto but they got the first fight. Don't be greedy, Toronto. You'll just have to settle for a Flyweight title fight or something. It's all right. the pain will subside in time. The other big main event that was just announced, which is a bit controversial, is a rematch between TJ Dillashaw and Renan Barao for the UFC Bantamweight Championship at UFC 177 (August 30, Sacramento, CA). The first Dillashaw-Barao fight was much different from the first Jones-Gustafsson fight. The latter was a close, competitive battle whereas the former was a four-and-a-half round beating. There are instances where a rematch is warranted. Dillashaw vs. Barao is not one of those instances. I know that Dana White will go in front of the media and say that Barao is worthy of an immediate rematch because of everything he accomplished (despite not being a draw), but we know why the fight is happening. It's the biggest title fight they could book outside of Dominick Cruz, who won't be taking an immediate title fight, or Urijah Faber, who won't fight his teammate. So this is what we get. Hopefully Dillashaw can prove why he won the first fight and do it again so he can get to some other fights, such as against...uh...Raphael somebody? Is that the name of a fighter? Go get 'em, champ.

While we were innocently reveling in the announcement of more title fights on the horizon, there was something sinister happening. Something that we weren't expecting. Well, actually it was something we should have been expecting because this isn't the first time Jose Aldo has gotten injured. He had to pull out of his very first UFC fight in 2011 due to a neck injury. Now he has to pull out of a fight again, a rematch against Chad Mendes that was going to be the main event of UFC 176 on August 2. It's been reported Aldo suffered a "shoulder and cervical spine injury" after being taken down in training. What the hell is wrong with his training partners that one of them took him down hard enough to cause such an injury? It's actually kind of funny considering Aldo hasn't been taken down in a UFC fight. Good to know for future opponents that, to beat Aldo, all you have to do is shoot on him and he'll fall apart as if he's being held together with rubber bands. Those Brazilian doctors, I tells ya. So now that Aldo-Mendes 2 isn't happening, what will main event the show? There really isn't any other fight on the card that can carry the show, which is why there's a strong chance UFC may have Ronda Rousey slaughter another lamb inside the cage next month. Someone even had Joe Rogan ask Ronda about it after her fight and she said she'd do it. So, if we look at the UFC Rankings and consider who Ronda had already fought or won't be able to fight....congrats, Jessica Eye! You get to be Ronda Rousey's next victim! Should be a fun one. Something on that card needs to be fun because blech. Just cancel the damn thing. Seriously.

***HORN SOUNDS***

That's it for Five Quick Rounds. Thanks for reading. If you have any questions, comments, or suggestions, and it is always appreciated when you do, leave them in the comments section. Until next time, always remember to fight clean, fight hard, fight fair, and never leave it in the hands of the judges...




LATER!!!!!!!!!!!!!!!!!!!!!!!!!!!!!!!!!!!!!
comments powered by