SPOTLIGHTS
Five Quick Rounds 07.15.14: Holly is Coming, Cyborg Better Suck in Her Gut, More
Posted by Evan Zivin on 07.15.2014

From the cancellation of UFC 176 and the returns of Cat Zingano and Dominick Cruz to UFC signing Holly Holm and Cris Cyborg making her bantamweight debut, 411's Evan Zivin examines these stories and more in Five Quick Rounds!

Hey hey, fight fans, and welcome back to Five Quick Rounds! I'm your host, Evan Zivin, and I am more excited than a Neo-Nazi on network television to be here once again!

So it sounds like World Series of Fighting did pretty well on July 4th weekend. WSOF 11 was the promotion's debut on big NBC and, even though it aired in an afternoon slot hours before UFC 175, the show still managed to draw in almost one million viewers. That's pretty good for a promotion that a lot of the MMA audience is still unfamiliar with. Hopefully WSOF 11 was the first big step in showing the audience what the promotion has to offer. Great fights, unique personalities, skinheads...wait, what? Yeah, NBC aired a fight featuring a man with White Pride tattoos and other Nazi-inspired images on his skin who has also been arrested for domestic violence charges on multiple occasions. His name is Dustin Holyko and his fight with Neiman Gracie was certainly an exciting one, I'm sure it didn't please the network to re-air a fight with a Neo-Nazi on it. Yeah, the fight wasn't live. It was a prelim they put on because there was extra time. What made things even crazier was when WSOF matchmaker Ali Cool J straight up admitted that the promotion doesn't background check fighters. Does any MMA promotion do that? UFC and Bellator have had these same kinds of problems in the past. Problems that a simple Google search of the fighter's name would have fixed. C'mon guys, get it together. Think of the all the children tuning in to satisfy their bloodlust. You don't want to set a bad example for them.

All right, so with fighter introductions out of the way, I have five more rounds of MMA news and opinions to throw at you. This week, we look at the cancellation of UFC 176, the returns of Dominick Cruz and Cat Zingano, UFC signing Holly Holm, Cris Cyborg making her bantamweight debut, and Invicta airing on Fight Pass. Let's to it do it.

FIGHTER YOU READY!!!!
FIGHTER YOU READY!!!!

FIGHT!!!!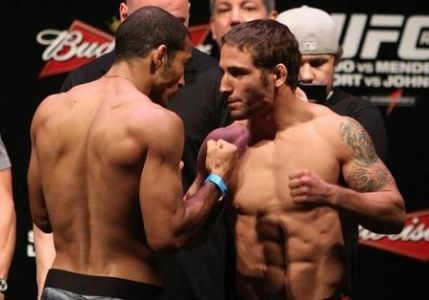 Round One: UFC 176 is Cancelled, Christmas May Be Next

***TOUCH OF GLOVES***

This past week has reminded me of an old saying: If at first you don't succeed, try again, and if at first you don't succeed and then find out Ronda Rousey can't save you because she broke her thumb baking cookies with dough made from Alexis Davis' face, then screw it. That's the reality MMA fans woke up to last Tuesday when it was announced that UFC 176, scheduled for August 2nd at the Staples Center in Los Angeles, had been cancelled. Well, actually "cancelled" isn't the word UFC has been using. To them, the fight card has been "postponed." It's just "postponed," you guys. Don't worry. We'll get to it later. Maybe they'll wait until we get to UFC 276 and then just slip in in, hoping people just think it's a typo. Seriously, unless you plan to hold a fight card featuring every fight that was meant to be on the card, including Jose Aldo vs. Chad Mendes, then you aren't postponing the show. You're cancelling it. You're already moved all the fights to other cards so just admit it. Just admit that you put together a weak PPV card that was only made feasible as such due to an intriguing title fight rematch and couldn't stand on its own without that fight. I mean, as interesting as the Gegard Mousasi-Ronaldo Souza rematch is, it ain't a PPV headliner. Not unless UFC wants to take the sting away from the UFC 174 buyrate by putting out a show that pulls in an even lower number. It's all right, Demetrious. You'll get to sit at the big kid's table someday.

As every MMA media outlet and their respective mothers have been reminding us, this isn't the first time UFC has cancelled an event. The company managed to go 19 years without losing a show until UFC 151, when Dan Henderson pulled out of his title fight with Jon Jones due to injury and Jones was unwilling to fight a replacement on a week's notice. The MMA community lost its mind, Dana White called Jones and trainer Greg Jackson sport killers while ignoring the fact that spreading their roster out they way they have (and still do) was setting themselves up for something like that happening eventually, and the rest is history. The cancellation of UFC 176 is a little different in that it was the champion who suffered the injury, not the challenger, and Aldo chose to be upfront with the injury instead of Henderson waiting three weeks to say anything in the hope he could hobble his ass to the cage and still fight. As such, the reaction from management has been much more docile, almost accepting of the fact that this sort of thing is going to happen now, which it will. It's going to keep happening until UFC cuts back on the number of events they put on because they don't have the roster depth to sustain their current schedule. If UFC continues doing things the way they are, we will continue to see one fight cards that can and will unravel the instant one of the main eventers gets a hangnail. Not only can we not have nice things, we can't even have mediocre things anymore. Welcome to Dana White's America. We should just be privileged to pay $60 to live in it. Or not. He doesn't care either way. At least he doesn't seem like it.

***HORN SOUNDS***




Round Two: Dominick Cruz and Cat Zingano Returns Set, Enter "Fight Once, Win Free Title Shot" Contest

***TOUCH OF GLOVES***

UFC 178 was already shaping up to be a special night. Not only is Yoel Romero on the card (yes, THE Yoel Romero), it will also be the night that punk Jon Jones finally stops running and fights the true UFC Light Heavyweight Champion, Alexander P. Gustafsson. I hope we get more exploding head promos for that one. Can't wait. As magical as that will surely be, we have also learned this week that some major returns are happening at the event on September 27, almost making it worth wanting to see. The first one is the return of the bantamweight king Dominick Cruz. It's been almost 3 years since his last fight. First, he tore his ACL. Then, his ACL rebelled and he had to get one from a zombie or something. Then, he was all set to return earlier this year at UFC 169 before the excitement made him tear his groin. As unfortunate as that was, this may work out better because he was suppose to return for a title unification bout with Renan Barao and, since he got stripped of his championship after the last injury (finally), he now doesn't have the pressure of an immediate title fight after such a long layoff. His opponent at 178 will be Takeya Mizugaki, who will be a perfect test to see if Cruz still has it after all these years away. If he looks good, then they can look towards a title shot. If he doesn't look good, well, he can look forward to getting noogies from Daniel Cormier at the UFC post-fight shows. Ha. Smaller fighters.

As.....exciting?....as the return of the Domin8tor is (easy, Grammar Nazis, it'll be all right), that's not the only return we're getting in Las Vegas. Cat Zingano is coming back! Yay! Another fighter we can pretend is a credible threat to Ronda Rousey! Seriously, we're running out of those. Cat hasn't been gone nearly as long as Dominick but she's been through quite a lot. She was last seen beating Miesha Tate in April 2013 (or being gifted a stoppage by the referee depending on if you care what Miesha has to say) and was supposed to be the one constantly getting flipped off by Ronda on The Ultimate Fighter before she ended up injuring her knee. She actually messed up both knees and it took her out for a year and a half. She also had to deal with her husband's suicide too. That's some pretty heavy stuff, man, but she's tough and seems eager to get back to where she left off. She'll be returning at UFC 178 to face the scrappy Amanda Nunes, who is 2-0 in the UFC. Again, this fight is a good test to see where Cat is after such a long time away and will determine whether she gets an immediate title shot. Eh, she'll probably get one either way as long as she wins. She can be huffing and puffing and barely win a decision, like Jake Shields did against Martin Kampmann, and still get a date with Ronda for the New Year's card. Let's just hope Cat can go longer than 16 seconds with the Rowdy One because this is getting ridiculous all up in here. Up in here. Up in here.

***HORN SOUNDS***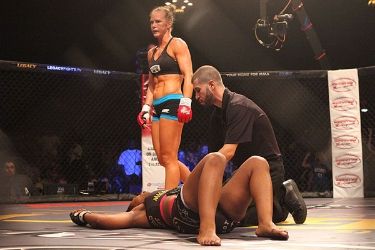 Round Three: Holly Holm Signs UFC Deal, Will Be Crushing Lady-Cans Soon

***TOUCH OF GLOVES***

It's actually quite interesting that we got news about Cat's UFC return this week, as we've gotten a ton of updates from various ladies this week, specifically the ones of greatest interest to MMA fans due to how much we need them. Or how much Ronda Rousey needs them. It's clear that Ronda is the best female fighting out there right now. Yeah, she got put in a bad position against Liz Carmouche and it took her more than one round to defeat Miesha Tate the second time but she still won those fights in dominant fashion. Then she went on to finish Sara McMann in a minute and she wrecked Alexis Davis in even less time. It was hard enough before Ronda fought Davis to convince the audience that there was anyone out there who could give Ronda a competitive fight or, even more unbelievably, actually be able to defeat Ronda. It seems even less so now with how destructive the UFC 175 co-main event was in so little time. Ronda threw less than ten punches and not only ruined Davis' face, she also injured her hand. For someone who is primarily known as a grappler, her striking has really been coming along. She may be good to the point that only en elite striker may be able to match her on the feet at this point. Are there any elite strikers in female MMA? Or are we just gonna have to settle for her pounding in Miesha's face again?

Well, there's Holly Holm. She may qualify as an elite striker. Holly and Ronda have actually had very similar fighting careers, with the difference being Ronda came up as a grappler, while Holly came up as a striker. Ronda grew up practicing judo and made it to the peak of her sport, winning a bronze medal at the 2008 Olympics. Holly learned boxing and won multiple championships as a light welterweight and welterweight. That's right. Light welterweight. And you thought MMA had too many weight classes. Holly won titles in the WBF, WBC, WBA, IBA, WIBA. Pretty much, if there was a boxing promotion that let women compete for titles, Holly was all over that. Then, as Ronda and Holly's careers in those sports started to wind down, they turned their attention to MMA. Both women debuted in March 2011 and both are currently undefeated. Ronda is 10-0, all finishes, while Holly is 7-0 with 6 finishes. With the improvements Ronda has been making in her stand-up, it will be interesting to see what Holly can do against her, and we'll likely find out soon, as Holly has been signed to a UFC contract. I hope she gets a fight or two before she gets matched up with Ronda just to introduce herself to the UFC audience, as well as add some more to her highlight reel. Either way it's going to happen eventually. We've seen Ronda beat some good ground fighters so let's see how she does against a good striker. Work on your takedown defense, Holly, or you're probably going for a ride. Oh, and welcome or something.

***HORN SOUNDS***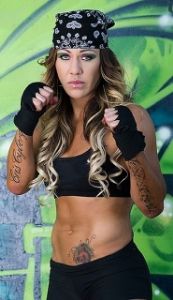 Round Four: Cyborg Set for Bantamweight Debut in December, Asks BJ Penn for Advice

***TOUCH OF GLOVES***

As far as non-UFC fighters go, there have been three big names pegged as potential challengers for "The Queen of Queens" Ronda Rousey. Holly Holm is already one step closer to being checked off that list after getting a contract signed. We also learned Dana is making another push this week to get Gina Carano to return (not that I think a fight with her and Ronda would be competitive but I'd still watch...). The only other fighter that hasn't at least been partially accounted for is Cris Cyborg. Cristiane Justino has been as destructive in her MMA career as any of these women. She's unbeaten in 13 straight fights, all but 2 of which were won by (T)KO. Sure, she failed a drug test in 2011. Sure, the first autocomplete suggestion that comes up when you type her name into Google is "...is a man," but that doesn't take away from what she has accomplished, including being the first and, so far, only female featherweight to hold gold in Strikeforce and Invicta. She's even had success outside of MMA, winning a gold medal at the IBJJF World Jiu-Jitsu Championships twice and she has a winning kickboxing record. She did lose her last fight to Jorina Baars, but Baars is one of the best female kickboxers to ever live and not only did Cyborg make it to a decision with her, she even hurt Baars on multiple occasions. Say what you want about her physique and what she may or may not use to get it but you can't deny that she's a good fighter. Or you can stick your fingers in your ears and scream yourself to sleep. That's entirely up to you.

The big issue with Cyborg and why she hasn't gotten the chance to punch Alexis Davis in the face (she seems quite punchable) is due to her weight. I'm not saying she's fat. She's just too fat to challenge for Ronda's championship. Cyborg has always competed at 145 but the heaviest female weight class in the UFC, and the one Ronda calls home, is 135. Cyborg and her management (remember when Tito Ortiz managed her? That was fun) have said in the past how hard it would be for Cyborg to make a healthy cut down to 135 despite the fact there have been women bigger than Cyborg, such as Maloes Coenen, who have done it. It would definitely require Cyborg to lose some muscle but there's no reason why she shouldn't be able to do it. Mike Dolce guarantees it! Since then, Cyborg has changed her tune and vowed to fight at bantamweight this year. Well, we're getting closer to that as it was announced that Cyborg will make her bantamweight debut in Invicta this December. There's no other information yet, such as a specific date, an opponent, or what everyone at Invicta is smoking to go along with this. No, I'm sure she can do it. It just depends how seriously she takes the weight cut and if she takes the right steps to do it properly and doesn't just try to dehydrate herself to make the weight. Don't kill yourself, Cyborg. It's hard to win fights when you're experiencing kidney failure. That's just an assumption on my part but I feel it's an educated one. See you on Fight Pass!

***HORN SOUNDS***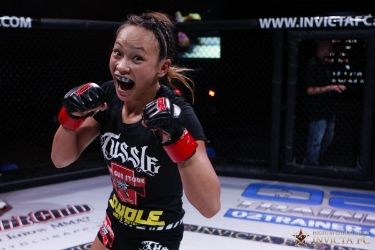 Round Five: First Invicta Show Set For Fight Pass, Jacob Volkmann Won't Be a Part of It

***TOUCH OF GLOVES***

There's been a lot of news about female fighters that has come out over the last week. Personally, I think that's great. I mean, I love the ladies. The female fighters are pretty good too, I guess. The women in the UFC continue to put on some of the best fights in the promotion and the talent in the female ranks will only get better over time, which is why it's important to support the women as they gain more of the MMA spotlight. That's why I've been a fan of Invicta, the all-female MMA promotion. The more opportunities the fairer sex gets to compete, the better they will get. It's also important for educating fight fans, such as all those "I support women, I just don't want to watch them fight" types who pretend they aren't being sexist when they totally are. I think women have every right to punch each other in the face as men do and I have no problem paying to watch it, which is why I may be tempted to order UFC Fight Pass now that they have a deal in place to air Invicta events. Invicta has had issues in getting their fight cards aired in the past so it's great that UFC is extending a hand to help them out (translation: all-women fighting isn't deemed a threat and Invicta is cool about letting UFC plunder their roster so it's all good). The first show on Fight Pass, Invicta 8, will air September 6 and feature Invicta Atomweight Champion Michelle Waterson, "The Karate Hottie." Yep. You're totally going to watch it. Good for you.

And, because I need one more thing to write up, let's talk about Jacob Volkmann. HEY! WHERE DO YOU THINK YOU'RE GOING!!?? GET BACK HERE AND READ THE REST OF MY COLUMN!! Seriously, that picture of Aubrey O'Day that AJ Grey just posted will still be there. I promise. Personally, I don't have much of an opinion of Volkmann either way. At least as a fighter. I'm not a fan of his political views, but this is a fight column. As a fighter, he's nothing spectacular. He can beat a lot of guys and had a nice win streak in the UFC a few years ago but he's alternated wins and losses since 2012. He turned up in World Series of Fighting last year, splitting his first two fights. He hasn't been seen in the promotion since last October, but it hasn't been without trying. Volkmann said on Twitter, the most trusted name in news, that he tried to get a fight in WSOF last January but they were only going to offer him a 6/6 deal to fight ($6,000 to fight, $6,000 to win). That was what he was paid to fight in October and he was told he'd get a 9/9 deal for his January fight but WSOF wasn't willing to pay him that so he chose not to fight. He has since fought twice in other promotions and was recently released form his contract. I know some people think he's not even worth $6,000 but c'mon guys. He's not the most exciting fighter but he's still a fighter and he deserves to be given fights and to be compensated well for them. I think WSOF could have handled this situation better and I wish Volkmann the best in wherever he goes from here. Hey, maybe Obama will help pay the difference in his contract. Somebody needs to teach these MMA promotions how to spread the wealth.

***HORN SOUNDS***

That's it for Five Quick Rounds. Thanks for reading. If you have any questions, comments, or suggestions, and it is always appreciated when you do, leave them in the comments section. I hope you were missing the UFC because they're giving us two more fight cards this week. Yeesh. Enjoy the fights and always remember to fight clean, fight hard, fight fair, and never leave it in the hands of the judges...




LATER!!!!!!!!!!!!!!!!!!!!!!!!!!!!!!!!!!!!!!!!
comments powered by