SPOTLIGHTS
411's MMA Roundtable Preview - UFC Fight Night: Cerrone vs. Miller
Posted by Dan Plunkett on 07.16.2014

Donald Cerrone faces Jim Miller in the main event of UFC Fight Night 45! Plus, Edson Barboza takes on Evan Dunham and more! Check out the full roundtable for all the details and join 411 for LIVE coverage of the event Wednesday night!




WELCOME:
Donald Cerrone faces Jim Miller in the main event of UFC Fight Night! In the co-main event, Edson Barboza fights Evan Dunham. At welterweight, Rick Story battles Leonardo Mafra. Also, Justin Salas goes up against Joe Proctor. Plus, John Lineker takes on Alptekin Ozkilic, Lucas Martins vs. Alex White, and more!

THE STAFF:


From MMA's 3R's, Jeffrey Harris!


He's your host for 411 MMA Fact or Fiction, Wyatt Beougher!


He'll lock you in the guillotine, Robert Winfree!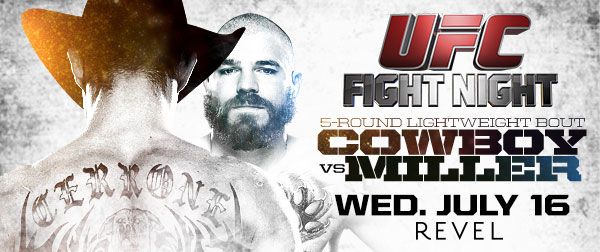 THE PRELIMINARY CARD:




First prelim on UFC Fight Pass, rest on Fox Sports 1.




Women's Strawweight Bout: Claudia Gadelha vs. Tina Lahdemaki



Jeffrey Harris: Claudia Gadelha, TKO, Round 2
Wyatt Beougher: Gadelha, Decision
Robert Winfree: Claudia Gadelha, Decision
The staff picks Claudia Gadelha, 3-0.



Lightweight Bout: Yosdenis Cedeno vs. Jerrod Sanders



Jeffrey Harris: Jerrod Sanders, Decision
Wyatt Beougher: Sanders, Decision
Robert Winfree: Yosdenis Cedeno, Decision
The staff picks Jerrod Sanders, 2-1.



Bantamweight Bout: Hugo Viana vs. Aljamain Sterling



Jeffrey Harris: Aljamain Sterling, Decision
Wyatt Beougher: Sterling, Decision
Robert Winfree: Aljamain Sterling, Decision
The staff picks Aljamain Sterling, 3-0.



Women's Bantamweight Bout: Jessamyn Duke vs. Leslie Smith



Jeffrey Harris: Jessamyn Duke, Decision
Wyatt Beougher: Smith, Decision
Robert Winfree: Jessamyn Duke, Decision
The staff picks Jessamyn Duke, 2-1.



Lightweight Bout: Gleison Tibau vs. Pat Healy



Jeffrey Harris: Gleison Tibau, Decision
Wyatt Beougher: Healy, Decision
Robert Winfree: Gleison Tibau, Decision
The staff picks Gleison Tibau, 2-1.

---




THE MAIN CARD:




Featherweight Bout: Lucas Martins vs. Alex White



Wyatt Beougher: This the perfect fight to start off the main card, as both Martins and White are promising young prospects in the featherweight division. Combined, they're 24-1, with only two of those wins coming via decision. This should be a fast-paced, back-and-forth battle that gets the fans on their feet after what I believe will be a decision-heavy preliminary card. I don't think there's any way this goes to a decision, and while I've been wrong before, I like White to finish this one before the third frame starts.

Winner: Alex White, TKO, Round 2

Robert Winfree: I'm not terribly familiar with either of these men, but from what I remember of Martins he's a long featherweight with good grappling and some solid punching skills. White is coming off of an impressive knockout win, but Martins should be able to avoid the power shots and work the fight to his advantage.

Winner: Lucas Martins, Decision

The staff picks a draw, 1-1.

---




Flyweight Bout: John Lineker vs. Alptekin Ozkilic



Jeffrey Harris: John Lineker was a potential title contender in the flyweight division. The problem? He constantly struggles to make weight. It's been a recurring issue for him. He's failed to make weight three times in his UFC flyweight career. In his last fight, he lost to Ali Bagautinov. However, Ali Bagautinov just pissed hot for EPO and is out of the equation for a year after losing his title bout to Demetrious Johnson. So you can kind of cut Lineker a little slack I suppose. What Lineker needs to do here is make weight without issue. He needs to come in and perform impressively, and he can be on a short list for contenders to fight for the flyweight title. John Dodson is out with surgery. Bagautinov is suspended. Ozkilic is 1-1 in the UFC so far. Lineker I'd say is much more well rounded and he does have knockout power. So, I'm betting on Lineker valuing his UFC career. He comes in, performs, knocks Ozkilic out, and re-cements his potential contender status.

Winner: John Lineker, TKO, Round 1

Wyatt Beougher: Hard to believe Lineker took another fight at flyweight when he's missed the weight limit in half of his six UFC fights already. If he doesn't come in on weight for this one, I'd say he'd better win and win impressively if he wants to keep his job. Fortunately, Ozkilic hasn't shown anything particularly "Delightful" (regardless of his nickname) in his pair of UFC fights, so I'd say this is a nice, easy rebound win for Lineker.

Winner: John Lineker, KO, Round 1

Robert Winfree: John Lineker would be a lot closer to title contention if he didn't have so many problems making weight. He made weight for this fight, moving his record to over .500 against the scale in the UFC, and has some serious power in his hands. Ozkilic is a fun fighter, but I don't think he's faced anyone with the power that Lineker brings, and if you've never faced someone like that it can be difficult to get your game going. I think Lineker connects with a power shot that ends the fight at some point.

Winner: John Lineker, TKO Round 1

The staff picks John Lineker, 3-0.

---




Lightweight Bout: Justin Salas vs. Joe Proctor



Jeffrey Harris: This fight has potential to be a fun lightweight contest. Both fighters coming off wins and can get a win streak going off of a victory here. I think Salas here will have an edge here with his wrestling. I am expecting Salas to get this fight to the ground and dominating it there for the win.

Winner: Justin Salas, Decision

Wyatt Beougher: Proctor will be facing his first UFC opponent who wasn't on The Ultimate Fighter in this match, and Salas has alternated wins and losses since joining the UFC. If that trend continues, he'll lose this fight, but Practor hasn't been setting the world on fire either. This could easily go either way, but Salas has shown a slight weakness when it comes to submission defense, and that's actually one of Practor's strongest suits. Still, with Practor's tendency to go to a decision, Salas will have every opportunity to win this fight on the feet. As cliche as it is, because every round starts standing, I'm going to give Salas the very slight edge.

Winner: Justin Salas, Decision


Robert Winfree: Justin Salas has been alternating wins and losses, but Proctor hasn't exactly been memorable in any way during his UFC career thus far. I think Salas will wind up grinding out a win and most of the fans will use this as a bathroom break.

Winner: Justin Salas, Decision

The staff picks Justin Salas, 3-0.

---




Welterweight Bout: Rick Story vs. Leonardo Mafra



Jeffrey Harris: On the surface it looks like UFC welterweight journeyman Rick Story is getting thrown a bone here with the debuting Leonardo Mafra. Unfortunately, I have not seen any Mafra fights. I know he's Brazilian and is associated with the Chute Boxe camp, which is not the powerhouse in the industry it once was. Mafra has a pro record of 11-1 with eight knockouts. Now looking at Mafra's record, I see a good amount of wins and knockouts, but I do not see many recognizable names. So with all that in mind, I'm expecting Story to grind out another win. I like Story, but he is also very inconsistent. He was on an incredible win streak once, but I think he got kind of shafted when he lost his main event Fight Night opportunity against Nate Marquardt because of Marquardt juicing himself on testosterone. Since that loss to Charlie Brenneman, Story has just been horrendously inconsistent. He will win one, then he will lose one. I think he grinds out this win. However, he has to recognize that his win over Johny Hendricks was in December 2010. It happened almost four years ago, and he cannot ride the coattails of that win forever. Almost everyone has forgotten about it by this point.

Winner: Rick Story, Decision

Wyatt Beougher: Story is the only man to hold a legitimate victory over current UFC welterweight champion Johny Hendricks, but he's had a pretty uneven career since then, compiling a 2-2 record over the past 18 months. Mafra, on the other hand, is returning to the UFC as a late replacement after spending two years fighting in his native Brazil. His previous tenure with the promotion consisted of a loss to Thiago Perpetuo, so you'd think Story would be the favorite in this one, but I'm not so sure. Mafra finished his opponents in nine of his eleven wins, and his only loss came on a UFC PPV at the biggest indoor sporting arena in Brazil. And while Atlantic City isn't his home territory, I think the combination of Mafra having already fought in the UFC once and the more intimate setting (Revel Ovation hall holds around 5500 people vs the 25000 at his last UFC fight) will be enough for Mafra to pick up the win here.

Winner: Leonardo Mafra, TKO, Round 2

Robert Winfree: I miss the days when Rick Story was a good fighter who was on the fast track to the top of the division. Now a days he's just another guy in the cage. This is about as close to a gimme fight as Story is going to get, if he isn't able to take Mafra out he's bound for Fight Pass for the immediate future. Fortunately I think Story is still good enough to win the fights he's supposed to, and this is definitely one of those fights.

Winner: Rick Story, TKO Round 2

The staff picks Rick Story, 2-1.

---




Lightweight Bout: Edson Barboza vs. Evan Dunham



Jeffrey Harris: This has all the makings for a fun lightweight battle. Both guys have winning UFC records and standout performances in the past. However, I am sure fight will get criminally overlooked because they are coming off losses and have not become the contenders we thought they could have been. For Dunham, he is in dire need of a win here. A loss here would mean three losses in a row for him and put him at 1-4 in his last five fights. He could very well be cut with a loss. Barboza is a great fighter with an exciting style and some of the most vicious kicks in the division. His problem is consistency. Whenever he is on a win streak or builds some momentum, he tends to crash and burn and lose in dramatic fashion. We've also seen a trademark blueprint on how to beat Barboza. You have to aggressively pursue him and strike first and he tends to wilt under the pressure, not unlike Gabriel Gonzaga. I think Dunham has the capacity to do that, provided he does not blow his wad in the first round like Danny Castillo did against Barboza or not fight stupid, emotional, and angry like Dunham did against TJ Grant. Still I like this fight and the way both these guys match-up. This is a fight that could get Dunham's career back on track or potentially end his UFC run. However, based on their recent performances...I got to go with Barboza. Barboza typically does well coming off of a loss, and I am not sure Dunham will be able to rush and put away Barboza early. Barboza finds his range with his kicks and stops Dunham.

Winner: Edson Barboza, TKO, Round 2

Wyatt Beougher: This seems like a match made between fighters on opposite career trajectories, as Barboza has won three of his last four fights dating back to the beginning of 2013, while Dunham has dropped two of his last three during that time period. Dunham is coming off of a loss to headliner Donald Cerrone and a subsequent injury that kept him out of a fight with Mark Bocek in April, and he will be at the disadvantage on the feet. Barboza is a talented striker with particularly nasty leg kicks and as long as he can keep this fight standing, I very much doubt he'll be looking a repeat of his fight with Donald Cerrone that saw him lose via submission in the first round. Dunham has shown submission chops, but he's only scored a single submission win since joining the UFC, and that's why I'm favoring Barboza in this one.

Winner: Edson Barboza, TKO, Round 3

Robert Winfree: Remember what I said about Rick Story? Same thing for Dunham, except Dunham is fighting a better fighter and looks to have lost a few steps. Edson Barboza has some nasty leg kicks, his punching needs some work and he has a bad habit of backing straight up with his hands low and his chin up in the air. Fortunately Dunham isn't the type of fighter to take advantage of those tendencies, Barboza is likely to light up Dunham on the feet.

Winner: Edson Barboza, Decision

The staff picks Edson Barboza, 3-0.

---




Lightweight Bout: Donald Cerrone vs. Jim Miller



Jeffrey Harris: There is nothing irrelevant about this fight at all. Both of these fighters are two of the most consistently exciting performers in the lightweight division. They are both on win streaks right now. However, both fighters also always come up short when they are in a title eliminator situation for a fight that would put them in title contention. This fight will be crucial for both fighters to get back to that level. This has all the makings of both a five-round war or a quick and surprising finish. Both fighters have good striking and knockout power. Both fighters are not afraid to become gunslingers in the cage. I would say between the two, Miller is the more well-rounded, complete and technical fighter though. He is also probably one of the best submission artists in the lightweight division. I think six of Miller's 13 UFC wins came by way of submission. Cerrone is one of my favorite fighters to watch. However, he tends to be a slow starter in a lot of his fights. He also seems to have a lot of mental hang-ups where he makes a lot of dumb mistakes in the cage which prevent him from getting to a higher level. I could see this fight going a number of ways. However, I think Cerrone's tendency to be a slow starter will be his undoing here. I think Miller will get in close, and he will manage to get Cerrone to the ground before submitting him. Still, if this fight disappoints, I will be a sad panda.

Winner: Jim Miller, Submission, Round 2

Wyatt Beougher: On a main card that's likely going to start with fireworks, it's only appropriate that it also ends with them as well. Neither Cerrone nor Miller are known for having boring fights, and I very much doubt this fight will change that. Miller's grappling pedigree might mean that it's not the back-and-forth striking war that Cerrone is more than capable of winning, but Cowboy is no slouch when it comes to grappling either, so this fight could be one of the more entertaining ground battles we've seen in some time. If Cerrone keeps it standing, he definitely wins this fight, but even if Miller takes him down, Cerrone's shown that he can finish from his back, and Miller was choked out by Nate Diaz, so I don't know that I'd give the New Jersey-based fighter an advantage there. With more ways to win, I have a hard time picking Miller in this fight.

Winner: Donald "Cowboy" Cerrone, Decision

Robert Winfree: I am pumped for this fight. Miller has never had a bad fight, and Cerrone has had just one that I can remember. Cerrone is a good kick boxer, but his rhythm tends to rely on leg kicks. His grappling is mostly bottom oriented, or taking the back in a scramble, but just being in top position he's not displayed elite skills. Jim Miller has been on a tear recently, riding a three fight win streak, with a No Contest against Pat Healy in there, he's finished his last two opponents by submission. Miller is most effective when he's moving forward, and if he's smart he'll be pushing forward on Cerrone, looking to land a straight left hand and transition to grappling. Cerrone has only been submitted once, but Miller has the credentials to pull it off. Cerrone's biggest weakness is mental, he tends to lock up in big fights and has been a slow starter at times. I think Miller capitalizes on some of those bad habits and gets the win here.

Winner: Jim Miller, Submission, Round 2

The staff picks Jim Miller, 2-1.

---
Remember to join 411's coverage of UFC Fight Night on Wednesday night!
comments powered by