SPOTLIGHTS
Five Quick Rounds 07.22.14: Fight Nights Have Never Been So Notorious
Posted by Evan Zivin on 07.22.2014

From Conor McGregor's victory at Fight Night 46 and Donald Cerrone's victory at Fight Night 45 to Demetrious Johnson's next opponent and Bellator signing Bobby Lashley, 411's Evan Zivin examines these stories and more in Five Quick Rounds!

Hey hey, fight fans, and welcome back to Five Quick Rounds! I am your host, Evan Zivin, and I am more excited than someone who still remembers what slopestyle is to be here once again!

The ESPY awards, the yearly show honoring all the male and female athletes whom garner the most airtime on Sportscenter on a regular basis, took place last Wednesday and for us MMA fans, it doesn't mean much. Honestly, the award doesn't seem like it means much to anyone but even less so for MMA fans. Yeah, they'll throw us a bone every year. A Jon Jones or a Georges St-Pierre for Best Fighter or, if it's been a rough year, Best Male Athlete, but the sport never wins. This year, though, we won something. We won something! I don't know if ESPN felt bad or had a promotional tie-in with Expendables 3 or what but Ronda Rousey was nominated for and won the ESPY for Best Female Athlete, beating out an Olympic skier we no longer care about, someone from the WNBA, - stop laughing - and a college basketball player. Would she even have been allowed to keep the award if she won or would the university have taken it? I don't know, or care, but it doesn't matter because Ronda threw them all to the ground and punched them in the face...metaphorically. Congrats to the Rowdy One on another accolade. Maybe now Floyd Mayweather knows who she is. Seriously, I'm supposed to be surprised that a sheltered billionaire who barely follows his own sport is going to know or care about Ronda Rousey? We are such a defensive community, aren't we.

All right, so with fighter introductions out of the way, I have five more rounds of MMA news and opinions to throw at you. This week we look at the results of Fight Nights 45 and 46, Chris Cariaso being Demetrious Johnson's next challenger, the signing and cancelling of Cerrone vs. Nurmagomedov, and the Bellator 123 lineup. Let's to it do it.

FIGHTER YOU READY!!!!
FIGHTER YOU READY!!!!

FIGHT!!!!




Round One: Fight Night 46, All Future Events Are Going to Be Held in Ireland

***TOUCH OF GLOVES***

We did it, everybody. We survived another week of way too much UFC. Having almost one show a week has been pushing it. I can only hope this trend of two shows within a week becomes a rare exception again and not the norm like it's been for the last month. Well, if UFC needs an audience that is excited for more content, they can always turn to the fans of Northern Ireland. The crowd in attendance for Fight Night 46 in Dublin last Saturday was absolutely electric. They were giving the Brazilians a run for their money as far as drunken chanting goes and it was all because their native son, Conor McGregor, was coming home. He may have only been #12 on the UFC's Super Official Featherweight Rankings but to the Irish, he's already the biggest star in the company. Some of that sentiment has surely rubbed off on Dana White and select members of the MMA media who have been touting McGregor as the UFC's next big thing since he got signed away from Cage Warriors in 2013. The fight with former TUF winner Diego Brandao on Saturday was only the third in McGregor's short UFC career but he's already been pushing hard towards the top of the weight class and towards a future title shot. Whether he gets there or not is hard to say at this point but he definitely has the potential to get there and his personality and propensity to trash talk is going to get him there much quicker. That's looking ahead, though. How'd he do on Saturday? Did he beat Brandao? Did he destroy him?

Well, Brandao certainly tried to prevent that outcome. He came out very aggressively to start, throwing haymakers and head kicks almost immediately. The two seemed even in the clinch and when Brandao hit the mat, he went after McGregor with submissions. Brandao came to fight but I couldn't imagine him keeping up that intensity beyond the first round. Well, we didn't get a chance to find out, as McGregor nailed Brandao with a left hand against the fence and finished him with punches on the ground about four minutes into the round. It wasn't a dominant performance but McGregor showed his patience and maturity in dealing with a wild opponent and his skills led him to the victory. I hope UFC continues to slowly bring Conor up the rankings. The guy certainly has the potential to be a star but there's no reason to bring him up too fast, especially since he's still putting together his highlight reel. The night was a good one for Conor's team, as his teammate Gunnar Nelson had a much different fight but also came out victorious. Zak Cummings brought the fight to Gunnar, whose counterstriking style surely wasn't helping in the eyes of the judges through the first and most of the second round. Once he grabbed a hold of Zak's neck, though, it was amazing how quickly he took Zak's back and locked up a rear naked choke to get the tap with seconds left in the second round. A good win but not one that makes me feel confident about Gunni's chances as he works his way up the welterweight ladder. The show also saw Ian McCall win a decision over Brad Pickett in a tough fight and Norman Parke finishing an opponent. That is significant in and of itself, trust me.

And that was Fight Night 46. All right. Let's go ahead and get to the other show before you click away to leave a comment in Watry's latest column. Something something another website.

***HORN SOUNDS***




Round Two: Fight Night 45, Hey! Save Some of Those Knockouts for Other Events!

***TOUCH OF GLOVES***

Dublin wasn't the only part of the world that was graced by Dana White's shiny, sweaty presence. Last Wednesday, the UFC was in one of their old stomping grounds, Atlantic City, for a night of hard hitting action. Why did they run a show on Wednesday? Hell if I know. In the past, those kinds of events were saved for Ultimate Fighter premieres or something else the network was desperate to get people to watch. Maybe UFC just needed an extra week to fill Chael Sonnen's chair on UFC Tonight or something. I dunno but I'm glad we got it, as the show was one of the best we've had all year. Out of the 11 fights on the card, 9 ended by stoppage, 8 of which were knockouts or TKO's. The judges got to sit on their hands for the entirety of the main card, which was refreshing to see since we all know what judges do with their hands. It's why I put the pic of Peoples at the bottom of my columns. It's a precaution more than anything. The main event of this show was a surefire slugfest between Donald Cerrone and Jim Miller. I don't know if I'd say either man is close to a title shot, but it's not out of the realm of possibility that either man could get there with a good win or two. Plus, neither man knows how to have a bad fight so this was certainly setting us up for some major fireworks. I know that July 4th has passed but it still works. There will be some kids who will still be shooting fireworks off at the elementary school until September. Those cute, adorable little drains on society.

The first round was fairly even. Cerrone moved back a lot, allowing Miller to land more punches, but the Cowboy threw a lot of leg kicks that were clearly doing damage. In the second round, Cerrone dropped Miller with a hard body kick that could have ended the fight but referee Dan Miragliotta halted the action, thinking it was a low blow even though Miller said it wasn't. It was a lucky break for Miller but it didn't save him for long as Cerrone connected with a head kick about a minute and a half later and finished with punches on the ground. It was another great performance for Cerrone that earned him another bonus check to add to the collection. Then again, he probably doesn't collect the checks. He cashes them so he can go bullriding or have another drunken boating rampage. That guy knows how to have fun. It wasn't the only impressive performance on the card, as Edson Barboza defeated Evan Dunham with his toes. You read that right. With his toes. Barboza spent most of the fight using his length to avoid any dangerous exchanges with Dunham. Then, the man with the most leg-related victories in the UFC added to his record by unleashing a kick that saw his toes connect with Dunham's liver just hard enough to crumple the Xtreme Couture product. Another great win for Barboza and the sky is still the limit for how far he can go in the UFC, especially now that he lives and trains in the U.S. You hear that, Brazil? He's ours now! We took your belts and now we're taking your fighters. We're taking our sport back and there's not a thing you can do about it! *Insert evil laugh*

And that was Fight Night 45. Robbie Lawler and Matt Brown fight this Saturday. Get excited. GET EXCITED NOW!!!!!

***HORN SOUNDS***




Round Three: Chris Cariaso to Fight Flyweight Champ Demetrious Johnson, Wait...Who?

***TOUCH OF GLOVES***

The littlest champion in the UFC (at least until the strawweights get here) just can't seem to catch a break in the eyes of the UFC or the fanbase. Demetrious Johnson is one of the best fighters in the UFC. He is extremely well-rounded, has knockout power, and his speed is pure insanity for anyone who tries to match it. He is someone who Dana White could hype up as the "best pound-for-pound fighter on the planet" in his desperate cries for attention and actually be able to make a plausible case for it. He beat guys who were pegged as future champions of the flyweight division, such as Joseph Benavidez (twice) and Ian McCall (twice....sorta), and has been getting better with each defense of his title. His last fight, a title defense against Ali Bagautinov in the main event of UFC 174, wasn't the most exciting fight but it was one of the most complete performances we've seen from a UFC champion. Johnson just shut Ali down in every area of the fight and left no question as to who the better fighter is. It's even more impressive in the aftermath of the fight when it was revealed that Ali was using EPO, a clear performance enhancer that boosts red blood cell production. So not only did Demetrious defeat the Russian menace in Bagautinov, preventing another World War (and possibly another Red Dawn remake), but he also proved that drugs may help you win, but they won't make you a champion. Being sponsored by Xbox might, though.

So what's next on the agenda for the Littlest Champion Who Could? A rematch with John Dodson, who gave Johnson one of the toughest fights of his career? No. We won't get that fight until at least next year due to Dodson getting knee surgery after his last fight. Maybe a third fight with Ian McCall, fresh off his decision win over Brad Pickett on Saturday? That could be a good fight but UFC already has someone in mind for Mighty Mouse's next defense. The challenger shall be none other than....Chris Cariaso. Chris Cariaso? Who the hell is that? I'm glad you asked, Me. Cariaso has been in the UFC since 2011 and has gone 4-2 since dropping to flyweight in 2012. He has wins in the division over such names as Iliarde Santos, Danny Martinez, and Louis Smolka, who you may recognize as not being recognizable. The guy doesn't have a win over a ranked flyweight. He's fought ranked competition before, against John Moraga and Jussier da Silva, but he lost those fights. So why is this fight happening? It's more out of necessity than anything, it seems. With UFC 176 "postponed" and 173 and 174 pulling in disappointing numbers, Dana is hoping 177, featuring the rematch of the 173 main event between TJ Dillashaw and Renan Barao, can pull a better number and he's adding a second title fight to help matters. Dana just grabbed whichever flyweight had a winning streak and could be ready to go in a month and there you have it. At least it gives Demetrious the chance to have a good performance, maybe have a highlight reel finish, which could potentially get more people to pay attention to him and maybe he'll get to headline another PPV someday. Think big, little man. Think big.

***HORN SOUNDS***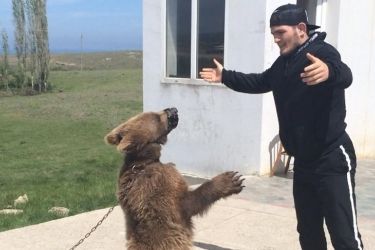 Round Four: Donald Cerrone and Khabib Nurmagomedov to Throw Down at UFC 178 and.......It's Cancelled

***TOUCH OF GLOVES***

Are you guys ready for a barnburner of a fight? Is that the right term I want to use? I'm not sure. I can't recall any sanctioned MMA fights that have resulted in a barn or any other structure to catch ablaze. Maybe it's happened. It sounds like something they'd try in Russia or Poland at least once. Maybe Khabib Nurmagomedov would know about something about that. The Dagestani fighter has been killing it as far as his career goes. Again, I don't think that's an appropriate term to use. None of his fights have resulted in any loss of life, but he has performed very well. Nurmagomedov has some of the best wrestling in the lightweight class and, combined with world class takedown defense and decent striking and submissions, he brings an all-around game that is tough to beat. In fact, it's never been beaten. In 7 years and 22 fights, the man hasn't lost once. There aren't even any draws or no contests in there, so we can say he's undefeated instead of unbeaten or some other word to hide the fact that, technically, he didn't win every fight because this man has and he's frightening. He recently knocked off top-ranked Rafael dos Anjos in his last fight, bringing his UFC record to 6-0, and is in need of a bigger challenge. Realistically, you could give him a title shot right now, but with Anthony Pettis and Gil Melendez not fighting until December (stupid TUF), he needs at least one more fight and it needs to be a good one. Well, how about Donald Cerrone? He's highly ranked and would make for a good fight. Plus, Nurmagomedov already called him out. So sign the fight already!

Well, that's exactly what UFC did....and then they cancelled it almost immediately. Cerrone, who just got an impressive win over Jim Miller last Wednesday and wants to fight two million times this year (you know he'd do it if stupid physics kept saying it wasn't humanly possible), was down for the fight and ready to go ASAP. So UFC went ahead and signed the fight for UFC 178 on September 27. That show is surprisingly stacked. So far it features the rematch between UFC Light Heavyweight Champion Jon Jones and Alexander Gustafsson, plus the returns of Dominick Cruz and Cat Zingano. PLUS, Brian Ebersole is fighting on the card. That's right. The Hairrow is coming back! Cerrone vs. Nurmagomedov would have taken what is already a pretty good Payperview card and made it even better but, alas, it is not meant to be. It was reported that "literally" 20 minutes after the bout agreement was signed, Nurmagomedov blew his knee out and likely won't be fighting again until next year. No details have been revealed as to what caused the injury. My guess is it was that bear he wrestled out for revenge. Either way, this is an unfortunate turn of events for the man who could potentially be the heir to the 155 throne. Cerrone will be fine. UFC could match him up with two poodles dressed like a Diaz brother and he would take the fight. That's how you do business with Dana, Nate. Anyway, it sucks the fight won't happen, but you can't keep the furry hat down for long. It will return. Be prepared.

***HORN SOUNDS***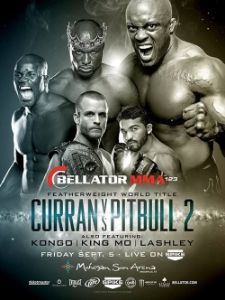 Round Five: Bellator Brings in the Big Guns, Plus King Mo, for Bellator 123

***TOUCH OF GLOVES***

September 5 is going to be an interesting night. At least one MMA website has already likened the evening to something similar to when pro wrestling companies WWE and WCW went head to head with their programming (or when TNA attempted to in 2010). That is because it is the night that UFC and Bellator, the top two MMA promotions in the Unites States, will each be holding events at the same time mere miles away from each other in Connecticut. This isn't the first time the two promotions have held events on the same night but in the past it had been Bellator being stuck putting shows on Saturdays due to the TV deal they had at the time and, usually, they tried to air their show before UFC went live on Payperview in the hope that people would..y'know...watch. This will be different as it's UFC invading Friday night, the night Bellator has been running it's events since last year. That's a little odd. When was the last time UFC ran a Friday night show? The Lesnar-Overeem fight? It's not something they normally do. Dana White says it has nothing to do with counter-programming Bellator's Season 11 premiere but, considering how well the Bellator Payperview did combined with the fact that UFC has done this kind of thing before, it seems pretty obvious. UFC gets to undercut the next potential threat to their MMA empire as it's starting to pick up steam AND stick it to their ex-wife in Spike TV? You know they're gonna be all over that.

So what will the two companies be offering to help you decide which event you watch live and which one you DVR (or maybe you DVR both because it's a Friday and, unlike the majority of MMA fans, you have a life)? The main event of UFC Fight Night 50 will be Gegard Mousasi vs. Ronaldo Souza, a rematch that could determine the next challenger for Chris Weidman's middleweight crown. Other fights on the card are Alistair Overeem vs. Ben Rothwell, Joe Lauzon vs. Michael Chiesa, and Nik Lentz vs. Charles Oliveira. I completely forgot Rothwell still fought for the UFC. I hope his drug test failure-induced vacation served him well. So, UFC has title contenders and other up-and-coming fighters. What does Bellator have for Bellator 123? Well, they have a champion. A TNA Heavyweight Champion. That's right, Black Lesnar is coming to Bellator as they signed Bobby Lashley to a contract. He'll face some no-name schlub in the hopes he gets an impressive win and makes people want to see him get fed to Vitaly Minakov at some point. Other fights booked for the card includes a big heavyweight clash in Cheick Kongo vs. Lavar Johnson and the return of King Mo facing former UFC flunkee Tom Deblass. Oh, and we're also getting Pat Curran vs. Patricio Freire 2 but Bobby Lashley, you guys! He has a win over Bob Sapp so you know he's legit. I just wonder, if Bobby somehow loses, how TNA will react. I knew they should have kept the belt on Eric Young. Either way, those are two solid fight cards. Which one are you going to watch? Also, can I come over and watch it? I just got my cable shut off. It's not my fault. Nobody told me I was supposed to pay those bills.

***HORN SOUNDS***

That's it for Five Quick Rounds. Thanks for reading. If you have any questions, comments, or suggestions, and it is always appreciated when you do, leave them in the comments section. I'll be back in 7 for more Five Quick Rounds. Welterweights are ready to throw down on Big Fox this Saturday. Not Little Fox. Big Fox. Enjoy the fights and always remember to fight clean, fight hard, fight fair, and never leave it in the hands of the judges...




LATER!!!!!!!!!!!!!!!!!!!!!!!!!!!!!!
comments powered by