SPOTLIGHTS
Five Quick Rounds: Exploring Anderson Silva vs. Nick Diaz
Posted by Evan Zivin on 08.05.2014

Are you excited for Anderson Silva vs. Nick Diaz? 411's Evan Zivin is. Join him as he examines the returns of these two men to fighting, how their main event at UFC 183 may play out, and what could be in store for the winner in Five Quick Rounds!

Hey hey, fight fans, and welcome back to five Quick Rounds! I am your host, Evan Zivin, and I am more excited than a Stockton soccer mom to here once again!

So two weeks ago we got the big news that Nick Diaz, a man Conor McGregor wishes he could be as notorious as, signed a contract extension to return to the UFC for the first time since March 2013. At the time, there were rumors that a fight between Nick and former UFC Middleweight Champion Anderson Silva could possibly happen. Well, those rumors became reality when it was announced that the fight is signed and it will main event UFC 183, which will be the UFC's Super Bowl Saturday show on January 31, 2015. As a long-time fan of the sport, I can't tell you how excited I am for this match-up. Well...yes I can. I'm excited. It's a clash between two of the best fighters in the world with unique personalities and fighting styles returning after long layoffs to show the world what they still have left. There are so many interesting facets to this match-up that I decided to devote this week's entire column to it. Well, I'm also doing it because there was jack-all as far as news last week other than rumored fights and Joe Riggs shooting himself, which is funny but I don't want to kick a man when he's down, especially if he's down due to a bullet wound. I regret the previous statement.

All right, so with fighter introductions out of the way, I will discuss the fight by looking at the fact these men are even coming back, the perceived excitement they have towards this fight, how the fight could be either really good or really bad, how big a main event this will be even though it doesn't make much sense, and the potentially likely title implications for whoever wins. Let's to it do it.

NICK, ARE YOU READY!!!!
ANDERSON, ARE YOU READY!!!!

FIGHT!!!!




Round One: Yay! Anderson Silva and Nick Diaz are Coming Back!

***TOUCH OF GLOVES***

Of course, the most exciting aspect of this fight for everyone is the fact that we are finally going to see both men fight again. I don't think there was a ton of concern that it wouldn't happen eventually, at least for Anderson, but it's still exciting all the same. Anderson has given every impression since he last fought in December that he wants to come back. The only questions were how long it would take for him to come back from the broken freakin' leg he suffered at the hands of that nefarious Chris Weidman and whether he can still fight as well as he did before the injury. The first question has already been answered (eat your heart out, Super Bowl). the second question won't be answered until January 31 but there's no reason to think that he can't come back and perform up to the level he did before. Georges St-Pierre was able to come back from a much more debilitating injury that took him out for a longer period of time than Anderson's been out and he was still able to beat high level fighters. Anderson will be back quicker than Anthony Pettis will be so there's no reason to fret too much. Stupid lightweight title fight still being 4 months away...

The question of Nick Diaz's return was a much bigger unknown. Everything about Nick's hiatus has been rather confusing. Right from the start, after he lost a 5 round decision to St-Pierre in a fashion that wouldn't allow him to pretend he won like against Carlos Condit, he said that he was retiring from the sport but he also said that he would be willing to fight again as long as it was for the title. Considering that he had just lost convincingly to the champion and that he wasn't the owner of a 9 year unbeaten streak or "the pound-for-pound greatest fighter on the planet" according to at least one Dana White video blog (no offense, Renan), a rematch wasn't happening. Over the last year-and-a-half, the UFC offered Nick fights, per Nick's contract, against opponents such as Condit, who Nick had previously expressed interest in rematching, and against Hector Lombard, which would have been an awesome clash of heavy-handed boxers, but Nick passed on them all. Eventually, Nick said that he would fight again but it had to be either against a really big name or for a lot of money. Like, half a million dollars kind of money. UFC doesn't pay fighters that kind of money. Well, they do but not in disclosed payouts. Nick probably could have made at least that much if he fought Condit on Payperview but it still wasn't enough for him. That's what makes this fight with Anderson so special: because Nick actually agreed to it.

***HORN SOUNDS***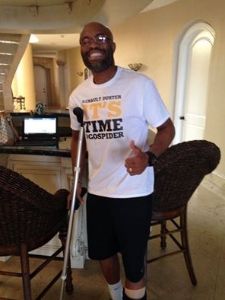 Round Two: For Once, Both Men Are Actually Excited to Be Fighting

***TOUCH OF GLOVES***

More than the fact that Nick agreed to fight Anderson Silva, Nick actually sounds excited to be fighting Anderson. One of the main talking points that Nick has been throwing out for years and especially in the few interviews that he has given since he signed his contract extension to take on Anderson is that he doesn't enjoy fighting. I know that plenty of people have made fun of him for saying that, since why is he going to fight again if he genuinely doesn't want to, but I can get where he's coming from. Nick doesn't view fighting the same way some of our favorite fighters/potential psychopaths do. Nick has no problem admitting that it's not fun to hurt another human being and that is a very admirable thing to say. So why does he fight? Because he's good at it and it pays the bills. Hey, it's not like all of you out there are satisfied with your jobs but you still perform them because you are capable of doing so and they make it possible for you to put food (and other substances *WINK*) on the table for you and your families. Nick has devoted his life to fighting but, to him, it's just a job and just because you're good at doing your job doesn't mean you always enjoy doing it. Just ask CM Punk.

Again, that's what makes this fight so special. It's a fight that got Nick excited enough that he was willing to come back for it. It's no wonder why, since it's given him the opportunity to test himself against the man who many consider to be the greatest fighter of all time. What true martial artist wouldn't be jumping at that fight? Anderson is also excited for the fight because Nick is an interesting personality with a fan-friendly fighting style that will ensure a lot of people are going to be watching the fight. In other words, it's going to be a big payday for both men. I also think Anderson is looking forward to this fight because it will be the first time since his UFC debut that he doesn't have to worry about fighting for or defending a championship. As good as Anderson was during his reign as champion, I'm sure that he, just like GSP, was constantly getting burned-out and frustrated over the pressure of having to defend the belt and all the expectations that were put on him because he was the one with the target on his back. Now that he doesn't have to worry about that, he can just go out and fight for fun. A fight like this one with Nick is just what Anderson needs to relax and enjoy training and help him reconnect with the reason why he fights in the first place: because he loves it. Anderson is going to be in a very good place mentally when this fight happens and I can't wait to see how he performs as a result of it.

***HORN SOUNDS***




Round Three: The Fight Could Be a Classic, Or it Could Be Utter Catastrophe

***TOUCH OF GLOVES***

I hope that I am at least in the ballpark as far as gauging the interest level between both Anderson and Nick since that will play a huge part in how this fight ultimately turns out. If we take a look at both men's fighting styles and propensity for finishing fights, this is as fan-friendly of a match-up as one can get. Both men are good all-around but their preferred method of fighting is on the feet. Anderson has a background in Muay Thai kickboxing and trains in that style and Western boxing with Pedro Rizzo and Luis Dorea, whereas Nick has a very strong boxing game he's developed under the tutelage of Richard Perez. Both guys love knocking out their opponents, as Anderson has finished 20 of his 33 wins by (T)KO and Nick has won by knockout in 13 of his 26 wins. If the fight goes to the ground, both are ready to put their black belts in Brazilian Jiu-Jitsu to use, which they have in highlight reel fashion. Who can forget Anderson's triangle choke of Chael Sonnen at UFC 117 or Nick's infamous gogoplata against Takanori Gomi at Pride 33? One also can't forget the mental and physical toughness these two exude. The fact that Anderson took everything Chael could throw at him for almost 25 minutes and still found a way to win is just incredible. As for Nick, go watch his fight with Paul Daley in Strikeforce to see how tough he is. Seriously, go watch it. That fight rules.

The flip side of this fight coin is that, for all the potential greatness this fight contains, it also has the potential to be a disaster of epic proportions. First off, we as a community tend to place really high expectations on fights we have reason to believe will be violent and intense and, while sometimes our expectations are met, such as with Wanderlei Silva vs. Brian Stann to name a random example, what we want to see isn't always what we get. We were expecting murderfests out of Robbie Lawler vs. Matt Brown and Cub Swanson vs. Jeremy Stephens and both of those fights were quite good but they didn't end up being what we expected. We wanted violent knockouts and instead we got tactical brawls between men too tough and crazy to fall to the other's offense. That very well could be what we see with Anderson vs. Nick. We already know the odds of a knockout in this fight are low, as both men have only been legitimately stopped by strikes once in their careers. Add into that equation the fact that both guys like to mess around in their fights. Anderson and Nick are notorious for their taunting. We're more likely to see Nick do it in this fight than Anderson, as Nick uses taunting as a fighting technique, whereas Anderson does it out of boredom and as a release from the pressure of being champion, but don't think it won't happen. It will, and when it does, what will happen? Will both men just stand there, waiting for the other to engage? Could this turn into 5 rounds of the greatest fighters in the world just standing around, insulting each other? It's very possible. It's okay to look forward to the fight but do keep in mind this scenario is very much within the realm of possibility with these two.

***HORN SOUNDS***




Round Four: A Main Event that Feels Like One Even if it Makes Absolutely No Sense

***TOUCH OF GLOVES***

Not only is the reality of Anderson Silva fighting Nick Diaz exciting for the fighters themselves as well as Dana and the Fertittas, who stand to make a lot of money from this spectacle, it's exciting for all fans of MMA. Of course, if you're a fan of either Anderson or Nick, you're more than likely losing your mind over this news. If you're one of those who feel Chris Weidman doesn't deserve to be UFC Middleweight Champion because he got lucky against a man who clowned around and broke his leg in a "freak accident," or if you're one of those fans who still scream "DIAZ 1,2,5!!!" in a vain attempt to find others devoid of common sense who actually agree that a fighter who got outstruck for 25 minutes won the fight, then you can't wait for this fight to happen. The rest of us can't either, especially those of us starved for decent main event fights. In a world where practically any fighter is capable of earning a UFC main event despite not having accomplished anything and still being relatively unknown to the casual MMA audience, it's extremely refreshing to see a non-title fight of this magnitude actually taking place. For years, we have laughed at the idea of super fights, like GSP vs. Anderson or Anderson vs. Jon Jones, actually taking place and, while Nick isn't of the same caliber of fighter as Georges or Jon is, this still feels like a super fight. It's a dream fight we couldn't have imagined happening months ago and now it is. And it feels good.

As good as it feels, though, there is one question that must be asked about this matchmaking. It's a question that few people are willing to ask because no one wants to be the one to ruin the fun, but to give a full examination of this fight, and since I have no reputation to speak of anyway, I'll ask it: in what world does this fight make any logical booking sense? Yes, stylistically, the fight makes plenty of sense. If we were judging the quality of the matchmaking on wins and losses, this fight can make sense because both guys are entering the fight on two fight losing streaks. if we go deeper than that, though, it's a little baffling. On one side, you have the most dominant champion in UFC history, a man who could defeat middleweights and light heavyweights with the same relative amount of ease. On the other side, you have a career welterweight who was good enough to become the champion of B-level promotions but was never good enough to beat the best at his own weight, let alone any other. Now you're going to take that B-level welterweight champion, make him compete at a higher weight class, and match him up with the greatest fighter to ever compete at that weight? Yeah, that makes tons of sense, especially considering the implications this fight may have for the winner.

***HORN SOUNDS***




Round Five: Whoever Wins is Probably Getting a Title Shot

***TOUCH OF GLOVES***

Let's not lie to ourselves too much about what could be at stake in this fight. There's more than just bragging rights and free drinks at Light Nightclub in store for the victor. More than likely, the winner will get another big main event, probably for a championship. For Nick, the promise of a future title shot is probably one of the ways Dana and Lorenzo got him to sign a contract extension. Yes, the allure of fighting Anderson Silva was too good for Nick to pass up, but what happens after the fight? What happens if he were to win the fight, becoming only the second man in UFC history to beat The Spider? It took Nick this long to agree to fight again. If Nick wins, he won't come back for anything less than a title fight and, considering the continued effort on the UFC's part just to get to the point where Nick is ready to play ball again, they will more than likely give it to him. I joked about this last week but don't think it won't happen, especially if it's against the UFC Welterweight Champion (yes, Nick could beat a middleweight to earn a welterweight title fight). After Lawler, there aren't too many other guys in the weight class that scream "title challenger." You have Rory MacDonald. You have Matt Brown. You have Tyron Woodley if you still care about him after his last fight. That's about it. These are guys who would make for interesting fights but I'm not dying to see any of them challenge for the belt (well, Brown maybe...). Would it bother me to see Nick leapfrog these guys to get another title shot? A little, but I'd get over it and so would all of you. Don't pretend like it won't happen.

Of course, if Anderson wins the fight, then we'll be lucky if we see Nick compete again. Seriously, other than a fight for the belt, I can't see another challenger big enough to convince Nick to fight him. Well, unless Dana can convince Mike Tyson to come out of retirement or something. Anderson is different, though. He wants to fight. He was prepared to return before the Nick Diaz fight was even an option. He's been working for months to get back in the Octagon and, win or lose at UFC 183, Anderson will keep going for as long as he still enjoys fighting. That's what would make things interesting for him if he does win because, more than likely, UFC will offer Anderson another chance to reclaim his gold if he does. It's not hard to make a case for it: his two losses to Weidman are both extremely contentious among fans, and, with how dominant he was as champion, he is more than deserving of another title fight, especially in this Dillashaw-Barao 2 world we now live in (I seriously don't know why I enjoy making fun of Renan so much). What I wonder is, if a title fight is offered to Anderson, if he'd accept. I think he'd initially turn it down because I genuinely don't think he wants to be champion again. He dealt with the pressure of being the best in the world for long enough. He just wants to have fun now. That being said, when push came to shove, Anderson always ended up doing what UFC asked of him so I have no doubt that UFC could convince him to take the fight if they wanted him to. And they will. This fight between Anderson and Nick is more valuable than almost any title fight they can offer right now. Why wouldn't they reward the winner with something big, like a title shot? Does it make complete sense? Not entirely, but that's why they call it the fight BUSINESS and not the fight...uh...not-for-profit? Is that the opposite of a business? Something like that.

***HORN SOUNDS***

So, with all of that being said, am I still looking forward to seeing Anderson Silva fight Nick Diaz? You're damn right I am. Now hurry up and get here, UFC 183. Get here before Nevada decides to randomly drug test Nick. Actually, considering how they just handled Vitor Belfort, we should have nothing to worry about. So, are you guys looking forward to this fight? Do you think it's good matchmaking? Bad matchmaking? How do you think the fight will play out? Who do you see winning? Do you agree with the winner getting a title shot? Sound off below. Seriously. The comment section isn't just for show. Use the damn thing.


That's it for Five Quick Rounds. Thanks for reading. If you have any questions, comments, or suggestions, and it is always appreciated when you do, leave them in the comments section. I'll be back in 7 for more Five Quick Rounds. Until next time, always remember to fight clean, fight hard, fight fair, and never leave it in the hands of the judges...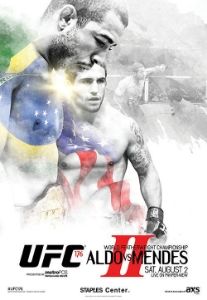 NEVER FORGET!!!!!!!!!!!!!!!!!!!!!!!!!!!!!!!!
comments powered by