SPOTLIGHTS
Jones and Cormier: Why It Can't Happen Again
Posted by Robert Winfree on 08.08.2014

In the wake of the incident between UFC light heavyweight champion Jon Jones and challenger Daniel Cormier, 411's Robert Winfree examines why the brawl was a bad thing and can't happen again!

This week featured some news worthy moments, specifically the brawl between UFC light heavyweight champion Jon Jones and upcoming challenger Daniel Cormier. During the traditional stare downs after the press conference things between Jones and Cormier escalated from the photo-op we're used to seeing to a pull apart brawl. The kind of acrimony that exists between Jones and Cormier is, from a fans perspective, a fun addition to a fight between two of the very best in the world; however, this is also the type of thing that reflects poorly on the sport and everyone involved in it. There's plenty of fault to go around, and while part of me as a fan enjoys confrontations like this it cannot be allowed to happen again.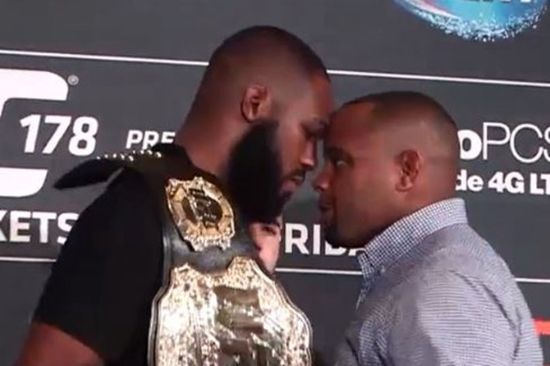 It was all downhill from here



As far as finding fault there's more than enough to go around, so let's take a look at the three parties and see how this could have been avoided.

Jon Jones: Jon Jones is the champion of the arguably the marquee division in the premier MMA organization in the world, he should know better than to engage in a brawl. Yes Cormier pushed him first, but that is hardly an excuse. Jones should have been the bigger man and let it go at the shove instead of escalating things. You are a champion, you should carry yourself like one and not revert to simply responding instinctively to anything put in front of you.

Daniel Cormier: Daniel Cormier shouldn't have engaged in physicality, and while you could argue provocation due to comments Jones made to a third party or the touching of foreheads it was Cormier who made the conscious decision to place his hands on Jones. The fact that Cormier admitted in an interview following the altercation that had Jones pushed him first he'd have been the first one to throw a punch is troubling, you have represented your country in international competition and should know how to conduct yourself as a professional.

The UFC: Some of the blame for this has to fall on the promotion. The UFC knew full well how much these two dislike each other, including nearly coming to blows on a previous occasion, and took no preventative steps. Potentially standing between these two large, trained, fighters was Dave Sholler who looks like my teenage brother could stuff him into a locker. I understand that UFC President Dana White was on vacation, but they couldn't have found someone else? Lorenzo Fertitta has some musculature to him, and Joe Silva has the permanent shroud of "Do NOT Touch" around him, yet this guy was the best option available to you. You're the biggest and best MMA promotion in the world and you shouldn't let events like this end in a brawl.

The UFC managed to avoid a potential catastrophe with this event, can you imagine the reaction and backlash if either fighter had suffered an injury? Just imagine news breaking that Jon Jones blew out his knee after this incident, or Cormier aggravating his already injured knee. Now the UFC will benefit from the evident dislike Jones and Cormier share for each other, the added buzz has already led to speculation that their fight will be the biggest of the year for the promotion. It's an assertion anyone would be hard pressed to disagree with, especially when the reported buyrate for UFC 175 is around 500k and that number is easily the best of the year so far. The UFC can enjoy the extra money they'll get from this, but this isn't an incident that can be repeated. The sport remains on the fringe of popular consciousness and there are plenty of people who still view it as nothing but barbarism, incidents like this do nothing to dissuade anyone of that notion. Heated confrontations are good for business, but the promotion and the fighters should all know that there is a hard line when it comes to anything physical.



Robert Winfree is a libra, long time contributor to the MMA zone of 411mania.com, host of the weekly 411 Ground and Pound radio show every Sunday at 8pm eastern, and current live coverage guru.
comments powered by