SPOTLIGHTS
Five Quick Rounds: A Champion, A Challenger, A PR Rep, More
Posted by Evan Zivin on 08.12.2014

From the Jones/Cormier brawl and the NAC threatening Chael Sonnen with legal action to the results of Metamoris 4 and WSOF 12, 411's Evan Zivin examines these stories and more in Five Quick Rounds!

Hey hey, fight fans, and welcome back to Five Quick Rounds! I am your host, Evan Zivin, and I am more excited than someone watching Chuck vs. Wanderlei for the 50th time on Fight Pass to be here once again!

Does anybody mind if I make fun of WWE? Of course you don't. I should say I have been a fan of pro wrestling for many years and still am. I started watching when I was 11 and today I am...older than 11. It's true. My learner's permit will verify that. For years fans have compared WWE with UFC, from their TV product to their Payperview business. Yeah, it's still mostly apples to oranges but there are similar qualities that draw fans to both, or maybe not if Triple H and Stephanie McMahon are to be believed. The VP of Talent and the Chief Brand Officer spoke at a conference recently about a number of topics, the most newsworthy being why WWE is a superior product to UFC. Some of the reasons included that WWE includes story-telling and characters that UFC can't provide, that fans are more willing to re-watch old wrestling matches vs. old MMA fights, and that UFC can't guarantee a fight will be good whereas WWE can ensure their events will always deliver. Of course, all of these points are full of crap. UFC does have characters, some better than the soulless drivel WWE puts out these days, fans absolutely will re-watch old fights, and WWE puts out plenty of bad shows. Their last Payperview, Battleground, wasn't very compelling other than the tag title match. I get that Trips and Steph need to proclaim their business as superior but c'mon. You aren't fooling anyone, which, considering the nature of your business, should be something you're good at. Oh well. Back to watching Hughes-Trigg II.

All right, so with fighter introductions out of the way, I have five more rounds of MMA news and opinons to throw at you. This week, we look at the brawl between Jon Jones and Daniel Cormier, whether it was good or bad for the sport, the NAC's threats of legal action towards Chael Sonnen, Bellator giving Joey Beltran a title shot, and the results of Metamoris 4 and WSOF 12. Let's to it do it.

FIGHTER YOU READY!!!!
FIGHTER YOU READY!!!!

FIGHT!!!!




Round One: The Jones/Cormier Brawl, A.K.A. The Dave Sholler Story

***TOUCH OF GLOVES***

And I thought this was going to be another quiet week for MMA news. Silly me. I should have figured that, in a week where UFC scheduled Light Heavyweight Champion Jon Jones and Daniel Cormier for a number of media appearances to promote their main event title fight at UFC 178 next month, something newsworthy would come out of it. There was definitely some good verbal sparring going on at the media day Q&A and on ESPN. You know how it is. Cormier says he wants to put his belly in Jon's face and then spit in it, not necessarily in that order. Jon apologizes for hurting Cormier's unborn baby and then threatens to "literally" kill him. Yep, nothing sells a fight better than assault, amirite? Well, there could be some truth to that concept. Or not, but that didn't stop Jones and Cormier from getting into a good ol'-fashioned brawl last Monday at the MGM Grand. What started out as a routine staredown between two men who genuinely don't like each other and are preparing to do battle with one another in a month and a half turned in a big, violent mess. The set was knocked down, a poor, seemingly-innocent UFC representative was pushed aside, and a shoe was thrown. A shoe. Seriously. I guess George W. Bush must have been in the audience or something. Anyone remember that? When that guy threw a shoe at him? Remember when 411 had a Politics section? Good times.

There are two questions worth answering, or attempting to answer, with regards to this situation. The first is who's to blame? This is America, after all. We always need someone to blame for everything and there's definitely plenty to go around here. So who ya got, 411? Jones or Cormier? We could blame the champion. He's the one who started the brawl in earnest. He should have had the self control to not act when Cormier shoved him. It's not like this is the first time we have seen a fighter shoved in a staredown. I can understand and respect a man wanting to defend his honor but you have to be smart about how and when you retaliate. Get back at Cormier in the cage on September 27, not in a casino lobby in front of media and innocent bystanders. Cormier also deserves blame here too. If he didn't like Jon pressing his forehead against his, why didn't he just press back? Why did he feel it was necessary to shove Jon by the throat? Acting the way he did was only asking for trouble, which might have been what he was looking for. If that's the case, then great job, Mr. Highly Respected Olympian and Fox Sports Broadcaster. UFC also deserves some blame for not forseeing something bad happening between these two and having more security in place. Seriously, Dave Sholler was supposed to stop those two? Dave Sholler? He's scrawnier than Jon Anik. So who truly gets the blame here? I'm just gonna say everyone is wrong here. It's a draw. See, this is why I'd make a terrible MMA judge. Well, at least I'd be willing to score 10-10 rounds.

***HORN SOUNDS***




Round Two: Is the Brawl Good for the Sport, Or Great for the Sport?

***TOUCH OF GLOVES***

So, the million dollar question that everyone has been trying to answer, Regis, is if the brawl will ultimately hurt the sport or help it. Let's briefly look at the good and bad that could and has resulted from the brawl. The worst thing that the brawl did was give more fuel to the fire of those who condemn the sport as being nothing more than barbarous bloodsport. It's that perception that Dana White has spent years trying to correct in the eyes of the public and he doesn't want his fighters acting in any way that could potentially undo all that work. For as far as the sport as come since the "Wild West" days of the 90s, there is still a portion of the population that won't respect or recognize the sport despite the fact that many of those same people are okay with boxing, where brawls during the staredown are almost a common occurrence, and other contact sports. If it hasn't happened already, there will surely be a "journalist" or two who will cite this brawl as another reason why MMA should be banned and why children shouldn't be allowed to watch it and so on and, while their opinions may not be the most rational or realistic, they still have every right to make them because we don't want something like a brawl to define our sport. We are not a sport of savages. We are a sport of intelligent men and women who are at the peak of athletic ability competing in one of the purest forms of competition in existence. Most people are smart enough to realize that even if they don't watch the sport. We just don't want to feed the idiots or those with political agendas. Right, Culinary Union, you jerks?

For as bad as the brawl could potentially be for the public's perception of the sport, I think enough people are educated now that something like this won't affect their opinion that much, especially since it's common knowledge how much Jones and Cormier hate each other. That's why the brawl will do a lot more good than bad in this situation. When it comes to fights, nothing sells like a heated rivalry. It's great to see two of the best fighters in the world compete against one another, but when those two hate each other? That turns the fight into must-see TV. For all the media interviews and TV appearances and Countdown shows the UFC could have put together to promote this fight, nothing would have been anywhere near as effective as that brawl. For a fight that may have done 350,000 to 400,000 buys unaided may now be on the north end of half-a-million buys come fight time, possibly more if Jones and Cormier continue to tear into each other verbally. Seriously, we love to see guys who hate each other try to tear each other's head off. We loved it when Rashad Evans and Quinton "Rampage" Jackson hated each other and wanted to take each other's head off. Yeah, the fight ended up not being the best but the fact of the matter is that a million people paid to see it happen. I don't imagine that many people ordering this show but it's possible and, if it does, the brawl helped to achieve that. Now I just wonder where things go from here. Maybe Cormier pokes fun at Jones' religion. Maybe Jones' orders Cormier a dump truck full of Popeye's. The possibilities are endless. Lighten up, everyone. It's all part of the show.

***HORN SOUNDS***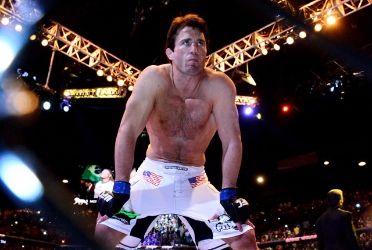 Round Three: Metamoris Makes NAC Jealous, Threatens to Sue to Get Their Chael Back

***TOUCH OF GLOVES***

I thought Chael Sonnen was friends with the Nevada Athletic Commission. I thought they were cool. It certainly seemed that way a few weeks back when Chael appeared before them in regards to the 5 different banned substances that were coursing through his veins when he failed a random drug test in spectacular fashion ahead of what was supposed to be a fight at UFC 175 against Wanderlei Silva and then Vitor Belfort (it's complicated). Instead of talking about his failed drug test from California in 2010 or his clearly flawed ability to make honest, rational decisions due to that incident as well as his money laundering conviction, they said how much they like Chael and how impressed they were by his ability to walk into the hearing and admit guilt for the things he did. What a hero Chael is, right? The man is so brave, he deserves a holiday named after him. In fact, I propose that, starting now, the 3rd Monday in July shall be known as "Chael Sonnen Day," wherein we take the day off of work or school without telling anyone. Then, we stroll in the next day and claim we didn't know we were supposed to show up the day before because the athletic commission failed to make that clear to us. Then we are forgiven and told how handsome we are. This isn't the type of holiday we need. This is the type of holiday we deserve.

So, in the end, the commission ended up suspending Chael for two years, preventing him from competing in anything that could be considered "fighting." Does a no gi, Brazilian Jiu-Jitsu match count as "fighting"? We may soon find out. As you are no doubt aware, Chael competed in the main event of Metamoris 4 on Saturday. Everyone was excited to see how the OG from West Linn would fare in a pure grappling match. Everyone, that is, except for the Nevada Athletic Commission, who were threatening legal action against Chael if he went ahead with the fight, which was scheduled before he was suspended. NAC said they would fine Chael for every drug test he failed, which I think they should have done to begin with, but they had no grounds to do so in response to the Metamoris match. Grappling matches aren't regulated by the NAC and the only forms of unarmed combat they do control all involve striking of some sort. We know NAC has no authority over jiu-jitsu matches and so does the NAC, since NAC Chairman Francisco Aguilar admitted as much on video two months ago. Not only that, the match took place in California, where the NAC has no jurisdiction anyway. Sure, they could ask the California commission to do something but they themselves can't see Chael's match and just fine him, since it didn't violate the terms of his suspension in any way and even then they wouldn't have had the authority to do anything about it. Score one more win for the bad guy. Hey, speaking of potential lawsuits...

***HORN SOUNDS***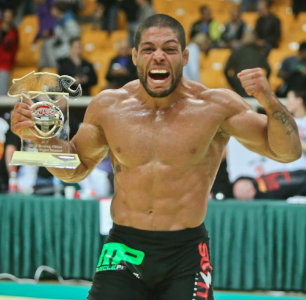 Round Four: Metamoris 4 Results, Well, That Was Expected

***TOUCH OF GLOVES***

At least Chael didn't have to worry about any of this drug test "nonsense" last Saturday night at Metamoris. The promotion, run by Ralek Gracie, has an old school mentality that technique conquers all, including size and how much Human Growth Hormone your doctor "accidentally" "prescribed" you. So then, how did Chael's technique match up against Andre Galvao, a multiple time jiu-jitsu world champion? About as well as you'd expect. Maybe a little better if you were thinking Chael would get tapped within the first minute of the fight. He didn't. He also didn't manage to make it through the entire 20 minutes without pounding the mat in defeat. He did all right for the first half of the fight, mainly staying in Galvao's guard, blocking any attempts for a choke from the bottom. It appeared as though Chael has learned to not get anxious or bored from the top, lest he get wrapped up in a triangle choke. Again. He's smarter with his grappling now but he still has things to learn as, during an attempt to stand up, Galvao took his back and cinched up a body triangle. Chael did a good job of defending the rear naked choke for a bit but it wasn't long until Galvao got the arm in and the tap 14 minutes into the fight. So Galvao took the match, but it's still impressive that Chael lasted 14 minutes with a grappler as decorated as Galvao. That means Chael wins. YAY!!!! HE DID IT!!!! I always believed he could. So did the NAC. The fine is in the mail.

I'm not going to pretend I'm a big jiu-jitsu buff. I'm just a Joe Schmoe who enjoys MMA and writes about it for free because you all presumably have better things to do with your lives. That being said, Metamoris has been doing a pretty good job of making the sport of grappling interesting and fun to watch. All six matches on the card were interesting in one way or another, especially the secret match. Personally, I think the idea of having two fighters compete where they don't know who they are fighting, and neither does anyone else, is kind of badass. It's the most real-life fight scenario imaginable. There's a lot of intrigue in the unknown. Even moreso when Jeff Glover, the play-by-play guy for the event, got up, walked onto the mat, took his pants off (don't get too excited), and proceeded to flop around for 20 minutes against Baret Yoshida. Then he went back to commentary. Just like that. No athletic commission would allow such a thing to take place in MMA but it was a lot of fun seeing it here. The co-main event was great too, as Josh Barnett, yes that Josh Barnett, tapped out ADCC Champion Dean Lister. Barnett spent a lot of the match in side control and, with 15 seconds left in the match, squeezed on a neck crank and got the tap. It was the first time Lister has tapped in 16 years. That's right. The last time Lister lost by submission, 98 Degrees was still a thing. Wild stuff. Good show. I expect more drug offenders and size mismatches at Metamoris 5. Get on it, Ralek.

***HORN SOUNDS***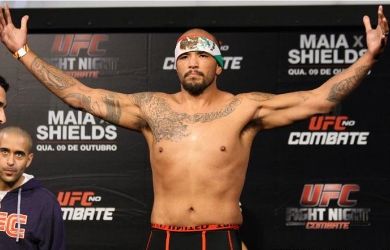 Round Five: Luis Palomino Wins Homonymous Main Event, Joey Beltran Earns Title Shot By Not Being Rampage

***TOUCH OF GLOVES***

World Series of Fighting returned to our lives on Saturday night with another evening of hard-hitting action. Were you aware? I'll admit I didn't realize the show was going down until hours before. Seriously, do any of these companies put anything towards promoting their fights? Maybe WSOF wanted to save their money here, as this wasn't the most high profile of events. The main event was a clash between lightweight title hopefuls Luis Palomino and Lewis Gonzalez. There was pressure here to perform for Palomino since he was going up against a guy who was supposed to get a title shot earlier this year for some reason. Well, perform he did, as he laid into Gonzalez with punches from the start and ended up flooring Gonzalez with a head kick that ended the fight with seconds left in the first round. It was a brutal win for Palomino that may guarantee him the winner of the upcoming Justin Gaethje vs. Melvin Guillard showdown until WSOF acquires another UFC washout and gives him the fight instead. You know how this sort of thing goes. The rest of the show was okay. A lot of decisions, although the fights weren't necessarily bad because of it. Ronny Markes looked good in his first post-UFC fight, Alexis Villa lost a tough fight to Brandon Hempleman, and Kevin Tiller went Anderson Silva on Elvis Mutapcic's nutsack. It's all right. His balls will still be granted a license to fight for the title.

On the Bellator side of life, we continue to slowly find out what the new Scott Coker-run promotion has in store for us in what may be the final season we get before everything changes next year. Now, before Coker took over, the promotion had already begun adding rules that would allow more fighters to circumvent the tournament format Bellator became famous for as a means to determine title challengers. In the past, the only way to fight for the title was by winning a tournament. Now, you don't have to do squat. That has been proven with the announcement that Bellator Light Heavyweight Champion Emmanuel Newton's next title defense will take place at Bellator 124 on September 12, and it will be against...Joey Beltran? Seriously? But his Bellator record is only 1-1. He's only won 3 fights in the last 3 years! This guy couldn't be further from a title shot. We all know why this is happening, though. It's because Newton needs to fight somebody and the logical choice, tournament winner Rampage, won't take the fight because he and Newton are best buddies and they have sleepovers where they do each other's hair and talk about boys and everything. So Newton and Rampage share the same coach and they aren't going to give the fight to King Mo because HA! I guess they may as well just give it to someone people have heard of who will hopefully ensure the fight is entertaining. It's Bellator. I don't hold their title fights to the same standards as the UFC, so who cares? At least they didn't give the fight to Tito. Yet...

***HORN SOUNDS***

That's it for Five Quick Rounds. Thanks for reading. If you have any questions, comments, or suggestions, and it is always appreciated when you do, leave them in the comments section. I'll be back in 7 for more Five Quick Rounds. Ryan Bader and Ovince St-Preux are fighting this Saturday. Yes, that's the main event. Enjoy the fights and always remember to fight clean, fight hard, fight fair, and never leave it in the hands of the judges or PR reps...




LATER!!!!!!!!!!!!!!!!!!!!!!!!!!!!!!!!!!!!
comments powered by