SPOTLIGHTS
It's Best For Bellator To Move On From Alvarez
Posted by Dan Plunkett on 08.19.2014

With Bellator set to make an announcement about Eddie Alvarez's future by the end of the week, 411's Dan Plunkett explains why it's best for the promotion to let its lightweight champion go!

One year ago, disillusioned former lightweight champion Eddie Alvarez was officially brought back into the Bellator fold, closing out a 10-month saga of lawsuits. In a landscape where fighters are typically locked down in one form or another to keep them away from an open, competitive market, Alvarez and the second place MMA promotion reached a unique agreement. Alvarez, looking to compete again and free himself from Bellator's grasp with as few headaches as possible, would be free after just one loss or two wins. Bellator, aggressively putting pieces together for their first pay-per-view event, would get its much-anticipated rematch with Alvarez and then-lightweight champion Michael Chandler, and perhaps even a rubber match if necessary.

It was a deal meant to appease both sides. It was a deal meant to go wrong.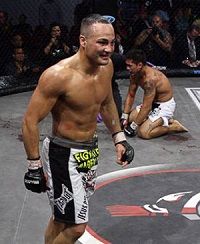 Michael Chandler vs. Eddie Alvarez never made it to pay-per-view. Playing second fiddle to Quinton Jackson vs. Tito Ortiz, the title match was moved to Spike TV after an injury to Ortiz forced Bellator's hand to scrap the price tag. After five hard-fought rounds before a record 1.1 million viewer audience, two of three judges, perhaps incorrectly, scored the match for Alvarez.

In accordance with the agreement, an immediate rematch was booked for Bellator's second attempt at a first pay-per-view on May 17, this time in the main event position. A week before the show, Alvarez was pulled from the bout due to a concussion. Will Brooks was called up from an undercard match to replace Alvarez in what was billed as an interim lightweight championship bout. After five hard-fought rounds before a pay-per-view audience of 100,000 homes, two of three judges, perhaps incorrectly, scored the match for Brooks.

Lightweight champion Alvarez was still contracted for a pay-per-view bout against Chandler. Alvarez instead wanted a bout against newly crowned interim champion Brooks, feeling it was the easier path out of the promotion. Chandler, still perhaps the best fighter of the three, was the preferred Alvarez foe of Bellator head honcho Bjorn Rebney.

On June 18, Rebney, the man that went to great lengths to keep Alvarez in Bellator, was defenestrated from the Viacom-owned company. Well-liked former Strikeforce head Scott Coker was brought in to lead a new vision for the company. That vision may not include Bellator's current lightweight champion, and that's not such a bad thing.

Bellator, under Rebney, caught flak for its handling of Alvarez's contract situation – "matching" UFC's lucrative deal when in reality Alvarez was set to make significantly more in UFC. (Had Alvarez debuted at UFC 158 as scheduled, he would have taken in at least $1,545,000.) This created a strong rift between the parties and was the driving force behind Alvarez's unhappiness in Bellator. It was also a black eye to Bellator and made talent weary of working with the promotion.

Coker's regime is looking to turn Bellator on its side. Restoring faith in the promotion is key to attracting and retaining both prospects and star fighters alike. Releasing a star fighter, which Alvarez certainly is, shows the company won't force fighters to stick around. If a happier Bellator is a healthier Bellator, this is one step towards a healthy promotion.




The championship situation may understandably give the promotion pause in releasing Alvarez. It's usually difficult to repair the damage of a departed champion – the gold belt that is supposed to be the ultimate goal and source of pride loses a bit of its luster. However, Alvarez is coming off anything but a decisive win. After two tight matches, Alvarez is but one of three fighters with legitimate claims of being the best lightweight in Bellator. That affords Bellator the luxury of releasing Alvarez with relatively little harm done to the value of their lightweight title.

Bellator could keep Alvarez under their banner and still build trust among their fighters, but it would come with risk and a price. They could match him with Michael Chandler, risking a third consecutive loss for Chandler and their goodwill with Will Brooks. Or they could go with Brooks, who most would consider an underdog to Alvarez, in a title unification match. Alvarez could lose either bout and Bellator would emerge from the jam with its championship's prestige at a high point, or he could win and take that prestige with him to the UFC.

Per Alvarez's deal, his next match is to be shown on pay-per-view. Despite better than expected returns on their May 17 debut, Bellator seems to be out of the pay-per-view game for the foreseeable future. Even at 100,000 buys, the May show was likely a money-losing venture (had it been profitable, it's hard to imagine the company shying away from the platform). Keeping Alvarez aboard for that final fight could mean venturing off the course of building strong events on Spike TV. A final picture of Alvarez standing tall after a successful title defense on a money-losing pay-per-view does nothing to serve Bellator.

It's best to move on.


Dan Plunkett has covered MMA for 411Mania since 2008. You can reach him by email at plunkettdan@yahoo.com and follow him on Twitter @Dan_Plunkett.
comments powered by