SPOTLIGHTS
Breaking Down Dillashaw vs. Barao II
Posted by Robert Winfree on 08.29.2014

Renan Barao gets a rematch against T.J. Dillashaw for the UFC bantamweight title at UFC 177! 411's Robert Winfree takes a look at what each man needs to do to walk out with the title!

In May of this year the MMA world witnessed one of the most stunning upsets in the relatively short history of the sport when TJ Dillashaw dismantled then bantamweight champion Renan Barao en route to a fifth round stoppage. Barao was a substantial favorite, unbeaten for nearly ten years, but once the cage closed he had almost nothing to offer Dillashaw in the way of meaningful offense. Despite the thorough drubbing the UFC decided to do an immediate rematch, which takes place this Saturday at UFC 177. So what does each man have to do to win their upcoming bout? Well that's the purpose of this article, let's start with the challenger.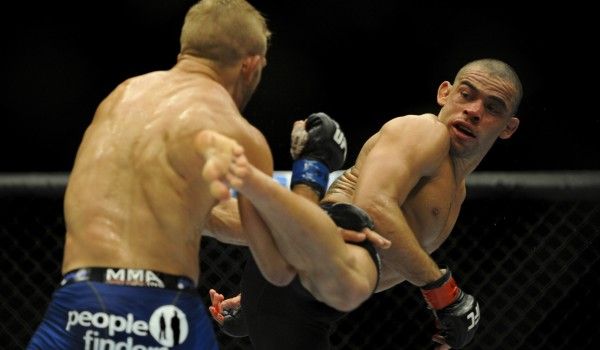 Renan Barao was on an incredible run, no only unbeaten for almost ten years but he'd shown no visible weaknesses or vulnerabilities during his WEC or UFC run. Against TJ Dillashaw Barao looked like a completely different fighter than he did against Urijah Faber, Eddie Wineland, or Michael McDonald, far from the dominant champion he seemed like a fighter who couldn't do anything right. Barao had no answer for the movement of Dillashaw, and his striking defense was woefully inadequate, these are two things he absolutely must fix if he's to have any success the second time around.

Dillashaw's movement was likely the key to his success, Barao could never get the timing down to try and land a punch or kick that got Dillashaw out of his game plan. The only round that Barao had any success in was the second, his left hook was the only punch that worked reliably, and even then Dillashaw made the necessary adjustments and resumed dominating the fight in round three. Barao will need to be ready to counter the movement of Dillashaw, he can't allow Dillashaw to move freely he has to try and corral him against the fence or get him into a predictable pattern that he can time. In their first fight Barao couldn't catch Dillashaw with his strikes and Dillashaw danced around him with relative ease. While Dillashaw's movement was a large part of his victory, there were holes that Barao could exploit. Dillashaw crossed his feet more than once, which leaves you off balance for either blitzing strikes or a possible takedown attempt, but Barao was unable to do anything with that opening or strike when Dillashaw would drop his hands. Those opportunities have to be capitalized on if Barao is going to reverse his fortunes.

The other issue Barao ran into was predictability, Dillashaw could easily tell what Barao was going to do, be it a spinning attack or a punch. Barao will need to vary his attacks, mix in takedown attempts even if he is unable to get Dillashaw to the mat he needs to add diversity to his offense and get Dillashaw thinking. Barao will also have to adjust his punching style, he has a tendency to strike with his head down and use hooks and while that works against relatively stationary fighters like Urijah Faber or Michael McDonald Dillashaw was able to avoid those punches and land consistently with counter strikes. If he's able to get Dillashaw into a reactive instead of proactive mode, limit or control the movement of his opponent, and take advantages of the openings that Dillashaw provides then Barao absolutely has the ability to reclaim the title.




TJ Dillashaw turned in a nearly flawless performance when he beat Barao in May, improving upon it will be difficult. Dillashaw's movement was key, he kept Barao off balance and attacked from angles that Barao wasn't expecting. That remains the key to his victory, standing and trading with Barao would be foolish but if Dillashaw can repeat his stick and move strategy then there's no reason he shouldn't keep the fight vertical. Dillashaw's other hugely successful tactic was striking diversity, mixing kicks and punches together to keep the Brazilian guessing as to what attack would come next and it's a strategy he should use again. Barao's defense is full of holes, when pressured he tends to extend his lead hand straight and try to circle which leaves that side of his head completely exposed. Forcing Barao to respond and try to circle away gives Dillashaw ample opportunity to strike into the openings in his guard and change the angle of attack before Barao could react.

Dillashaw will also have the advantage in that if things go badly on the feet he can attempt to take the fight to the ground. In fact mixing in a few well timed takedowns could put Barao off balance and put him into a reactive shell. Barao's takedown defense is quite good, but Dillashaw also wouldn't be shooting in the traditional wrestling sense, his ability to move at angles and potentially get Barao off balance on the feet would make it a much easier task than someone like Urijah Faber trying to shoot from distance. Dillashaw also used a high volume striking style, most MMA fighters tend to not only aim exclusively for the head they also load up on one or two punches. Dillashaw threw combination after combination in the first fight with Barao, where other fighters would load up on one punch and more than likely miss Dillashaw was able to overwhelm his opponent and break him down over the course of the fight.

The only flaw in Dillashaw's game last time was when his movement became somewhat predictable in the second round and he walked into a few too many left punches from Barao. He has to avoid becoming predictable, if your opponent can time your movement and land a strike as you're moving into it it's doubly painful. Frankie Edgar has times when his movement is predictable, it specifically led to his problems in the first round of his title fights with Gray Maynard. Dillashaw has to remain active and unpredictable to repeat his performance against Renan Barao.




So, what's the most likely outcome this Saturday? It's funny that from May to August the position could be so completely reversed, but that's where we stand. TJ Dillashaw has the proper skills to beat Barao, this is as much about the styles and how they contrast as it is the individual skills. The constant movement, combination oriented striking, and striking variety that Dillashaw use just seems to be the correct mixture of skills to beat Barao. Barao has to change too many things on an almost fundamental level to correct the issues he had against Dillashaw the first time while Dillashaw could likely turn in the same performance and have similar success. Having seen how these two fighters match up it's difficult to pick against Dillashaw, it seems that based on style and execution he wins this fight more often than he loses it. Renan Barao is a wonderfully talented fighter, but Dillashaw seems to be the guy who will just beat him nine times out of ten.
comments powered by