SPOTLIGHTS
411 MMA Fact or Fiction 10.27.07
Posted by Michael Huckaby on 10.27.2007

Will Brock Lesnar be given favorable opponents? Will Anderson Silva hold his title through 2008? Is Yushin Okami's UFC career over? Does Brandon Vera need to drop weight classes? All of this and more in the latest edition of 411 MMA Fact or Fiction!

Welcome back to another edition of 411 MMA Fact or Fiction. Joining me this week is The Tuesday Takedown author and fiveouncesofpain.com contributor, Mr. Adam Morgan. In the other corner we have the The Sprawl and Brawl Video Review's Randy Harrison.

And we're off:

1. Anderson Silva will be the UFC Middleweight Champion through 2008.

Morgan: FICTION. I truly believe that when the UFC realizes they have no viable contender for Anderson Silva's middleweight title, they will step up to the plate and offer Dan Henderson the kind of money he wants and he will be coerced to drop down to 185 lbs. Dan Henderson has great wrestling, solid top control, and a right hand like a sledgehammer. I think he beats Silva for the title sometime during 2008. Even if Hendo doesn't drop down, this is MMA and to predict that anyone could hold the title for that long is stretching it. As we all know, MMA is absolutely unpredictable.

Harrison: FACT. If for no other reason than he's the most dominant champion in any weight class in the UFC right now, the answer has to be fact. Dan Henderson has no interest in fighting at 185 anymore and after what would appear to be a fight with Yushin Okami looming on the horizon there is little else that could come up that would challenge Silva in the next calendar year. If he were to fight twice next year with one of those fights being the Okami fight, there would be little else in the way of competition for him which would probably mean a defense against someone who is in no way an even matchup. Silva could beat Okami, Belcher, MacDonald, Leben (who he's already destroyed once), Martin or anyone else near the top of the barren Middleweight division. The only hope for getting the belt off of him in 2008 would lie with Matt Hughes moving up in weight to face him as has been quietly rumored, or someone coming from outside the UFC to wrest the title from the talented Brazilian.

Score: 0 for 1.

2. The only option for Rich Franklin looking forward is to take time off and hope someone upsets Silva.

Morgan: FACT. Rich has taken extended periods of time off before and now is another one of those times where he'll take a nice, long break. He has injuries to heal and he matches up horribly with Anderson Silva. He needs to sit back, let the middleweight landscape change, and then make his comeback in the Octagon. By no means do I think he's done fighting, but in order to come back as a middleweight and be a contender, Anderson Silva cannot be on top.

Harrison: FACT. Whether he wants to or not Franklin is going to be needing to take time off after Anderson Silva performed amateur plastic surgery on his nose for a second time, and also after sustaining a broken hand. Franklin just simply cannot match up with Silva on any level and that fight should never happen again. He's already been proven to be a little undersized for the 205 pound weight class and if he were to cut to 170, I swear he would either pass out on the scale or be pissing dust for a month. His only real hope is to have something happen similar to what happened to Matt Hughes. Hughes was beaten soundly by GSP and appeared to be looking at two defeats against the same opponent much like Franklin has just suffered. Then came Matt Serra and Hughes had an opponent that he could conceivably beat to regain his title. That seems to be about the only option open to Rich Franklin at this point, is to wait for the upset, no matter how unpalatable it must be to someone with Rich's character and fighting spirit.

Score: 1 for 2.

3. Brock Lesnar will be brought along slowly and only fight opponents with favorable styles to his own.

Morgan: FACT. The fact that they're even talking about Brad Imes to fight Lesnar is somewhat of a shock to me, honestly. I would throw Lesnar some serious tomato cans when it comes to his first couple of fights. He needs to face someone who has very little wrestling ability and so-so striking. He needs to dominate his first opponent in the Octagon. Brad Imes could give him some trouble. The UFC would do well to bring him along slowly, just like EliteXC has done with Gina Carano and now Kimbo Slice. I hear Tank Abbot's available, how about him?

Harrison: FACT. He has the charisma, no one can dispute that, but to be able to match that charisma and potential with a prolific career, he'll need to be babied a little bit in the beginning, much to the chagrin of most MMA fans. The MMA world is already seemingly bent out of shape about the Lesnar signing to begin with because of his lack of experience and his pro wrestling career being tantamount to a scarlet letter in the eyes of most MMA purists. That said, the man has the chops to be a dominant HW in the UFC for a long time. Champion amateur wrestler, great size and strength, and almost a year and a half of MMA training under his belt. If he does well in his first couple of fights against maybe opponents like Scott Junk or Christian Wellisch, lower level heavyweights that don't have any particular strengths to speak of, maybe he can move up the ladder and face some of the lower top echelon heavyweights. To throw him in with someone who is a bad style matchup, more experienced, or more dangerous as a striker would be akin to career suicide as he would have his legs cut out from under him before he has a chance to shine, and it would make the UFC look foolish for giving him the hype they did. He's shown the ability to soak up knowledge in wrestling and football (to a lesser extent) like a sponge and if he's continuing to learn and not put in with fighters who are clearly above his level before he's ready for them, he could be a real force for the UFC both in and out of the cage.

Score: 2 for 3.

----SWITCH IT UP----

4. Tim Sylvia is not the responsible party for having a rather boring fight with Brandon Vera.

Harrison: FICTION. I know that people will be saying that Vera was clinching in that fight just as much as Sylvia was and that he was just as inactive, but looking at their histories in their last few fights, Tim Sylvia has a far greater likelihood of being the one causing a boring fight. Vera broke his hand at some point in the fight which led to him having to virtually abandon the dynamic striking that people thought would be his strongest asset in the fight. In Vera's previous UFC encounters, his matches were exciting and action-packed and all ended before the third round. While that might not be the best judge of how boring a fight is or not, you won't hear a lot of fans calling KO's and TKO's boring. Sylvia however has had only one fight in his last six finish before the judge's scorecards, and his style in those fights has been less than overwhelming. The killer instinct of the Tim Sylvia that tore through fighters like Cabbage,Tra Telligman,Gan McGee, Wes Sims and others is seemingly gone forever, and has been replaced by someone who is content to point his way to decision after decision to avoid putting himself in a dangerous situation. Tim Sylvia doesn't fight to win anymore, he's fighting not to lose and to me that is the biggest factor in why his fights have become boring.

Morgan: FICTION. Tim Sylvia is no longer the same fighter that has a past history of vicious highlight knockouts. He fights not to lose instead of fighting to win. Ever since he put the strap around his waist he's been much more cautious in fights. While he is a highly skilled fighter, his style now makes for boring fights. He could have KO'd Vera or at least done a ton more damage had he let his hands go. Clinch, hug, jab. That's what Sylvia does and will continue to do until he takes the heavyweight title for a third time.

Score: 3 for 4, and couldn't it just be that Sylvia's level of competition has been constantly improving?

5. With rumors circulating that his UFC 77 fight was the last of his contract and that UFC matchmaker Joe Silva called him, "boring," this was Yushin Okami's last fight in the UFC.

Harrison: FICTION. As much as Joe Silva may think he's boring, there isn't exactly a lot of depth in the Middleweight Division right now. Okami was one fight away from fighting for the championship against Anderson Silva and may in fact be the next in line since there isn't much else on the horizon. Silva has destroyed Franklin twice, mauled Marquardt and finished Lutter rather convincingly as well. Okami is near the top of the division and even has some prior history with Anderson Silva that could come into play if they were ever to match up in the future. There isn't really anyone else at the top of the division that could be considered a challenger so I think that the next fight we see for Silva could in fact be a defense against Okami. Also with the current landscape of MMA the way that it is, there would be MANY organizations waiting to scoop up a fighter who as recently as June headlined a PPV for the biggest MMA organization in the world. The UFC can't and won't allow Okami to head off to M-1, or Elite XC or whichever organization would be looking to make an impact and Okami will continue to fight in the UFC for at least the length of his next contract if indeed his current deal has expired.

Morgan: FACT. Yushin Okami is almost as boring as Tim Sylvia. This was definitely Okami's last fight in the UFC. There was a reason they didn't put his fight on the main card with McDonald because the UFC doesn't want you to know this guy is actually the number one contender right now. When asked who potential opponents for Silva are, Dana White mentioned David Terrell, Ricardo Almeida, and Thales Leites. No mention of Okami. It's time for these two to go their separate ways. Okami was nothing but a mid-carder in Japan to begin with, he's not going to be a star in the UFC. Too bad, too, because he has some of the heaviest hands in the UFC and very strong wrestling. He could have given Anderson Silva a bit of trouble.

Score: 3 for 5. And I just so happened to stumble upon my old Anderson Silva vs Yushin Okami .gif on my laptop a couple days ago.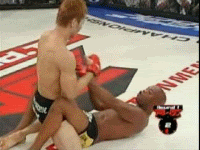 6. Brandon Vera's best option would be to drop to 205lbs, whether he wants to or not.

Harrison: FACT. As much as Vera wants to stay at heavyweight until someone "kicks his ass", it's just not bright for him to be continually giving away anywhere from 20 to 40 pounds to his opponents in fight after fight. A drop down to 205 would let him be the bigger fighter for a change and allow him to add that to his quickness that he already has going for him. Despite the fact that the days of the heavyweights that push right up against the 265 pound ceiling are apparently over, fighters like Arlovski and Nogueira and such will continually have their way with the smaller Vera. It wasn't an issue previously because the fighters he faced didn't quite have the talent to go with their size, but as he steps up in talent level , his opponents will know how to use their size and will be able to continually exploit it, nullifying the seemingly limitless talent that Vera has shown. Chuck Liddell and Rampage Jackson, as well as most all light-heavyweights, are known to have a walking weight of around 220 pounds which is where Vera is for most fights, and that 220 isn't exactly chiseled. With a cut to 205 and hydrating back up to about 215 for fight nights, he'd look a lot more intimidating, maintain his quickness but also add size and strength to his arsenal and be able to be the bully instead of the bullied.

Morgan: FACT. Vera's best option is definitely to drop down to 205. Do I think he will? No. He's stubborn and won't do that until he loses a couple more fights in the heavyweight division. He would be a "big" light heavyweight and would create some very interesting matchups in that division. Griffin/Vera, Shogun/Vera, Jardine/Vera, Wand/Vera, Chuck/Vera all have the potential to be big PPV sellers as well as good fights. He was clearly outsized by Tim, but who isn't, really? No matter, though. He'll be outsized by pretty much anyone at the top of the weight class right now. Should Vera go down to 205, he makes that division just that much more talented.

Score: 4 for 6.

--------

Join us next week when Bren Oliver and Matt McEwen will break down 6 more MMA statements and determine whether they're fact.... or fiction.
comments powered by