SPOTLIGHTS
411's Bellator 111 Report 3.07.14
Posted by Jonathan Solomon on 03.07.2014

Eduardo Dantas defended the Bellator Bantamweight Championship against Anthony Leone, the heavyweight tournament kicked off and more! Check out 411's full Bellator 111 report for all the details!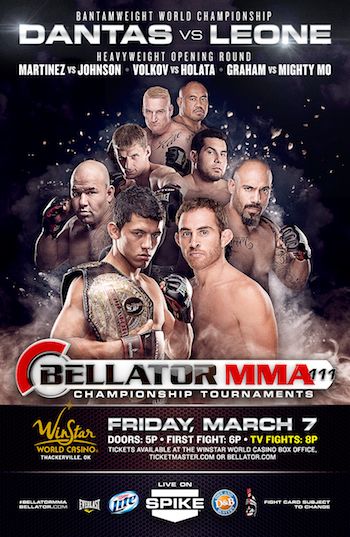 BELLATOR 111
WinStar World Casino
Thackerville, Oklahoma

We are live in Thackerville's WinStar World Casino, home of the Chickasaw Nation and tonight is Bellator 111. This is week two of the tenth season and tonight will feature the opening round of the heavyweight tournament along with a bantamweight championship fight in the main event. Before we get to the main card action, here's a quick look at what went down during the prelims.



PRELIM RESULTS




Chris Gutierrez def. Justin McNally via TKO (strikes) - Round 1, 2:50

Brent Primus def. Chris Jones via TKO (strikes) - Round 1, 1:45

Abdul Razak Alhassan def. Matt Jones via TKO (strikes) - Round 1, 1:23

Javy Ayala def. Eric Prindle via TKO (doctor's stoppage) - Round 3, 2:05

Cortez Coleman def. Daniel Miller via submission (strikes) - Round 2, 4:49

HEAVYWEIGHT QUARTERFINAL BOUT #1: Blagoi Ivanov def. Rich Hale via unanimous decision (29-28, 29-28, 29-28)




SPIKE TV MAIN CARD



INTRO: As always, Sean Wheelock and Jimmy Smith are the commentating crew and throw us to the first fight of the evening, in the heavyweight tournament quarterfinals.

HEAVYWEIGHT QUARTERFINAL BOUT #2: Former Champion Alex Volkov (19-4) vs. Mark Holata (12-4)

Volkov was the second-ever Bellator heavyweight champion, though he failed to defend the gold as he was stopped by strikes against current top dog Vitaly Minakov in November. Prior to that, he had been undefeated in his ten previous fights. Holata, the local fighting out of Oklahoma City, is 3-2 in Bellator.

ROUND ONE: They come out slugging and one Holata swing has Volkov slipping. Against the cage, Holata bullies the Russian with knees and short punches. Now, Volkov delivers knees of his own and has dropped Holata with left hands. He's turtling up as Volkov drops more rights and the referee stops the fight!

OFFICIAL RESULT: Alexander Volkov def. Mark Holata via TKO (strikes) - Round 1, 1:21


Not even five minutes into the show and we already have our first stoppage, about what most expected. It was a good call by referee Jason Herzog as Holata stopped defending himself and was eating too many shots. Volkov earned win number 20 for his career, the vast majority of which have come due to strikes. He will meet the winner of the Graham/Mo fight coming up, if the brackets shown stay true.


Among the commercials on Spike is one for tomorrow's Glory Kickboxing show featuring the return of Mirko Cro Cop in Croatia! A well-timed piece considering who's competing in our next fight.

HEAVYWEIGHT QUARTERFINAL BOUT #3: Peter Graham (10-6) vs. Mighty Mo (5-2)

Graham is a 38-year-old Aussie pro kickboxer/MMA fighter/pro boxer/fighter extraordinaire. He's in this tourney after stepping up on short notice to take on Cheick Kongo in last season's finals. Meanwhile, the 43-year-old Samoan is also a veteran kick boxer now focusing on the cage. Since returning to the sport last year, he finished both of his Bellator fights, earning his first tournament entry. A fight between famed former K-1 fighters, this one should definitely end early.

ROUND ONE: Mo leans in with his big left hand. Graham offers low kicks but surprisingly, Mo shoots in for a takedown and fails. Against the cage, they jockey for positioning. Graham works knees to the body as Dan Mirigliotta warns them to stay busy. Graham tosses Mo to the ground and they're back standing in the center of the cage. A front kick is blocked by the Samoan. Mighty Mo may be gassing as Graham continues landing big leg kicks. Mo lands a few big punches and has Graham backing up. In the clinch, they trade punches before separating. Mo lands a big left hook but Graham just eats it. As the round ends, they clinch and trade knees.

SCORECARD Extremely close so I'd score it because Mo landed the best strike of the round. 10-9, Mighty Mo

ROUND TWO: They're back in the clinch and against the cage. Mo going for a single-leg takedown and gets it. Graham cannot close his guard. Mo trying to free his hands to throw strikes as finally Graham closes the guard and tries to tie up the Samoan. Mo dropping left punches, not necessarily hurting Graham but doing some damage. Now, lefts to the body as Graham tries to get up, but eats more punches. Finally, they're back standing with just over two minutes left. Graham lands a nice uppercut, followed up with a leg kick. Mo plods forward and misses on an overhand right. Another two leg kicks from Graham followed by a nasty front kick. The Aussie is just picking apart Mo's legs. Mighty Mo is tired and has slowed considerably. In the Thai clinch, Mo eats a knee to the head. Graham gets put on his butt going for a high kick. Mo lands punches to the body and passes to side control with a dozen seconds left. He goes for a keylock but time runs out.

SCORECARD: Graham made it closer than it should have been but Mo gets it for his groundwork (say what?!). 20-18, Mighty Mo


Make no mistake, this is a razor close fight so far despite my 20-18 score for Mo.

ROUND THREE:: Graham has landed 34 leg kicks starting off the final round. He goes right back to the leg with more leg kicks. In the clinch, Mo eats a knee to the body but scores a takedown and ends up in side control. Graham eats punches to the face and a few to the body. Mo looks for an armlock but gives it up for more strikes. Graham trying to cover up to deflect the shots and at the same time, bring the action to a crawl to get a stand-up. Graham almost sneaks out from the side but Mo is heavy on top and earns a submission win with a crank! Wow.

OFFICIAL RESULT: Mighty Mo def. Peter Graham via submission (head and arm choke) - Round 3, 2:31


The big upset comes from the fact that Mo won with a submission in this battle of former K1 stars.


"Old man got new tricks" says Mo in victory. He has a stiff test in the semis as he will fight Volkov next month.


The winner of the next heavyweight quarterfinal will meet Blagoi Ivanov in the semis. The Bulgarian fighter beat Rich Hale in the prelims to remain undefeated with 10 wins. The amazing part is, this is the same man who nearly died two years ago after being stabbed. After his 2008 World Sambo Championship win over Fedor Emelianenko, there was a ton of hype for him when he focused on MMA, and he takes on more step forward in his attempt to win MMA gold.


Next week is the big featherweight title rematch as champion Daniel Straus fights former champ Pat Curran in his first defense.

HEAVYWEIGHT QUARTERFINAL BOUT #4: Lavar Johnson (17-8) vs. Ryan Martinez (10-3)

"Big" is still looking for his first win in nearly two years, going 0-3 during that span. His Bellator debut in October ended in just twenty-three seconds on the receiving end of a knockout from Vincius Queiroz (the first of Johnson's career). Martinez is back for his second quest for a Bellator MMA title fight. He made it to the finals of last summer's tournament before losing by TKO to Minakov. The talking point here will be the size differential as Johnson is 6'4 with an 81" reach while Martinez is 5'11 with a 72" reach.

In the pre-fight video package, Johnson notes that this is his last shot, possibly considering retirement with a loss. Meanwhile, Ryan's wife is cageside and healthy after being seriously injured last year in a car accident.

ROUND ONE: They swing and end up in the clinch. Johnson takes him down with a throw and ends up in half guard. Working the body with punches and a few to the head mixed in is Lavar, but Martinez ends up on top and is dropping hammerfists. Lavar is warned twice about landing shots to the back of Ryan's head. Martinez moves to side control. Back to the feet, Johnson comes up swinging. Martinez gets free and circles to the center of the cage. It's a brawl as Martinez is eating a few punches to the head. One in particular drops Martinez and it's ALL OVER! It was an inadvertent punch behind the ear that wobbled Martinez.

OFFICIAL RESULT: Lavar Johnson def. Ryan Martinez via TKO (strikes) - Round 1, 4:22


Lavar's not done yet!


They air highlights from Ivanov's win from earlier in the night.


Up next is footage from the Brent Primus vs. Chris Jones fight. 105-seconds later, Primus finishes Jones with a series of punches.

BANTAMWEIGHT CHAMPIONSHIP BOUT: Champion Eduardo Dantas (15-3) vs. Anthony Leone (13-6)

Rafael Silva was originally pegged into this fight but an injury forced the change last month to Anthony Leone. The New Yorker is 4-1 as a bantamweight and lost a decision to Silva in last summer's tournament final. Then there's "DuDu" Dantas, one of the best 135-pounders in the world. The reigning champion out of Nova Uniao only fought once last year due to an ankle injury, knocking out his buddy and training partner Marcos Galvao. Due to the stumble (the Tyson Nam KO in 2012) and last year's ankle issue, he has only defended his title once since choking out former champ Zach Makovksy about two years ago.

ROUND ONE: Jason Herzog is the referee. DuDu holds court at center cage as they're patient to start. Leone catches a kick and takes the champion down, ending up in closed guard. Dantas tries to spin off Leone's hips as the challenger peppers him with short punches. Half the round is over and they're still in the same position. Body-body-head goes the strikes from Anthony as Dantas looks for elbows from the bottom. The champ is looking for anything to create space but Leone is doing a great job at staying active enough to maintain his positioning on top. Under a minute left and Dantas tries a sweep but cannot pull it off. Elbows from the top are landing on the champion as the round ends.

SCORECARD Clear as day, 10-9 Leone.


How will Dantas be able to stay on the feet? He was stuck on his back for nearly all of round one.

ROUND TWO: Leone comes forward with punches but whiffs. Dantas lands a pair of strikes. A weird kick attempt from the champion and he ends up caught on the cage, Leone is trying to get back to the ground. They separate to the center of the cage, Dantas misses a high kick followed by a front kick. Dantas slipped but gets back up before Leone can pounce. The challenger misses on a combination coming forward. Two minutes left, Dantas lands a right hand followed by a pair of jabs. A spinning backfist from Leone looks pretty but misses. He shoots in for a single-leg, stacks Dantas up against the corner but his balance is incredible. Leone is like a rabid dog looking for a takedown but Dantas flips around and takes his back. Still attacking for the takedown, Dantas takes his back (more like falls down lands right in position), LOCKS ON THE REAR NAKED CHOKE AND IT'S OVER! LEONE TAPS OUT! Crazy!

OFFICIAL RESULT: Eduardo Dantas retains the Bellator bantamweight championship, def. Anthony Leone via submission (rear naked choke) - Round 2, 2:04


Now that's one hell of a dynamic fighter. Look out Joe Warren, who steps in the cage. He's got next and the two fighters buddy it up two months before they plan to fight over the gold.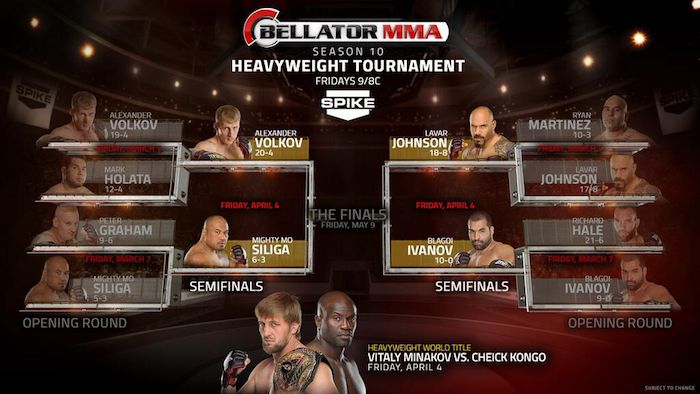 comments powered by