SPOTLIGHTS
411's UFC Fight Night 37 Report 3.08.14
Posted by Alex Watt on 03.08.2014

Alexander Gustafsson defeated Jimi Manuwa via RD2 TKO, Michael Johnson defeated Melvin Guillard via unanimous decision, Gunnar Nelson defeated Omari Akhmedov via RD1 submission and more! Check out 411's complete UFC Fight Night report for all the details…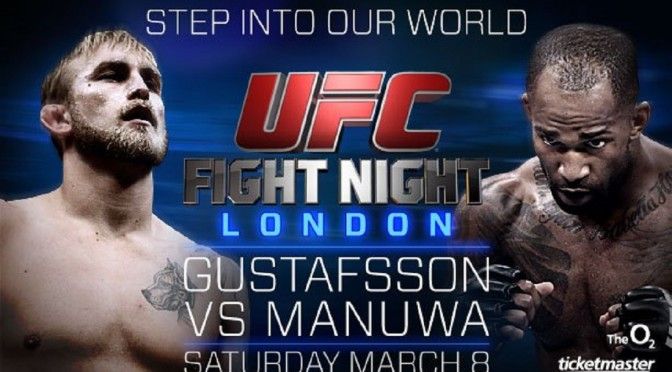 INTRODUCTION:



Hello loyal 411 readers. Welcome to our live coverage of UFC Fight Night: Gustafsson vs. Manuwa. Just the one member of the British Bulldogs this time around; Alex Watt will be taking you through all the action as it happens tonight.

The main event sees British standout Jimi Manuwa challenge Alexander Gustafsson, in what is unquestionably the Londoner's biggest challenge to date. Gustafsson, of course, is the man who gave Jon Jones the toughest test of his UFC title reign, thus far. You can decide for yourselves whether the uncrowned No. 1 contender to the UFC Light Heavyweight Championship, and a man who the company may be relying on as a future star, should be having his first fight since that classic title tilt given away for free on a Fight Pass show.



Debate recently has been whether Gustafsson- who gave #UFC champ Jones toughest test - should be fighting on free internet card. #UFCLondon

— Alex Watt (@AlexWattMMA) March 8, 2014



It's not even really a debate. He shouldn't be. Gus should be on the co-main of #UFC172, all things considered. #UFCLondon #UFC

— Alex Watt (@AlexWattMMA) March 8, 2014

Outside of the main event, the story of UFC in London has really been about how injuries have ravaged the card. Ross Pearson and Ian McCall were both forced to withdraw – a real shame, as McCall vs. Brad Pickett and Pearson vs. Melvin Guillard promised to be thrilling encounters – leaving the event looking a little light. In addition, late last night David Grant vs. Roland Delorme was pulled from the card. Both fighters made weight but a late diagnosed torn meniscus for Grant meant that the fight won't take place.



Grant/Delorme off, McCall & Pearson injured. Has Bellatorwitch doctor put a curse on #UFCLondon? 9 decisions tonight would confirm it. #UFC

— Alex Watt (@AlexWattMMA) March 8, 2014



PRELIMINARY CARD FIGHTS (UFC FIGHT PASS / BT SPORT 1)




---
Flyweight Bout: Louis Gaudinot (6-3, 126lbs) vs. Phil Harris (22-11 1NC, 125lbs)

And we kick off the evening with some severe technical issues which means I miss the whole of the first fight. Fantastic…

I come back in and Louis Gaudinot has won. So, yeah…

OFFICIAL RESULT: Louis Gaudinot, Submission (Guillotine Choke), 1:13 of Round One



It's strange that Neil Seerygot put in against Pickett after McCall's injury. Why wasn't Gaudinotput in main card slot? #UFCLondon #UFC

— Alex Watt (@AlexWattMMA) March 8, 2014


---
Welterweight Bout: Igor Araujo (24-6 1NC, 171lbs) vs. Danny Mitchell (14-4-1, 170lbs)
"TheCheesecake Assasin"? What has a dessert ever done to Danny Mitchell? #UFCLondon #UFC

— Alex Watt (@AlexWattMMA) March 8, 2014

ROUND ONE: Mitchell, the UK fighter, gets a great reception from the London crowd. Araujo, not so much.

Araujo misses with a head kick and a capoeira kick attempt. Mitchell goes for a single leg and gets Araujo to the mat. Araujo controlling Mitchell's wrists wel on the mat. Mitchell unable to pass. Can I just say that the British commentary team are doing a great job. Good analysis from John Gooden and Dan Hardy already. A lovely sweep from Araujo and he gets on top. Mitchell trying to use the rubber guard but Araujo moves to half guard and he's trying to pass to mount now. Mitchell has good ground defence but Araujo is rolling with him every step of the way. A good back and forth grappling exchange early on. Mitchell threatens with a leg lock as Araujo tries to stand up. He gets it for a second but Araujo is surviving. Araujo staying calm while Mitchell looks to apply a heel hook. That cannot feel too pleasant. Araujo escapes the hold and good scramble from the Brazilian to get on top. Short punches from Araujo. Araujo throwing punches inside Mitchell's guard and the Brit tries to fight back from his back with sharp elbows. That's where my internet cuts out…

SCORECARD: Araujo, 10-9

ROUND TWO: Touch of the gloves. Araujo trying to attack with front kicks. Mitchell lands a nice front kick to the body as the UK crowd chants "Cheesecake". Lovely stuff. Araujo tries for the takedown. Mitchell defends but iultimately ends up on his back. Araujo on top and in half guard landing short punches. Araujo landed short shots to the head and body. Araujo staying patient. The Brazilian is content to maintain this position until an opening presents itself. Mitchell trying to scramble and he gets it back to full guard but Araujo is still in control. Mitchell looking for upkicks as Araujo stands over him. Araujo moves to side control. Mitchell is finally able to create some space and scrambles back to his feet. Mitchell pushes Araujo against he cage and lands some knees to the legs of Araujo. A flying triangle attempt from Mitchell! Crikey, this cheesecake lover/hater has some moves. He can't get it unfortunately and Araujo capitalizes by securing top position and landing some punches as the round concludes.

SCORECARD: Araujo, 20-18

ROUND THREE: Mitchell on the offensive immediately and fighting like a man who knows he's two rounds down. Mitchell catches an Araujo kick and tries to counter with a takedown. Araujo defends, however, and pushes Mitchell against the fence. Araujo drags Mitchell to the ground. Araujo pulled guard there and he's slapped on a triangle choke. Impressive. Mitchell surviving but Araujo adds in some elbows strikes as he tries to tighten the hold. Mitchell stays calm, pushes Araujo against the fence while still in the triangle and gives the crowd the thumbs up. More elbows from Araujo. Araujo switches to an omoplata. Slick! Mitchell spins out and he's on top now. He might look for another leg lock here. Mitchell goes for the heel hook again. Araujo looks unimpressed by this submission attempt and he lands a couple of punches while Mitchell tries to lock in the hold. Mitchell is still trying for the leg lock. Mitchell starts punching from his back and Araujo starts punching from the top. This is insane! Mitchell and Araujo just trading punches as they're on the mat. A cracking end to the contest. The horn sounds and the fighters hug it out.

SCORECARD: Araujo, 30-27

OFFICIAL RESULT: Igor Araujo, Unanimous Decision (30-27 x 3)


---
Middleweight Bout: Brad Scott (9-2, 186lbs) vs. Claudio Henrique da Silva (9-1, 185lbs)

Silva enters wearing a Hannibal Lecter mask. His nickname's "Hannibal" apparently. Brad Scott looks like Forrest Griffin. Analysis!

ROUND ONE: Touch of the gloves and early pressure from Silva. Silva pushes for the takedown but Scott defends it well. The action quick to start us off. Silva throwing a lot of kicks but Scott's footwork is serving him well. Silva gets the takedown this time. Silva on top but Scott defends well. Scott triees to sweep but Silva has good ground skills and moves with him every step of the way. Silva temporarily gets full mount but Scott is able to move back to half guard. And…my internet starts playing up again but they're back on their feet as we return. Scott pushes forward with punches but accidentally gets caught with a finger in the eye. The doctor is in to check on Scott. They continue. Silva gets another takedown and lands some good punches as they hit the ground. Silva ends the round on top.

SCORECARD: Silva, 10-9

ROUND TWO: Silva pushes forward with a takedown and gets caught with a shot to the body as he comes in. Silva lands a nice leg kick. Scott lands a good punch and it looks as though he may have got caught with another eye poke there. They carry on. Scot lands a couple of good punches . Scott landing more strikes now and Silva looks as though he's starting to tire. The Brazilian is wild with his punches. Scott lands a good punch and a kick might have gone low. The referee doesn't see it though and Silva is begging off while Scott looks confused as to whether he should carry on fighting or not. Eventually they do. My stream is playing up again but every time it cuts back in, Scott is landing punches so it seems as though the momentum is turning in the Brit's favour. Silva tries for another takedown but to no avail. Silva's eye looks swelled shut.

SCORECARD: Scott, 19-19

ROUND THREE: They touch gloves. Silva swinging wildly but Scott is moving well and trying to pick Silva off with his punches. Silva tries for another takedown but Scott stays on his feet. A beautiful straight right from Scott snaps Silva's head back.



Dodgy internet connection for streaming fights is a) not the kind of stress I need on Saturday night & b) resulting in interesting coverage.

— Alex Watt (@AlexWattMMA) March 8, 2014

As my stream returns, Silva has Scott's back. Scott counters and ends up dragging Silva to the mat. Silva is on top and landing punches. Silva on top and landing short punches. Scott has been far superior on the feet but if he can't get back upright then Silva is going to steal this fight from him, I fear. Scott recognizes that and starts working his way back to his feet but Silva takes him right back down again. Silva's right eye is almost completely swollen shut. My stream cuts out again but, by all accounts, this fight will go to Silva 29-28 despite Scott landing more damage.

SCORECARD: Silva, 29-28

OFFICIAL RESULT: Claudio Silva, Unanimous Decision (29-28 x 3)

Silva's grappling makes the difference in the end. This has not been a good night for the UK fighters, so far!


---
Middleweight Bout: Luke Barnatt (7-0, 186lbs) vs. Mats Nilsson (11-2-1, 184lbs)

Luke Barnatt's taking this celebrating too early thing to another level. His arms are raised in joy before he even enters the Octagon! #UFC

— Alex Watt (@AlexWattMMA) March 8, 2014

Nilsson is our first of a number of Swedish fighters competing in London tonight.



Luke Barnattenters to The Beatles, just so any Americans watching can be absolutely sure that he's British. #UFC #UFCLondon

— Alex Watt (@AlexWattMMA) March 8, 2014

ROUND ONE: Some good exchanges early on. Barnett lands a couple of nice knees and now he's looking to use his reach advantage to keep Nilsson on the end of his jab. Nilsson though is fighting his way inside. The Swede lands some hard punches which have Barnatt backing up. Barnat grabs the Thai clinch and lands a knee to stop that. Nilsson lands some more punches and Barnatt backs away. Barnatt starts to land his jab more frequently and Nilsson is bleeding already. Barnatt has relaxed into the fight now and he's landing that jab almost at will. Nilsson is game but he's having more and more trouble fighting his way inside now. Nilsson lands a leg kick but Barnatt lands a hard jab and then a head kick lands a glancing blow. This is all Barnatt now. Another jab and a superman punch. A head kick connects! Nilsson is rocked and Barnatt goes for the kill. Some big punches to the head and body and then a knee to the chin and the referee has seen enough. A phenomenal striking performance from Barnatt. He celebrates with his coach with a big hug and then a big slam, because why not?

OFFICIAL RESULT: Luke Barnatt, TKO, 4:24 of Round One

Finally, a British fighters picks up a win at the O2 Arena in London! Maybe this will start a trend for the rest of the evening?


---
Light Heavyweight Bout: Cyrille Diabate (20-9-3, 205lbs) vs. Ilir Latifi (7-3 1NC, 205lbs)
Remember when IlirLatifimain evented a #UFC show against GegardMousasi? Can that be pinpointed as the day @SamerKadi88 lost his smile?

— Alex Watt (@AlexWattMMA) March 8, 2014

ROUND ONE: Touch of the gloves. "Muscle versus range," says Dan Hardy. He's not kidding; the difference in stature between these two is something to behold. Diabate is waiting for Latifi to overcommit as the crowd get restless at the lack of action. Dan Hardy is killing it on commentary; "I love these classics with no action. I'm old school like that." Latifi finally gets a takedown and he's working for a D'Arce choke. No joy but he's still on top and Diabate is struggling to create space. Diabate is defending the strikes of Latifi well though. Latifi slaps on the D'Arce cjoke again and he's twisting the nec of Diabate in the process. Diabate struggling but Latifi is having none of it and cranks the neck even more. Diabate taps and face plants into the canvas in celebration. Impressive performance from the Swede in his second fight in the Octagon. Word is that this is the last fight of Diabate's career. Not the nicest way to head off into retirement.

OFFICIAL RESULT: Ilir Latifi, Submission (D'Arce Choke), 3:02 of Round One



"Sothis is something you've had sex with in training?" I beg your pardon, @danhardymma? #UFCLondon #UFC

— Alex Watt (@AlexWattMMA) March 8, 2014



MAIN CARD FIGHTS (UFC FIGHT PASS / BT SPORT 1 / CHANNEL 5 UK)





One advantage of covering the fights from home rather than on press row; I can have a couple of beers. You know, ever the professional. #UFC

— Alex Watt (@AlexWattMMA) March 8, 2014



I know I'm not saying anything new here but John Gooden & Dan Hardy are putting Rogan & Goldberg to shame at #UFCLondon. Great work. #UFC

— Alex Watt (@AlexWattMMA) March 8, 2014

Welterweight Bout: Gunnar Nelson (11-0-1, 170lbs) vs. Omari Akhmedov (12-1, 170lbs)

ROUND ONE: Positive reception for Gunnar Nelson, who UK fans are becoming very familiar with. Touch of the gloves. Early kick from Omari. Omari lands a solid leg kick. Omari lands a couple of punches but it's Nelson who is pressing the action. Omari moving well and lands a decent body kick but Omari is constantly moving backwards due to the pressure of Nelson. Nelson finally attacks, lands a straight left and gets the takedown. Straight into full mount from Nelson. Omari looks cut underneath his eye as Nelson lands some short punches from the mount. Hard elbows from Nelson and Omari is definitely bleeding now. Omari trying to buck Nelson off him but that mount is too good. More elbows from Nelson. No wasted motion from the Icelandic grappler. More elbows and punches. Another elbow and Nelson gets wrist control. It looked like he was working for an armlock there but Nelson gives it up and lands yet more elbows. Nelson stands up and moves to side control. Nelson latches on a guillotine and that is all she wrote! Omari taps out. Another dominant performance from Gunnar Nelson!

OFFICIAL RESULT: Gunnar Nelson, Submission (Guillotine Choke), 4:36 of Round One



FedorEmelianenkolooks like an overexcited teenage girl in comparison to the cold as ice Gunnar Nelson. #UFCLondon #UFC

— Alex Watt (@AlexWattMMA) March 8, 2014



Gunnar Nelson cracked a smile! That's a collector's item, ladies and gentlemen. #UFCLondon #UFC

— Alex Watt (@AlexWattMMA) March 8, 2014


---
Flyweight Bout: Brad Pickett (23-8, 125lbs) vs. Neil Seery (13-9, 125lbs)
I keep saying that @RondaRousey has the best walkout music in MMA but when @One_Punch enters to Chas & Dave I second guess that opinion #UFC

— Alex Watt (@AlexWattMMA) March 8, 2014

It's Pickett's flyweight debut tonight in his hometown and Irishman Seery's (a Cage Warriors veteran) UFC debut.

ROUND ONE: Touch of the gloves. Early leg kick from Pickett and a straight left. Seery lands a couple of punches but Pickett comes over the top with a heavy left hook. Seery throws a hook but Pickett throws back harder with punches of his own. They are exchanging leather already. Pickett lands another heavy punch. Seery showing his good chin but he won't want to take too many of those. "You can see by their noses that these guys have been in some scraps," says Dan Hardy. A Seery kick goes low and we get a short break in the action. Back to it and they exchange more punches. Both men's heads snapped back there. Pickett gets a double leg takedown. Impressive from the Brit. Seery holds onto Pickett's arms to stop the ground and pound and Pickett responds with a slam. Seery isn't letting go though. Pickett gets his arms free and lands a couple of short punches. Pickett in half guard and trying to free his leg and move to side control. Seery is defending the pass attempts tremendously, however. Pickett sets up the arm triangle and he's trying to pass. That looks tight but Seery holds Pickett in half guard and manages to escape. Great work. Punches from Pickett as he maintains top control. Seery gets back to his feet but takes a knee to the head on the way up. They exchange punches on the feet. They exchange a couple more punches as the round ends. This is a fun fight, as expected.

SCORECARD: Pickett, 10-9

ROUND TWO: Touch of the gloves. Good jab to the body from Pickett. And a hook over the top. Seery keeps landing that left hook though. They exhange punches in the pocket. I take it all back; these guys were made to fight each other! Pickett lands a hard punch which backs Seery up against the fence. Good jab from Seery. And they both swing again. Seery is countering well when Pickett moves forward. Lovely head movement from Seery now as he dodges and ducks to avoid Pickett's famous hooking punches. A lovely head kick attempt from Pickett just misses. Pickett drops down and goes for a takedown. Seery is defending well against the fence though and circles away. They both swing a miss. Pickett is loading up on that left hook but it isn't coinecting. Yet. Pickett pushes Seery against the fence. Short knees to the legs from Pickett and he changes levels and hits a big slam on Seery.



"Who says Brits can't wrestle?"
"I think most people were talking about me."

Oh Dan... Never change. #UFCLondon #UFC

— Alex Watt (@AlexWattMMA) March 8, 2014

Pickett lands some solid punches and elbows from the top. Seery defending well but enough of those are landing. The round ends with Pickett on top and that'll probably steal him the round in the eyes of the judges.

SCORECARD: Pickett, 20-18

ROUND THREE: They exchange punches again. Pickett's head snapped back there but does he care? Seery barely misses with a lead uppercut. Pickett winging his punches and Seery is countering well with punches. They both land punches hard. Crazy. An accidental eye poke from Seery as Pickett was pushing forward and we have a break in the action while the doctor checks on things. Pickett's fine to continue. They touch gloves and go straight back to exchanging punches. Serry is landing some lovely combinations here but Pickett isn't backing down an inch. Nice one-two from Seery. Seery is starting to win the boxing contest so Pickett changes plans and gets the takedown again. That's a wily veteran, right there. Pickett in half guard. Seery stopping ickett from passing but he isn't really threatening with submissions from his back. Pickett almost passes but Seery gets back to half guard. Seery scrambles to his feet but leaves his neck open and Pickett almost slaps on a guillotine. Seery gets out of it though and they exchange punches again. A lovely combination from Seery raises a smile from Pickett. Pickett goes for the takedown again and gets a big slam again. Seery is impressive on the feet, there's no doubt about that, but Pickett's takedowns are making the difference here. Pickkett lands some punches from the top and Seery scrambles just as the round ends. Great fight.

SCORECARD: Pickett, 30-27

OFFICIAL RESULT: Brad Pickett, Unanimous Decision (30,27, 29-28, 30-27)

Pickett puts over his opponent but says he was disappointed not to get the finish. He's glad to get some rounds under his belt at flyweight though and, as expected, he calls for a title shot. His wrestling was the difference and he made the weight easily.



Pickett vs. Seery- great fight. I don't think flyweight fights are designed for live coverage. I've pulled a muscle trying to keep up! #UFC

— Alex Watt (@AlexWattMMA) March 8, 2014


---
Lightweight Bout: Melvin Guillard (31-12-2 2NC, 156lbs) vs. Michael Johnson (14-8, 155lbs)

Michael Johnson was a late replacement for Ross Pearson, of course.

ROUND ONE: No touch of gloves here after all the trash talk between the two. Johnson aggressive with leg kicks early. Melvin looks as relaxed as ever which could go either way, as ever. Guillard swings and misses. Leg kick and a body kick from Johnson. A Johnson kick goes low and Guillard doubles over. "A shot to the balls slows him down a bit," deadpans Dan Hardy. Melvin's relocated his testicles, however, and we are back underway. Johnson lands a hard left hoook which backs Guillard up. Guilard lands a leg kick. Johnson aggressive early on and Guillard looks as though he's planning to counter strike. Guillarrd misses with a punch and Johnson clinches up. He can't get the takedown though and Guillard breaks free. Nice right straight from Guillard. Body kick from Johnson.



"Michael Johnson has been successful in every sporting endeavour he's pursued. Wrestling, MMA…" Don't forget the 400 metres! #UFC #UFCLondon

— Alex Watt (@AlexWattMMA) March 8, 2014

Guillard lands a counter uppercut as Johnson steps in and that hurt Johnson! Johnson immediately goes for a takedown. He can't get it but it buys him the recovery time and he lands some good punches of his own as they break.

SCORECARD: Johnson, 10-9

ROUND TWO: Good combination from Guillard. Front kick from Gullard. Straight left from Johnson and a leg kick. The roles look reversed in this round. Guillard pushing forward more and Johnson hanging back a little, perhaps more wary of Guillard's power now. Guillard pushes forward with a combnination. Good jab to the body from Guillard. Both fighters being cautious. Great kleg kick from Johnson. And a leg kick from Guillard. Good counter left hook from Johnson. Body kick from Johnson. Body kick from Johnson. Johnson starting to open up now with kicks and punches. The crowd getting slightly restless as the fighters remain cautious. Good left hook from Johnson rocks Guilllard! And he lands another one. And another left hook and Guillard drops to the mat. Only temporarily though. Guillard back on his feet and he's recovered well. Johnson on the front foot as the round ends.

SCORECARD: Johnson, 20-18

ROUND THREE: Guillard swings wildly and misses. Guillard pushing forward aggressively now and they exchange punches in the pocket. Guillard pays for that aggression as Johnson gets a brief takedown. Melvin isn't easy to hold on the mat though and he's straight back to his feet. A spinning back kick attempt from Guillard misses. Leg kick from Johnson and a body kick. Good left from Guillard but Johnson lands a left hook of his own as Guillard commits. Johnson takes a little crouch break in the middle of the fight because that's how he rolls. A punch from Johnson rocks Guillard again. Johnson pushes Guillard against the fence and he wants that takedown. A swing a miss from Johnson as Guillard lands a solid right hook. Guillard pushes forward and Johnson times a beautiful counter one-two. This is impressive stuff from Johnson. He rocks Guillard again. Melvin is goading Johnson and calling him on now. Johnson is all too happy to punch him some more. Head kick just misses from Johnson. Johnson lands a glancing head kick as the round ends. Guillard checks his eye after the fight ends. Melvin is not happy at all. He feels as though the referee should have pasued the fight after an accidental eye poke.

SCORECARD: Johnson, 30-27

OFFICIAL RESULT: Michael Johnson, Unanimous Decision (30-27, 29-28, 30-27)

Michael Johnson says he's disappointed that after all the trash Guillard talked before the fight, he didn't bring the fight tonight. "He ran the whole time." Damn! Johnson says he just had to stay disciplined and claims he has the best stand-up in the division; if he doesn't get them with the left he has others coming.



Pretty much the whole Arsenal team in London. No championship fights or I'd make a "they're here to see how to fight for a title" joke. #UFC

— Alex Watt (@AlexWattMMA) March 8, 2014



Huge opportunity for the Londoner Jimi Manuwatonight. A win over uncrowned No. 1 contender Gustafssonslingshots him up the rankings. #UFC

— Alex Watt (@AlexWattMMA) March 8, 2014


---
Light Heavyweight Bout: Alexander Gustafsson (15-2, 204lbs) vs. Jimi Manuwa (14-0, 205lbs)

A huge reception for Jimi Manuwa in his hometown but Alexander Gustafsson is popular with the fans in the O2 tonight. That's partly the Swedish contingent but also the fact that he was in the best fight of last year. He won a lot of fans that night and deservedly so.



The "younglion" Manuwais seven years Gustafsson's senior. #UFCLondon #UFC

— Alex Watt (@AlexWattMMA) March 8, 2014

ROUND ONE: Touch of the gloves. An early punch and a leg kick from Manuwa. Gus fires back with a body kick. Gus gets a takedown and slams Manuwa to the mat but Manuwa tries to counter with a guillotine. No joy as Gus escapes and moves to side control. Manuwa manages to get back to half guard but Gus is working for a kimura. Gus not interested in throwing punches right now as he isolates Manuwa's left arm. Gus works for an Americana but Manuwa able to wriggle free. Gus trying to advance his position but Manuwa holds him in half guard. Short shoulder strikes from Gus to create space and he lands a left punch. Gus wants the crucifix but Manuwa does well to avoid that and get back to full guard. Elbow from Gus. Manuwa kicks Gus off but Gus is immediately back on top. Manuwa gets back to his feet, much to the delight of the crowd. Jabs from Gus and he goes for another takedown; stuffed by |Manuwa and he lands a knee. Nicely done. Manuwa looks for the clinch but eats a knee from Gus. Good comination from Gus. Jab from Gus as Manuwa tries for a leg kick. Interesting first round. Manuwa is up for this one.

SCORECARD: Gustafsson, 10-9

ROUND TWO: Leg kick from Manuwa. Jab and a body kick from Gus. Gus pushes forward with a combination but Manuwa moves well to avoid it. Another accidental eye poke – how many have there been tonight? Manuwa looks okay but the doctor comes in the Octagon to check him out. Manuwa says he can see and we get back to the action. Jab from Gus as Manuwa misses wih a wild swing. Lovely leg kick from Manuwa. Gus needs to start checking those. Gus lands a big punch and Manuwa is rocked. An uppercut, a knee and more punches hurt Manuwa. Manuwa hits the deck and the referee waves it off. Gus cartwheels in celebration and screams. Give that man his title shot!

OFFICIAL RESULT:Alexander Gustafsson, TKO, 1:18 of Round Two



Manuwafought valiantly but Gustafssonis, as expected, just too good. Get that man his title shot! #UFC #UFCLondon

— Alex Watt (@AlexWattMMA) March 8, 2014

Gustafsson says the win feels amazing and thanks everyone for their support. He speaks some Swedish too but we get no translation. "Jon Jones; I want my title shot again! I'm right here. Wherever, whenever you want!" Enough said.

Manuwa suffers the first loss of his career but hopefully this experience will only make him stronger.

And that's all from UFC in London. A fun night of fights and we end with Gustafsson cementing his place as the true No. 1 contender in the light heavyweight division.

Thanks for joining me tonight, for bearing with me through the stream troubles and for leaving your comments, and remember 411 MMA for all your MMA needs!
comments powered by