SPOTLIGHTS
411's UFC TUF Brazil 3 Finale Report 5.31.14
Posted by Larry Csonka on 06.01.2014

Stipe Miocic defeated Fabio Maldonado via RD1 TKO, Demian Maia defeated Alexander Yakovlev via unanimous decision, Antonio Carlos Jr and Warlley Alves are your latest Ultimate Fighter winners and more! Check out 411's complete TUF Brazil 3 Finale report for all the details…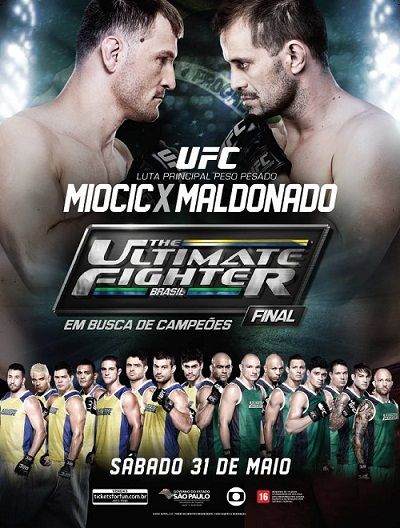 TUF Brazil 3 Finale
Ibirapuera Gymnasium
Sao Paulo, Brazil
FIGHT PASS PRELIM RESULTS
Pedro Muhnoz defeated Matt Hobar via RD1 (2:47) TKO

Marcos Rogerio de Lima defeated Richardson Moreira via RD1 (0:20) via KO

Ricardo Abreau defeated Wagner Silva via RD2 (1:06) submission



FOX SPORTS 1 PRELIM RESULTS



Featherweight Bout: Kevin Souza defeated Mark Eddiva via RD2 (4:52) TKO: Herb Dean is the official. Souza tried to use his reach early, dancing around a lot. Eddiva clipped him and then followed into his guard. Souza had great wrist and head control, almost got a triangle, bur Eddiva slipped out. Eddiva finally started to posture up and land some body shots, but Souza used the butterfly and kicked him away. Souza was getting the better of the striking, landing in bunches, and clipped Eddiva. Souza just started to bust up Eddiva, who was trying to return fire wildly, but Souza dominated. Souza takes round one. Eddiva attacked with body and leg kicks to begin round two, as Souza is noticeable slowing. Eddiva stayed on the outside most of the round, landing good leg kicks and taking advantage of Souza slowing. Souza is getting wild, landing at times and clean at that. Souza then started to open up in the final 30 seconds against the cage and then herb Dean called for the finish.


Welterweight Bout: Gasan Umalatov defeated Paulo Thiago via unanimous decision (30-27, 30-27, 29-28): Both throwing kicks to begin, Umalatov looking a bit low, likely to counter possible takedowns. Since we're in Brazil, Umalatov is throwing some spinning shit, and almost took of Thiago's head. Umalatov with good leg kicks thus far, pressing Thiago back and not allowing him to get in rhythm. After a stalemate along the cage, they were separated. Thiago landed a good left, but Umalatov stuffed the takedown and worked from north south position. Umalatov laid on Thiago for a bit, but Thiago escaped and they worked along the cage until the round ended. Umalatov takes round one. Thiago has to start putting things together, and stop taking single strikes and backing away. Umalatov rocked Thiago with a right, to the cage and then into the half guard for Umalatov. Umalatov could not take full advantage, and Thiago back to his feet. Lots of circling, both throwing a bit but landing nothing special. Umalatov stopped another takedown and worked from north south, just hanging on Thiago, who then escaped and finally got a takedown of his own for about three seconds. Thiago stayed on him and landed good strikes to the head to end the round. Sort of a toss up round, I'd go Umalatov, but I can see it being even. Both keep it standing, Umalatov not quite handling things as he did in the first two rounds, laying back a bit more. Thiago has to do something here, because he could be down 2-0. Umalatov gets a big wild, losing his range, and that allows Thiago to land a solid combo. Thiago hits a good right, they clinch and he follows with some knees. Umalatov counters a trip, and they drop down and Umalatov controls from north south again. Thiago out, just like the last two rounds, they both start throwing and the round ends. I have it 30-27 for Umalatov.


Lightweight Bout: Elias Silverio defeated Ernest Chavez via RD3 (4:21) submission: Chavez finding range well early in the fight, leading to Silverio going for the takedown and failing. Chavez takes kick to the balls. He doesn't take much time, which is always a mistake I feel. Silverio works the clinch; some good knees follow that to finally get some momentum. He follows that up with good leg kicks, slowing Chavez. Silverio finally got his striking rolling after that, which should have been good enough to take the round, but it was close. Silverio chases a bit early, but lands with kicks and they work to the cage. Chavez is able to connect with some body shots, but appears to be opened up by the striking of Silverio. They get separated, center cage now and Silverio shrugs off a takedown. After a bit of difficulty early, Silverio is using his range well and is also landing good leg kicks. Silverio mixing it up well, stuns Chavez with the right and is also finding a home for the jab. Chavez finding some single shots in countering Silverio, but Silverio is able to get good knees from the clinch and they have hurt Chavez. Chavez's hands are at his waist, Silverio should have went upstairs. I have it 20-18 for Silverio. Round one was close, so this very well could be even. Chavez is tired and his hands are low still. Silverio caught Chavez low as he threw an inside leg kick. Take some time dude. He didn't. Spinning kick by Silverio, although not a lot on it, both guys are exhausted. Silverio landing jabs and combos now, Chavez chases Silverio to the cage and slows it down. Fight is close, you have to do something here and Chavez doesn't really do much. He's pressing Silverio to the cage, nothing happening, they get separated. Silverio pulls Chavez down, gets the back, locks in the RNC and that is all in late round three.


Lightweight Bout: Rashid Magomedov defeated Rodrigo Damm via unanimous decision (30-27 across the cards): Magomedov working leg kicks and body kicks in the first few minutes, not allowing Damm to even sniff a takedown or get inside. Some good jabs and fakes, Magomedov connecting well and Damm's eye is starting to swell a bit. Magomedov keeps using push kicks, Damm with some inside leg kicks land but then Magomedov drops Damm with a right. Magomedov won't drop in to the guard, instead stands and kicks at the legs. This was a clean and dominant round for Magomedov. More of the same in round two, crowd not enjoying it, but Magomedov having success with the leg and push kicks to keep Damm out of his game. Damm has been able to land some leg kicks, and then gets a bit wild and actually connects with clean strikes. Late in the round Damm shot for a single leg, but Magomedov escaped with some impressive flexibility and is now up two rounds to none. Damm's corner seems to think that the fight is even, it isn't. Magomedov hit a solid high kick, Damm almost caught it but just ate it. Damm was able to get inside in round three and work along the cage, but honestly didn't do much with it. He needed too. They separated, Magomedov kept landing well as Damm settled for one shot and out consistently. I think Damm hurt the right hand, he's throwing openhanded rights, and now some elbows. Magomedov should take this 30-27.





MAIN CARD



Featherweight Bout: Rony Jason (15-4) vs. Robert Peralta (17-4-1)
ROUND ONE: Jason threw a crazy leaping knee early that almost decapitated Peralta. Peralta got away with grabbing the cage as they worked along it, Jason with a good escape, back spinning elbow by Jason lands. They trade center cage, Peralta pushes it to the cage and again is grabbing the cage, but Yamasaki keeps missing it. Both guys throwing good leg kicks, and then clashing as they both threw rights. Both guys ate it there. Jason tries the flying knee again, but gets caught and tossed to the mat. Peralta lands some kicks to the legs of Jason as the round ends. Close round. MY SCORECARD: Jason 10-9

ROUND TWO: Jason started to work his leg and body kicks, and then Peralta unleashed a barrage of strikes and rocked Jason against the cage. Jason quickly recovered, and took Peralta down to the mat and worked from half guard. Peralta turned things with a sweep and works form Jason's guard. That allowed Jason to get an arm bar try, but Peralta was able to escape that. Jason stays down so Peralta kicks away at the legs. The ref has Jason stand, and back to the standing game they go. Peralta lands a great combo, Jason calls him on but that was some solid shit right there. Both land, jumping knee again by Jason, and then they go Rock'em Sock'em Robots for the final 10 seconds of the round. Great finish to the round. MY SCORECARD: 19-19

ROUND THREE: They hug to begin round three, and then Jason works the body with some good kicks. Spin kick by Jason blocked, both guys get wild and swing for the fences, but neither really lands anything. We got a stoppage, Peralta got his eye poked. Peralta gets some time to recuperate, and doesn't want the doctor. Back to action, Peralta flashes some kicks but is still blinking a lot. Jason chasing, they work along the cage and some good knees by Jason. Jason tried a trip, but Peralta stayed on his feet. After some circling and trading, Jason finally got a takedown, but didn't do a thing with it as Peralta pulled himself up and pulled Jason to the mat to even it out. Close fight overall, but I think Peralta has it. MY SCORECARD: 29-28 Peralta

OFFICIAL RESULT: Robert Peralta via split decision (29-28 Peralta, 30-27 Jason, 30-27 Peralta)




Silly fighters, you thought you were in the driver's seat?




Welterweight Bout: Demian Maia (18-6) vs. Alexander Yakovlev (21-4-1)
ROUND ONE: They circle a bunch to begin, with Maia taking center octagon. Maia pushing, shoots and Yakovlev slips away. Maia is controlling where the fight goes, but not landing much. Yakovlev simply appears to be running away, until Maia destroys him with a huge overhand right. Maia into guard, Yakovlev tries to tie Maia up to get a stand up. Maia lands elbows from the mount, and then body shots; Yakovlev still hugging Maia and not getting that stand up. Maia is content to keep throwing and landing elbows, Yakovlev refuses to do anything resembling a proper escape. Put a hand on a hip or something brother. MY SCORECARD: Maia 10-9

ROUND TWO: A flurry by both early, Yakovlev tries to shoot and I have no idea why he would even consider that. It failed, but for real, why would you even try that? Maia takes him down, into half guard and then to mount again. Maia maintains mount, Yakovlev tries to hug on him again to get a stand up because that worked so well in round one. Maia works in some body shots, pulls Yakovlev away from the cage and finally Yakovlev manages to escape and gets into the guard of Maia. He stands, works from north south and then into half guard. Maia won the round, but is tiring, which could be bad. MY SCORECARD: Maia 20-18

ROUND THREE: Yakovlev works leg kicks to begin the final round, and then he takes Maia down. He immediately lets Maia up, and Maia looks tired as Yakovlev connects with more leg kicks. Great combo, and finishing with an uppercut for Yakovlev. He also keeps hitting the leg kicks, and but Maia gets a takedown with 2:45 left. Maia works the body shots again, mixes in elbows as well and Yakovlev just tries to hold on. Maia is controlling, picking his shots and checking the clock. Maia transitions to side control, and then back to mount. Maia sloppily went for an arm bar late, Yakovlev escapes to his feet, and throws a body kick as the round ends. MY SCORECARD: Should be 30-27 for Maia.

OFFICIAL RESULT: Demian Maia via unanimous decision (30-27 across the cards)


TUF 3 Finale Middleweight Bout: Warlley Alves (7-0) vs. Marcio Alexandre Jr. (13-0)
ROUND ONE: Alves clipped Alexandre in the first 30-seconds, and then took him to the mat and worked form half guard. Alexandre recovered, and got back to his feet. They work along the cage, with Alves landing short rights and some knees. Nice slam by Alves, and drops right into side control. Alexandre again did well and got back to his feet, suffering minimal damage. They worked along the cage for a while with Alves controlling position. Alves landing some wicked leg and body kicks, throws some spinning shit because they are in Brazil, and then gets another takedown. Again, Alexandre did get to his feet, but Alves smothered him along the cage as the round ended. MY SCORECARD: Alves 10-9

ROUND TWO: Alves in beat mode early, landing a kick and combo and then taking Alexandre down. Alves dominating with good ground and pound, to his feet, drops an axe kick and then pops back down into the half guard. Alves allows Alexandre to get to his feet, Alexandre is cut now as Alves presses him to the cage again to deliver knees and keep the pressure, and his weight on Alexandre. They get separated, because Mario Yamasaki is horrible. Alves catches a body kick and drives Alexandre to the cage. Alexandre just has a defeated look on his face right now. Alves is imposing his will and taking next to no damage. Alves is working, but Yamasaki separates the two again. Let them work along the cage please. MY SCORECARD: Alves 20-18

ROUND THREE: They hug it out to begin the round. Alves throws a kick and strong right, and then locks in a guillotine as Alexandre tries a single leg, and then chokes Alexandre unconscious. Bye Felicia.

OFFICIAL RESULT: Warlley Alves via RD3 (0:25) submission


TUF 3 Finale Heavyweight Bout: Antonio Carlos Jr. (4-0) vs. Vitor Miranda (10-3)
ROUND ONE: Miranda refuses to touch gloves, he's all business. Carlos with a flurry early, takes Miranda to the cage and lands good knee strikes. One of them hit low, so we get a break in the action. Carlos got a warning for that from Herb Dean. Carlos starts to unload on Miranda against the cage, gets a takedown and Miranda works up the cage to his feet. Carlos with a trip and takes Miranda down again. Miranda is able to get to his feet again, but Carlos is controlling. Leg kicks from Miranda now, but a good combo finishing with a body kick for Carlos. Miranda is cut by the left eye, and another good combo finishing with the body kick for Carlos as the round ends. MY SCORECARD: Carlos 10-9

ROUND TWO: Miranda refuses to touch gloves and throws a leg kick as Carlos was looking for the glove touch. Carlos catches a Miranda leg kick and takes him to the mat. Carlos working from half guard, works body shots as he gets to mount. Carlos to side control and then back to half guard. Carlos looks for a heel hook, but Miranda escapes. Miranda stands, lays in some leg kicks to the downed Carlos. Miranda dives back into the guard of Carlos, and Carlos works rubber guard for a bit. Back to full guard, Carlos went for a triangle but Miranda escapes. Miranda with elbows to the thighs of Carlos. To the feet, they trade knees along the cage and separate. Good combo by Carlos, presses Miranda to the cage and the round ends. MY SCORECARD: Carlos 20-18

ROUND THREE: Leg kicks by Miranda, but Carlos takes him down again. Miranda gets to his feet, but Carlos takes him right back down. Miranda working from the bottom, landing some body shots, but Carlos gets side control. Miranda gets him back to guard, and back to his feet. Carlos gets Miranda back down and takes his back. Carlos locks up the body with the legs, looking for a choke, but Miranda is able to fight that off. Carlos then transitions to mount, into side control and then back to mount. Lots of transitioning, Miranda gets Carlos to half guard as they exchange some strikes and this is over as the horn sounds. MY SCORECARD: Carlos 30-27

OFFICIAL RESULT: Antonio Carlos Jr. via unanimous decision (30-27, 30-27, 29-28)


Heavyweight Bout: Fabio Maldonado (21-6) vs. Stipe Miocic (11-1)
ROUND ONE: Main event time, lets hope this goes quickly. Maldonado pressures early, gets clipped by a Miocic left and then leg kicks by Miocic. He clips Maldonado again, follows up with some ground and pound and this is over. Stipe Miocic didn't even break a sweat. Byyyyyyyyyyyyyyye Felicia.

OFFICIAL RESULT: Stipe Miocic via RD1 (0:35) TKO


Miocic discussed the grueling victory.


End scene.


Thanks for reading.



ENDING STUFF
Your heart is free. Have the courage to follow it…TO CSONKA'S TWITTER!

http://www.twitter.com/411wrestling
http://www.twitter.com/411moviestv
http://www.twitter.com/411music
http://www.twitter.com/411games
http://www.twitter.com/411mma

Have you checked out the Csonka Podcasting Network? If you haven't, you should We run anywhere from 15-20 shows a month, discussing pro wrestling, the world of MMA, the NBA, general sports, popular TV series of the past, bad movies, battle rap, interviews, MMA & Wrestling conference calls and more! Around 10 different personalities take part in the various shows, which all have a different feel; so you'll likely find something you like. All of the broadcasts are free, so go ahead and give a show a try and share the link with your friends on the Twitter Machine and other social media outlets! Running since May of 2011, there are currently over 500 shows in the archive for you to listen to.



Larry Csonka is a Pisces and enjoys rolling at jiu jitsu class with Hotty McBrownbelt, cooking, long walks on the beach, Slingo and the occasional trip to Jack in the Box. He is married to a soulless ginger and has two beautiful daughters who are thankfully not soulless gingers; and is legally allowed to marry people in 35 states. He has been a wrestling fan since 1982 and has been writing for 411 since May 24th, 2004; contributing over 3,000 columns, TV reports and video reviews to the site.



comments powered by