SPOTLIGHTS
411's WSOF 11: Gaethje vs. Newell Report 7.04.14
Posted by Jonathan Solomon on 07.05.2014

Lightweight champion Justin Gaethje finished Nick Newell and remains undefeated. Jon Fitch wrestled his way to victory against Dennis Hallman, Melvin Guillard showed off his power and more!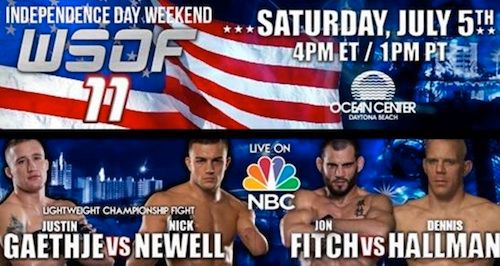 World Series of Fighting 11: Gaethje vs. Newell
Ocean Center
Daytona, Florida



Sig Rogich and Ray Sefo's WSOF will celebrate the 4th of July holiday with their first network television show in company history. WSOF 11 is airing on NBC and despite a series of undercard changes (Jake Shields and Rousimar Palhares were each scheduled to fight Jon Fitch at different points) and weight cuts gone wrong, the main event has stayed intact. The headliner will feature undefeated lightweight champion Justin Gaethje defend his title against undefeated Nick Newell.

But, before the main card coverage, here's a quick look at what went down earlier during the prelims.



PRELIM RESULTS





Jake Heun def. Kendrick Miree via unanimous decision

Neiman Gracie def. Dustin Holyko via submission (rear naked choke) at 2:21 of the second round

Muhammed Dereese def. Rashaun Spencer via unanimous decision

Jose Caceres def. Roner Taytay via unanimous decision




NBC MAIN CARD



INTRO: Just curious, was this show in HD for anyone? Hopefully it was just an error on my cable provider's part because otherwise, how are you going to make your big NBC debut in standard definition? Meanwhile, Kenny Rice and Bas Rutten make up the commentary team for the evening, bringing their "Inside MMA" (on AXS TV) buzz to network TV.

CATCHWEIGHT BOUT (157.5 LBS): Gesias "JZ" Cavalcante (18-7-1, 2 NC) vs. Melvin Guillard (31-13-2, 2 NC)

Veteran fighters who have been around the world and back, JZ meets "The Young Assassin." Cavalcante is 2-1 in WSOF (his loss to Justin Gaethje was due to a cut/doctor stoppage), and we last saw him a year ago finish Tyson Griffin. For you trivia lovers, he is looking to win two consecutive fights for the first time since 2007. Then there is Guillard, now a member of American Top Team. This is his first fight outside the UFC since 2008 and it is starting off on a positive note. On his first attempt to make the lightweight limit Friday, he weighed in at 157.5-pounds. He last competed in March in an uninspired decision loss to Michael Johnson.

ROUND ONE: Telis Assimenios is the referee. They touch gloves, then JZ moves forward with a head kick attempt but slips onto his butt. Back on the feet, Melvin is the aggressor and they trade strikes. Guillard is throwing the overhand right and Cavalcante has to be more cautious. JZ lands a loud kick and now Guillard is playing the counter game. An accidental low kick hurt Cavalcante momentarily but the fight resumes. Giullard pounces on him with knees and punches and they are now clinched against the cage. They release and return to the center of the decagon, JZ lands a head kick. Melvin swings and misses on a two-punch combination. Melvin lands a straight but Cavalcante responds with a leg kick. Melvin lands a leg kick of his own. Gesias lands another leg kick, and one more. Guillard lands a combination when JZ shoots for a takedown. They brawl in the closing seconds of the round, both going for the knockout.

SCORECARD 10-9, Melvin Guillard


Before the next round starts, Kenny Rice speaks about the car accident Melvin Guillard and his wife were in last month. Amazingly, neither were injured despite being stuck in the vehicle for over an hour until they could be cut out.

ROUND TWO: Cavalcante shoots in and scores the first takedown of the fight. Guillard's back is against the cage and he shoots back up to his feet. JZ tries again with a shot but Melvin defends and they're clinched against the cage. In the center of the cage, Melvin lands a big right hand that rocks JZ. In the clinch Guillard lands knees and punches and Cavalcante is hurt. Guillard teeing off with bombs, elbows and punches against the cage and the referee jumps in to stop the fight.

OFFICIAL RESULT: Melvin Guillard def. Gesias "JZ" Cavalcante via TKO (referee stoppage) at 2:36 of the second round.


Much like Melvin Guillard, 20% of Cody Bollinger's purse money will go to his opponent due to missing weight.

CATCHWEIGHT BOUT (138 LBS): Pablo Alfonso (9-5) vs. Cody Bollinger (15-2, 1 NC)

This was scheduled to be fought at bantamweight and while Alfonso came in at 136-pounds, Bollinger missed the mark at 138-pounds and decided he was not going to continue cutting weight. "The Huricane" Alfonso around the Americas and will look for a career best fourth consecutive victory in this matchup. He debuted in WSOF last fall and choked out Miguel Torres. "Bam Bam" Bollinger was a successful fighter on the local scene in California for years and earned his big opportunity at a Bellator tournament in 2012. He was knocked out by eventual winner Shahbulat Shamhalaev, but has bounced back with two wins since then. He upset Tyson Nam with a unanimous decision win at WSOF 8 in January.

ROUND ONE: Josh Rutgers is the referee. Bollinger throws a high kick that's blocked. Alfonso tries a handstand kick. Bollinger lands a combination and Alfonso's strike attempts fail. Bollinger takes him down and lands in half guard. Alfonso pulls the rubber guard but Bollinger works out of it. Alfonso may have a triangle but Bollinger picks him up and slams him down. Alfonso tries for a guillotine choke, Bollinger transitions to side control. Knees to the body are hurting Alfonso while Bollinger pulls a guillotine choke when Pablo tries to get up. Bollinger has it but Alfonso gets out, Bollinger takes his back and is working for another submission. The body lock has Pablo Alfonso locked in while Bollinger sinks in the rear naked choke and Alfonso taps out.

OFFICIAL RESULT: Cody Bollinger def. Pablo Alfonso via submission (rear naked choke) at 2:37 of the first round.


MIDDLEWEIGHT BOUT: Jon Fitch (25-6-1, 1 NC) vs. Dennis Hallman (53-14-2, 1 NC)

This bout was originally talked about as being at welterweight but it appears there was an agreement otherwise as both men weighed in above 180-pounds. Fitch has not won consecutive fights since his win over Thiago Alves nearly four years ago. He earned his first WSOF win in October when he took a split decision against Marcelo Alfaya. Hallman will tun 39-years-old at the end of the year and this is marking his 71st professional MMA fight. Since he was cut by the UFC for his inability to make weight for two straight fights, he defeated Dan Hornbuckle and Aleksey Shapovalov.

ROUND ONE: Josh Rutgers is the referee. Fitch lands an overhand right, closes the distance and clinches with Hallman against the cage. Hallman breaks free but Fitch trips him with a kick and gets on top. In Hallman's open guard, Fitch lands his ground and pound strikes. Fitch has him pressed against the cage and continues dropping his strikes. Hallman tries to lock in a guillotine choke but Fitch frees himself. Fitch is back in his closed guard, Hallman sweeps for an arm-bar but Fitch quickly gets out of trouble. Back in his guard, Fitch continues battering him with strikes.

SCORECARD 10-9, Jon Fitch

ROUND TWO: Fitch throws a punch but quickly grabs hold of Hallman and slams him to the mat. We're right back where we were in round one with Fitch battering Hallman from his guard. At one point, Hallman tried for a heel hook but Fitch defends, ends up in side control and returns to punching Hallman like he's a giant pillow. Fitch scores points with elbows as the round ends.

SCORECARD: 20-18, Jon Fitch

ROUND THREE: Fitch scores a takedown with the same punch, shoot combination. Hallman is on his back and is gassed by this point. He has spent practically every second of the fight on his back eating strikes. This is the entire round plays out, going the distance.

SCORECARD: 30-27, Jon Fitch

OFFICIAL RESULT: Jon Fitch def. Dennis Hallman via unanimous decision (30-27, 30-27, 30-27)


So, the UFC cut Jon Fitch because he made too much money and nobody cared about his fights? I wonder why.

LIGHTWEIGHT CHAMPIONSHIP BOUT: Justin Gaethje [c] (11-0) vs. Nick Newell (11-0)

The best two lightweights in WSOF are set to square off and someone (hopefully) will not be undefeated when it's all done. Gaethje is 25-years-old and has been on a tear since his pro debut in 2011. When he was signed by WSOF early 2013, he began a streak of four consecutive finishes in their cage. First, JZ Cavalcante, then Brian Cobb, Dan Lauzon and Rich Patishnock followed. Gaethje is known for his aggressive style (check out the highlights of his win over Patishnock) and this is his first title defense since becoming champion in January.

Nick Newell is 28-years-old and is best known for being the fighter with one hand. While his left arm ends just past the elbow, he has been able to finish all but one off is opponents as a professional. He choked out Eric Reynolds to become the XFC lightweight champion in 2012, signed with WSOF last year and choked out both Keon Caldwell and Sabah Fadal to earn this fight. Plus, only one of his fights have lasted longer than the first round.

ROUND ONE: Telis Assimenios is the referee. They touch gloves. Newell throws a high kick and then a big right hand. Gaethje comes in with strikes of his own but Newell counters. A jumping knee from Newell, he follows it up with a combination. Gaethje lands a leg kick that trips Newell. Back on the feet, Newell lands a counter right and a combination that may have stunned the champion. Newell's takedown attempt fails as Gaethje lands another brutal leg kick. Newell lands a kick off is own and they're brawling. Gaethje's kicks have a lot of power in them. Newell shoots but Gaethje defends and lands a jumping knee of his own. Gaethje lands a knee, Newell shoots again but Gaethje defends. Back in the center of the cage, Gaethje lands a right hand and a power combo as Newell tries again for a takedown. Gaethje switches to side control, lands a knee and they're back standing. A right hook from the champion may have hurt Newell. A knee by Newell is blocked by the champion. A right hook lands from Gaethje and Newell's takedown fails again. Gaethje gets his back and lands some ground and pound strikes, including a knee to the body. Late, Newell tries for a kneebar but the champion defends. A left hand by Gaethje rocks Newell as the round ends.

SCORECARD: 10-9, Justin Gaethje

ROUND TWO: Newell has a cut on his forehead and blood is streaming down his face. Gaethje lands a combination and follows it up with a powerful punch to the body. Newell is on the ground, but Gaethje lets him back up, not wanting to get into a grappling battle. Gaethje lands another monster body punch and Newell shoots, but no luck for him. Gaethje eats a right hand but continues to walk forward. Newell gets hit with a right uppercut and is gassed. Gaethje is picking him apart with strikes and doesn't have to fear takedowns or big punches because Newell is tired. The cut on his head is flowing, and Newell eats another right hand. He shoots in but Gaethje sprawls. The referee pauses the fight so the doctors can check out Newell's cut. They review it and allow the bout to continue with two minutes left. Newell's body kick is blocked but Gaethje drops him with a right hand and the referee stops the fight.

OFFICIAL RESULT: Lightweight champion Justin Gaethje def. Nick Newell via TKO (referee stoppage) at 3:09 of the second round


WSOF President Ray Sefo said WSOF 12 would be in Las Vegas (it was previously reported to be set for Tokyo), but did not announce any fights for some odd reason. It should be an NBC Sports telecast on August 2, but no fights signed?


After the main event concluded, there was still another half-hour left in the broadcast, so they aired the Neiman Gracie victory from the prelims. The 25-year-old middleweight is now 2-0 in MMA, winning both fights by submission.


The majority of the commercials were about either "The Expendables 3" (featuring Ronda Rousey) or nutritional drink "Nubreed." Aside from Sefo's brief talk about WSOF 12 being in Las Vegas, there was no mention of anything else World Series of Fighting on NBC.


comments powered by