SPOTLIGHTS
Tremendous Tirades: UFC Best of 2013: Year in Review Blu-ray
Posted by Larry Csonka on 03.25.2014

From Ronda Rousey vs. Meisha Tate and Anderson Silva vs. Chris Weidman to Brian Stann vs. Wanderlei Silva and more, 411's Larry Csonka takes a look at the latest UFC DVD release, the UFC Best of 2013: Year in Review on Blu-ray…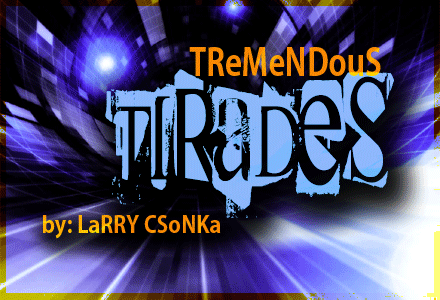 In the spirit of full disclosure, the following DVD set was provided to 411 Anchor Bay and the UFC for review purposes.
Runtime: 450 Minutes


Release Date: March 25th, 2014


If you wish, the Blu-ray is available for $19.96 at Amazon.com.


PRODUCT DESCRIPTION: From the historic introduction of the women's bantamweight division to the stunning end of Anderson Silva's nearly seven-year winning streak, 2013 marked the 20th Anniversary of the Ultimate Fighting Championship. UFC Best of 2013 takes you Octagonside for the biggest and best moments of the past 12 months. Featuring UFC superstars including Jon Jones, Ronda Rousey, Chris Weidman, Georges St-Pierre, Cain Velasquez and Anthony Pettis, watch the most exciting fights, knockouts and submissions of 2013.






Here is the latest DVD release from the UFC, looking back at year that was in 2013. I will go through the content, share short thoughts on the fights that are featured and then provide the final wrap up and score below. Thanks for reading and I hope you enjoy…




DISC 1



The Feature Presentation: In something of a surprise to me, this set actually had a main feature. The feature is essentially a 123-minute highlight package of the year 2013, going through the events chronologically, and highlighting the main fights of the year. The feature has a narrator, who does a fine reading the script to tie things together, but offers nothing new or overly interesting. While this doesn't seem overly interesting, it is a vast improvement over the nothing they historically do for these year-end style sets. Hopefully they learn from this and continue to improve.

And now we move onto the fights. This is of course the blu-ray review, which includes full fights…



Cub Swanson vs. Dustin Poirier: Cub Swanson always seemed like a guy that was a good fighter, but not a guy that could not build momentum and put things together. But following his loss to Ricardo Lamas in 2011, things all came together for Swanson and five fights later he is looked at as a viable title contender. The fourth of those wins came against Dustin Poirier at UFC on FUEL TV 7. This was a great back and forth fight, and was a close one at that. Watching Swanson's career resurgence has been fun to watch as a story, and the fights are good on top of that.


Dennis Bermudez vs. Matt Grice: This was your fight of the night winner at UFC 157, and a worthy fight to include on the set. Grice lost via split decision, in a fight that had very mixed results at the time. Some had Matt Grice, some had Dennis Bermudez and some even had a draw. I love a fight that is so close that when you view it more than one time you question your initial decision on who won.


Ronda Rosey vs. Liz Carmouche: Ronda Rosey's UFC debut was against Liz Carmouche. This happened for many reasons, it all depends on who you want to believe as to why Carmouche got the shot. But the bottom line is that Carmouche played her role well, she showed up in shape and on weight, and the fight (although short) was an exciting way to kick off the Rousey era in the UFC. As much as I enjoy Rousey as a fighter, I found myself rooting for Carmouche, who seems like such a good person that had a journey you could get behind.


Brian Stann vs. Wanderlei Silva: This was named the second best fight of 2013 in the 411 year-end MMA awards. Brian Stann's final MMA fight was this two round battle in Japan. Wanderlei Silva took out Stann in a tremendous two round fight, which gave Silva new life in the sport, and ended Stann's time in the sport as an active fighter. Stann now does college football and MMA commentary, as well as his work with the Wounded Warriors program.


Carlos Condit vs. Johny Hendricks: Johny Hendricks defeated Carlos Condit to earn his title shot at Georges St-Pierre. The fight went to a decision, in a bout where Hendricks' wrestling was way too much for Condit. In all honesty, this was a fight that I wouldn't have included on the DVD as I never found it all that entertaining.


Meisha Tate vs. Cat Zingano: Meisha Tate vs. Cat Zingano was a war for not only a title shot, but also for a gig coaching The Ultimate Fighter. Some felt as if Tate was rolling to victory, but Zingano did not let it go to the judges, and won in a tremendous third round rally. Unfortunately injury would keep her from the title fight and TUF.


Nate Diaz vs. Josh Thomson: The funny thing about this fight was listening to Diaz complain about how Thomson would stay away and dance or smother him. Instead we had an exciting fight where Diaz got finished for the first time since 2006. This was a lot of fun, and the win (at the time) had given Thomson a title shot.


Vitor Belfort vs. Luke Rockhold: Make all of the jokes about TRT that you want too, but Vitor Belfort's 30- 2013 was a tremendous year. Head kicks were the order of the year, and taking out former Strikeforce Champion Luke Rockhold in just over two minutes certainly sent a message. I tend to hate the "don't blink" bullshit from MMA announcers, but it applied perfectly to Belfort in 2013. This was 411's second best KO of the year.


Antonio Rodrigo Nogueira vs. Fabricio Werdum: Fabricio Werdum made his UFC return in 2012, and put together a total of three wins since, with the most important one being over Antonio Rodrigo Nogueira at UFC on FUEL TV 10. Werdum didn't just win, but finished Nogueira with an arm bar in the second. Even with tons of mileage on his body, Nogueira fights are still fun to me. He takes abuse, but still has the aura that he can come back even though we're the same age and he looks like my grandfather.


Frankie Edgar vs. Charles Olivera: Overall Frankie Edgar vs. Charles Olivera was a good back and forth fight, one Edgar needed to win following three straight losses. It's an enjoyable fight to me, but just felt like a good lower weight scrap that we see all the time. Nothing special other than Edgar finally winning for the first time in over two years.




DISC 2



Anderson Silva vs. Chris Weidman: Anderson Silva vs. Chris Weidman from UFC 162 HAS TO BE on this set for two reasons. First of all, it is a great KO win for Wiedman. Anytime you capture a title via KO on a PPV, you should be featured. Secondly, this is the historic end of Anderson Silva's Middleweight Title run. On top of that, it is the first time Silva lost via finish since 2004. This is history.


Alistair Overeem vs. Travis Browne: Travis Browne had himself a 2013. Guys like Browne, Faber and Belfort were all so impressive in the year, not only winning 3 or 4 fights, but also finishing guys impressively. Alistair Overeem still seems to have a mystique about him that some people tend to believe in, but Browne didn't fall prey to that. He overcame the early onslaught of Overeem, hit the front kick and swarmed Overeem for the finish. Great resilience and finishing instinct by Browne, who is making noise as a possible title contender.


Chael Sonnen vs. Shogun Rua: UFC Fight Night 26 gets another entry as Chael Sonnen defeated Shogun Rua. Now listen, Chael winning is not a surprise, Rua has been hot and cold for years. One fight "The old Shogun is back" and the next he looks soft and unmotivated. What surprised many was the fact that Chael tapped out Shogun in round one. It gave Chael new life following back-to-back losses, and was simply impressive. Poor Joe Rogan had to wait until Fight Night 33 to tell us that the Real Shogun was back.


Benson Henderson vs. Anthony Pettis: The rematch many wanted to see as soon as Henderson won the UFC Lightweight Title, and we finally got it. I was shocked, not shocked that Pettis won (he had all the tools to do so and did it once before) but shocked he finished Henderson. Henderson was in so may five round fights, and gotten out of so many submissions that I allowed myself to assume this would be another five round classic. Instead Pettis peppered the body with vicious kicks, and got the submission that Henderson could not escape. This was a combination of Pettis being confident, being talented, and Henderson having a lot of miles on him in a short period of time with all of the five round fights he had. Anthony Pettis simply appears to be his kryptonite. This was a great fight (while it lasted) and a great moment for Pettis, along with $50 large for submission of the night.


Renan Barao vs. Eddie Wineland: Not sure of you guys know this, but Renan Barao is the man. He's 32-1-1NC, and hasn't lost since 2005; that was his first fight. Barao took out a solid challenger in Wineland in great fashion with SPINNING SHIT ™ and punches. He is a bad, bad man and is awesome to watch.


Jon Jones vs. Alexander Gustafsson: This was named the best fight of 2013 in the 411 year-end MMA awards. A lot of people shit on this fight, hating the UFC's "white Jon Jones" infatuation with Gustafsson, while others simply thought he wasn't on Jones' level. They were are wrong and this fight was awesome. For me, there aren't a ton of fights I want to go back and watch, but this was one of them for me. Gustafsson recently got back on the winning track and is scheduled to get a title shot. Of Jones can beat Glover Teixeira, we're going to get our rematch. It may suck, it may be quick like Henderson vs. Pettis or it may be some Chandler vs. Alvarez shit, all I know is that I am excited for the possible rematch.


Gilbert Melendez vs. Diego Sanchez: Gilbert Melendez vs. Diego Sanchez was a really popular fight as many thought it was the best fight of 2013. Gilbert Melendez is always a guy I like to watch fight, and Diego Sanchez always bring the insanity in the cage. Most say he pretty much just takes a beating these days, but I will not deny that his fights end up being entertained by his fights. This was a fun one to watch again and I get why people loved it so much the first time around.


Cain Velasquez vs. Junior Dos Santos III: This was the war to settle the score. Following the quick JDS victory, and then the five round owning by Velasquez, the two titans of the heavyweight division fought once again. For the most part, Velasquez played a repeat of the second fight, but JDS fought with heart and was able to make it until the very end. You have to think that if no one else can step up and if JDS wins three to four in a row that they will face off again. Sure Cain was able to win and again make it seem easy at times, but I'll watch them go to war again.


Vitor Befort vs. Dan Henderson: Later on we'll discuss the great 2013 that Urijah Faber had. Dan Henderson, he had the opposite of that going 0-3. Henderson was named one of 411's most disappointing fighters of the year, and Vitor Belfort being the man to impressively stop him in just over a minute is part of the reason. Vitor also had a great year, and being the guy to finish Henderson just added to that.


Georges St-Pierre vs. Johnny Hendricks: This was named the fifth best fight of 2013 in the 411 year-end MMA awards. At this time, this is known as Georges St-Pierre's final MMA fight. Johnny Hendricks gave the champion one hell of a fight, and many thought that the title would change hands. I thought the title was ready to change hands. But then GSP was announced as the champion, and then he walked away from the sport. It was a hell of a fight, but left more questions than answers. Why did GSP walk away? Could Hendricks actually beat the dominant champion? Where's Waldo? WE NEED TO KNOW!


Antonio Silva vs. Mark Hunt: This was named the third best fight of 2013 in the 411 year-end MMA awards. If you want to see two guys beat the shit out of each other for five rounds, with little regard for themselves and cardio, then this is for you. It's a great fight to watch; unfortunately it has lost its luster due to Silva failing his post fight drug test. He also lost his $50,000 fight of the night bonus.


Urijah Faber vs. Michael McDonald: Urijah Faber had an awesome 2013, going 4-0, with the 4th victory coming at UFC on FOX 9 against Michael McDonald. McDonald is one of the young guns being hyped as a "pure MMA trainee," but he was facing a Faber on a roll. Faber is a guy that seemingly cannot win the title bout, but in a regular fight, beats everyone. That was the case here, a fun and exciting fight, with Faber closing the deal in the second round via submission.


Demetrious Johnson vs. Joseph Benavidez II: Joseph Benavidez fought Demetrious Johnson at UFC 152 and lost via split decision. Johnson had been ruling at the UFC Flyweight Champion, and Benavidez had been working hard for his rematch. 2013 was a great year for Team Alpha Male members, they all showed improvement under Ludwig, and title shots were on the way. Benavidez may have improved, but so id the champion, who ended things in just over 2-minutes with a spectacular KO.


Josh Barnett vs. Travis Browne: I love Josh Barnett, and was glad to see the UFC sign him and knock off their bullshit. But in one minute, he got his face blow up by Travis Browne and his elbows. It was awesome.


Ronda Rousey vs. Meisha Tate II: As a I mentioned earlier, injury kept Zingano out of her TUF coaching gig and title fight. Tate got another chance to take out Rousey, and while she did better, she still lost in a one sided fight. People can wax poetic about Tate lasting into deep waters against Rousey, but it was all defensive in nature and she never had a chance; bottom line was that she got owned the entire fight.
Have you checked out the Csonka Podcasting Network? If you haven't, you should We run anywhere from 15-20 shows a month, discussing pro wrestling, the world of MMA, the NBA, general sports, popular TV series of the past, bad movies, battle rap, interviews, MMA & Wrestling conference calls and more! Around 10 different personalities take part in the various shows, which all have a different feel; so you'll likely find something you like. All of the broadcasts are free, so go ahead and give a show a try and share the link with your friends on the Twitter Machine and other social media outlets! Running since May of 2011, there are currently over 500 shows in the archive for you to listen to.



Larry Csonka is a Pisces and enjoys rolling at jiu jitsu class with Hotty McBrownbelt, cooking, long walks on the beach, Slingo and the occasional trip to Jack in the Box. He is married to a soulless ginger and has two beautiful daughters who are thankfully not soulless gingers; and is legally allowed to marry people in 35 states. He has been a wrestling fan since 1982 and has been writing for 411 since May 24th, 2004; contributing over 3,000 columns, TV reports and video reviews to the site.


Your heart is free. Have the courage to follow it…TO CSONKA'S TWITTER!

http://www.twitter.com/411wrestling
http://www.twitter.com/411moviestv
http://www.twitter.com/411music
http://www.twitter.com/411games
http://www.twitter.com/411mma
The 411

: If you are someone that looks at the

UFC Ultimate Fight Collection 2013

and either thinks A) it is just to much or B) are annoyed that is really the UFC Ultimate Fight Collection Last Half of 2012-First Half of 2013, you may find this as something more manageable. Instead of 200 fights and 20 hours mixed through out 2012 and 2013, you have 25 fights, a little under 8 hours and you are only in the year 2013. While the

UFC Ultimate Fight Collection 2013

is spectacular for someone that is a diehard collector, or wants to get into the UFC by watching as much as possible from a limited time frame to get into the sport, I find that it is too much for many fans. Something like this is more the speed of the regular fan that buys these sort of products.

One problem that I have is the lack of special features; it's mostly just the fights you have likely already watched. This time they had the giant highlight package, but I think that they can do more. I would love to have some context, the fighters discussing the fights, at the very least Rogan and or the studio guys elaborating on the fights. This comes across as the bare bones effort in that regard, something that the UFC needs to address in future releases.

Overall this is a good look back at the year that was in 2013, and is something the average fan will likely be more interested in than the intimidating UFC Ultimate Fight Collection 2013.

Final Score: 8.3

[ Very Good ]

legend
comments powered by