Bytes & Flops 4.19.12: Fuzion Frenzy 2
Posted by Vince Osorio on 04.19.2012

The party game Fuzion Frenzy got a sequel in 2007 but was passed over by game players! Does the game exceed expectations or is it a bust? 411's Vince Osorio takes a look!

I feel like you can never judge a video game console solely on the strength of its launch line-up, though it seems like we're finally getting to the point where big-name blockbusters are expected, if not launched, the day of a new system's release. Launch line-ups are never all that indicative of a system's line-up down the road. The PlayStation 2's launch titles included Fantavision and The Bouncer. The sole DS game that truly took advantage of the touch screen capabilities was the insane Feel The Magic XY/XX, with no real great DS games getting released until Kirby Canvas Curse months after the system's launch window had closed. The PSP had an altogether impressive launch, what with Twisted Metal: Head On and the underrated Metal Gear Acid but the quality, original titles for the system more or less dried up after that point. Even the Nintendo 64 launching with one of the greatest games of all time, Super Mario 64 suffered from an absolute dearth of titles for new owners. It was Mario or Pilotwings, and that's it. Period.

Microsoft releasing their Xbox console in November 2001, against the in-coming Nintendo Gamecube (and the dominant PlayStation 2) had a mixed-bag of a line-up for their launch, though you can't blame Microsoft for trying. Granted, the Xbox launch did include Dead or Alive 3 (the game that I bought my Xbox for), Oddworld: Munch's Oddysee and some space marine game with a master chef or something, but there were plenty of new intellectual properties that were born (and quickly died) with the emergance of the Xbox, including Nightcaster (which somehow received a sequel which was published by Majesco instead of Microsoft), Azurik (who was a Na'vi before Na'vis were even cool), and just dumb third-party stuff like Mad Dash Racing. I feel like no other Xbox launch title was more tolerated than Fuzion Frenzy, the madcap though somewhat generic 4-player party mini-game collection. As one of the few titles showcasing the system's built-in 4-player controller slots, it was destined to be the go-to game for drunken frat boys...until Halo blew the hell up & became the giant success that it is today. Regardless, either due to the solid reviews, moderate hype & just lack of other quality titles for the Xbox line-up, Fuzion Frenzy became a fairly significant success for the Xbox, eventually reaching both Platinum Hits and the Best of Platinum Hits line-up of budget titles for the system. If there was an outcry for a sequel,the inpending launch of the Xbox 360 was the time to sell that game, even for nostalgic purposes.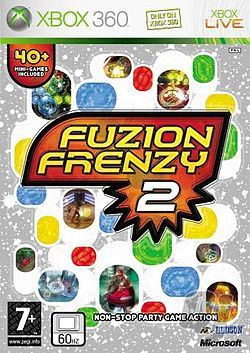 And so Fuzion Frenzy 2 was created, though this time, developed by Hudson Soft (the developers behind the Mario Party series) with a too-little, too-late release date of holiday 2006 (which was eventually pushed back to January 2007, after the launches of the Wii & PS3, as well as the Xbox's first homegrown blockbuster, Gears of War). Needless to say, the game didn't quite get its bearings without the launch window "crutch" behind it, but how does it stand up as a video game, you ask? Well, better than you'd imagine.




Fuzion Frenzy 2 is absolutely a title that is rooted in a different era. It's something that would've had a nice home on the PS1 with a multitap & some drinking buddies, but a game that strictly gears itself to the "casual" audience is near non-existent in this day and age (Wii titles notwithstanding). However, if anything, it stays true to the original title, providing 40+ competitive mini-games in a loosely-defined game show setting for up to 4 players, though this time, online play is supported (as Xbox Live didn't exist when the original Xbox was released). The characters from the original game- Dub, Zak, Geena, Naomi, Samson & Jet- all return, though with complete stylistic makeovers. The "show" itself is hosted by a DJ who more or less sets the rules, distributes cards (I'll get to that later) and chooses the very first planet/game in the contest. The "planets" in the game are different levels, corresponding to different games, so the "Earth" world is more industrial, there's the obligatory fire & ice worlds, etc. To win the game, you need to win the most planets. To win planets, you need to get the highest score after a round of (usually 4) mini-games. However, in addition to this, each character can receive cards, either after a performance in a mini-game, in a short "collect the card" game, or if the DJ chooses to distribute them. It's the "luck" addition that makes the great party games ever-so-frustrating/insane for those who are skillfully excelling at the "game" aspect. You'll get cards that'll double, quadruple or sextuple your score after the end of a mini-game, a card that'll allow you to choose the next mini-game (normally it's winner's rules), a card that inverses the effects of another card (so 2x becomes 1/2x) or cards that just negate the other cards all around. It's both hilarious and extremely frustrating to absolutely dominate in the mini-games, then lose a planet because someone used the 6x card at the right moment. However, I feel like that's a balancing problem that's inherent to the "party game" genre- you always have to level out the playing field so the less-skilled players can succeed as well. Maybe that's why I don't particularly play party games, but someone's buying all those Mario Party games.




The mini-games themselves are mostly derivative (and on top of that, derivative of games that were seen in the first Fuzion Frenzy), but it doesn't necessarily mean that they're not fun, just somewhat unoriginal. Fuzion Frenzy 2 unfortunately ruins the first title's best mini-game, where you're jumping/ducking under spinning turbines, by making the obstacles blue & red lazer beams (colors that look similar when from afar) and twisting the perspective making it hard to judge jumping/ducking distance. The other games range from simple, dumb fun (tank battles, charging into enemies with American Gladiators style caged spheres) to slow-paced tedium (the odd futuristic basketball game), to lazy schlock, in titles where you literally are just shown buttons on screen that you press accordingly. Anyone's whose been playing video games for more than 2 months could master these games with relative ease (except for the pinball game which leaves far too much to chance), though I asssume that's the whole point. Usually, each three-game round ends with a final game, normally a "fight to the death" arena where the last person standing wins. And, that's kind of it for the game. There's not a whole lot to do other than play a tournament mode or play specific mini-games, though there is online (which, as you can probably guess, is non-existent at this point).




The game looks, sounds and feels like a budget title. There are no extras to speak of, the graphics don't push the system to its limits, and the sound effects/music are often repetitive (though not particularly offensive), not that the original game was a showpiece for the Xbox or anything. It probably takes more than a handful of fun mini-games and a cool-headed approach to "party game" rules to stand out in this marketplace.



And this game failed because?

I don't think that Fuzion Frenzy was a game that people were clamoring to see more of, in the long run. Other than the Mario Party titles, as well as some mini-game collections for the Wii, "party games" in this age don't quite exist. The games that you'll bust out at a shindig aren't Fuzion Frenzy and Sonic Shuffle, it's Rock Band, Just Dance, LittleBigPlanet or even Call of Duty. There isn't quite that need for a game that appeals to casuals only, because all games have something that appeal to the casual audience (with Call of Duty being the biggest crossover success). Couple that with the weak reviews, poor promotion & terrible release date, and Fuzion Frenzy 2 was written off before it even hit shelves.

I don't hate Fuzion Frenzy 2; by all means, it's a totally competent, and surprisingly fun party game in most respects, though workmanlike in its approach to the genre. I just feel like it's unnecessary in this generation, especially as a boxed, retail product with little-to-no online support. It's the product of a certain age; not that there's anything wrong with that, but that's not going to cut it now.

Play it or Skip it?- Skip It!
comments powered by