Bytes & Flops 05.04.12: Tron Evolution
Posted by Vince Osorio on 05.04.2012

Tron Evolution, Disney's interaction prequel to the blockbuster Tron Legacy, crashed & burned with audiences upon its release. But is the movie tie-in game worth booting up? 411's Vince Osorio takes a look!

Tron is awesome. The premise of getting sucked into a video game inspired world and having to compete in order to fight your way out is an intriguing one for science fiction. The look of the characters, the designs of the world, light cycles, even just the font and logos used throughout- inventive, eye-catching. In a word- Tron is cool. Say what you will about the dubious quality of the films (I love them both for different reasons), but that universe is so interesting and well-crafted that I'll take any chance to revisit it. Surprisingly enough, most of my experiences with the universe came from the video games. I didn't actually see the first film until my freshman year of high school (which, coincidentally, was a couple months before what was then called T2RN, the 3D sequel/reboot of Tron was announced as in production at Comic-Con), though I unsurprisingly loved it, regardless of the cheesy dialogue & dated visuals. I have to say that the original arcade game Tron is a masterpiece, up there with the greats from the golden age of the arcade. Discs of Tron- also totally amazing with an inventive control scheme. You got a sense of the world from these games that a lot of movie tie-ins at the time never had. Tron 2.0, Disney's first attempt to revisit the Tron universe had some neat ideas but didn't quite follow through on its potential, though I have to say that the Game Boy Advance version of the game (which I specifically owned & played through) is admirable for having full voice acting in cut scenes as well as fully playable versions of the two arcade classics.

It wasn't until 2010 where Disney finally capitalized on the universe they envisioned nearly three decades prior. As Disney does, they set out to make Tron: Legacy a mainstream event, releasing promotional material across different platforms & mediums all leading up to the release of the film. I ate up just about any new Tron merchandise released in anticipation of the upcoming Tron: Legacy film Frisbees shaped like identity discs, action figures, posters, the brilliant Daft Punk soundtrack for the film, I even ventured out to a pop-up shop in Los Angeles and bought limited edition Tron-inspired clothing at inflated prices (though, sad to say, I totally missed out on the Tron controllers, computer mice & mouse pads and the Monster Identity Disc iPod dock, as well as the ElecTRONica exhibit at Disney's California Adventure theme park). However, I ended up skipping the release of the video games at the time for reasons too dull to explain here. Games that all told different stories within the same universe (which means that I'm totally obligated to venture out & buy the PSP, DS & Wii versions of Tron Evolution: The Video Game in order to see the complete story) and hoped to cash in on the hype surrounding Tron: Legacy's premiere as well as the nostalgia that surrounded the well-received original arcade games. As you can probably tell, the games didn't quite hit their mark from a sales perspective, though as a game, there's much more to it than meets the eye.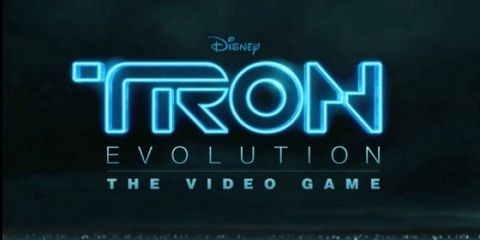 Tron Evolution: The Video Game (yes, that's the actual full title of the game, though that'll probably be the last time I write that out in this column) is a prequel to the events that take place in Tron: Legacy, and while it helps to have seen the first Tron film, the game brings the player up to speed with the major players & events that take place in the story.



(Here's that wonky timeline I made reference to earlier.)

In a nutshell, the story tells of how Kevin Flynn (modeled after Jeff Bridges but voiced by Fred Tatasciore) found himself imprisoned in The Grid (the virtual reality which Kevin enters/creates for himself), betrayed by the program which he likened in his own image (CLU 2, or CLU for short) who vows to destroy the entire race of free-willed ISOs (isomorphic algorithms). You don't play as Tron (who, if you've seen the first film, you know as the user-generated defense program modeled after the character Alan Bradley), rather, you'll take the role of the silent protagonist Anon, a security program who was sent by Flynn to figure out the conspiracy on The Grid for himself. A bit confusing, yes, but the game does a solid job of getting the story across, introducing you to old friends and new characters, such as Gibson (voiced by Jensen Ackles) and Quorra (who is modeled after and voiced by the lovely Olivia Wilde). Most importantly, the game drops some of this story nonsense and lets you do what you want to do- run around in The Grid and fight some fools with your identity disc.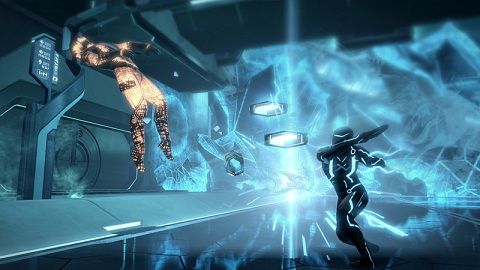 The gameplay itself can be summed up as Prince of Persia meets God of War. It's not nearly as violent as the latter (no blood- characters "derezz" into bits & pixels) and lacks the time-rewinding potion of the former, but it's a pretty simple way to get the game's mechanics across. Most of the time, you'll be running across walls, leaping off ledges, double & triple jumping to reach tall scaffoldings all while admiring the lush, clean though bright visual language of the world. You'll have access to "Bit", which more or less acts as a visual guide in case you lose your bearings within the level and find yourself unsure of where to go next, but the game is pretty linear. When you confront enemies, the game turns into a standard third-person character action game. You can use a short-ranged attack or hold the button for a longer, more powerful attack. You have a button for melee with the identity disc, as well as a button for a special attack (which is limited by how full the meter below your health is), you can block/parry attacks. The mechanic for refilling your health and special attack meter is novel- you'll have to run across specially marked walls or leap over specific lanterns/stations in order to refill these meters.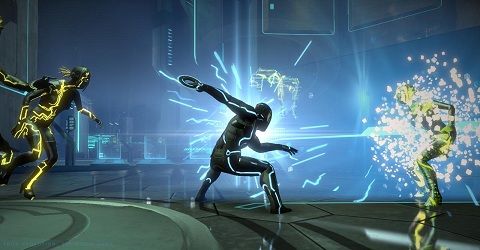 Simple stuff, really, but not without its pleasures, especially when you gain access to upgrades for your identity disc. Your basic "heavy" disc is solid for long & short range attacks, but you're encouraged, sometimes forced to use different discs against different enemies. The bomb disc work exactly as you'd expect it to, with upgrades ranging from a larger blast radius to explosions on contact. The "corruption" disc can suck life out of your enemies with contact and can even refill your health with an upgrade. The "stasis" disc slows down time for everyone who comes into contact with it, allowing you to get multiple attacks in on your enemies without consequence. It's fun to mix up your combat with these different discs, though it is hampered by the stingy upgrade mechanics (you'll usually gain "megabytes" with each level gained, but not always enough to afford an upgrade) and the fact that the most useful abilities are tied to the special attack meter.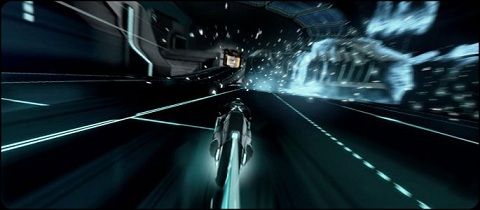 Most levels are broken up with vehicle sequences. Yes, you will be able to ride a light cycle in the game, and the first sequence involving this mechanic (Anon careens past an exploding level on an unstable bridge, set to the tune of Daft Punk's "Derezzed") is an awe-inspiring moment, but the sequences themselves never amount to anything more than "dodge the objects in front of your path". That's not the way you want to use your light cycle. The light tank sequences are more interesting, if clunkier to play, just because you can blow up a whole mess of buildings, recognizers (the odd-looking Space Invaders type flying machines that populate The Grid), tanks, and enemies with little to no consequence. Boss fights are pattern-based, and mini-bosses often have specific weaknesses tied to specific identity discs (some are vulnerable to the statis disc; others can't be harmed unless they're corrupted first, etc.). You'll venture through plenty of nifty looking cities all with different color schemes (blue, green, yellow- all neon accented, of course) up until the cliffhanger ending (which comes pretty early in the 6 or so hour campaign).




There is multiplayer in Tron Evolution but it's sparsely populated as of 2012, which is a shame because it's actually pretty fun. You have your standard multiplayer arena modes, but the best ones are the larger maps which give you full access to the light cycles. Yes, you'll be able to make 90-degree turns and kill your opponents with your light cycle's trail. Best part about the multiplayer mode is that your character's progress is tied to both the campaign & the multiplayer, meaning that experience gained from the multiplayer can be used to upgrade your character in single-player. It's a very novel way attempt at synergy across all gameplay modes, plus you can totally grind out some levels on The Grid since multiplayer matches are filled with bots if no human characters join in.



Even Olivia Wilde looks like Olivia Wilde on The Grid.

Though I can't say that it's completely breathtaking, Tron Evolution is overall a very good looking game. The character designs are on point, the lighting is stellar, the on-rails stuff looks excellent and there's a clean look to everything that stays true to the Tron universe. Voice acting is solid across the board, with Fred Tatasciore, Bruce Boxleitner (reprising his role as Alan Bradley/Tron), Jensen Ackles & Olivia Wilde doing fine work throughout. Though the game only features two songs from the Daft Punk soundtrack- the aforementioned "Derezzed" and the intro track "The Grid", the music composed specifically for the game is very, very well-done. Trippy but sparse electronic music that lends itself well to the action on-screen. It's one of the stand-out highlights of the game.


Daft Punk's "The Grid" is the basis for this opening theme song.

And this game failed because?

Video game tie-ins don't sell on the strength of the license, not like they used to, anyway. Tron still wasn't a known quantity, even a couple weeks before Legacy premiered, so it wasn't a foregone conclusion that Evolution would be a huge hit, especially after Avatar (based on the biggest movie of all time) didn't shift units the way the distributor would've hoped. The mixed reviews for the game didn't quite help; neither did the awkward release date which put it up against heavy-hitters like Black Ops and Assassin's Creed: Brotherhood only a couple weeks into their record-breaking runs. Though it can't be said that the game's failure led to Propaganda Games getting shuttered (as their ambitious work Pirates of the Carribean: Armada of the Damned was cancelled a month prior to Evolution'srelease), I don't think Tron Evolution's performance did them any favors either. Though hard sales numbers are hard to come by, it doesn't seem like the game light up the charts like Disney had hoped.

It's a shame too, because Tron Evolution is ahead of the pack, at least when it comes to the much-maligned movie adaptation genre. It's reverent of the original source material but expands upon it in ways that are essential and interesting to long-time fans and newcomers. I can't say that it's an entirely original game, but it's a game with a solid foundation, a cool story, and most of all, one of the most inventive universes created in an artistic medium. I'll take more Tron any way I can get it; I'm happy to say that the game just so happened to be fun on its own merits as well.

Play it or Skip it?- Play it!
comments powered by