A Look at Umloud!- A Rock Band Night for Child's Play
Posted by Vince Osorio on 12.20.2012

411's Vince Osorio reports back from the 4th annual Umloud Rock Band event for the Child's Play charity with tales of Kinect Party, French Revolution heavy metal bands, drunken Tim Schafer shenanigans & George Lucas.





Umloud, is, in essence, a large karaoke night that is only tangentially related to video games but mostly an excuse for everyone to get loud, let their hair down & have a good time for a great cause.




If you're not familiar with the event and somehow haven't typed "what is Umloud?" into Google yet, let me bring you up to speed. Umloud is a San Francisco-based yearly fundraiser, which started in 2009. Since then, the event has raised over $40,000 for the Child's Play organization though the power of rock- a figurative, theoretical power, but a power nonetheless. Oh, and though the literal power of Rock Band 3, Harmonix's hit rhythm game. For a donation, you can have a band of up to 7 people perform a song of your choosing at the SOMA-based DNA Lounge, replete with stage lighting, fog machines, proper sound setups- the works. It's all the glitz, glamour & fun of being a rock star without actually having to have talent & charisma to get on stage the old-fashioned way. If you're much too shy to get up on stage or have no friends who are willing to play with you (i.e. me), you can purchase a ticket for the event for $15 (which goes to Child's Play as well) to enjoy the performances, play some game stations (more on that a bit later), purchase raffle tickets, screw over peers at the silent auction & heckle obscene things at Tim Schafer, the event's MC for the night. If that doesn't sound like the basis for a good night, I don't know what is.




Full disclosure: I had no idea what to expect from Umloud & immediately assumed the worst. Rock Band, much like karaoke, is fun when you're the one performing, you're drunk, or both. Take away either of those things & it becomes less interesting as a result. If hell is being sober in a room full of drunk people, a deeper layer of hell is reserved for being sober in a room full of drunk people who think they can legitimately sing. On the other hand, there was a high chance of something going hilariously awry, plus I had heard tales, infamous tales of Tim Schafer hosting other events, so I figured I had an obligation to go.

Upon entering though the secret, super-exclusive press line (which is inches away from the regular entrance), I was treated to the free-play Rock Band station in the upstairs lounge area, which I vowed to return to after at least two drinks. The other notable room in the upper level of DNA Lounge housed the silent auction station as well as a set up for Perfect World's Neverwinter Nights and an Xbox 360, running Double Fine's recently released and concisely named Kinect Party. Downstairs, DNA Lounge looked exactly like DNA Lounge- bar in the back, state in the front, door wide open with access to the 24-hour DNA Pizza restaurant- with the exception of the raffle table on the stage left side. Folks attending the event could purchase raffle tickets (with an incentive for buying multiple) in order to win video game related memorabilia (and being the mark for Sonic that I am, my eye was on the Sonic Generations collector's edition that was never released in the States) and other neat stuff.

After my prerequisite two drinks, I returned to the venue just in time for the start of the performances, and at that point, my fears were more or less squashed. Tim Schafer played the role of a tongue-in-cheek host well & the bands that played made fine choices for songs. The added scope of the stage- lighting, fog, sound & all- greatly masked any deficiencies a band might have had, though it definitely seemed like the bands didn't quite outstretch their talents more than they needed to. I have to say, I was impressed with the band names on a whole- Gnome Sleep Till Brooklyn, The Dead Swayzes, Pocket Full of Shells, The Zed Word- all pretty fantastic.




I did promise myself that I would play Rock Band before the end of the night, so during a lull in the show, I made my way upstairs, grabbed a buddy & a stranger (legitimately) and played some Paramore for the masses. Granted, our performance wasn't so hot, but I did get 92% on expert drums after having not touched the game in a year and a half, so I got my kicks. Browsed the silent auction for a bit before testing out Kinect Party (unfortunately forgot to play Neverwinter before I headed out for the night, but my friend had good things to say about it).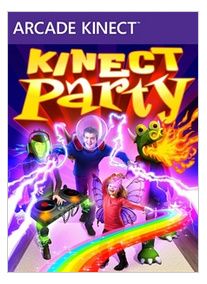 Kinect Party is, what I assume, the logical follow-up to Double Fine Happy Action Theater, a mini-game collection that's more of a toy than it is an actual video game. While waiting for my turn to play, I was implored to "get the fuck in" by a Double Fine rep & was literally pushed into the play area. The "games" I played were more or less silly toys that make everyone involved look like a fool on screen. There's a neat snow-based game where I tossed snowballs & "froze" after standing still for a few seconds. I kicked some plants & flowers in another segment, swam with fish underwater in another. There's also a dance club segment where you (and whoever else is on screen) are transformed into Parappa-esque 2D scans & do the Charleston (or your dance of choice) in front of dozens of imaginary, adoring fans. Overall, I enjoyed what I played of it, though the title tells you exactly what you need to have fun with it- a Kinect, and a party. (Oh, and it's free as of this writing, so you have no excuses to not grab it, even if you don't have a Kinect.)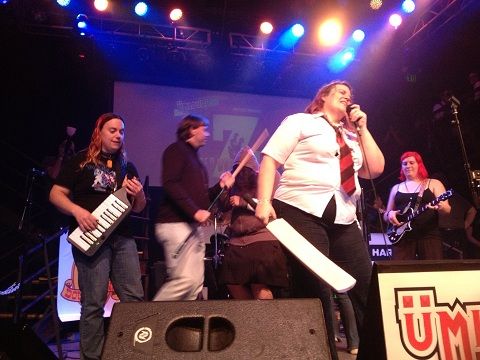 Anyway, back to the stage show. I was impressed by the effort put on by a lot of the bands. More or less, every band had a theme that was conveyed though their name. "The Zed Word", for instance, was a take-off on Shaun of the Dead (and if you've seen that movie, you know exactly what song the band sang on stage). "Total Platonic Reversal" dressed up in Ms. Pac-Man shirts & sang the Ray Parker Jr. classic, "Ghostbusters" (though I was reminded by one Owen Douglass of Ozone Entertainment that the band missed an obvious "Pac-Man Fever" tie-in while on stage). "Cougar Town" was led by a trio of lovely ladies, decked out in leopard print, singing "Love is a Battlefield". The "Third Street Saints" were decked out in Saints Row gear & opted to perform Sublime's "What I Got".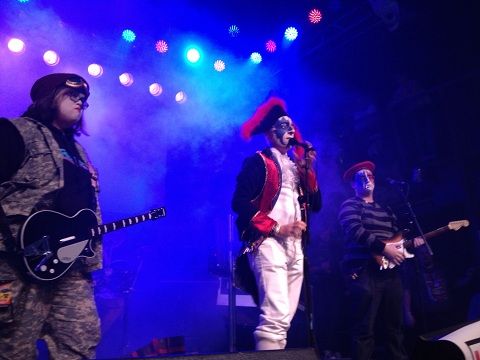 The night culminated when the two headlining bands performed on stage. The first, French KISS (who are like KISS but French) brought out streamers & confetti for their spirited performances of "20th Century Boy" and "I Believe in a Thing Called Love". The headliners for the night, Forever Alone Together- imagine if the people from the "Lowered Expectations" sketches on Mad TV started a band & you're on the right track- thrilled with "Somebody to Love", both of the Jefferson Airplane & Queen varieties.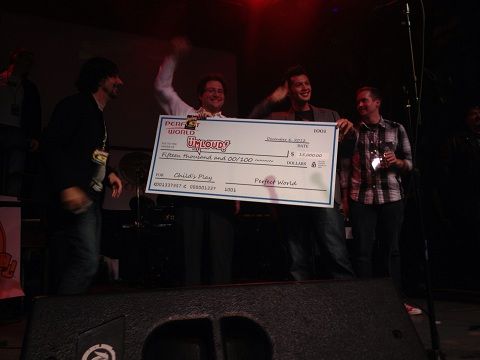 One of the most memorable bands of the night, named "When You Wish Upon a Death Star" (led by Storm Troopers, Chewbacca on drums & Darth Vader on vocals), set out to give a Star Wars inspired take on "Carry On Wayward Son". For the first verse or so, it seemed like the band was content to throw out obvious Star Wars references within the song- a "Skywalker" here, a "Sith" there. Then the unthinkable happened- "George Lucas" appeared on stage, told the band that he sold the band & the rest of the performance to Disney & now they were contractually obligated to insert Angry Birds and Kinect references in the lyrics of the song. Group that with an appearance by Jar Jar Binks (performing "Gungan Style"), a choreographed "I'm Han Solo" dance complete with Just Dance style stage directions listed near the speakers- a reference to the infamous YouTube video from earlier this year which is embedded below- an epic lightsaber battle ending in Lucas losing his hand and you have one of the most hilariously inspired performances of the night.




And that was Umloud in a nutshell. People putting way more time, effort & creativity in something that could've been throwaway and silly, which made the event grin-inducing throughout. I enjoyed myself, the crowd was into just about every band on stage and most importantly, money was raised for a more than worthy cause. Umloud was an experience that still sticks to me to this day, almost two weeks after the event was held, which is more than I can say for most concerts I've gone to this year. See you in 2013.


I was so graciously granted an interview with French KISS('s community manager Marcel Cosin who was able to parlay the band's answers & translate them for me). (Note: Other than some formatting & role insertions, the interview is included in its unedited form below. )


Hello sir. My name is Marcel Cosin, and I am the community manager for French KISS. My English is not very good, but it is much better than the band, which for the most memorizing sentences shouting at the audience. Jean Lass Cliche (keyboards) gave me your questions, I'll answer on behalf of the band.

Vince Osorio: So how did French KISS come about & how did the group get involved with Umloud?

Marcel Cosin French KISS was formed on the streets of French Detroit, where the group has learned to swing faces in the style of their heroes glam. They are involved in Umloud because he was both a opportunity exciting to perform in front of an audience, and also because helping children is a good thing to do.

Vince Osorio: Could you give some insight as to the process for being selected to perform on-stage for Umloud?

Marcel Cosin: The process to have been chosen by Umloud is rigorous. The group was part of the Headliner contest, which meant they had to submit an application and then try to collect more money than FAT. Other bands that participated can simply buy a package after the fact.

Vince Osorio: How was the experience filming the promo/hype video for Umloud?

Marcel Cosin The group had a fun time filming the promo video. The recording studio where it was filmed (Ocean Beach Studio) was kitschy and fun. The crew recorded the video knew what they wanted, and members of the AFL was able to not feel bad for almost the entire shoot.



Vince Osorio: Was there any formal prep work that went into your performance? Costumes, make-up, props, choreography, rehearsing the song, etc.

Marcel Cosin There were many rehearsing for the presence choreography and stage right. Makeup artists who worked on the facepaint were superior and put a lot of effort into their work. Wit By Echo as our drummer, has built the confetti canons that the public loved.

Vince Osorio: What was going though your head when [the band] went on-stage to perform? 

Marcel Cosin: The show was a very exciting experience for everyone, but also nervous. Hemlock Client [guitar] says being on stage was when he was happy for a moment. Jean Lass Cliche says that she is just glad everybody had such a good time. It was a... how you say, blur? All definitely electrifying, though.

Vince Osorio: Besides your own performance, what was your favorite moment from the Umloud event?

Marcel Cosin: Star Wars The group was both very good and fun. As Girl Trouble Time.

Vince Osorio: Two less-serious questions for you: What are your favorite go-to songs to bust out at a party when playing Rock Band?

Marcel Cosin: Hemlock likes to play songs that have a lot of guitar, as My Sherona or More Than A Feeling. Jean enjoys songs to mosh and chant or sing along to, such as Get Free or Don't Stop Me Now.

Vince Osorio: Finally, could you sum up the brilliance of Tim Schafer's performance as host in 3 words?

Marcel Cosin: Drunk and beloved[.]

(Final notes:
1. Couldn't a concrete number of the money raised though the event, but Perfect World presented Umloud with a novelty oversized check for $15,000, or almost as much as what the 2009 & 2010 Umloud events raised combined.
2. Tim Schafer was hilariously drunk for the entire night and I wish you could've been there to see it. Throwing cue cards at the audience, riling up the folks in the audience chanting for the raffle, we ate up every second of it. Luckily he has a sense of humor about the whole thing. Bring him back next year, I say.
3. I took the pictures above with my iPhone, so sorry if they're not of the greatest quality.
4. Umloud broadcasted the event online this year, so be on the lookout in 2013 if you can't make it to SF.)

comments powered by