Crossing the Steams 3.16.13: Orcs Must Die! 2
Posted by Marc Morrison on 03.16.2013

411mania's Marc Morrison plans some traps and shoots some orcs in this decent tower defense game. Find out if he kills them all or not, inside.

Welcome to another installment of Crossing the Steams. This week I'll be taking a look at the tower defense-like game Orcs Must Die! 2. At least the title pretty much spells out what the game is going to be like. I've played a decent chunk of these games, usually against my will, but I actually enjoyed my time with it, due to one thing it does, which I'll discuss below. Let's begin:




Orcs Must Die! 2 is a sequel to the well-regarded Orcs Must Die! Game that game a few years ago. I actually never played that game, so this column is just taking this game on its own merits, which I found worked out well. OMD2 is a tower defense game, but you have actual control of your character during the waves. This alone makes it better than 90% of the other defense games, because you have actual control during the waves. That's usually my biggest problem with those games is that once your defenses are setup and you hit "GO!", you have no real control over how your turrets respond to enemies. You don't have direct control over your turrets in this game either, but the fact you control your character during the waves, who has his/her own attacks and weapons evens the score when your defenses are being besieged by orcs.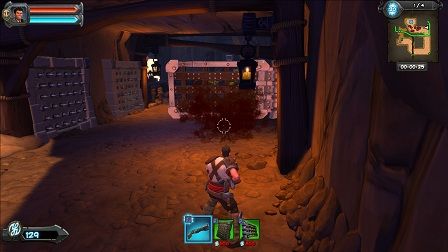 If anyone ever played/remembers the old "Deception" series of games for the PS1/PS2, specifically "Kagero: Deception 2" (PS1), or "Trapt" (PS2), you get the idea. The biggest difference between OMD2 and Deception 2 is how the towers work. Both games had traps that you could place on the floor/ceiling/walls that would attack enemies. In Deception 2, these traps were actually controlled by the player. When an enemy walked by them, you had to press a button on the controller to set up the trap. In OMD2, the traps/towers are automatic. They fire off whenever an enemy crosses their detection path. Once they activate, the traps take about 10-15 seconds to recharge to be deployed again.

I would actually probably say that this is the game's biggest failing. Because the traps are automatic, they're (inherently) stupid. The lowest form of orc can set it off, and the trap is useless for 15 seconds. Meanwhile, the 30 orcs behind him can just walk through the trap detection grid, unscathed. If you had the ability to save your trap usage for when the cluster moves through the attack field, it would greatly add to the value of actually trying to set up strategies.

The fact that your character can actually attack though is what evens this out, immensely. In Deception 2, your character couldn't attack at all. She could only lead the enemies around to traps. In OMD2, you can equip your own weapons and take care of business yourself.

Each character has their own strengths/weaknesses to deal with. The sorceress is better at range fighting, then in dealing with enemies up close. The War Mage is the opposite, slightly betting in being up close then with dealing with at range. Honestly though, neither really matters. The War Mage (guy) starts off with slightly different weaponry/traps then the Sorceress, but it's pretty negligible differences. It's pretty much up to you, which character you want to play as.

The traps are the big thing about the game. As said earlier, the primary classes are floor, wall, or ceiling traps that you can plunk down. Some traps can be multi-function, like being set on the ground or on the wall, but they have to be upgraded to do this. Guns/stomp-type traps typically go on the ceiling. Acid-sprayers, spike traps and the like are usually on the walls. Traps like heated vents, launchers, and lava areas go on the ground. There are also Guardians, which act like independent units. They can attack of their own free will, and have their own health/abilities.




Your own weapons can have different abilities and effects. I primarily stayed with a Dwarven Rocket Launcher, and a Lightning Ring. The weapons break down into the usual types, either short range, long range, or other. The rocket launcher is a definite long range weapon, due to it having homing capabilities. The lightning ring also had long range abilities, but could also create a short range storm to attack enemies around the user. Each weapon has one primary use, and a second ability for which to attack enemies. You can also equip charms on your characters which have passive and active abilities, to help your character out. It takes magic to use most of your weapons, which refills slowly on its own, when the current wave is over, or can be replenished with magic potions that occasionally drop from enemies.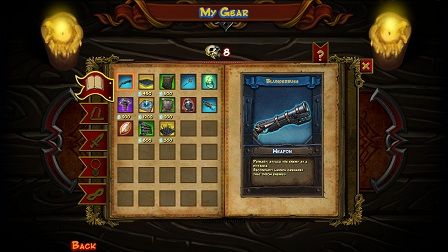 After every mission you get skulls to power up your weapons and traps, or to buy new ones from your spell book. Every weapon has one basic upgrade you can do, to boost the inherent power of the object. Then you can pick a specialization for it, which might affect the item in question, adding stun to it, shortening the delay on it, things like that. A few traps also have the "special" option of letting you place them on multiple surfaces.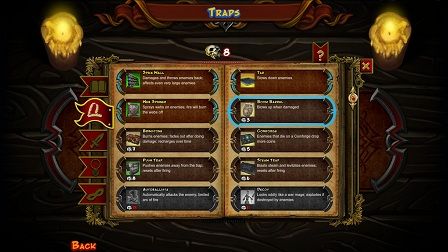 Graphically, the game has kind of a cartoony art style, but it works out well. It actually kind of looks like Torchlight, in terms of overall aesthetic and design. That's not a bad thing, just an observation. The heroes are detailed looking, the orcs have some good designs, and the trap effects are cartoonishly gory. How orcs explode and fly around is actually a highlight considering how funny it looks. PhysX and Havoc are in good effect with this game. The environments are a bit drab, but it is kind of the nature of the beast.

Audio is a bit of a mixed bag. The sound effects are serviceable but nothing completely special. The music is solid, but can get annoying if you hear the same track for over 10 minutes. Also, the credit song sounds a lot like a song from Pinball FX2 (the Biolab table). The voice acting is kind of a highlight, but it's a bit weird. I can see what they're trying to go for, basically Ash (from Evil Dead) meets Elvira with the two main characters. I'm not sure the two actors for the roles are up to the challenge though. It would've been great had they just got Bruce Campbell and Cassandra Peterson for the roles, but they didn't. The actors aren't bad, but what they're trying to invoke just doesn't sound right.

Replayability is handled well in the game. You can replay the stages to get more skulls for your upgrades. There's also an endless mode where enemies will just pour out constantly. Leaderboards are included for every level, and for the three difficulty modes, so you can compare with your friends or against the world. There's also a co-op mode for you and a friend, where you control one of the main characters and fight orcs.

Installation/Ease of use aren't a problem in this game. The game installs fine, and fairly quickly as well. The game does have support for the 360 gamepad, but it felt weird to use. It's not broken or anything, but I just found it a bit odd in spots. This might be one of the few times I suggest you use a keyboard/mouse over it. The game also has Steam achievements which is something all games should use.

Overall, Orcs Must Die! 2 is an enjoyable game. It gave me fond memories of Kagero, which I enjoyed a lot. While I wish you could trigger the traps remotely, the addition of your character having weapons makes up for it. The game isn't revolutionary by any means, but it is very solid and enjoyable.
Graphics -- 8.0 Not the most flashy, but the graphics get the point across well enough. Expect to see a LOT of brown in the game. Enemies fly around very well though, which is funny to see.

Gameplay -- 9.0 The trap issue aside, this is a great tower defense game. Traps interact well, and your character has a lot of skills to fend them off.

Audio -- 6.5 The sound effects are fairly nondescript, but I wasn't a huge fan of the voice acting. The music is fine, just not good for long stretches.

Ease of Use/Installation -- 8.5 The game installs fine, and has Steam achievements, which is always nice. The gamepad support works fine, but the game is more comfortable with keyboard and mouse.

Replayability -- 8.0 An online co-op mode for you and a friend to enjoy, a few difficulties, and plenty of weapons/traps for you to grind skulls out for await you in the game.

Overall -- 8.0 (exact)

Other Steam News

It's actually a bit of a busy next week, so I'll be a bit brief about this. On March 20nd is Retro/Grade, Alien Spidy and finally Patterns. All of them are indie games with different styles to them. On the 21st is Trials Evolution: Gold Edition a port of both the Trials games on the 360. I've heard some shaky things about the port work, so we'll see. Finally on the 22nd is Resident Evil 6, and frankly, the less said about that horrible game, the better. On a different note, I may be winding this column down in the next few weeks. I don't think a lot of people are particularly reading it, or at least aren't commenting on it. If you want to see it continue, drop a comment, and I may do it longer, we'll see. Next week I'll look at VVVVVV.

comments powered by