SPOTLIGHTS
The Retronomicon 08.16.13: Zombies Ate My Neighbors!
Posted by Stewart Lange on 08.16.2013

This week the Retronomicon shuffles off to one of the biggest cult classics of the 16-bit era! Join 411's Stewart Lange as he takes a look at Zombies Ate My Neighbors!

Hello and welcome to an extremely tired and grumpy Retronomicon! Okay, so maybe grumpy isn't fair, but I am extremely tired. Remember last week when I said I had a wedding to go to? Well, I made it down there and even back again, bringing my weekend driving total to just short of 1000 miles. A few hours rest after my crazy weekend and I started a 60 hour work week, which by the time most of you read this will be down to only a few more hours. Or Saturday, as I call it. This has given me precious little time to play games this week as between reviewing Charlie Murder for the site (review on the games page) and writing this, my evenings have been booked solid. There is light at the end of the tunnel, though, as Wednesday of next week I get to change into some comfy pants (American and British meanings), stretch out and catch up with some serious slouching. My list of "crap to do" is getting bigger as I'm falling behind on games and even my "watch all the ECW Pay Per Views" challenge is lagging (I'm about to enter 1999, FYI) and I expect I may have treated myself to Payday 2 today as well. You'll need to check back next week to find out.

I'm not sure if you're interested enough in my life to get upset I'm not writing a lot here, but hey, I'll make up for it next time by filling the column with little tidbits about my life and other such crap. Or not, whichever. All I know is we should be clear of the advert and I can get things rolling with the BANNER.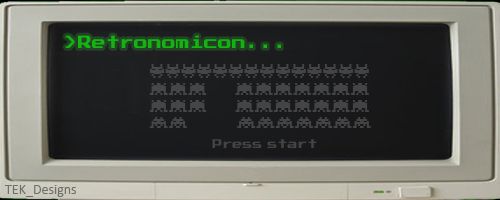 THE FEEDBACK

I'd like to thank everyone who took the time to comment last week, there were some great ones but there was something that featured fairly prominently- Super Mario Land 3: Wario Land. You'll have noticed by now it's not the topic of this week's column despite what The Saint had to say about it.

"Super Mario Land 3:Wario Land, for the original Gameboy. My favorite handheld game, for the Gameboy, and possibly of all time."

Here's the thing- I took it on board and thought about it but as you may have noticed, last week I added a link to the Retronomicon's very own Facebook page. I stuck a picture of a couple of games up for people to vote on and they spoke. SML3 was one of them but wasn't picked. So, like the page and vote! Your voice will be heard and I'll put any suggestions into the gauntlet!

Anyway, last week was all about Resident Evil. DSF summarised my own feelings pretty succinctly for being only a few words long.

"Resident Evil is a fun game. While the original version has bad voice acting, it ironically was one of the things that made the game even more memorable. I really like the GameCube version as well. It is one of the best remakes ever."

Also, AG Awesome shares my feelings on the Directors Cut, too.

"Never beat it on the PSOne or on the Gamecube (man did I get screwed there with running out of ammo as soon as the Crimson Heads showed up). But I did get the DS version and beat that. I also recently bought the PSN Directors Cut and look forward to pwning it on Beginner Mode, LMAO."

The beginners mode is amazing and much better for those of us who suck. I didn't even mention the Crimson Heads last week, boy, those guys sucked. I'll leave the comments with a couple of quick thoughts, first from BR and then from G-Walla.

"Great article."

There was more, but I cut it. Thanks, though!

"It's like your first couple of races on RC Pro Am where you keep driving into walls like a drunk."

Ah, RC Pro Am. A game I'll undoubtedly cover at some point, but not until after I feel like I've covered too many driving games.

Before I start on this week's game, which is Zombies Ate My Neighbours!, I'll just point out that if I don't cover your favourite straight away, keep the faith and keep reminding me about it. The Retronomicon isn't going anywhere and I'll always be looking to cover the best games, while keeping things balanced between systems and genres. All good? Good.





THE STORY

Zombies Ate My Neighbours! or, if you're in Europe, just Zombies! is a top down (pretty much) run and gun shooter that starts off in a suburban garden. The problem? A zombie infestation. That's all. Nothing to worry about considering you have your trusty super-soaker, right? Zombies! was developed by LucasArts and released for the SNES and Mega Drive (Yes, Genesis) in 1993. The game plays on parodies of classic zombie and horror movies throughout it's 55 hefty levels while you as either Zeke or Julie have to save, well, your neighbours from the titular monsters. That's about as advanced as the story gets, as there is never any explanation for the apocalypse you're trying to survive, but there are also vampires, werewolves, aliens and a host of other baddies coming to get you. As you run around saving the residents of the area, you can pick up new weapons and power ups, including cola can "grenades" and flamethrowers. Saving, or the demise of, the other characters in the level signifies the end and a door appears to advance you to the next stage.







THE AFTERMATH

Zombies! was released without an awful lot of hype or even much acclaim. With review scores averaging between 75/85%, it can hardly be deemed a critical hit and upon initial release, did not do hugely well sales wise either. Now, remember that this was 1993 and violence in console games had not really been dealt with and this dealt the game a blow, as the European market took offence to the subject matter and removed all mention of eating people from the title. Some content was chopped as well, which allowed the game to be released as no real censorship had been applied to games at this point other than "change stuff until acceptable."

The game was a bit of a forgotten gem until it was released on the Wii's Virtual Console in 2009. Previously only really known as a cult classic, a new audience discovered it and it's original audience remembered how fun a game Zombies! always was. Having gained higher reviews upon re-release than in 1993, it secured itself a spot in the list of great 16-bit games of the era. A number of games credited Zombies! as a major influence, namely Dead Rising and Monster Madness. A sequel, Ghoul Patrol was released in 1994 but didn't achieve the same success.




Want to win a copy of Pokemon Leaf Green? Go to my Facebook page to see how to enter! Winner announced next week!



MY THOUGHTS

I remember Zombies! coming out but don't think I ever got to play it at the time. My first real experience with the game came a few years ago when I had a shot of it while helping someone repair a SNES and it was the only cart they had handy. I liked what I played but always struggled once I got to level 12 to 15. Playing it again to research this column, I found it harder than I remember but I'm really struck with how well it would adapt to being a handheld screen with a level save. My biggest issue with the game is the lack of a password or save system. Many players will struggle to get past the first few levels, let alone manage to bash through the whole game in one sitting. There's a lot of fun features in the game and is a really good fun pick up and play title, despite not having any depth or continuing story line.

What do you guys think about the game? Do you have happy memories of playing or are you amongst the many who have never played or heard of it? I'd be particularly interested to hear thoughts on this title as it was never a title that was on my radar upon release, but know a lot of people love it like a Sonic or Mario game!




RETRO COLLECTING

Zombies! is a particularly sought after game. With cart only copies of the SNES version going on eBay for £25/$30 if the market is right, a copy found "out in the wild" is extremely unusual and definitely worth picking up and having in any collection. The Genesis version generally doesn't fetch as much but in the UK, any version with the full title from overseas is pretty sought after and in the US, there is a cover variant for the fully boxed edition on both the SNES and Genesis versions that is extremely rare. Happy hunting!

Love retro collecting? Me too! Share your best finds with me in the comments section or on Instagram! My user name is outafterdark216 and I always post my newest pick ups!

I've had an AWESOME week with finds. Fifteen assorted Genesis, Master System and Sega CD games joined my collection, along with another Master System and a few imported SNES cartridges. Remember, Pokemon Leaf Green is up for grabs at my Facebook page- I'll ship to the US if it's won there as well. Any questions, let me know either below or via stewart.lange@gmail.com.

THE END

That's all for this week folks, hope you've enjoyed the column! Let me know if there's any games you want to see covered but remember- they'll be up for vote on Facebook so you'll need to follow the page to have a say! I also plan on one giveaway per week, so it's worth while clicking that button. See you next week and peace out!

TIP OF THE WEEK: Always ask! Most thrift and charity stores keep stock behind the scenes, they might have some games too!

comments powered by