SPOTLIGHTS
The Retronomicon 08.23.13: Pandemonium!
Posted by Stewart Lange on 08.23.2013

This week the Retronomicon travels back to a crazy cult classic from the Playstation 1 era! Join 411's Stewart Lange as he takes a look at Pandemonium!

Hey everyone, welcome to another shiny new edition of the Retronomicon! What a quick week it's been! A couple of really lazy days off came my way this week and boy, did I need it. Last week I picked up Payday 2 and by god, it's amazing. If you're a fan of first person co-op games like Borderlands or especially Left 4 Dead, get involved. I thought about reviewing it for 411, but I seriously can't put it down long enough to be that productive. In fact, I'm thinking about it right now. It's a good thing then that this week is a game I know all about, then, isn't it!

Now, if you're following the Retronomicon on Facebook, then you'll know that there's been a little contest going to win a copy of Pokemon Leaf Green. The draw was done last night and the winner is...............

Shona Watson!

Congratulations! Send me a message on Facebook and I'll arrange sending you your prize. Keep reading, though. It'd be rude to just claim your game and not read the column. I'll be doing another giveaway in the next few days, so make sure and like the page for updates on what you can win and how to enter!

Let's get this show on the road!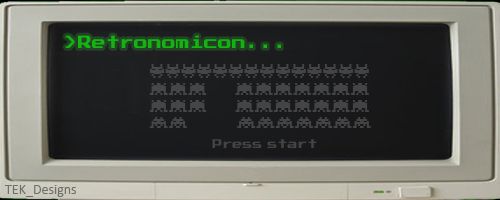 THE FEEDBACK

Last week, I took a look at cult hit Zombies Ate My Neighbors!, which despite causing my grammar check to flip out and the fact that over here we spell neighbours differently. A few of you had played the game before and unsurprisingly, those of you who had loved it. Former Retronomicon author Lee Price had this to say:

"What a game! It is such a shame that LucasArts wound up under the Disney axe. At their peak they were one of the best developers around for my money.
With that in mind, how about a column on Indiana Jones and the Fate of Atlantis. I honestly can't recall if I covered that back in the day but it definitely deserves a look as it's one of the more underappreciated adventures in the LucasArts catalogue."

I never played Fate of Atlantis but heard it was pretty good. It might be one I cover at some point- I'll need to get around to playing it first. I'd agree with LucasArts, though, up until 1995 or so they basically created 80% of the games I played. Place your bets on a Monkey Island special, once the memory of Maniac Mansion wears off, at least.

Fellow Brit Billy Pilgrim isn't quite as convinced about the name of the game from last week.

"I really enjoyed the game and the variety of weapons and destructible terrain, though I could never get past level 20 or so, with the giant worm. Also the tourists that turned into werewolves were vicious. Rather upset that my copy was thrown out. I also seem to remember the game as Zombies Ate My Neighbours, despite living in the UK. Might just be my memory playing tricks on me."

I think there are a lot of import carts, to be honest. I've never seen a copy of the game with the "Ate My Neighbors" part on a UK cartridge (unless someone can prove me wrong) but I'm struggling to find another older game that was changed so dramatically, so it may explain a large number of imported cartridges. I totally forgot the giant worm! That's the shit Game Genies were made for.

Nothing much else last week, but GVIL brought up an interesting point to me.

"I know it never came out officially but would you cover Thrill Kill?"

For those of you that don't know, Thrill Kill was basically a fully completed game that never saw the (official) light of day. I reckon a special on this type of gaming legend may be coming soon. Thanks for the comment and the idea, dude!

This week is a game that did see the light of day, fortunately, as it's something of a PS1 classic. So many people I speak to love this game, even people I didn't even know played games. When I say I collect retro I'm always asked about Pandemonium so I'm not surprised to see it as the winner of last weeks public vote for the column this week.





THE STORY

Have you taken acid? Then I'll begin. Basically, Pandemonium is the most bonkers game I've covered on this column since Nights Into Dreams. To summarise, you take the reigns of either Nikki or Fargus, who are a sorceress and court jester respectively. They meet at a training seminar for wizards but sneak off when things aren't as exciting as they had hoped. When they find a book of slightly more advanced spells, they decide that it would be a good idea to try some of them.

As these things generally do, it goes horribly wrong. When Nikki accidentally conjures up a monster called Yungo who eats the village. They find a spell to get things back to normal but have to follow a map to get to a wishing "engine" to gain three wishes and after a chicken, ridding the monster and a whole town full of Fargus lookalikes, peace is restored to the world.

You get that? Sure you did. The games is a Nights-style "3D" world, with the action rotating rather than the traditional platforming style of Mario or Sonic. Each character has their own skill that can help you reach different parts of levels and created different methods of defeating enemies- but really you just want to go fast. Really fast.




THE AFTERMATH

Pandemonium was released to fairly average reviews. The game scored 6 or 7 out of 10 pretty much across the board which was probably quite fair. The game had it's flaws and came out too soon after Nights to be seen as anything other than a rip off/cash in. Sales were fairly steady despite being up against fairly big competition, which saw the game get a sequel that just couldn't capture the same magic. Much like last week's game, Zombies!, Pandemonium will be remembered more as a cult favourite than a game changer, but that's fine. Because there isn't much else like it for the Playstation, it will be remembered more fondly on the Sony machine than it's subsequent Saturn port.

Pandemonium 2 was released a year later and was a Playstation exclusive. Both games eventually saw a port onto the PSN, which cements the title as what many would wrongly consider a Sony exclusive, which isn't far off given the Saturn variant is fairly rare as anything more than disc only.




Weekly contests and picking the next game for me to cover are two good reasons to LIKE my page!



MY THOUGHTS

When I was at school, people went crazy for Pandemonium and I never got it when I played it at other peoples houses. When I got my own copy I realised why- whenever I played anywhere else, the games owner was clamouring to get their controller back! It's such a hypnotic title that it's very hard to put down, which I realised pretty soon after beating the first level and really getting into the game. A real old school vibe ran through it, with games veering away from such a fantasy setting in favour of a real environment around this time. When you also take into account the game uses password access rather than a standard save system, it really took me back to playing the likes of Wonder Boy.

The game hasn't aged well, if I'm being totally honest. The game doesn't feel as fast or frantic as I remembered it to be and the controls just don't feel quite as responsive as I'd like them to be. It's very colourful and the graphics don't look as aged as some PS1 games I've gone back to recently, such as Tomb Raider or Resident Evil. If you haven't played this game before, don't go into it expecting to be blown away but if you remember loving it as a child/younger adult, then give it another blast. It's still fun enough to be worth another play through.




RETRO COLLECTING

Despite it's cult status, Pandemonium isn't a rare game. A complete copy for the PS1 will cost you around $7/£5 at a standard rate, with a complete copy for the Saturn fetching up to twice that. The Platinum range for the PS1 is pretty common and seems to be the copy I come across most in the "wild," but the black label copy is still a fairly easy find. Just make sure you're getting the manual for your money.

Love retro collecting? Me too! Share your best finds with me in the comments section or on Instagram! My user name is outafterdark216 and I always post my newest pick ups!

This week has been pretty fruitless, other than a copy of Mario Party 2 for the N64, which is by no means a bad find! I did get a random Facebook message from a friend offering me a TeleGames unit, which plays 2600 games so I took him up on his kind offer and now have a bundle more Atari games and a mock "Woody" to play them on! Thanks, Tristan!

THE END

That's your lot for the week, thanks for reading! Congratulations to Shona for winning the game but don't get upset- there will be a new game to win over the weekend! It's easy- plus, you have to be in it to win it! See you all next week guys, take it easy and peace out!

TIP OF THE WEEK: Find a trustworthy re-seller! Thrift shops and game shops are small independently run businesses, so if you can find one that knows their prices you'll be treated fairly.

comments powered by