SPOTLIGHTS
The 8 Ball 8.27.13: Top 8 Video Game Hair Styles
Posted by Marc Morrison on 08.27.2013

From Seymour in Final Fantasy X and Guile in Street Fighter 2 to Triple H, Lara Croft, and others, 411's Marc Morrison ranks his Top 8 Video Game Hair Styles!

For this list, I almost want to put best in quotes. There's a lot of really stupid hair in video games these day, mainly coming from a certain Japanese company. So my list has a mixture of actual good hair styles and then "good" (sarcastic) hair styles. One good rule of thumb – the more ornate or intricate the hair style, the goofier it's going to be. Let's begin:


8. HHH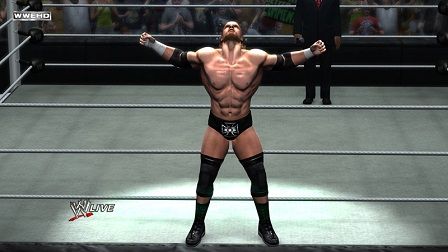 HHH is really the gold standard when it comes to graphical quality of wrestling games and consoles. It needs just the right amount of stringy wet hair look mixed with garbage to pull it off. It helps for the hair to not intersect the body or just be one really weird polygon which is something the early WWE/WWF Smackdown games were guilty of. Sadly with the real HHH shaving his hair off, we can't get newer versions of his entrance in future WWE games. But fear not, they'll always stick a few older versions of HHH in these games and at least one of them will have what HHH is best known for.



7. Polka (Eternal Sonata)




Polka almost single-handedly exemplifies what is insane about JRPG styles. Be it the weird cowlick, the ribbons in her hair, or the 4 foot long pigtails, it is all disturbing. The pigtails aspect might be the worst since if she was able to straighten them out they might actually reach her feet. Who has hair like that in reality? Well, aside from Sailor Moon that is. Bear in mind that Polka isn't the biggest offender on the JRPG continuum. Not by a long shot, actually.



6. Guile




Who doesn't love a nice 3 to 4 inch gelled up flat-top haircut? No one, that's who. I honestly think that Guile's fighting prowess isn't from background street fights or brawls on the base, but from tying to fight his way out of the barber's chair that the Air Force has. In reality, Guile's haircut looks more in-line with a 17 year old emo/goth kid than a USAF Colonel. Still he pulls it off pretty well, and gives hopes to all the kids out there who use Elmer's glue as a styling gel.



5. Bayonetta




Her hair is her costume. NEXT! Actually, I think Bayonetta is a well-designed character because of this trick. Her hair is a bit like the Venom symbiote in that it can expand out considerably, shape itself, and be used as an offensive weapon. However the more you use the hair powers for combos and huge kills, the more nude Bayonetta the character gets. Her getting nude isn't sexual though, and it's done in a tongue in cheek/pin-up kind of way that a lot of female characters can't get away with.



4. Lara Croft (Tomb Raider)




Crystal D didn't exactly model Camilla Luddington's hair for her work from Tomb Raider, but it is actually pretty close. They did use a little artistic license but by and large Lara's hair is good because it is could/does exist in the real world. Although the fact they even have a system for the hair tech "TressFX" is very silly. Still, Lara's hair does look really good in the game and it's believable. Which is more than I can say for…



3. Cloud, Sora, and Tidus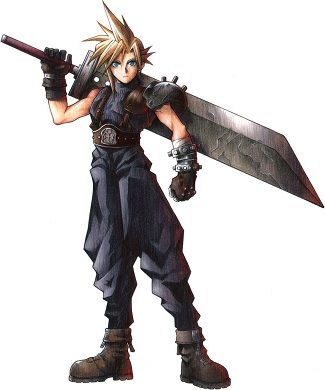 You can pretty much slot any/all modern (FF7 and up) Final Fantasy/Square heroes in this topic. The hairstyles that Nomura uses fall into two camps: either tons of spikes of feathered hair and spikes. Tidus's hair looks slightly more effeminate than Farrah Fawcett's from Charlie's Angels. And both Sora, Cloud (and a dozen others) have hair that is so spiky and asinine, it defies belief. At least when Guile uses a bottle of hair gel every day, it creates an overall uniform look. I think Cloud and Sora just dump tons of gel into their hair when they first wake up, comb it out as garishly as they can, look in the mirror and say "That's a job well done." My secret dream is that before every battle these two get into, they pull out a compact and check their hair, just to make sure all the spikes are in the right place. Even Bart Simpson would laugh at these guys.



2. Vaas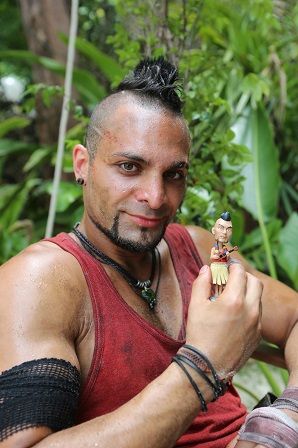 Like with Camilla Luddington, Vaas' hair is great because it's based on the mocap actor they used, Michael Mando. What's better about Lara's hair is that Vaas looks like such a complete jackass with it. But it works SO well. If he had some type of normal haircut, or even a Wildman type of thing, the effect would be lost. But because it's a Mohawk, it fits so well into the archetype of "Dudebro" extreme-sports, adrenaline junkie ass-clown that the your character actually is at the start of the game. Plus, just the idea that Michael Mando had to have that hairstyle eve for a little while makes me laugh.



1. Seymour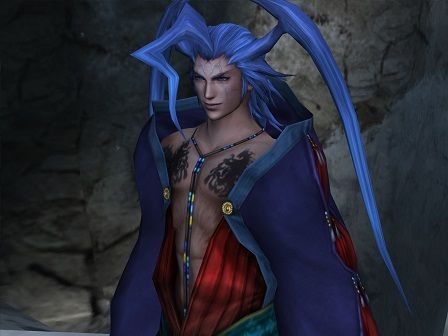 When I got FFX, it came in a nondescript dvd case. No box art or instruction booklet was included. And as I played it, I became bored of the story, not paying attention for most of it. So the first time Seymour appeared in the game, regardless of everything else they might have said or alluded to in the game, I immediately said out loud "Oh, he's the bad guy. Obviously." Why? Because of the hair. When that is the SOLE justification for figuring out who is the good guy and who is the bad guy in a game, chances are things have gone awry. There has been a popular joke that good/great men have beards and that evil men have moustaches. Apparently in the world(s) of Final Fantasy, good men have spiky/feathered hair and evil men have ludicrous hair.



The Better Half with Liana K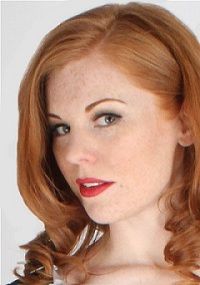 Top 8 Video Game Hairdos

While video games are getting more and more realistic, it's important to keep in mind that they're supposed to be fun. Nowhere is that more evident than in the hairstyles sported by many video game characters, especially in fighting games where surreal art direction has to counteract brutal violence to remove it sufficiently from reality to be enjoyable by those of us who aren't psychotic. Political correctness aside, there will always be a place for big hair, big shoes, and big other things in the video game landscape, and frequently, multiple oversized components appear together in the same character. I present, for your consideration, the following examples:

8: Sindel (Mortal Kombat)




Sindel's hair is both about the size and how you use it. Equal parts Bride of Frankenstein and inverted skunk tail, Sindel's hair still manages to be sexy in that "Jem and the Holograms character gone wrong" kind of way. When MK III came out I thought her hair whip fatality was the coolest thing in the freaking world. I'll spare you the Willow Smith "Whip My Hair" musical montage clips, and just share the vintage gaming hotness.




7: Felicia (Darkstalkers)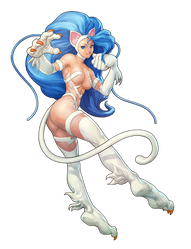 My neck hurts imagining how much Felicia's hair would weigh. Strangely this bothers me more than the fact that her boobs are covered by little more than elongated white band-aids. For some reason, huge hair offsets outfits that don't cover enough and in doing so, makes a very naked character seem less naked. That's my story, and I'm sticking to it.

6: Jack (Mass Effect)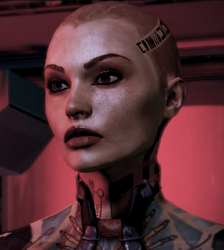 I wanted to include a bald-is-beautiful character on this list, because sometimes no hair is as big a statement as a whole lot of it. Sure, there are a lot of dudes that could fill this spot – Hitman's Agent 47, Kratos, and so on -- but Jack just has an extra special renegade badass quality, even with her Mass Effect 3 boho undercut look.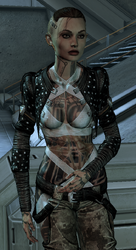 5: Blanka (Street Fighter)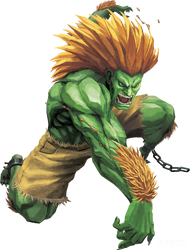 Move over Goku, Blanka's chest, leg, and arm hair also go super saiyan! There are a lot of spiky-haired characters in video games, but that weird tribble in the middle of Blanka's chest and the shag rugs on his limbs would be really disgusting if he wasn't a big green pile of awesome. Even Zangief envies Blanka's super-manly ungroomed body hair, but Street Fighter's version of the Hulk could never work in a restaurant kitchen: he probably sheds like a cat.

4: Paul Phoenix (Tekken)




One night a young Paul Phoenix walked in on his parents having sex, and his hair never got over the shock. Either that, or it's a portable helipad for Smurfs. Ridiculous hair seems to be a requirement for male Tekken characters, but Paul takes the title of King of the Stupid Hair, even if he can never quite win a fighting tournament.

3: Crimson Viper (Street Fighter)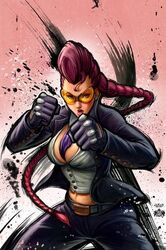 C. Viper's hair reminds me of the short-lived periods where I tried to braid my hair for dance classes. Why was it short-lived? Because the long red braid snaking out of my head would whip around and smack me painfully in the face every time I did any sort of spin. Since C. Viper doesn't use her hair to murder people like Sindel does, its exagerated length serves no practical purpose. It also distracts from the fact that her boobs are constantly eating her tie. Ergo, her 'do ranks higher on this list of improbably awesome video game hair.

2: Gloria Von Gouton (Psychonauts)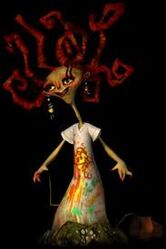 I don't know that this one really needs an explanation. Sometimes a picture really is worth a thousand words, and it's best to just let it breathe. Pro-tip: I have seen women in real life whose hair vaguely resembles this. Many aspired to the performing arts like Miss Von Gouton. They were also all, without exception, batshit crazy.

1: Nariko (Heavenly Sword)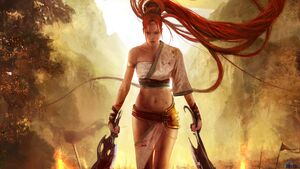 Nariko was the first character that came to mind when I started brainstorming this list. In order for a human being's hair to really move like hers, she'd have to telepathically generate her own air currents. Furthermore, she'd be constantly sitting on it, getting it stuck in doors, and it would take forever to dry. Brushing it would be a daily nightmare. From a combat perspective, all an enemy would have to do is grab it, and she'd be in major trouble. But all these silly details are precisely why, in the world of video games, Nariko's hair is a-maz-ing! Who cares if it's practical, or even possible!? It's dynamic, it's beautiful, and it's a feat of interactive digital animation. After all, if we want stupid hair in real life, we can google Lady Gaga.



Complainer's Corner



I really didn't come up with a lot of alternatives for this topic. I'm sure other people will though, so have at it. The other big ones I could think of were Nilin (Remember Me), Nariko, Paul from Tekken (who might beat out Guile), or any other Final Fatnasy/Square character. Some Dead or Alive characters might also make the list, assuming I knew about that series at all.



The General Roundup



There were some good and not so good comments from last week that I'll address: I suppose the fact that the bolded subtitle of last week's article of "ranks his top villains" wasn't clear enough? Or else you didn't read it. These lists aren't meant to be all inclusive, mainly because no list is. Everyone has different views on different topics. This is just mine (and Liana's). If you don't like it, feel free to comment and leave your own. Also, I mentioned both GlaDOS and Kefka in my secondary list, and Liana mentioned GlaDOS in her main one (although she went with Shodan instead). As for Kefka, I know he's beloved by a lot of gamers, but I never played FF6, so I wouldn't know. The whole Sephiroth/Jenova stuff in FF7 is so hard to actually parse out and understand. Sephiroth actually had more personality in Crisis Core than in all of FF7. I'm glad to see some people knew of Luca Blight. I also have heard/played Lunar 1 and 2 with Ghaleon. Heck, I even had the puppet for a while.



Next Issue




Top 8 Abandoned Game Series
comments powered by