The Retronomicon 09.06.13: Tetris
Posted by Stewart Lange on 09.06.2013

The Retronomicon heads back to a simple Russian game that sparked a global sensation and kickstarted Nintendo's dominance of the handheld market! Join 411's Stewart Lange as he takes a look at Tetris!

Hello and welcome to another edition of the Retronomicon! It's been good to finally cover a Game Boy game this week, as it's not involved all levels of upheaval to get a console set up and a cart looked out. I've been able to "research" at work and it's been fun. It's also the first time Pokemon Ruby has been out of my GBA for around 3 years, so it's nice to know the poor thing can read other carts.

Anyway, I'm not meant to talk about this week's game in this section, it's where I go on about whatever has been happening this week. Well, not much. I did pre-order GTA V and decide it is possible to be addicted to something that you don't have yet. I've been replaying San Andreas and even the original GTA a little bit in preparation, so the excitement is killing me. I've got the 18th off work (since I'm getting my pre-order delivered to work on the 17th, means more playing time. Smart, huh?) and life will be on hold until I've finished it, I die, or the disc overheats and melts. Whichever comes quickest.

Is anyone else anticipating this as much as I am? Don't even ask me why, as I thought 4 was only okay. I just have a good feeling about this. My Payday 2 run has drawn to something of a close, though. It was fun while it lasted, but I picked up Bully for £3 last week on XBL and this week grabbed the Dragonborn DLC for Skyrim for half price so have plenty to keep me going for the next 12 days, 3 hours and 25 minutes (from time of writing, obviously).

Ready to begin? Let's do it.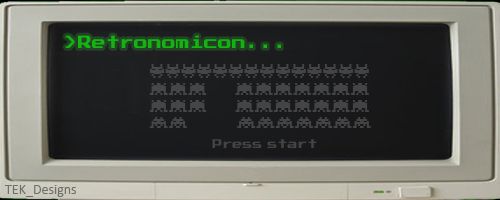 THE FEEDBACK

A great response from you guys last week! Lot's of comments to cover, so let's take a look!

GVIL and The A-Man both have fond memories of playing Double Dragon in eateries in London and Brighton. Apparently Brighton finally left the 1980's five years ago when the kebab shop changed it's coin-op machine with one that had Streets of Rage 3 on it.

DSF makes a nice request.

"Double Dragon is a fun game. It would be nice if a Double Dragon collection (would be made) available for download in the future."

It totally would. I'm actually shocked that the triple packs that were being released on XBL of the classic Sega games stopped. Those were awesome. Meanwhile, Jeff Bailey is wrong.

"Golden Axe was better. Especially the Revenge of Death Adder Coin-Op"

Okay, so wrong is unfair, especially on this column where I don't think anyone has an opinion that is wrong. It's an interesting view, though. I never found myself enjoying Golden Axe, mainly because I would always get smacked by the guys that rode the lizards. I also remember hating the "kick the dwarf for potions" mini game. I've not played it since I was about 7 years old and unless demand is overwhelming, I'll not cover it on here in a hurry.

G-Walla and AG Awesome both mentioned reptiles in their comments, with G reminding me of the Battletoads/Double Dragon crossover, which was all sorts of demonically hard awesome, while AG claims his favourite side-scroller is Turtles in Time. Strangely enough, Turtles in Time was actually up for the vote that Double Dragon won- be sure to like my Facebook page to take part in the voting.

While it's always given away by now, I do like to feel that by this point I've built some excitement around what game I'll be covering this week, despite the fact that it's given away in the column title. This week, though, I require no build up. No further introduction or hard sell.

This week, I'm covering Tetris.





THE STORY

Blocks fall from the top of the screen at ever increasing speeds. You have to make lines out of them. If that confuses you, I'm not sure how you're reading this. That's all it is.

How to talk about the story of one of the most simple games ever? Well, the history of Tetris is far more complicated than it's simple gameplay would have you believe. When the game was created by Alexey Pajitnov in 1984 on the rarely heard of Elektronika 60 system, four years of legal battles would commence. Andromeda, a British based software house decided they'd be able to effectively sell the game without owning the rights, which as we all know isn't a great idea. While this was still ongoing, the game was released across several platforms, including the Spectrum ZX and an unlicensed Arcade port.

While the game was gaining some praise from critics, it wasn't until Dutchman Henk Rogers spotted the game playing on a Spectrum as a games convention that Tetris would appear on the platform it is most widely recognised- the Nintendo Gameboy. Rogers wanted every Gameboy sold to come with a copy of the game, suggesting it would sell the console to everyone, not just the young children targeted by having Mario as the mascot. While he was to be proven correct, there were far larger problems surrounding the legal rights to bundle the two things together, mainly being nobody owned the correct rights to be able to do so. After a load of negotiations with the Russians, in 1989, the rights to Tetris were secure and the Gameboy finally had a game that would market it to children of all ages.




THE AFTERMATH

Tetris has a legacy unlike any other game. While you'll find people who've never played a Mario game, or a GTA game, or even picked up the controller of a Playstation 2, I have never, ever met anyone else who has never played Tetris. Not only that, but I bet they loved it. Over 70 MILLION hard copies of the game have been sold overall, but more amazingly, over 100 MILLION people have downloaded the game for their phones since 2005. Isn't that crazy?

It's been the most ported game in history, having found it's way onto 65 different formats, although it is completely synonymous now with the Gameboy. The designs and music are iconic, with the "Tetronimoes" being widely recognised and used in pop culture retro designs and the theme music has been remixed and while I didn't want to ever remember this, released as a single here in the UK. I don't know if you were lucky enough to have it in the US.

While the Gameboy would have undoubtedly been successful, it was Tetris that undoubtedly helped the system defeat the graphically superior (colour>black and white, always) Game Gear in the first ever handheld war. It went from being just something for playing Mario on when the NES was busy to a must have device that everyone could play, anywhere. It introduced a whole new host of people to gaming and there hasn't been another title to be able to do that in the 25 years since.





MY THOUGHTS

Some of my earliest gaming memories were being parked in the back of a car on the way to somewhere for a holiday, with a packet of 10 (great multiple of 4, there) batteries and a few games. I had Super Mario Land, Lemmings, Kid Dracula and a couple of others but Tetris was always plugged in when those got too hard, plus when my sister got her Gameboy it was the only game we could play two player, too. That was the joy of it, though. Everyone loved it. My grandparents would have a shot and enjoy it just as much as the rest of the family, despite not being sure about what on earth they had in their hands.

That's the thing with Tetris, though. I can't really put my feelings about it into words because it's just falling blocks but to anyone who has ever played it, and by that I do mean all of you, it's so much more. Between the graphics that do everything that they need to, to the gameplay that makes you think about the game when you switch it off and think about what you'll do the next time you play it, to the soundtrack that immerses you so deeply that it sticks in your head for days, Tetris is more than just one of the best handheld games ever made.

It might just be the most perfect video game ever made.




RETRO COLLECTING

Tetris is as common as old boots for the Gameboy, but an original cartridge only box isn't. Since the game was packaged with the Gameboy, there were very few original cases for the game that didn't include the console too. Other variants are much more rare, so keep the eyes peeled. Prices do vary, but let's face it. You'll get the Gameboy version and forget any others even exist.

Love retro collecting? Me too! Share your best finds with me in the comments section or on Instagram! My user name is outafterdark216 and I always post my newest pickups!

My collecting has had to slow way down over the last week because I'm officially out of space. Well, easy to manage space. The only cupboard we have in our new flat that I can keep stuff in is full of comics and junk, so I'm waiting on Ikea restocking the PERFECT shelves that I found and they were sold out of. Once I get them, I can reorganise and get back into the ways of trawling the charity shops, picking up all the goodies I can find!

THE END

Next week, I have a particular game planned, but get across to the Facebook page for the column to join in the fun going forward. I'll announce the game at some point next week, so keep your eyes peeled and if you guess what it is, I'll even chuck in a special prize for you. What that'll be, I don't know, but I'll figure something out. Anyway, take care, peace out and I'll see you right here next week.

TIP OF THE WEEK: Don't get addicted to eBay! Check Gumtree and Craigslist for people selling, you'll find yourself poor quickly if you rely on auction sites!
comments powered by