SPOTLIGHTS
Four Player Co-op 09.11.13: Xbox One Release Date, Next-Gen vs Current, Illumiroom, More
Posted by Stephen Randle on 09.11.2013

Is it worth $10 to trade current-gen versions of games like Call of Duty: Ghosts for their next-gen counterparts when they release? Why did Microsoft choose to release the Xbox One a week after the PS4? The 411 Staff debates these topics and more in the latest 4PC!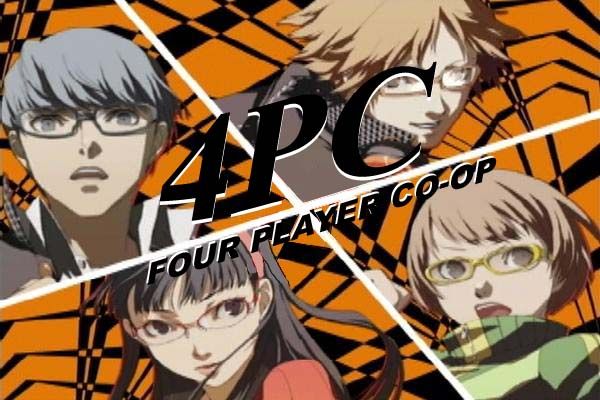 John Cash has joined the game.
Todd Vote has joined the game.
Stewart Lange has joined the game.
Dan Watson has joined the game.
Quizmaster

Greetings, and welcome to another edition of Four Player Co-op, the "Nobody's Paying Attention Because Football Started This Week" version. Oh, admit it, that's all you cared about this weekend. Well, you missed a good episode of The Newsroom while you were watching Sunday Night Football. I hope you have PVR, is all I'm saying.

Start the game!


QUESTION ONE: Well, we have the last piece of the puzzle, just in time for the hype to truly begin, as Microsoft has officially announced that the release date for the XBox One will be November 22nd, which, if you've been paying attention, is the week after the PS4's North American release (and a week before the PS3's European release). What do you make of Microsoft not taking the opening and releasing their console in the two weeks before Sony's hits the shelves?



John Cash

Knowing Microsoft, they studied the stars, consulted their Ouija boards, and most heinously of all, looked at GameStop pre-orders, and decided it was an acceptable risk to debut last. Maybe they are giving people an extra week to pick up that extra $100 for the part of the console they don't want in the first place. The only other thing I can think of is they are banking on exclusive content to get them to level-pegging with the PS4 through the holidays, though for the life of me I can't think of anything that would make me want to buy an XBO in the first quarter, let alone first day.



Todd Vote

I really don't think being first to market is anywhere near as important when you are within the same launch window. When the Xbox 360 beat the PS3 to market, it did so by a year. That made a huge difference in the number of units Microsoft was able to move before the PS3 was even out of the gate. When you are launching a week after the competition, I think you have less to worry about with the first shipment, as most of them are going to be taken up by pre-orders anyways. The race will become who can get the second shipment of consoles in stores first, as they may get an advantage that way. Other than that, buying a console is going to be as simple as choosing which one you want, and hoping they have one in stock.



Stewart Lange

Who knows what Microsoft are thinking. Maybe they don't want to release the console early because they're all secret agents for Sony? Look at it this way. The pre-order count for both consoles is now so high that there's not really any way someone without one is getting one before Christmas, so what does it matter? Sony get a jump on sales, but will they have more sales before Christmas? Yes, by a week. Both companies will fill their pre-order quota and that'll be it for the few weeks afterwards at least anyway.



Dan Watson

This is a very cocky move. To me, Microsoft is basically stating that their product and client base is so strong, they can release after PS4 and still beat them in sales. I think this is a terrible decision. One of the things I like about PS4's date is that if I wanted one and couldn't get it at launch, then I could go the following week and hopefully find them in stock. Microsoft screws this up for an average consumer because that following week is Black Friday. I think this is not going to go well for them especially after all the flip flopping and changing around.
---
Quizmaster

I so badly want to take Dan's side and go total anti-Microsoft, but I'm forced to admit that Todd and Stewart are correct, for 923 points, because this is the first console generation where the space between competing releases is measured in mere weeks rather than months, and likely, the only people getting one on launch day are the ones that have already pre-ordered, so the date really doesn't matter anymore.


---
QUESTION TWO: It looks like many upcoming games that will be available for both current and next-gen consoles, such as Assassin's Creed IV, Watch_Dogs, Call of Duty: Ghosts, and EA Sports games, will all be offering an "upgrade" policy that gets you next-gen digital copies of their titles if you purchase a copy of the PS3/360 version first, for what appears to be a very reasonable ten dollar fee. Of course, many of those games will only be out for a few weeks before the new consoles launch, so I guess the question is, would you take advantage of this policy? Are there any games you feel you have to have when they release, rather than just wait until you can get the next-gen version?



John Cash

I suppose it would be a decent way to practice on competitive games if you're into that to get a leg up on the competition that is waiting to get it on the next-gen console. A cousin of mine who has *literally* played Battlefield 3 every day since its release told me over Labor Day that he was pre-ordering Battlefield 4 for 360 and then buying it for XBO the same day it comes out or something like that, and it sounded crazy, but hey it's his money. I personally cannot think of a game that I would ever need to use this buy-trade-buy plan for. Frankly I think the more interesting release strategy news lately has been Wind Waker HD coming out digitally a week or two before physical release; if it does gangbusters, then don't be surprised in the slightest if everyone and their mom jumps on that bandwagon before Holiday 2014..



Todd Vote

I would take advantage of the policy if there was anything releasing on both consoles I felt I absolutely had to have before the next gen launches. Fortunately, there is nothing launching that is an absolutely 'OMG, gots to play that shit right now'. Watch_Dogs, and Call of Duty: Ghosts are both looking good, but I can wait for them both. Especially if I can save $10 in doing so.



Stewart Lange

That's pretty cool. I mean, it's the right thing to do, but when was the last time any company involved in gaming actually did the right thing? GTA V is the reason I'm not getting an Xbox One before next year, it's really the only game I'm itching for in the last quarter of 2013. I didn't enjoy Assassin's Creed 3 enough to get too excited for 4, especially the pirate crap it seems to be focusing on. COD and Battlefield just get a single player run through and I don't bother with sports games. Watch Dogs should be fun but don't think I'll be missing much by not playing it on a next gen console.



Dan Watson

I doubt I will use this at all. If I were to have a next gen console at launch or soon after, maybe I'd do it for the sports titles but even then I doubt it. Why pay $70 for a game that costs $60? Are they going to add new content or make the game any better? I don't see many smart people doing this and those that do are only doing it to justify by a console at launch and wanting to play a game on it. As for your second question, I would much rather have the sports titles as well as Call of Duty. Those titles seem to be played heavily for the first month or two and then the group I game with just moves on to the next title.
---
Quizmaster

Similar to the first question, if we were talking that these games were coming out months before the next-gen consoles, it would be a better deal, but they're all literally coming out within three weeks before the PS4 and XBOne hit shelves. John gets 1643 points for pointing out basically the only people who this really means anything to: crazy people competitive gamers.


---
---
QUESTION THREE: Bad news for anyone who was really looking forward to Illumiroom, the intriguing technology being developed by Microsoft. Illumiroom connects to a gaming console and projects graphics into the area around your television. Unfortunately, there are absolutely no plans to offer this product in any retail setting, reportedly because the cost is prohibitively high, as in "thounsands of dollars". Are you disappointed that you won't be able to use the blank walls around your TV for gaming in the immediate future?



John Cash

I think we are close enough to the future depicted so expertly by Ray Bradbury in his classic sci-fi novel "Fahrenheit 451" as it is, I don't think I need my entire wall to play a video game or to watch tv on for another 50 years, which we will hopefully have something closer to a holodeck by then.



Todd Vote

It was a really cool idea, but I am not disappointed it won't be coming to the home market. If I understand right, the technology only expanded the buildings and the backgrounds of your games. The action and everything would still only play out on your TV screen. So while it would have been a neat visual treat, it was hardly ever a game changer, or a must have. That being said, release it with a $3000 price tag. Watch the entitled brat kids talk their parents into how much they need to have it.



Stewart Lange

No. You know why? I have units, pictures, other furniture and general clutter to deal with. This is a pretty cool gadget, but that's all. Much like the Kinect, the technology will be far more impressive than the actual output for the peripheral anyway so who really cares?



Dan Watson

I am extremely disappointed. This would have made Kinect a fun gaming experience. Imagine playing Madden using Kinect and the room you are in is transformed into a stadium. There you are looking at the ceiling and storms seem to be moving in. Maybe the Kinect even sprays you with some water or something. This could have been the first step to bringing a true virtual reality to your living room. Disappointed indeed.
---
Quizmaster

I'm disappointed that Todd isn't as disappointed as I thought he would be, because he seemed intrigued about Illumiroom when it was revealed. However, Stewart is most correct, for 2291 points, because if you thought trying to make room so you could swing your WiiMote or play Kinect was hard, try clearing six square feet around your TV monitor to make this thing work. Not going to happen.


---
QUESTION FOUR: Well, here's an interesting bit of information: apparently the XBOne will be able to support up to 8 wireless controllers connected at a time, while the PS4 will only be able to support 4. This begs the question: are there any games that you would even want to have eight people playing locally? I'm not saying it isn't a cool technological achievement, but does it have any useful implementation?



John Cash

I've been sitting here for literally 10 minutes trying to think of something I would play with seven other people on the same screen, and the only thing coming up is stuff like Scene-It (and other trivia games), and maybe a very cramped Fusion Frenzy. An 8-person sequel to Chu Chu Rocket?... No, no, that's just asking for seizure lawsuits. I got nothing, but that's not to say something couldn't be done and be great! It just means its buried deep in the back of some indie developer's mind, probably, and they don't even know it.



Todd Vote

In house Royal Rumble matches or MiTB matches on the WWE games, maybe... Other than that I can't really think of any applications for it. Maybe for some board games like Monopoly? I think you said it best Quizmaster, cool technological achievement, but does it have any useful implementation?



Stewart Lange

Who the FUCK knows eight people that you want to see at once? Seriously, though, that's a stupid idea. Nobody plays local co-op with more than one other person anymore, at least not without a system link and another screen. It's great that it supports 8 controllers, but maybe it'll use one or two of those for the media remote or something similar.



Dan Watson

This really is pointless. Who has a television big enough to fit eight gamers on it? Remember how annoying it was to play Golden Eye with four players, now toss four more squares in there and try to see where you are at. This is just another gimmick to make the console look better than it is. I am too lazy to look up the cost of the controllers but let's say they are $50 each, so now you have spent $499 on a console and an additional $350 on controllers...not going to happen. I don't even have seating for seven other people to game with me in one room.
---
Quizmaster

To be fair, the odds are good that none of the players even know seven other people, period. Dan makes a good point with the cost factor, but Stewart goes for the dirty language, and that earns him 2854 points.


---
BONUS QUESTION: To finish up, who wants to buy this cute little cacodemon plushy from the video game Doom? Come on, it's so cute and satanic, and only fifteen dollars!



John Cash

I'll see your cacodemon plushy and raise you the most adorable participant in galactic genocide you ever did see!



Todd Vote

Aw... look at him... No.



Stewart Lange

Isn't this where I get to talk about what I want? Good, then I'll ignore your question since that adorable little thing is only available in the US. I'm worried Saints Row 4 has ruined GTA 5 for me. Who wants to drive anywhere when you can leap buildings and fly over the city in mere seconds? Exactly. Your move, Rockstar.



Dan Watson

That thing looks creepy. The slick grin with the terrible memories doesn't help anything. I look forwards to finding these in the claw games soon enough.


---
Please wait…Host is calculating scores…
HIGH SCORE

PLUSHIE CTHULHU WINS
WELL, YOU TELL HIM THAT HE DOESN'T
PH'NGLUI MGLW'NAFN CTHULHU R'LYEH
WGAH'NAGL FHTAGN
COME BACK NEXT WEEK TO TRY AGAIN



One Piece: Pirate Warriors 2 **COMING SOON**
Stealth Inc: A Clone in the Dark
The Last of Us
Call of Juarez: Gunslinger
Marvel Heroes
Hakuoki: Warriors of the Shinsengumi
Far Cry 3: Blood Dragon
Dragon Fantasy: Book One
Guacamelee!
BioShock Infinite
Dead or Alive 5 Plus
Tomb Raider
Generation of Chaos 6: Pandora's Reflection
Rocketbirds: Hardboiled Chicken
Ni No Kuni: Wrath of the White Witch
Earth Defense Force 2017 Portable

411 on Twitter!
Quizmaster's Twitter
http://www.twitter/411mania
http://www.twitter.com/411games
http://www.twitter.com/411wrestling
http://www.twitter.com/411moviestv
http://www.twitter.com/411music
http://www.twitter.com/411mma


comments powered by