SPOTLIGHTS
Four Player Co-op: 09.18.13: PS Vita TV, Xbox One, Ouya, More
Posted by Stephen Randle on 09.18.2013

Are we picking up Grand Theft Auto V this week? Are we intrigued by the concept of the Vita TV? Should Microsoft have seen the "XBone" nickname coming for the Xbox One? The 411 Staff debates these topics and more in the latest 4PC!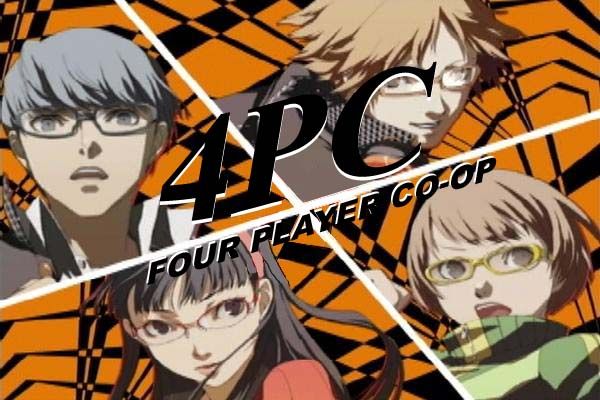 Daniel Anderson has joined the game.
Todd Vote has joined the game.
Adam Larck has joined the game.
Dan Watson has joined the game.
Quizmaster

Greetings, and welcome to another edition of Four Player Co-op, the game where everyone is forced to pick a side in the console war and defend it to the death. Actually, that isn't a rule, but it keeps happening, so we're going to run with it.

Start the game!


QUESTION ONE: Well, Sony announced a neat little device last week: The PS Vita TV, a rectangular box smaller than your wallet, which can play Vita/PSP/PSN games on your TV, connect to Dualshock 3 controllers (and 4 when PS4 arrives) via Bluetooth, and stream your PS4 as a remote play device to a different TV in your house. It's set to retail at roughly a hundred bucks in Japan only, but there's little doubt it will make its way to North America in the future. I know most of you still aren't sold on the actual Vita, but if this thing came West, would you be into it?



Daniel Anderson

It is something I would consider getting if it came to the US simply because it would let me stream PS4 games to my bedroom with the actual console in my living room downstairs. I like the idea of the unit, and think it is a good idea, but I would definitely wait and see if it worked as advertised before buying one.



Todd Vote

Actually, yes it would. Especially now that I have decided against jumping into the next gen consoles just yet. My only question is, do you have to have a PS3 for this to work, or currently own a Vita? It seems a little cheap to be just a standalone thing. It has to require something else, doesn't it?



Adam Larck

I think I would be. I actually play my Vita quite a bit, and being able to play some of those games on the TV would be great. Plus, the ability to stream PS4 titles to another part of the house could come in handy as well. For only $100, I could definitely see myself checking it out.



Dan Watson

Its interesting but I'm still not really sold on any handheld unit anymore. I was one of those people three years ago that said cell phone and tablet games would never replace handheld consoles. That has changed, these apps are getting better and the price for the app is much better than any Vita or 3DS title. The concept of streaming the game to another television is intriguing and could be the next step in gaming in multiple rooms with one console. Could you do a split screen on multiple televisions using one machine?
---
Quizmaster

To answer Todd's question first, the Vita TV is indeed a standalone device, you plug the Vita games (and memory cards) directly into it, plus it has 1 GB of onboard storage. You'll need a Dualshock controller to play the games on your TV, but chances are, if you're buying this, you'll have one laying around.

Adam gets 193 points for joining me in being the resident 411 Vita players (because dammit, somebody has to review those games), and now we're being rewarded for it.


---
QUESTION TWO: And because I can't make this one up, Microsoft purchased the website URL "www.xbone.com" to keep it out of the hands of those who have mocked the console name since roughly the day it was announced, and reportedly, some people internally are very upset that their new console is being referred to in a way that seems, well, derogatory. Mostly because it is, and also hilarious. So, is this really a good use of their time, or is giving the whole "Bone" thing this much attention a bad idea that will just rile up the usual suspects?



Daniel Anderson

This is probably the best thing they could have done. If you hadn't bought the website, then you would be giving people an easy place to go and complain about anything and everything Microsoft related, no matter if it is Microsoft's fault or not. You also run the risk of the xbone website getting more attention from (non-video game) media sources if you do not buy it.



Todd Vote

I don't see what is so bad about the nickname. It's not like people are calling it the Shit-box, which could have just as easily been the case with the way MS has been handling the marketing of the XBONE. I just don't see what is so derogatory about the machine being called the Xbone. It's not like it is intended to have sexual undertones. It's just quicker and easier to say than Xbox One. or even X-B-One. Xbone rolls off the tongue. My advice, own it! Tie the Xbone name into the marketing. Take advantage of the consumer branding.



Adam Larck

I think it's a good idea in the fact that it keeps some people from grabbing this and just mocking the Xbox One again and again. However, Microsoft just needs to buy this and then forget about it. Xbone sounds like a bad joke, and really doesn't need to be used by Microsoft, or even acknowledged by them.



Dan Watson

I hadn't even heard of the Xbone until they made this purchase. Seems like a dumb idea as every console's name is made fun of to a degree. I compare this to a parent going to an elementary school and paying the bullies not to make fun of their kid. All that is going to happen is more kids are going to make fun of that kid because their parents came to school. Microsoft screwed up here and needs to just move on and focus on gaming for a change. I have heard so little about gaming on this console.
---
Quizmaster

I saw an interview literally hours after the XBOne reveal with Microsoft employees who were actually shocked that the "Bone" nickname had sprung up, because they apparently had never considered the possibility. Have they even met the Internet? Todd's right, for 432 points, Microsoft should just own the nickname instead of trying to quash it, because that will never work, and really, how dumb were they to think people might actually call it "The One"?


---
---
QUESTION THREE: Did you hear? Steam has announced "Family Sharing", a way for you to share your Steam library with up to 10 authorized members of your friends and family, so they can play games that you've purchased on their PCs, and save their progress on the Steam Cloud. Only one person at a time can access the account, and the owner gets priority. Hey, didn't someone else have an idea that was something like this? Anyone want to bet that this doesn't get a quarter of the backlash, even though it's likely a precursor to the fabled Steam Box console?



Daniel Anderson

I have said that most (I said most, not all) of the backlash sent to Microsoft for their original plans for the Xbox One came from Sony fanboys who were going to bitch about Microsoft even if they made their console periodically dispense free money to gamers. Steam being only on the PC had an advantage no console had, namely the lack of selling used PC games (at least in the US). Now, when they announce family sharing it seems like they are letting people do more than they could before instead of making them feel like something is being taken away. Plus, let's face it, fewer people hate Steam than hate Microsoft.



Todd Vote

In this fickle gaming world where everything Valve does is golden? Nope, no backlash at all. It will be seen as a sign of coming change. People will all hale Gabe Newell as a man who has ushered in change for the better. People will then start to wonder who Microsoft doesn't follow suit and try this out with the Xbox One.



Adam Larck

Backlash? I don't think this will get any backlash. This is one of those things where Valve can do no wrong. Sure, Microsoft had the plans to do basically the same thing, but so what? Valve wants to do it now, which makes it perfectly acceptable and makes other companies crazy for never thinking of this before. Sarcasm aside, I like the idea of the family sharing just as much as the first time I heard it, and I could definitely see this being the next step to getting things ready for the Steam Box to be used.



Dan Watson

This all comes down to how it is communicated and marketed. The other company that had this idea never really outlined the positives and allowed the negatives to spread like wildfire. Instead, Steam has taken a proactive approach and outlined positives to this plan and it will succeed. Doesn't Steam require an Internet connection as well?
---
Quizmaster

Actually, Dan, Steam has offline mode where you can play any games that don't specifically require an online connection, although you obviously can't get any more games or updates if you're not connected, and I believe after a certain length of time (something like a month), it may require you to connect just to re-authorize your account. Anyway, since Steam games were already all-digital and locked to your account, Family Sharing actually is adding a service to Steam, as opposed to the XBOne, which seemed like it was taking something away from people who wanted to share games freely. Which one of you said something like that? Daniel? 1538 points for him, then.


---
QUESTION FOUR: Okay, let me try to sum this up. You may have heard of the Ouya. Well, they started something called "Free The Games", wherein the company behind Ouya promised to donate various amounts of money (starting at around $100,000) to games that get funded via Kickstarter and promise to release as Ouya exclusives for a certain period of time. Since then, two games under that umbrella have been successfully funded, but both have raised eyebrows about how fast they raised the money and how much each donor kicked in, making it look like companies may have gotten friends to fund their Kickstarter in order to get the money from Ouya. It's all a giant mess, developers are pulling out from Ouya (a bad PR statement made in response which blamed everyone else but Ouya didn't help), but shouldn't they have really seen this coming?



Daniel Anderson

Ouya should have seen this coming, if for no other reason, because there will always be people looking for a quick way to "beat the system". Ouya came out with an idea to get games on their console that was unique and, at first glance, seemed to be a good idea. After thinking about it though, it was obvious people would try to find a way around the Kickstarter funding to get the free money from Ouya. It isn't really Ouya's fault for people trying to get the free money, but they should take some of the blame of not thinking the potential pitfalls through (and for basically expecting Kickstarter to do all the work verifying the fundraising while they just wrote a check).



Todd Vote

They probably should have. You really just can't trust anybody these days, can you?



Adam Larck

There should have been more qualifiers or at least a closer eye kept on the funds. For every one that legitimately raises the money there's bound to be plenty that tries to abuse the system for personal game. That's exactly what has happened here, with two games looking like they used Kickstarter to get extra money for personal gain (I'm sorry, but almost $1,000 per donation is severely unrealistic). Ouya has been having PR problems since launch, and this just seems to continue the trend.



Dan Watson

Again, poor marketing and press releases. Ouya screwed this up and should have made some fine print on this deal. Why not say the money has to come from a certain number of donors that would make it impossible for one or two companies to fund up a title. This seems like Ouya forgot about the seven Ps of life: Prior Proper Planning Prevents Piss Poor Performance. They dropped the ball here and should stand behind what their original deal was.
---
Quizmaster

I have no idea how the prospect of offering people free money if they somehow raised a certain amount of money through an anonymous service could possibly backfire in any way. Did nobody at Ouya try saying that statement out loud? No points, the answer was too obvious.


---
BONUS QUESTION: GTA V, likely the last huge release of this generation, hits this week. Who's buying?



Daniel Anderson

I'm not. Not at launch anyway. I have never really been a huge fan of any GTA game (they got boring fairly quickly for me). I will probably pick it up, but I will wait a little while before spending the money.



Todd Vote

With a little luck, I will have it by Friday. Not getting it on release day, but I am hoping to have it soon after.



Adam Larck

I'll probably be checking it out, if only for the online mode when it launches. I'm sure the single player is a blast, but I just want to run around with friends online and cause some chaos, honestly.



Dan Watson

I'll be grabbing it Tuesday and then trying to beat it by 10/1/2013 when GTA Online is available. Since we are in the bonus, I am going to get on my soap box for a moment. This past Sunday I attended the Minnesota Vikings vs Chicago Bears game in Chicago. I am a Vikings' fan and was entirely prepared for some heckling and jokes tossed my way. Instead what I saw was some of the most ridiculous garbage in the world. Fans throwing beer at other fans, swearing, violence, and just plain disrespect. On top of this, to show how little the people there cared about the game itself, I heard fans asking where is Brian Urlacher or Percy Harvin. I need pro sports teams to make a change. Instead of putting non-fans mixed with fans maybe when purchasing tickets there should be a team trivia test. If you pass the test your price is lowered and you get seats closer to the action while the people that fail this test get put on a party deck so they can drink and send their facebook pictures saying they are at the game.


---
Please wait…Host is calculating scores…
HIGH SCORE

PLAYER 4 WINS
ALTHOUGH I PREFER
THE "SDTAGW" PRINCIPLE:
SOME DAMN THING
ALWAYS GOES WRONG
COME BACK NEXT WEEK TO TRY AGAIN

Stealth Inc: A Clone in the Dark
The Last of Us
Call of Juarez: Gunslinger
Marvel Heroes
Hakuoki: Warriors of the Shinsengumi
Far Cry 3: Blood Dragon
Dragon Fantasy: Book One
Guacamelee!
BioShock Infinite
Dead or Alive 5 Plus
Tomb Raider
Generation of Chaos 6: Pandora's Reflection
Rocketbirds: Hardboiled Chicken
Ni No Kuni: Wrath of the White Witch
Earth Defense Force 2017 Portable
411 on Twitter!
Quizmaster's Twitter
http://www.twitter/411mania
http://www.twitter.com/411games
http://www.twitter.com/411wrestling
http://www.twitter.com/411moviestv
http://www.twitter.com/411music
http://www.twitter.com/411mma
comments powered by