SPOTLIGHTS
Four Player Co-op 09.25.13: Deep Down, XBOne, GTA V, More
Posted by Stephen Randle on 09.25.2013

Is it surprising that Grand Theft Auto V made $800 million in one day? Are we worried that Capcom's new game is going to be free-to-play? Does it matter that the Xbox One doesn't have a vertical standing option? The 411 Staff debate these topics and more in the latest 4PC!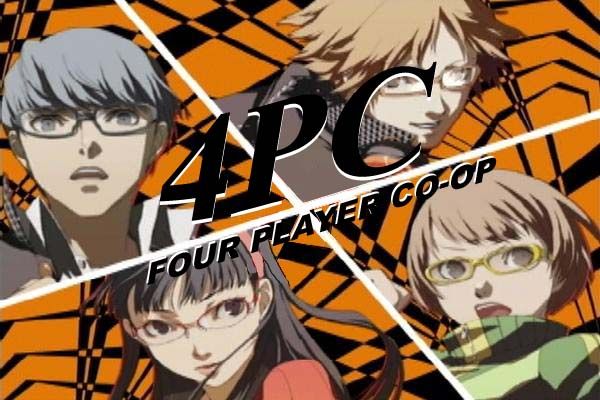 Todd Vote has joined the game.
Jeremy Thomas has joined the game.
Sean Garmer has joined the game.
Quizmaster

Greetings, and welcome to another edition of Four Player Co-op, the game where everyone gives their opinions and then we argue for a while, and in the end, nothing gets resolved. If you made any easy joke about your government right there, you should be ashamed of yourself. It was such an obvious set-up, and you couldn't resist. You should be better than that.

Start the game!


QUESTION ONE: Capcom has announced that Deep Down, the mysterious exclusive title they'll be releasing for the PS4 in early 2014, will be a free-to-play title. Given that Capcom doesn't necessarily have the best track record with making financial decisions that have customers' best interests at heart (paid DLC already on the game disc, Ultimate Marvel vs Capcom 3 released mere months after MvC3, I'm sure you can think of others), does the idea of them making their first big next-gen title free-to-play set off any alarm bells in your head?



Todd Vote

Absolutely! Red Alert! My first instinct is that Capcom is going to micro-transaction the shit out of gamers on this one. But then I get to thinking, isn't that what free-to-play is all about? Gamers pay for what they want in the game, and they don't have to buy the rest of the stuff they don't intend to use? In this instance, I would say any mistakes on offering value will be solely on the gamer. We know what we are getting into with free-to-play. The angst against Capcom about milking the customers for all the pennies they can get was never at a higher fervor than it was after UMVC3, so perhaps they have learned a lesson and they will handle the free-to-play model better than they would have in the past.



Jeremy Thomas

Yeah, only like 3,000. Okay, I'm kidding a bit but in all seriousness, there's something a little bit worrisome in this, at least in the knee-jerk first reaction kind of way. Capcom has made a fair amount of sketchy financial decisions but they're not the company with the worst track record by a long shot; I don't think the company's poor choices involving Marvel vs. Capcom 3 are all that much worse than trying to pass off a roster update as a new version of a game. The problem is that, being that we aren't living in a vacuum, the current trend of microtransactions, overpriced DLC, sketchy Kickstarters and such gives Capcom license to do terrible things and it doesn't look as bad as if they had done it even a year ago. Plus I think that Killer Instinct will be establishing more than enough precedent for Capcom to say "we're just following market trends." So yes, I would say that I'm concerned but not necessarily because it's Capcom; I'm concerned because any free-to-play major release is going to raise my eyebrow.



Sean Garmer

It does set a small amount of bells ringing but mainly because I think it speaks to their financial troubles they have reportedly had for a while. The Free to Play thing screams of "micro transactions" and Capcom thinking that with the success of Dragon's Dogma they may get people to buy Deep Down expecting awesome gameplay and then paying a few dollars here and there for weapons, upgrades, and what not. It doesn't surprise me Capcom is doing this, but you'd think maybe a more traditional Capcom release would have been in the works to be their company next-gen "launch" title.
---
Quizmaster

Clearly, we're all unsettled, but I think Jeremy is closest to the mark, for 384 points, because I'm shocked that any company, including Capcom, would want their first big release on PS4 to use a potentially controversial set-up like "Free to play", at least if they're only going to do one big release and not have any "safe" backups like another Street Fighter or Resident Evil to fall back on.


---
QUESTION TWO: An interesting design feature was revealed for the XBOne this past week during some offhand remarks: apparently the console, unlike basically every other console going back a couple generations now, was not designed with the ability to stand vertically, due to the slot-style disc drive not being able to hold the game disc in place effectively. Basically, if you want to stand your XBOne upright, Microsoft is saying you'll have to do it at your own risk (and, in fact, those were the exact words they used). It's a small thing, but why on earth wouldn't they include the space-saving feature that a lot of people have come to expect?



Todd Vote

I don't really see how it saves space? I mean you are still taking up the same exact amount of space, it is just vertical, instead of horizontal. I don't know about any of you, but beyond consoles, does any other entertainment medium stand on its side? None that I can think of. So doesn't it become more of a space taker to have that standing on its side as opposed to sitting flat like the rest of your entertainment boxes? I don't know, I just don't see this as a big deal, I never stood my Xbox 360 on its side.



Jeremy Thomas

I keep my 360 horizontal so this doesn't bother me. Will it be an inconvenience to people who like their gaming cabinets just so, and will it result in people hosing their Xbox Ones? Yeah, most certainly. People who don't read the instructions will still stand their systems on the side and they'll pay the price because they didn't read the instructions. (Of note: I assume it will be on the instructions and won't be in typical Microsoft crap-speak, both of which may be major assumptions to make.) I can't imagine why they wouldn't have made a tray-style disc drive, but I'm sure there was a good reason for it because I don't believe Microsoft would just not include something like that because they didn't feel like it; maybe there are space or other technical reasons. Whatever the case it won't bother me, though I get why some people will be irritated.



Sean Garmer

Sorry to sound crass here, but WHO CARES? I, for one, only thought my PS2 was really meant to be positioned on its side. The original Xbox was way too bulky and it looked awkward on its side, I never liked having my 360 on its side, and the PS3 looks better in the horizontal position as well. I've always had one of those TV stands with shelves below it, for that purpose so I could put my game system under my TV and sit it horizontally. I can understand some people really need the extra inches of space, but if that's your deal breaker? I worry about people these days.
---
Quizmaster

Sean gets 1945 points for excusing his crassness, and then saying absolutely nothing that I would consider crass. I'm almost positive that word doesn't mean what he thinks it does.


---
---
QUESTION THREE: On the heels of the release of Diablo III on current-gen consoles, Blizzard has announced that the PC version of Diablo III will be removing their Auction House functionality as of early 2014, citing that the AH concept took away from the core concept of a Diablo game, i.e. "killing monsters for phat loot". Given that this was one of the major complaints about the PC version, do you think this would draw players back into that version of the game, or has it been too long to have any real effect?



Todd Vote

Having only ever experienced Diablo via the Diablo III demo on Xbox Live (Extremely addictive, intend to purchase), I can't really comment on if the auction house would have been a problem for me. You could sell in game loot for real world money, right? So wouldn't this have caused money-grubbing assholes to create millions of accounts in order to farm the best stuff to sell at auction houses? Yeah, I can see that being a problem. However, I don't think it closing will drive gamers back to Diablo on the PC. Maybe, but I think that ship has sailed.



Jeremy Thomas

It may very well bring people back but I won't be going back. Listen, I get that we're supposed to not hate Diablo III at this point because the initial reaction to it has worn off but I'm not on board with that. I wanted a game that didn't piss me off and force me to engage a player-driven economy in order to get any kind of decent gear to make the game not a pain in the ass and I got...the opposite of that. And don't get me wrong; I'm pleased as punch that Blizzard is doing this and that perhaps someone won't be banging their heads on their desk surfaces, but I think we're past the point that this game sees any sales jump. We gamers are a fickle bunch and we're always looking ahead, not behind. (Well, unless we're looking behind with rose-colored Google Glass and complaining about games now as opposed to games then.)



Sean Garmer

It depends on how long it takes Blizzard to bring out the update. If it takes longer than the expected release date then you might see people just get tired of waiting and move along. However, I think this will be something that brings players back because the auction house prevented players from getting even adequate drops on the PC version. So, with this removed, the loot system should be the awesome thing people always enjoyed about the Diablo games.
---
Quizmaster

I'm surprised that we got Todd to play Diablo, so I suppose that should be worth something. Also, he instantly saw the same problem that everyone else did when they announced the Auction Houses, without prompting, so I guess he gets 2673 points.


---
QUESTION FOUR: To the surprise of basically nobody, Grand Theft Auto V, which was already the most expensive-to-produce game of all time, has also set the record for highest release day sales, raking in over 800 million dollars, which far outstripped the previous top game, Call of Duty: Black Ops II, which only made a paltry 500 million on its first day sales. Impressive, right?



Todd Vote

Absolutely impressive, and completely deserved. It is an amazing game from top to bottom. As Stewart Lange posted in the Retronomicon group on Facebook though, some of the NPC drivers are shit. I can't wait till GTA online launches. The only thing more impressive than first day sales was the fact that the property got to $1billion in just three days. No other entertainment property has ever achieved that, not in movies, books, TV... Quite the impressive swan song for the current generation of consoles.



Jeremy Thomas

Impressive is a light way to say it. Call me silly because I don't pay attention to sales numbers for games as much as I should (hey, I have to figure out SOME time to sleep), but I didn't know $500 million was the old record and I certainly didn't think GTA V would pull in almost a freaking billion. That's a lot of dead hookers, man.



Sean Garmer

This one is tough, because Ghosts has a plethora of other systems you can purchase the game on, which GTA V did not. You don't get a GTA game every year though and that's why people are excited to play it. I'm going to say NO and even if COD Ghosts does beat it, it will not be by much. There seems to be significantly less interest in this game than I can remember in recent times and perhaps that will reflect in Activision's wallets for once.
---
Quizmaster

Sean loses all his points for clearly copy-pasting his Fact or Fiction answer for tomorrow's column. Usually I'd let it slide, but since I'm the one who is doing the other half of Fact or Fiction, I know that he just gave the answer to a completely different question than the one I asked, because I said nothing about COD: Ghost. Come on, man, at least Todd admits it before he copy-pastes.


---
BONUS QUESTION: NBA Live 14, the newest edition of a franchise that has been on hiatus for three years at this point due to EA Sports apparently being unable to make any good games, has a release date of November 14th. What are the odds that the game is actually coming out this time?



Todd Vote

I would say it is time to shit or get off the pot. If EA doesn't release the game this year, surely the NBA will come a calling and be all like "WTF, bro?" I can't see EA being allowed to continue to toil with the franchise when there is money to be made for the NBA out of licensing deals like this.



Jeremy Thomas

Let's predict using numerology! Let's see...hmm. November 14, and it's the 2014 version of the game, so 1+4+1+4 equals 10, and 10 is really 1+0 which equals 1. So this game's numerological number is one. The number one is about creation; it is a powerful force that produces results and does not allow anything or anyone to limit its potential. So with that being said...let's throw that shit out the window because NBA Live is clearly under a curse by a badly stereotypical gypsy like in Thinner which means there is roughly a 3.1415926% chance that it will be released on that date.



Sean Garmer

The fact that it is coming out a whole month and a half after NBA 2K is not a good sign. Then factor in that it is also coming out three weeks into the NBA season it seems EA continues to have trouble making this game for some reason. However, I think with Andrew Wilson being at the helm of EA now and knowing they actually spent time showing it off at E3 with the "Ignite Engine" tells me there is immense pressure to get this out in 2013. I'm not saying it is going to be good, but I hope it is because I've always enjoyed NBA Live and I want to see it comeback.


---
Please wait…Host is calculating scores…
HIGH SCORE


PLAYER 2 WINS
PROFESSOR STEINER SAYS
HIS MATH CHECKS OUT
COME BACK NEXT WEEK TO TRY AGAIN

Stealth Inc: A Clone in the Dark
The Last of Us
Call of Juarez: Gunslinger
Marvel Heroes
Hakuoki: Warriors of the Shinsengumi
Far Cry 3: Blood Dragon
Dragon Fantasy: Book One
Guacamelee!
BioShock Infinite
Dead or Alive 5 Plus
Tomb Raider
Generation of Chaos 6: Pandora's Reflection
Rocketbirds: Hardboiled Chicken
Ni No Kuni: Wrath of the White Witch
Earth Defense Force 2017 Portable
411 on Twitter!
Quizmaster's Twitter
http://www.twitter/411mania
http://www.twitter.com/411games
http://www.twitter.com/411wrestling
http://www.twitter.com/411moviestv
http://www.twitter.com/411music
http://www.twitter.com/411mma
comments powered by