The Retronomicon 09.27.13: Micro Machines
Posted by Stewart Lange on 09.27.2013

This week the Retronomicon heads back to take a look at the one of the few games to compete for the mantle of "Best 16-bit Multiplayer Experience!" Join 411's Stewart Lange as he takes a look at Micro Machines!

Hello to each and every one of you fine creatures, it's time for another Retronomicon column! I've gone back to putting the topic of this column back to public vote, so why does Wario Land keep on losing? You guys all wanted me to cover it so, so much. I can only assume it's because you've not hit "like" on the Facebook page, right? Or commented on the picture even if you have? Because it was second this week to the game that, being honest, I'm glad won because it's really fun.

Speaking of really fun, I'm still enjoying GTA V, although I will say this about it and it's closest competitor, Saints Row 4: SR4 is more fun. It's the more creative game and as an actual game, I think it's more fun. The only problem for it is that GTA is extremely polished and has so many years more experience of making awesome sandbox games that it feels like such a big experience that Saints doesn't really have a chance against it, which is a shame as I'd say that SR4 is the best in an accomplished series that will never be the big dog in it's own park. My game of the year list is done, though and I don't see anything coming out before Christmas that will change my top five.

Outside of gaming, though, I have very little to say. Even my day off this week was spent sorting out my retro cupboard. I got myself some wireless Beats headphones, though. They rule, although I'm missing the wireless function on my iPod. Thankfully I've got 32gb of music on my phone to use them with. But who gives a shit about my headphone choice? Nobody, that's who. STOP!

Banner time.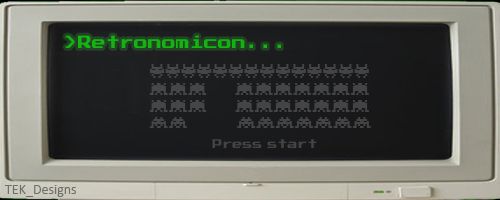 THE FEEDBACK

Some great feedback last week, which was on the very first release in the series of the moment, Grand Theft Auto. A lot of you had played it, having had very similar experiences as myself, a bit like AG Awesome.

The top down originals were really only fun on the PC. Ill never forget downloading the demo and hacking it to have unlimited time. I played that thing for years, hahaha. Something about taking a charter bus and driving full speed into things until they explode...

Agree with the first point there, for sure. The top down titles didn't feel right on consoles, except fot possibly the handheld releases. That brings me nicely on to G-Walla with his question.

Never had the chance to play either of the original two GTAs. Is there any real comparison between them and Chinatown Wars?

Yeah, they're a bit different. Chinatown Wars plays like a current title without the tech and it shows. If it had been a dedicated top-down title, I'd have enjoyed it more. Unfortunately, though, it added needless features like a "stylus lockpick" minigame and such that made it seem like it had borrowed too much from Cooking Mama than from Vice City. What say you though, Gooched?

A classic, it's clear that GTA didn't find it's true niche until GTA 3, but the original was insanely fun and revolutionary for what it was. Pure mayhem and action, this is the game that Saints Row continues to emulate and chase, while Rockstar have been toning down the craziness and going heavy on the pathos for GTA.

I know what you mean about the craziness, but I see a clear evolution throughout the GTA games, such as Franklin getting the assassination missions from ringing payphones. Whether it is meant or not, I take that as a throw back to the original when all missions were given via random payphone. Now, if only the new one let you run over 8 Hare Krishnas for $100,000 a pop with an old-school "GOURANGA" over the top of the screen. Amazing.

Last up, we had Teharistocrat making me look bad.

GTA 4 came out in 2008. Just a minor correction.

Thankfully, Stewart Lange (me) replied, just clearing things up.

My apologies. For the life of me I was so convinced it was October '07 I didn't even check my facts. It was of course April 2008.

So, not so much clearing things up as confirming I'm a moron. Anyway, it's time for another really old, really fun driving game. Seems to be a favourite amongst my readers, so let's have a better look at the awesome Micro Machines!





THE STORY

To those of you old enough to remember, Micro Machines were all the rage in the late 1980's, as the tiny cars that were made by Hasbro were detailed, cool and extremely collectable. While they didn't really do an awful lot, other than the wheels moving so you could push them around, kids (and adults, really) loved Micro Machines. In 1991, the lovely folks at Codemasters figured out a way to move the toys into a growing market -video games. First released on the NES and slightly afterwards on the Gameboy, the game was a top down racer which took place across several household tracks. One saw little F1-style karts going around a pool table, while other courses saw speed boats in a bathtub, being slowed down by the bubbles and keeping an eye out for the rubber ducks.

This quirky gameplay was received well by fans and the detail in the tracks was extremely high as things like milk on a breakfast table and weeds in a garden would affect your progress around the tracks, which were extremely short. This didn't hamper the gameplay, it actually helped because the cars didn't handle fantastically well so every single one of the three laps was important and you rarely got far enough ahead of the other drivers to take your eye off the prize.

One magazine at the time rated Micro Machines at 97% and it holds a high level of nostalgia still to this day, which was clear given the huge number of votes it received in my public vote for this week.




THE AFTERMATH

While the original game spawned 5 true sequels, very little changed between ports until 2002 when Codemasters stepped aside and allowed Atari to develop a new Micro Machines game for the PS2 and Gamecube. While the game just wasn't the same as some of the previous versions, the gameplay had clearly been left behind with the dawn of the driving sim. Games like Gran Turismo were starting to take over from the frantic arcade style and while I've spoken about this before, notably when I covered Crazy Taxi, a comeback for the game on the XBL or the PSN would be a great idea.

The last true Micro Machines game was Turbo 64 for the N64, or V3 for every thing else. This title abandoned the top down view for a slightly angled viewpoint and a wider selection of vehicles. The N64 version also supported 8 players as each pad could support two players on it. Unfortunately, internal restructuring within Codemasters changed the companies stance and ability to continue making Micro Machines game and while they did help publish a handheld version in 2006 for the DS and PSP, the company had moved on to their "real" titles such as Colin McRae Dirt.





MY THOUGHTS

I've been playing Micro Machines 64 in my bed every day before work this weekand it's really, really good fun. While the handling of the vehicles is even worse than I remember and levels featuring weapons make the opposition look even cheaper than in Mario Kart, it does feel pretty good when you win a race. Flying off the table that you're racing around is frustrating, but in a good way, as you feel yourself screaming at the game to get you back racing as quickly as possible. The good thing about the very slight gameplay changes, though, is the fact that none of the games really feel like they've aged too badly. Only the Gameboy version doesn't look great but the fact it's for a handheld means you can forgive it.

As I said already, there was a massive amount of support across Facebook for this game and I can only imagine it's because of the huge appeal the title held. With as much luck involved as skill, it meant that Micro Machines very quickly became one of the first real party games that anyone could pick up and play. While it's time has definitely come and gone, it's worth it purely for a nostalgia trip. Basically, if you ever played this game as a youngster/younger adult, trust me and play it again this weekend. You'll thank me.




RETRO COLLECTING

This game varies in price, however a cart only copy for any system shouldn't cost you more than a couple of bucks of any currency. Fully boxed Nintendo carts are harder to come by than the Sega versions, with NES being the rarest. I have to say a big thank you to John-Paul aka instagram user @JPRam32 for sending me a fully boxed version of the N64 title. Big shout out to you my man!

Love retro collecting? Me too! Share your best finds with me in the comments section or on Instagram! My user name is outafterdark216 and I always post my newest pickups!

I've been arranging a few trades lately and have been boosting my Gameboy collection, getting around 15 new carts in the last week, including a couple of sweet Mega Man carts. I'm also (hopefully it arrives while this goes online) receiving a Pikachu Gameboy too, so fingers crossed for me as that's a big one off the WANT list. If any of you have Kid Dracula for the Gameboy, please let me know as I'll happily take it off your hands!

THE END

That's it! I'm off work for 8 days so I'm away to visit family but rest assured, there's going to be a vote on Facebook for what you guys want as next weeks column!

TIP OF THE WEEK- Grab any manuals or strategy books, no matter how worthless they may seem at the time. You could use them in the future to trade or make something you've found more valuable!
comments powered by