The Retronomicon 10.04.13: Prince of Persia
Posted by Stewart Lange on 10.04.2013

The Retronomicon takes a trip back to look at the game lauded as one of the best of the Amiga generation! Join 411's Stewart Lange as he takes a look at the original Prince of Persia!

Hello one and all, welcome to yet another instalment of the 411 Retronomicon! It's the only column on the site that's written for retro gamers by a retro gamer! I struggled to pick a few games to put up for the vote to see what I would be playing this week, so I just opted to shut my eyes and pick a Game Gear game. Happily, I didn't get something rotten like Super Kick Off, instead settling my grasp on this weeks game. It's been a frustrating week as a result.

Thankfully, I've not been at work this week, so I'm fully recharged and had a chance to work on two console mods and sorting out my games cupboard. I'm looking into building a Gameboy exclusively for chip-tuning but I'm also continuing my Avengers series of custom consoles. Unfortunately, Iron Man's SNES isn't going too well. The paint has clotted and left a pretty bad finish, which shouldn't be a problem as it's just for my own use- unfortunately, I'm too much of a perfectionist to be happy about this. Oh well. Pictures will be on the Facebook page of the finished articles, not to mention my already finished Captain America console. Always appreciate feedback and ideas. I can hear your first bit of feedback already, though-

"Get f*cking on with it!"

I agree. Let's do the banner thing.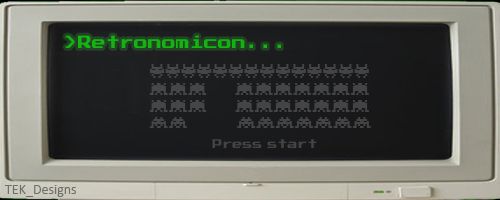 THE FEEDBACK

Very little feedback from last week, with the only major comments coming from regulars. First up was G-Walla.

I rented one of the Micro Machines games once, but it's not a game I cared for. It was probably on SNES or Genesis, I don't recall, but there were so many other racers I liked better, like SMK, Rock n Roll Racing and Mario Andretti's Racing.

I think it's a bit of a hit and miss for if you like the controls or not. If you like the way the game handles then you're sorted but otherwise, it's clearly not going to grow on you. I think the handling is perfect in the context of the game- the cars have no gears and as it's not a simulation game, I don't see the problem with a bit of fly-by-night handling.

Next up was AG Awesome himself with another column suggestion.

Speaking of this type of control... how about a blast corps article? I dont think Ive seen one in a long time.

I think I can add Blast Corps to the list, not a problem. I never had it as a kid but think with a couple of weeks playing I'll be able to cover it. It's in my N64 box, I'm sure.

This week, we go back to the end of the 1980's, where the only thing bigger than your home computer was your mobile phone. This game initially bombed, but a huge European release woke the world up to the frustrating joy that is the Prince of Persia.



<



THE STORY

In ancient Persia, when the Sultan travels off to go to war, an evil wizard seizes power. Jaffar (obviously) locks the Princess in the tower until she agrees to marry him. Unfortunately for the Princess, the only man who can save her is already imprisoned in the dungeons below where she rests. So, if you're struggling, then just imagine Aladdin, minus the magic, multiplied by Mario and you've got it.

Travelling through the dungeons, our nameless hero has to pick up a sword as soon as he can, to help fend off all of the guards he encounters on his way. Not only put up against all of Jaffar's minions, the hero also has to navigate traps, puzzles and even an evil doppelgänger of himself from out of a mirror, who seems dead set on halting your progress up the tower to save the Princess. As if all this wasn't enough, Jaffar has given her only 60 minutes to decide if she wants to go along with his nefarious plan or suffer another fate entirely.




THE AFTERMATH

The game was initially released for the Apple II computer in 1989 and didn't do well upon it's initial North American release. In 1990, it was released across a few other platforms and added with a successful launch in Japan and Europe, the game was suddenly a hit, shifting over 2 million units by the time 1993 rolled around and Prince of Persia 2 was released.

There was a few years gap before the third game, Prince of Persia 3D (released as Arabian Nights on the Dreamcast in North America) was rush-released with seemingly no testing, as it was something of a disaster. It didn't do well and and for the short term, killed the franchise. In 2004, the original creator teamed up with Ubisoft to reboot the series and four games were released under the new look and style. A spin off from these titles was released in 2008 to critical acclaim.

Prince of Persia remains one of the most revered titles in gaming, despite having never hit huge amounts of sales or even reviews. The game was popular enough to get the Disney make over, with a big budget movie by the makers of the Pirates of the Caribbean and was released in 2010. With Jake Gyllenhaal featured as the Prince, I don't think I need to say much more to put you off seeing it if you haven't already.





MY THOUGHTS

I always struggled with Prince of Persia. I found the sword fighting needlessly awkward and the gameplay lacking the fluidity of other platform games. I had a copy of it for my Game Gear and played it when I felt fed up with everything else. It wasn't until I played the Sands of Time (the 2004 PS2 release) that I felt I'd unfairly looked over the game and started to feel like I should give it another chance. I finally got the chance to do this when it was released onto the Xbox Live Marketplace and my feelings changed slightly- but I still found the controls impeded how much I enjoyed the gameplay.

This comes all the way back to what I said at the top of the article. I said I'd had a frustrating week playing this game and while I don't feel happy saying this, I just can't say that I've ever enjoyed the original game in the series. The PS2 trilogy was fun and I really enjoyed the 2008 off-shoot game, so much so that I was disappointed when 2010's Forgotten Sands was nothing to do with it. But, this is a Retro-spective and as far as my memory serves me, this is the first time I've written about a game that I've not had fun revisiting.




RETRO COLLECTING

Much like many of the games that started out their life on a home computer rather than a console, Prince of Persia is not a valuable game in it's original state. As far as I can tell, the TurboGrafx and Sega CD versions are the rarest and most valuable, but prices on those are still inconsistent. Dreamcast versions of the third game in the series are the jewel of the series as far as collecting goes, especially finding a copy outside of the US.

Love retro collecting? Me too! Share your best finds with me in the comments section or on Instagram! My user name is outafterdark216 and I always post my newest pickups!

This week I've been on holiday but not before arranging a trade that saw me receiving a NES version Gameboy Advance! I also got 7 fully boxed Australian Advance games, including King of Swing which is awesome. Other than that, the MegaMan carts I mentioned last week arrived and they were fake. Oh well, that's what buyer protection is for, I guess!

THE END

That's all for this week guys, thanks for reading! Please be sure to get over to my Instagram page for the first pictures of my custom consoles as they're finished, but if not, just be sure to check back next week for another edition of the Retronomicon!

TIP OF THE WEEK- When trading online, especially something rare or expensive, don't hesitate to ask for more detailed photos. If the buyer wants top price, they should be quite happy to share them.

comments powered by