SPOTLIGHTS
The Retronomicon 10.25.13: Final Fantasy VII
Posted by Stewart Lange on 10.25.2013

This week the Retronomicon heads back to the Playstation 1 era to examine the console's seminal role-playing game! Join 411's Stewart Lange as he takes a look at Final Fantasy 7!

Hello and welcome to what was going to be a very special edition of the Retronomicon but slight constraints left me no option but to cancel what I had planned and instead treat you to something else. Before I go much further, though, I must apologise. For many of you using certain (crap) browsers, there has been a massive gap in every single one of my columns for the last 3 months. This is where I would generally post my Facebook page, but it turns out the fancy "Like" box that they provide you doesn't work on a number of (outdated) web browsers and you (neanderthals) have just had a gap. Well, I've slightly changed my format this week and you shouldn't see a problem anymore. Thanks for ruining the fun for everyone else.

This week, I've been having a lot of fun playing Injustice and finishing the side missions on Saints Row 4. I've had an absolute blast with Saints and think I'm looking back on it more fondly than I am GTA V. It was just so much fun and while I keep banging on about it whenever I can, I really recommend you give it a look. I'm literally going to start Splinter Cell: Blacklist the second this column is finished, so expect me to rant about that next week. Something to look forward to, isn't it?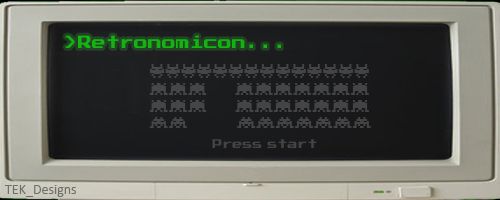 THE FEEDBACK

I got a lot of interest in my Toejam and Earl column last week, so thanks to everyone who read and commented! I'll only summarise your thoughts so I can try and fit everyone in without giving up half of my column space to readers comments, although that would save me a fair bit of work. Let's start with G-Walla!

Oh, I missed last week's column. Well, actually, it doesn't sound like I missed much.

G was referring to my Barbie column from two weeks ago. You did miss out man, you missed out on me talking about the game that set piracy standards in video games in the early 90's! It was relegated down the page due to "subject matter" so it's likely harder to find now. Click on my name at the top for the easiest link. Next, AG Awesome talks Toejam.

I got this when it came out on the VC and spent a whole week working on it with my friend. All I know is that I cant stand it but the music and the randomness of it kept me going somehow. Didnt play the second one but I kind of want to... dont think Ill do the third though, lol.

The second one isn't so bad. I wound up playing it for a while after wrapping up last week's column and it's worth a play.

Ryan Ingram had some fond words about TJ&E, though.

I absolutely loved Toejam & Earl. I had a friend who wasn't in to the typical two player games, so we really bonded over TJ&E. I found the game to be one of the most enjoyable two player games of the era, and absolutely loved the weirdness. Also, having access to a Genesis was something that just didn't happen in my 'hood. So, we would each split up our money and rent the system and game from blockbuster. It's some of my earliest memories staying up and gaming out.

Another big fan was sdelfin.

I love Toejam & Earl. Such a fun game. It's still a game I come back to and I just recently dug my Genesis out of storage specifically to play this game and several others soon. I got my Genesis during the Christmas sales surge of 1991 and this was one of the games I knew I had to try once I got the system. I was able to rent it first and played it a ton which still wasn't enough so I made sure to buy it when the first opportunity came. Multiplayer was a blast, and this is one I plan to share with my retro-minded friends pretty soon.

Wrestling fan gets in at the end with one last comment and it's a bit deflating. Don't say I didn't warn you.

I tried to enjoy this game. I really did. but it just never did anything for me.

There we have it, then. A truly mixed bag, with Wrestling fan kind of summing up my own feelings on the game. Shame, really. It certainly is quirky and fun, but just didn't tick those boxes for me. This week, though, is a game I didn't need to replay for research. It's a game I don't need to look up on wikipedia to check facts. It's considered by many people as the finest game ever made. It's a game I didn't want to cover in this column, but here it is. This week, it's Final Fantasy VII.





THE STORY

This is one of the big reasons I didn't want to cover FF7. How do you best condense down one of the biggest and richest RPG stories ever told? The most incredible thing about it is that it even all makes sense, for the most part. Most JRPGs have a tendency to go off tangent and when this one does, it only serves to add a layer of depth onto another character. The game focuses on Cloud Strife, a mercenary who finds himself involved with a group of rebels called Avalanche. These eco-warriors are out to stop the evil Shinra corporation from farming the life of their planet, Gaia,

I genuinely can't do the story enough justice in the limited space that I have, so nip over to the wikipedia page for the summary. In short, there are laughs, high drama and yes. There are tears. The (SPOILER!) death of Aerith is one of the most poignant and discussed moments in gaming history and despite numerous rumours surrounding resurrection and other such rubbish, the attachment you made with the characters due to the depth of backstory the game took the time to tell for each of them was something else. If you don't like JRPGs, then I can't say anything that will make you play this game, but if you have, then you'll know why I'm gushing over it.




THE AFTERMATH

You know that when a game is called "the game that sold the Playstation," you know that something is very special about it. Quickly becoming the highest selling instalment in the Final Fantasy series, FF7 received extremely high critical and commercial success. The characters were included in other gaming series including Ehrgeiz, the fighting game and more notably, Kingdom Hearts. Main character Cloud and the number one bad-guy Sephiroth also came face to face again in prequels Dirge of Cerberus and Crisis Core, further strengthening their already rich back stories. The game also had a CGI movie sequel, Advent Children, which is readily available on DVD and blu-ray.

Obviously, there have been a number of other Final Fantasy titles since then, but the games were not linked to one another. Since the game released on the Playstation network in 2009, when it became the highest selling PS1 game on the network, rumours have been rife and more and more frequent that Square are going to remake FF7 in full HD which would be incredible, but it's been on the table so long that I genuinely don't think the most optimistic RPG fan is still holding up much hope on the announcement coming. The charm of the game isn't the graphics at any rate, it's the sheer depth of gameplay. While the game has it's critics, FF7 still finds it's way into the majority of top 10 lists talking about great games, either by fans or the media.




MY THOUGHTS

When I said earlier that Final Fantasy 7 was called a console seller? Well, I was one of those people. I was pretty content with my Sega Saturn but when all of my friends starting talking about what Summons they had unlocked and if they'd been to the Gold Saucer yet, I knew I had to ask Santa for a Playstation that year. Not a night passed that I wasn't sitting in front of my PS1 levelling up or trying to advance in the story. I quickly made sure I caught up with my friends, a few of whom had actually decided to "wait up" for me, taking time out to play a few other things to let me catch up (I want to say Silent Hill, but not sure my timeline works out. Not like it matters. Getting to school to talk about it almost became as fun as actually playing it, which is saying a lot.

My own personal experience with Final Fantasy began and ended with 7 on the PS1. I didn't get into 8 as I think I was too attached to 7 still. I tried to get into it but didn't get more than a few hours into it before deciding I wasn't going to have the same experience with it. I never even played 9 but when the PS2 came out and I saw the opening FMV for FFX I was sold. I knew it was going to be my new 7 and I wasn't far wrong, but 7 is by far and away my most played game ever. Cloud and Aerith are two of my favourite characters in gaming and I haven't even looked at another Final Fantasy since 10 as I just don't want my memory of them soiled.




RETRO COLLECTING

Final Fantasy 7, or indeed any single figure FF game, tend to be pretty rare. You'll source one okay, but you'll need to pay for it normally. Over here, it can cost you between £10 and £15 online and copies out in the wild aren't too common. I'm not sure how difficult to come by it is over State-side, but can't imagine it would be much different. To be fair, it seems like the sort of game that if you want it, you'll have it already!

Love retro collecting? Me too! Share your best finds with me in the comments section or on Instagram! My user name is outafterdark216 and I always post my newest pickups!

I'd love to put something in here, but don't think I've had a quieter week for pick ups in a long, long time. With any luck, this next week will be much better but I only have Sonic Adventure 2 for the Dreamcast to show for this week and believe me, I looked. I have a few repairs to do over the weekend, on a Game Boy Advance (pink...... may change that) and a SNES. It's my first overhaul on a system so wish me luck!

THE END

So, Splinter Cell didn't last past the break that I gave myself halfway through this column. Thankfully, I only borrowed it. Not reccomended. I'm too poor to buy Batman right now too, so that will have to wait. I'm booked up for the next two weeks, with a very spooky edition next Friday and a promise to a regular reader setting me up for the following week! Be sure to search for the 411 Retronomicon on the Book of Faces as I'll be teasing the titles I'm covering next week! Feel free to leave me feedback on there too as it makes my day at work that bit quicker. Until next week, it's GAME OVER.
comments powered by