SPOTLIGHTS
Four Player Co-op 10.30.13: DualShock 4, Titanfall, XBOne, More
Posted by Stephen Randle on 10.30.2013

Does it matter that Assassin's Creed IV's PS4 content will only be exclusive for six months? Will we miss the analog buttons from the PS3 controllers? Do real name IDs matter? The 411 staff debates these topics and more in the latest 4PC!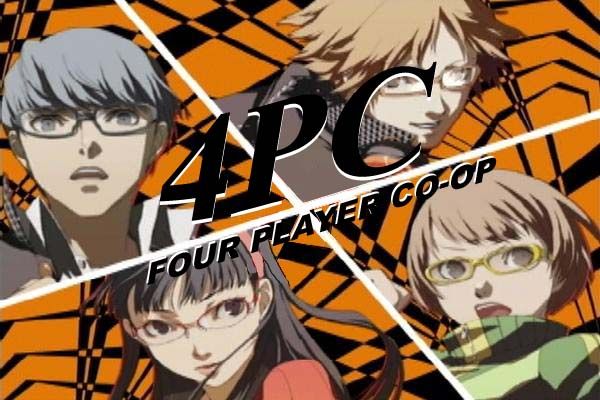 Todd Vote has joined the game.
Jeremy Thomas has joined the game.
Stewart Lange has joined the game.
Quizmaster

Greetings, and welcome to another edition of Four Player Co-op, the only game that even Peyton Manning can't find a way to win. Not that anyone has ever confused any of our players for a professional athlete.

Start the game!


QUESTION ONE: Maybe this only interests me, but new info about the DualShock 4 has surfaced, and in addition to what we already know about it being able to interface with both Windows and Mac OS, it seems that Sony has given up on analog buttons (a feature of the DS3 which detected how hard a button had been pushed), as the DS4 only has digital controls (which only register whether a button has been pushed or not). The idea of analog buttons seemed interesting initially, but it turns out the feature was barely used. Do you have any opinion on the change? Did you even know that the DS3 had analog buttons?



Todd Vote

I remember the DS2 having that analog button in the middle of the controller. I never had the slightest idea what it did. The only thing I knew about it was that if I turned it on, my buttons would cease to function on most games. Now here we are, two console generations later, and I finally find out what it was all about. Just in time for it to be scrapped from the controllers. I guess I won't really miss it at all.



Jeremy Thomas

I think it'smprobably a good idea. On one hand, the analog controller thing was a cool idea and I give kudos to those games that did utilize it. On the other, if developers weren't really keen on it there's no reason for Sony to continue developing for the feature when they can be spending that time and resources on other things. It's a good example of how hardware and software should be developed in symbiosis with each other so that console manufacturers and game makers can collaborate and do what's best for each other, rather than one or the other taking a hardline approach and saying "this is the way things are gonna be!" I mean, can't we all just get along?



Stewart Lange

I didn't see the point in analog triggers, to be honest. I knew the DS3 had analog buttons but having never really owned a PS3 I didn't use it very much, I'm afraid. Like I say, the triggers should be analog for the likes of driving games, rate of fire on COD and so on, but if the new pad works, who cares!
---
Quizmaster

Forget that, what about the real feature we're looking for: SIXAXIS! Did you ever play Lair? No? Nobody?

Never mind. Everyone gets 153 points.


---
QUESTION TWO: Well, if you wondering what kind of exclusivity deals are happening for the next generation of consoles, it's been revealed that the highly-anticipated PS4-exclusive content for Assassin's Creed 4 and Watch_Dogs will likely only be that way for six months. Is that long (or short) enough to make a difference to you? How about if, say, Titanfall (which has implied that they won't be XBOne-exclusive forever) has a similar agreement?



Todd Vote

I'm sort of torn on this whole idea. I know exclusives are a big part of selling a console, but I remember when it was whole games that I couldn't get my hands on due to exclusivity. It's always been a bit of a drag, but you know, you make your choice, and you deal with it. When it comes to the idea of exclusive content for multi-platform games, the idea becomes a bit more muddled, and a lot more infuriating. If you are making a game across multiple consoles, I truly believe the content for the game should be made available across all platforms. I can't really blame the developers, because it is Microsoft and Sony who are throwing money at them to get these exclusives. You want to make a game for a specific console, so be it. But if you are making it for all consoles, the gamers shouldn't be punished because the console makers throw money at the devs. I know that this stuff usually becomes available to everybody for a price anyways, but I don't see it having as much console selling power as an actual exclusive title.



Jeremy Thomas

Six months isn't a deal-breaker at all. First of all, I'm not worried about how green the grass is on the other side; if a console I don't own has things that a console I do own doesn't, I'm not particularly pissed about it. This is simply the way things are and it's not going to coerce me to buy one. I don't buy consoles for just one game, or exclusive content; I look at the full package and figure out where things are going from there. Ultimately I kind of feel like console exclusivity is on its way to being sunsetted in a few years or so anyway. It just makes more sense for game developers to get their product on as many systems as possible and the more things move toward digital, the more that will continue to be the case.



Stewart Lange

I don't expect anything to stay exclusive forever anymore, short of the studio own stuff such as Halo. It won't influence my decision either way, to be honest. I don't pick up a whole lot of DLC unless it's on the deal of the week anyway. Some stuff I can't wait for I'll buy straight off, but it's not ever enough to convince me to buy one console over another.

Having said all that, I realize I didn't even answer your question. Exclusive content in a game that is available for all consoles is not going to sway me to buy one or the other. If the next GTA game was to launch on the PS4, and the XBone, but say the Xbox gamers will get access to the first two DLC packs first for six months (they did it for GTA IV), I'm not going to suddenly got trade in my PS4 in order to get that stuff six months sooner.
---
Quizmaster

EA just announced that despite the rumours, Titanfall will remain XBOne (and PC) exclusive for the life of the title, which apparently came as something of a surprise to the developers, Respawn Entertainment. In any event, even though "sunsetted" isn't an actual word, Jeremy gets 1238 points for his likely correct view that console exclusives will probably be a dead concept by the end of this generation, unless they're directly created by the console developer, and even then, money can make all sorts of strange bedfellows.


---

---
QUESTION THREE: So, by some coincidence, the PSN will allow users to have both real names and gamer tags as part of their profile at launch. This slipped out barely a week after Microsoft announced that they won't be able to integrate real names into XBox Live in time for the XBOne launch. Do you care one way or the other?



Todd Vote

No, I really don't. Sorry, I can't really expand on the answer much, but it doesn't bother me one way or the other.



Jeremy Thomas

I promise I'm not copying and pasting from Games Fact or Fiction last week, but I'm going to say some of the same things. I think that consoles should require real name IDs so that it can put an end to online multiplayer trolling and abuse. I don't need my sexual orientation mocked because some asshole on the other end got fragged by me, and my female friends don't need to be subjected to misogyny because they dare to play video games. Microsoft and Sony both have clear "no abuse" policies that they should enforce far better and I should be able to use the games' built-in features just like anyone else; I'm not scared away by the abuse but that doesn't mean I have to tolerate it.

That being said, while I think it's good on Sony to allow users to have both, I didn't expect that it would be the case so it's just an added bonus. It's a good first step and I'm glad there's a plan on both sides, but it's not making any decisions for me.



Stewart Lange

Nope. Next.
---
Quizmaster

As I figured, almost nobody cares. We'll just move along, then.


---
QUESTION FOUR: So, you know that whole contest with Mountain Dew where you could win an XBOne? Well, here's what it looks like.\




So, how badly did you really want to win one, again?



Todd Vote

Um... a $500 console for free. I don't care if they skin that bitch with Hello Kitty swag, I'm gonna try to win it. Don't get me wrong, I am not going out and buying more MT Dew than I normally would, as I joked when you originally asked us about this. But, I do enter the codes when I have the products. It doesn't bother me one bit that the console has Mt. Dew all over it.



Jeremy Thomas

Hey, I don't care what a console looks like. The thing just sits under my TV. If I really want to I can figure out a way to black all that silly ugly stuff out. So yes, I would love to win one; I'll take the Quizmaster's if he doesn't want one!



Stewart Lange

Oh, wow. That's a headache and a half, isn't it? Is Tony Acero on Dew-poisoning watch? Seriously, though. It's pretty horrible but it plays Xbone games and it'll be available to the winner early. Fair play to whoever wins it!
---
Quizmaster

Well, I should have known that the Americans would love seeing things covered in garish logos and colours, hell, they watch NASCAR, but I expected better out of Stewart. Well, at least he admitted that it looks terrible, so he can have 2385 points.


---
BONUS QUESTION: It's Halloween time again! Talk about candy!



Todd Vote

Ah yes. I remember Candy. The first time I saw her in that smokey, dark bar. She was on stage, dancing around that pole like a champ... Van Halen's "Hot for Teacher" blasted over the sound system...

Oh, you mean like actual candy? I like Reeses.



Jeremy Thomas

Candy Corn: why? Like seriously, it's the rancid milk of candy. On the other hand, give me all the Three Musketeers, Reese's peanut butter cups and Kit Kats I can handle. After all, who needs teeth?



Stewart Lange

No, Halloween isn't a big deal over here. I'd rather quickly plug this week's Retronomicon on Friday. It's a brief history of horror games and hopefully it'll be pretty interesting. Also- Arkham Origins is fun but pretty buggy. Wait for a price drop.


---
Please wait…Host is calculating scores…
HIGH SCORE

PLAYER 1 WINS
VAN HALEN RULES!
COME BACK NEXT WEEK TO TRY AGAIN

Stealth Inc: A Clone in the Dark
The Last of Us
Call of Juarez: Gunslinger
Marvel Heroes
Hakuoki: Warriors of the Shinsengumi
Far Cry 3: Blood Dragon
Dragon Fantasy: Book One
Guacamelee!
BioShock Infinite
Dead or Alive 5 Plus
Tomb Raider
Generation of Chaos 6: Pandora's Reflection
Rocketbirds: Hardboiled Chicken
Ni No Kuni: Wrath of the White Witch
Earth Defense Force 2017 Portable
411 on Twitter!
Quizmaster's Twitter
http://www.twitter/411mania
http://www.twitter.com/411games
http://www.twitter.com/411wrestling
http://www.twitter.com/411moviestv
http://www.twitter.com/411music
http://www.twitter.com/411mma
comments powered by