SimCity: Cities of Tomorrow (PC) Non-Review
Posted by Marc Morrison on 12.09.2013

411mania's Marc Morrison offers his only thought as he slogs his way through an even worse SimCity experience than before

This might actually be one of the shortest "non" reviews of the site. As ostensibly the PC game reviewer for the site, I'm usually tasked with either playing PC ports of console games, or checking out PC-exclusive games and seeing how they run. However, PC gaming isn't like console gaming. When you stick a disk in a 360, almost 10 out of 10 times the game will run, and you can play said game with a modicum of bugs/glitches. Occasionally you may hit something game-breaking, but the general rule of thumb is a console game can work relatively well from a store shelf to your living room.

Which brings us to SimCity: Cities of Tomorrow.

I did an earlier non-review of the original SimCity game here a while ago. I noted that the game was broken at the time but that given enough patience and time, you could get it running. It just wasn't any fun to do so, since the game design was kind of a mess.

Cities of Tomorrow essentially says "screw it" and decides not to work at all. I have yet to have a city going for more than 15 minutes before this message pops up: "Your city is not processing properly. We would like to try to repair it. This process will take you back to the main menu." It'll boot me back to the menu, the city will "repair" (format) itself, and that's it.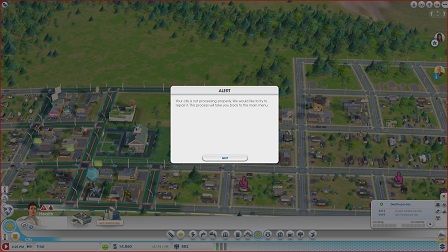 This has happened to me at least 15 times, spread across multiple servers, multiple regions, even multiple operating systems (Windows 7 and Window 8.1). Most of the time it will kick me within three or four minutes, but on occasion the city will last around 13-15 minutes before kicking me back to the menu. Even cities I had going before, I could load into them, they'd work for around 5 minutes, then get wiped.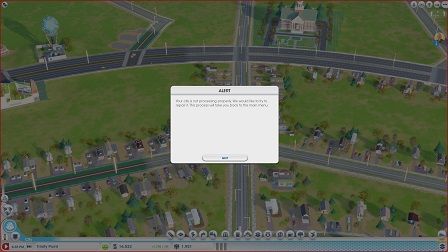 Due to this, I can't even begin to offer an actual review of the game. Unless you'd like me to talk about having to go through the same tutorial on new servers (which you can't skip), or talking about the first 10 minutes of the game, until you plop down a town hall and the city crashes. I cannot seem to find a way to disable the Cities of Tomorrow content either. I'm hoping there actually is a way to accomplish this, but I couldn't figure out if you can or not.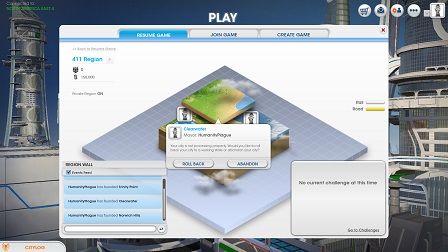 It is honestly completely scary how bad EA is doing lately. Battlefield 4 sounds like a disaster, the critics haven't been kind to NBA Live 14 has been critically savaged, and Need for Speed: Rivals has had some issues. It's bewildering that a game that came out 8 months later has even more technical problems and network instability than it did before. The mind reels.

Never the less, my current recommendation is a DO NOT BUY, at present. It severely screwed up SimCity even more so, with no way to disable it and no help from Maxis. If you do buy it, hopefully you have a better experience than I did playing it, and your cities can last more than 15 minutes.

comments powered by