Four Player Co-op 12.25.13: Kingdoms of Amalur, Battlefield 4, Mass Effect 4, More
Posted by Stephen Randle on 12.25.2013

Are you surprised nobody picked up Project Copernicus at the 38 Studios auction? Is EA going to be in trouble after all the lawsuits over Battlefield 4? Are you ready for Mass Effect 4? The 411 Staff has answers to these and other questions in the latest 4PC!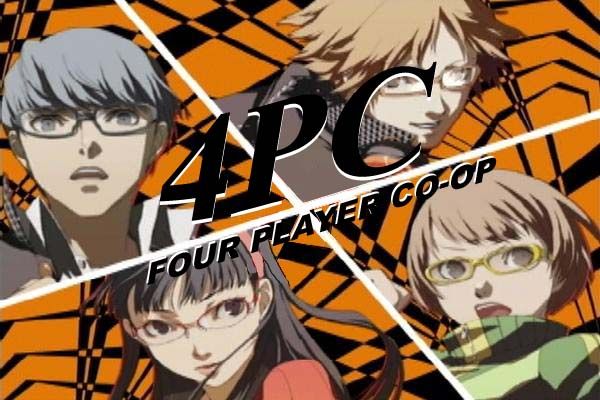 Dan Watson has joined the game.
Mathew Sforcina has joined the game.
Todd Vote has joined the game.
Sean Garmer has joined the game.



Quizmaster - Greetings, and welcome to another edition of Four Player Co-op. I am the Quizmaster, and I hope you're enjoying Christmas Day, or if you don't celebrate, Wednesday. And here's our Christmas gift for you: something to read! Hey, at least we didn't get you a sweater.

Start the game!


---


QUESTION ONE: Hey, remember how 38 Studios borrowed millions of dollars from the state of Rhode Island, put out Kingdoms of Amalur, then started on Project Copernicus (purportedly an MMO set in the Amalur universe) before quickly going out of business and leaving Rhode Island on the hook for all that money? Well, similar to when THQ sold off their assets earlier this year, Rhode Island held an auction last week to try to recoup some money by selling off 38 Studios' licenses. Unfortunately, it turns out nobody wanted to buy Project Copernicus for any amount of money. Given how well-received Kingdoms of Amalur was, are you surprised that no one was willing to pick up the license for the MMO?

Dan Watson - I am kind of shocked here. KoA was a solid game but easily would have been considered a much bigger success had it had multiplayer in the game. A MMO seems like a solid idea that could've made some money. However, if KoA was that amazing, 38 would still be around...right? Companies know good investments when they see one and avoiding this title may have saved us from another 38 or THQ.

Mathew Sforcina - It's an MMO. MMOs are dead in the water right now. Everyone looking to invest in a game will want to invest in a Candy Crush clone or some other phone based game with microtransations out the wazoo. It does not surprise me that a game company that wasn't well liked wasn't picked up. It'll get bought for a buck fifty at some point I'm sure...

Todd Vote - Not really. MMO's are a tricky market. For every one that is successful, there are dozens that die out quickly because nobody plays them. Add in the fact that Project Copernicus is, for all intents and purposes, a brand new, untested IP, it becomes a bit clearer of a picture. It makes total sense why a company wouldn't want to spend a bunch of money on it, or any money for that matter. Wouldn't it be better to build your own in this instance? Switching creative teams in the middle of development wouldn't really be a good thing for any game. Let alone games that have to have as much mythology and history built into them as MMO's need to thrive.

Sean Garmer - I think if it was any other kind of title that wasn't an MMO it might have been picked up. At least, if it was just an Action RPG like Amalur or even an adventure game they can lightly base it on the IP and then mold it into whatever they want the game to be. MMO's have certain standards and gameplay molds that have to be included and perhaps that drove people away. It could have been that the IP wasn't interesting to anyone, or maybe because it was an unknown they probably figured they could come up with an original concept that would be better.

---

Quizmaster - See, I'm with Dan, who gets 285 points, because Kingdoms of Amalur was actually a good game that people liked, 38 Studios just horribly mis-managed their money and even the decent sales for that game couldn't save them. You would have thought the related assets to the franchise might at least draw interest, but it seems like they did not. Ah well.

---


QUESTION TWO: So, EA is getting sued. By a lot of people. Currently, there are three class-action lawsuits directed at the software giant, all of them related to Battlefield 4 and its many, many launch issues. Apparently EA investors are very unhappy that EA released a broken piece of…software…and are suing because they feel like EA misled their investors about the fact that they were putting out something that could (and will) negatively affect potential profits, especially since EA has said that all future DICE-related projects are on hold until Battlefield 4 is fixed. Given how far this has spiralled out of control, could you see this having far-reaching consequences for EA?

Dan Watson - I doubt it will reach all that far. Look at the NCAA lawsuit and its effects on EA. I would like to get some support behind one of my new issues. I recently picked up Need For Speed Rivals. Guess what, can't play it. Why you ask? Simply because EA decided that you cannot download the mandatory HD content unless you have a Microsoft hard drive. I have a new slim Xbox and use my external hard drive for saved games. Nowhere on the packaging does it say "must have internal storage". Is anyone with me on this?

Mathew Sforcina - Not for EA. They're far too big and powerful to end up getting anything beyond payouts and tut tuts. However, I'm not exactly thrilled at this for the rest of the industry. Look, I'm as annoyed and upset about crap games that I don't play as the next guy, but the
minute you start tossing lawsuits about then that's a dangerous precedent. Because it won't be huge companies that get into trouble if you're able to sue over crap games. They can afford the payouts. It's tiny companies, the ones that are 3 people and a dream, they are the ones that will be unable to afford a legal battle over bugs in their games. I know this is a long shot and that anything that helps stops crap games getting released is nominally good but... I never like bringing in the lawyers.

Todd Vote - No. And I'll tell you why. I have two buddies on my friend's list that have abandoned Call of Duty in favor of Battlefield. They bought BF4 for the Xbox 360, then they both were screwed out of the $10 upgrade when they got Xbox Ones, due to Gamestop not explaining the process to them on first purchase. So what did they do? They went and spent another $60 each to get the game a second time.

Sean Garmer - This will probably make EA more conscious of what they ship out from now on, especially if EA is not the developer, more than making them change anything they are going to do. They also might have to consider what Ubisoft has done with Watch Dogs and "gasp" delay a game if it truly isn't ready. If your investors are suing you that means you made a pretty big error in judgment. They've already had to pay College Football players this year, are being sued by the NCAA, and now their own people are against them. Pretty crappy year for EA.

---

Quizmaster - Sadly, I'm worried that Sforcina is the most correct, for 1823 points, because even if EA has to pay out something, they'll probably survive, but it does seem like being able to sue companies over bad games would a) make it harder for small game companies to survive and b) reduce creativity because nobody wants to push the envelope too far and make a game that might not be a huge financial success.

---

---

QUESTION THREE: I guess it's not all bad for EA and its subsidiaries, as a developer for BioWare Montreal went on Twitter and talked about how they have a playable version of the next Mass Effect within their walls. Given all the controversy over how the last one ended, and the fact that it will most likely involve an entirely new story and cast of characters, are you interested at all in…well, we'll call it Mass Effect 4 until we know more?

Dan Watson - I'm not honestly. I was okay with the series ending. Everything after 3 will just be a cash grab. Instead of renaming this new saga, they will toss the Mass Effect label on it and roll in the money as it comes in.

Mathew Sforcina - ... I still haven't finished #1. And I've owned 2 and 3 from launch. So no, not right now, thanks. I still gotta finish the first trilogy. Once I finish Batman Origins. Oh, and then I gotta start on WWE 2K14. Oh, and then I promised myself I'd go back to the Fallouts over the break. And Minecraft's bound to be updated...

Todd Vote - No. Mass Effect is just one I couldn't get into. I gave it an honest try, I truly did. But we all know, sometimes a game, even one considered to be a great game, just isn't going to click with everybody.

Sean Garmer - I'm interested because I've always wanted to play the Mass Effect trilogy but never got around to it. Now, I could start over at Mass Effect 4 and see what Bioware has in store for the eventual ME 4, 5, 6.

---

Quizmaster - I have to be fair to Todd, and give him 2931 points, because I feel the same way about Grand Theft Auto. Plus, I know I did a similar rant about Sons of Anarchy and Breaking Bad in an episode of Co-op Multi. I recognize they're great shows, and I gave them a shot, but they don't interest me at all.

---


QUESTION FOUR: Merry Christmas! Here's your gift: you get to ask the Quizmaster one question. This is your big chance, people, don't blow it!

Dan Watson - Quizmaster, as we all know you write in the wrestling section as well. What's your big dream match?

Quizmaster - A Gauntlet match involving CM Punk, Daniel Bryan, Shawn Michaels, Bret Hart, Steve Austin, The Rock, Ric Flair, Edge, The Undertaker, Brock Lesnar, John Cena, Chris Jericho, Kurt Angle, and Mick Foley, all in their primes, with each segment of the match being twenty minutes long, minimum. Serious answer, I never knew I wanted it until I saw them together in the ring last week, but Shawn Michaels vs CM Punk would be pretty sweet.

Mathew Sforcina - How does Mario shoot fire underwater?

Quizmaster - Magic.

Todd Vote - What's the best Christmas present you ever got, Quizmaster? Yeah, I know, it's a softball question, but its Christmas.

Quizmaster - I'm getting a kid in a month and a half, is that close enough to count?

Sean Garmer - Quizmaster, what is the meaning of life?

Quizmaster - Finally, an easy one.




---


BONUS QUESTION: Holidays mean time to knock off early, so talk about whatever you want and let's get out of here.

Dan Watson - I'm exhausted honestly. I'm typing this almost directly after receiving the questions because I've been working nonstop lately. Have a Merry Christmas everyone.

Mathew Sforcina - I have a blog, don't you know. I post a drabble a day, a drabble
being a 100 word story. It's pretty cool, if I say so myself. You
could check it out as my gift, since no-one here can give me Lisa
Marie... http://onetenthpicture.blogspot.com.au/ is the link, thank
you one and all.

Todd Vote - Time to chow on Christmas ham! Peace, I'm out!

Sean Garmer - Wouldn't you know my Kmart gets Xbox One's in stock when I don't even have enough money to put it on layaway. Damn having to pay rent and utilities. But today is about sharing time with family and friends, so have a Merry Christmas and Happy New Year everyone.

---
Please wait, host is calculating scores…
HIGH SCORE
MERRY CHRISTMAS EVERYONE
LIKE I SAID,
WE'RE OUTTA HERE!
COME BACK NEXT WEEK TO TRY AGAIN

Stealth Inc: A Clone in the Dark
The Last of Us
Call of Juarez: Gunslinger
Marvel Heroes
Hakuoki: Warriors of the Shinsengumi
Far Cry 3: Blood Dragon
Dragon Fantasy: Book One
Guacamelee!
BioShock Infinite
Dead or Alive 5 Plus
Tomb Raider
Generation of Chaos 6: Pandora's Reflection
Rocketbirds: Hardboiled Chicken
Ni No Kuni: Wrath of the White Witch
Earth Defense Force 2017 Portable
411 on Twitter!
Quizmaster's Twitter
http://www.twitter/411mania
http://www.twitter.com/411games
http://www.twitter.com/411wrestling
http://www.twitter.com/411moviestv
http://www.twitter.com/411music
http://www.twitter.com/411mma
comments powered by