411 Games Fact or Fiction 12.26.13: Star Wars: Attack Squadron, Dark Souls 2, Watch Dogs, More
Posted by Daniel Anderson on 12.26.2013

Will Watch Dogs make its targeted first quarter 2014 release date? Are we excited for Star Wars: Attack Squadrons? Will EA have to settle at least one Battlefield 4 lawsuit? 411's Stephen Randle and Sean Garmer debate these topics and more!

Hello everyone and welcome to this week's edition of Fact or Fiction. As always, I am Daniel Anderson, and I hope everyone has had a good week. I am sitting at my computer writing this on Christmas night, and I hope everyone has had a good Christmas. This is also technically the last Games Fact or Fiction of 2013 since the next one will be typed up on New Year's Day. Anyway, this week we have 411's Sean Garmer going up against Stephen Randle. Let's see what they have to say, shall we?


1.) After hearing recent comments from Ubisoft, you are concerned that Watch Dogs won't come out Q1 2014.




Sean Garmer - Fact: I am worried because it sounds like the core part of the game needed to be fixed. I know everyone is waiting for this game anxiously. But, I'd rather just wait until the game is ready and everything works great on it. If that means later in 2014 it will be worth it.

Stephen Randle - Fact: UbiSoft now sits in the unenviable task of having four of their anticipated titles (Watch_Dogs, The Crew, South Park, and R6: Patriots) delayed for varying lengths of time. If it weren't for AC IV, they'd be in a lot of trouble, and even that game was originally a planned expansion to AC III that they expanded to a full game and somehow hit gold with. The comments that say they delayed Watch_Dogs because it wasn't a great game are troubling, and have an undercurrent of "the game isn't even close to done" running through them. I hope I'm wrong, but I've already heard rumours that Watch_Dogs may not even hit shelves until Fall 2014.

Score: 1 for 1 - I will be really surprised if we get Watch Dogs Q1 2014. If it does come out then, it will not be the perfect and groundbreaking game everyone was wanting.


2.) With VGX getting 1.1 million viewers, we will see another one next year.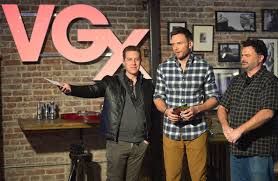 Sean Garmer - Fact: It didn't seem that the show cost them much money since the crowd was fake and yeah... that's all I need to say. We will have another one, but I wonder how many people will watch next year after finding out about how much of the show was really just there to announce almost frivolous awards.

Stephen Randle - Fact: Everyone involved seems happy with the amount of viewers, and those involved have both acknowledged and poked fun and the mistakes that may have been made this year, so I'd imagine we'll get one more after this one at least. I think video games deserve to have an award show, so I'm glad someone is trying to make it a yearly event, I just wish it had been a better showcase of the greatness of video games.

Score: 2 for 2 - I think we will get another VGX, but it will probably be like this year's. Does anyone really want an online only video game award show?


3.) EA will end up settling and paying out money on at least one of the three lawsuits over Battlefield 4.




Sean Garmer - Fact: For sure they will. They already settled and paid the college football players. They will have to pay money for the screwups on Battlefield 4 as well.

Stephen Randle - Fiction: I may just be a simple country hyperchicken with no law degree, but it seems like these lawsuits are a bit hard to prove. Is there really evidence that EA knew ahead of time that Battlefield 4 was going to have such a whirlwind of issues right out the door and conspired to hide it from shareholders in order to cost them money when the stock went down? Are they simultaneously accusing EA of being ridiculously incompetent and also devilishly manipulative? I mean, they may well be, but that doesn't sound easy to display in a court of law. I'm fairly certain EA would prefer that Battlefield 4 be a world-dominating monster that could finally overtake Call of Duty, not the bug-riddled mess we got. Developers may put out broken games, but I don't think they're doing it deliberately in some sort of Machiavellian scheme. At least, I hope not.

Score: 2 for 3 - EA is not having good luck when it comes to lawsuits recently. I think Battlefield 4 was a screw up and that they will probably settle, just to make the issue go away, like they did with the Madden price fixing lawsuit.



---
*~Twitter Break!~*
411Mania
411Games
411Wrestling
411Movies & TV
411Music
411MMA
---
4.) You like that Dark Souls 2 will not have DLC.


Stephen Randle - Fiction: You know what, I'm at peace with the presence of DLC on games. It expands the experience, offers new content, and increases the longevity of titles, especially those without strong multiplayer components. I know Dark Souls has multiplayer, but it's also the type of game that lends itself to DLC of new areas, new enemies, and new items. Unless they're planning to offer them as free updates? Anyway, didn't they get the memo? DLC is the old problem, now we're all hot and bothered about microtransactions.

Sean Garmer - Fact: I like it when you play a game and it feels complete after it ends. Not every game needs extra missions, alternate endings, or excuses for developers to leave things in the air to make you pay more later. Dark Souls 2 is already going to torture your fingers and your mind. Do you really need more after it ends?.

Score: 2 for 4 - I am glad to hear that some developers do not feel the need to add DLC after DLC to a game (especially when some DLC is on the game disc and probably should have been included in the game). Now I can only hope other developers will do the same, but I think the lure of easy money will keep that from happening.


5.) You like Nintendo working with another developer to make Hyrule Warriors (not final title), Zelda Dynasty Warrior game.



Stephen Randle - Fact: It's a game type that frankly, I'm shocked they hadn't thought of before, and Dynasty Warriors-style games all seem to do fairly well and have their own fans. Frankly, I'm for anything that has Nintendo putting out more games. Come on, guys, the Vita is starting to look like it has a vast library of titles compared to the Wii U.

Sean Garmer - Fact: I like it when developers work together to put a unique spin on things. If they can make Dynasty Warriors a bit more streamlined, add in Zelda lore, and put in some of Zelda's gameplay elements I'm sold. Nintendo needs special games like this to make their game library even more diverse. More things like this would make me want the Wii U.

Score: 3 for 5 - I am surprised it took this long for Nintendo to decide to do this. I hope we can see it happening more.


6.) You were excited to hear about Star Wars: Attack Squadrons.



Stephen Randle - Fact: It's no X-Wing vs TIE Fighter, but I'll take it. Tell me you don't want to play a Star Wars starfighter-based game, and I will respectfully call you a liar. Unless those type of games aren't your thing. Which is fine, but you should really try them, they're kind of cool. But seriously, anyone who has seen the Star Wars movies all dream of one thing: flying a starfighter in space combat scenarios. Just make sure we're using the awesome ships from the original trilogy, please.

Sean Garmer - Fact: I'm not gonna be able to play the game, but it's always good for Star Wars fans to get something else to enjoy.

Score: 4 for 6 - I really hope we can get into some of the starfighters that were in the Expanded Universe too. I love the idea of flying a TIE Defender or an E-wing. I really hope this is a good game and doesn't end up being pay-to-play.

Bonus Question: Since this is the last FoF before the new year, what games are you most looking forward to in 2014??

Stephen Randle - inFamous: Second Son, Destiny, Watch_Dogs (I can hope), Persona 5 (even though it likely won't hit America until 2015), The Division, The Order, and I have hope that there could be a Mass Effect 4 by the end of the year. Or at least we'll know about it in some form.

That wraps up this week's edition of Fact or Fiction. Stephen and Sean went 4 for 6 agreeing more then they disagreed. Let me take a second to promote Co-Operative Multiplayer, the podcast myself and other 411 writers take part in.



I hope everyone has a good week, and until next week, happy gaming.

comments powered by