SPOTLIGHTS
The Retronomicon 01.03.14: Super Mario Bros.
Posted by Stewart Lange on 01.03.2014

The last of Stewart Lange's Retronomicon columns takes a look at Super Mario Bros!

Hello everyone and welcome to the final Retronomicon column I'll be writing! I'll skip over the usual nonsense that I'd type here to make my thanks to certain people and that sort of thing. First off, a big thank you to Ashish, Jeremy Thomas and Adam Larck for letting me come back to the site to write the column I'd wanted from day one. I've had great support from some of the other writers on the site since coming back, namely Mathew Sforcina and Todd Vote, who have been great help in this transition. Also, to Cara for taking over the retro reigns of the column. I'm sure you'll all agree she'll be absolutely fine. Thanks also go to Remo at TEKDesigns for all the banner work he's done for me.

I'd be amiss if I didn't thank all of you for reading, whether it's been just this time, or every week from the start. I've had some great messages from some of you since announcing my new column and it genuinely means a lot. From the guys who are active on the Facebook page, like Bam and GVIL, to the ever present commenters like AG Awesome, G-Walla and sdelfin amongst others. Sorry if I've left you off the list, but you've all made doing this column worthwhile even on the days where I've not been bothered or would much rather be playing a game instead of writing about one. I'm going to continue a mini-Retronomicon within the new Ask 411 Games to keep you all up to date with my pick-ups and what I've been playing and remember and make sure to tune in every Friday as normal for The Overlooked. I'll see you all on Monday with my new column, please come over to support me and I'll make sure and keep putting the effort in to write the best column for you every week.

Cara offered to concentrate on her column for next week so I could get this last chance in the retro spotlight myself!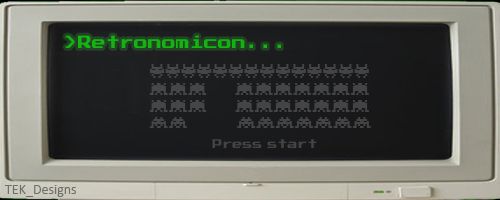 THE FEEDBACK

Just a few comments to go through from my "Best Of" column last week, so let's just get to it!

APrince66- Love the trips down old school memory lane. Thanks

Not a problem. I hope to see you back on Monday for more trips down memory lane and into the stranger side of gaming too!

AG Awesome- No secret of mana?!

...But a nice little recap. So many good oldschool games that even a simple pic of can take me back to that special place of being a kid again.

That's exactly while I'll be continuing to post something every week! The retro games are still my passion so expect that to shine through every Monday! Does it seem like I'm plugging this enough yet?

sdelfin- Good times! I especially liked the look back at games on the Mega Drive and others from that era. I've been playing a bunch of late 8-bit and 16-bit era games lately. I'm still due to give Decap Attack a proper play through. I think I will do that one next.

DO IT! Decap Attack is genuinely awesome man!

Troy Harter- You should really give FF9 a chance. I played it just last summer and it is a great old school JRPG. The best in the series other than 7 in my opinion, and I have played most of them. It takes a little bit to get into, admittedly, but once it sinks its claws in, it doesn't let go until it's over.

I'm very, very close to having a full collection of Final Fantasy games so at some point in my life, I do intend on trying to get to a point I've beaten them all. Maybe one day I'll get to it. Check back in around 10 years.

Otherwise, check back Monday for the return of Ask 411 Games, only RIGHT HERE on 411Mania! BANG BANG!

Right now, though, I'm focused on going out in style and what better way to do that than with the game I promised I'd avoid until I had to do it? Well, given that this is it, it's definitely time for the Retronomicon to take on the legend that is Mario. Let's go.





THE STORY

Super Mario Bros was released for the NES in 1985. While not the first appearance of Mario (That'd be in Donkey Kong) or even the first Mario Bros game (that'd be, well, Mario Bros) but it would be the first game that got the Super Mario formula down just right to what we know and love today. With the player taking the role of Italian plumber Mario, you have to race through the Mushroom Kingdom trying to save the lovely Princess Peach from the nefarious Bowser, who is almost always one step ahead of our hero, getting Peach to a different Castle just as you are about to rescue her.

The gameplay is the now standard platforming fare, with Mario collecting coins whilst dodging the bad guys to get to the end of the levels. While the gameplay has evolved over the years, the basic premise has always remained the same, with different power-ups being added to give Mario powers such as flight, fireballs and even ones that make him extremely small or huge enough to smash through the levels like they weren't even there. Different focus has been given to speed, finishing levels and collecting coins but ultimately, Mario is always chasing Princess Peach for nothing more than a simple thank you. Maybe just once she'd be willing to put out for the poor guy.




THE AFTERMATH

I don't really need to type about the impact that Mario has had on the gaming world. Considered as one of the finest games ever created, Super Mario Bros has been copied a lot, but never replicated to the same high standard. Even Super Mario Bros 2 didn't get it right, with Japanese title "Yume Kojo: Doki Doki Panic!" being rebranded as a Mario game, despite very little familiarity to the original. Mario Bros 2 was a strange affair and one I've genuinely never been able to play. It borrowed aspects from both the NES debut title and the original Mario Bros "pipes" game, but to this day I don't get it. Sorry. Now, we come to Super Mario Bros. 3, which is seen by many people as the crown jewel in the series. A huge adventure of a Mario title, SMB3 was the first Mario title to include RPG elements as you could move around the world map at will and collect power ups to use as you wished later on.

Once the game moved onto the N64, the side scrolling action was scrapped in favour of utilising the 64's powerful (yep) processor to create a fully explorable 3D world for Mario to save Peach in and the results were outstanding. While the boss battles took a little while to get used to, not to mention the sometimes terrible camera options, but the overall experience was a great change of pace for the series, which was at the point where more releases in the same style would have got a little repetitive. There wouldn't be another side scrolling Mario games until New Super Mario Bros released on the Nintendo DS in 2006, with there being further releases for the Wii, Wii:U and 3DS in recent years, ensuring that the series is still going as strong as it was in the late 1980s.




MY THOUGHTS

SEGA RULES! I'm joking. Of all of the games I couldn't play on my Master System, I was always very upset Mario wasn't one of them, but I wasn't really old enough to understand why not other than the carts wouldn't work. I did, of course, get to play Mario at friend's houses, but it was never the same as having your own cart. Mario 64 was the first title that I owned for a major console, with me having Super Mario Land for the Gameboy when I was younger. I really enjoyed the game but had to give the series a bit of piece by the time the likes of Super Mario Sunshine came out as I was just old enough to start going out, drinking and other such things. When I met my wife, it turned out she was a Mario wizard (wizard-ess?) as a child and we set about getting a SNES with Mario All-Stars- arguably the start of my game collecting. I was nowhere as good at it as she was, but we were able to play it together, which was all well and good until New Super Mario Bros Wii came out and I was "too shit at it" to play with two player. Love you too, dear. While Sonic is my personal platform game of choice and Mario isn't my favourite Nintendo exclusive (Tetris), it's undoubtedly a phenomenal game series that I'll continue to play and enjoy as long as they are being released.




RETRO COLLECTING

Mario games are all common but will still cost more than a few bucks due to their popularity. The Mario spin-off games are generally worth more, with the likes of Mario Kart and Smash Bros if you are willing to lump it in still going for "new game" money depending on condition.

This week I picked up around 25 "shit" Gameboy games, with most of them being kids titles, such as Looney Tunes and stuff. I've traded most of them out, even given a couple away as part of Cara's wages. Not sure how I've wound up covering those, must contact the bosses.......

Love retro collecting? Me too! Share your best finds with me in the comments section or on Instagram! My user name is outafterdark216 and I always post my newest pickups!

Well, that is all I have for you! Here are a couple of important links, plus the email address to send ANY QUESTIONS you have for Ask 411 Games!

My Gaming Pictures on Instagram
Ask 411 Games on Facebook
Stewart.411Games@Gmail.com

Well, I've already said my goodbyes, plus, I'll see you all on Monday. Until then, though.......


comments powered by