SPOTLIGHTS
Ask 411 Games 1.20.14: Piracy, Sonic, Crash Bandicoot, More
Posted by Stewart Lange on 01.20.2014

Why was Sonic the Hedgehog made to be blue? Why aren't management games made for consoles? Are there any Crash Bandicoot games for the PS3? All that and more covered this week in Ask 411 Games!

Hello everyone and welcome to another edition of Ask 411 Games! It's been great hearing how much (some) of you are enjoying the return of the column and the questions are starting to come in, but remember, I really need as many as you can think of to come in! Email me at Stewart.411Games@Gmail.com so I can continue to give you something worth reading to start your week! I may have suffered slightly last week as I was up against some of the end of year awards on the site, along with the games zone very own Game of The Year award. Let's touch on that briefly before moving on.

I didn't vote for Tomb Raider as my GOTY. In fact, it wasn't even in my top 5. For full continuity, here is my list in full:

1- Assassin's Creed IV: Black Flag
2- Saints Row 4
3- Bioshock: Infinite
4- GTA V
5- Payday 2
6- Tomb Raider
7- Injustice
8- Pokemon X
9- Batman: Arkham Origins
10- Call of Duty: Ghosts

So, as you can see, Tomb Raider was 6th on my list but it was on pretty much everyone's list and I think it deserves some pretty high praise. Hopefully it prompted some of you to check it out, but one thing I'll say about the feedback is this- unfortunately, we can't all own every console or play every game. Some of us will miss games out, I've already had a hard time for missing the Last of Us, but I actually wasn't a big fan of Uncharted, so I'm really not excited to play LoU either. Just not my style of game. I will say though I'm still enjoying Diablo 3, if I'd got it before Christmas it would have beaten Injustice on my list to 7.

Anyway, you don't come for the list rationale, you come for the columns and the sexy new banner!




Last week got a bit of feedback, so let's get right to it. First off, I'll thank thecountofincognito for calling me out on a little bit of a cock-up on my part, missing out the most vital part of an answer.

I think it was probably just a case of the system itself never being popular enough to attract a worthwhile following in the nostalgia-based marketplace.

Hit the ball out of the park with that one. I literally came up with every single other potential reason why the Magnavox Odyssey 2 never came out with a compilation, with copyright, software difficulties and every single other option other than what I meant to write to begin with- it was actually just a little bit crap.

G-Walla- You give me too much credit. I didn't design the old banner, I simply ripped the Mario gif in the middle from a video 4Cena showed me.

I assumed you had, dude. I thought Mr. Walla had designed the old Ask 411 Games banner, but he hadn't. My mistake, sir.

Jed and Mike both had kind words about Flashback, which was my featured retro game last week. Mike also said-

I'd argue that the SNES era was best for rpgs but ps era was great as well.

Good call, many classics on the SNES such as Earthbound and Chrono Trigger, but I would say the scope the PS1 was able to handle made it the definitive RPG system. Just this man's opinion.

Were you able to get last week's riddle?




cally033 manages to get it again!

I've had 14 games developed by 13 studios- 3D Realms through Gearbox.
I've had a 20 year career that started badly and ended pretty badly too.- The first and last games reviewed very badly.
My theme song was performed by band who sang about "the whole world" and UFO conspiracies.- Megadeth (La Toute Le Monde and Hangar 18).
My voice is provided by a guy who's surname is the correct spelling of his first name- Jon St. John
I've not aged a day despite my wild lifestyle. Who am I?- Duke Nukem!

Does anyone else want to try and win this week or will cally033 get a hat trick of correct answers? Here is your puzzle for this week. I'll try and make it tougher.

Who am I? I've trained in martial arts since I was 7 years old and I kick ass. I'm a Sagittarius who has also been seen karting and playing (American) Football. Before settling on my preferred mode of transport, I drove a forklift truck. I once lived in a town that shares a name with the Granite City in Scotland. I may never leave the quarry.

BRING ON THE QUESTIONS!

Got three questions each from two different readers this week so I'm going to start of with Jonny and see what he is wanting to know!

Why was Sonic the Hedgehog blue? Hedgehogs aren't blue!

Indeed they are not, my man. Well spotted. We actually have a few reasons for this, so feel free to pick your favourite.

1- Because Mario was red.

Yes, Sega just wanted to be different. Mario was red, Sonic was blue.

2- The comic book reasoning.

In the famous Sonic the Comic, while Sonic was being kept in Dr. Kintobor's (later Robotnik) laboratory, he ran so fast in a training wheel that he broke the speed of sound and it just kind of happened. I'm not sure how it happened, but it did. Comics don't have to make sense. In fact, the best ones don't.

3- To match the Sega logo.

I know this is probably the most boring answer, but it's also THE answer. The only thought process in making Sonic blue was that he could match the Sega logo.





Are there any Crash Bandicoot games of the PS3 and if not, why not?

I didn't even consider this, to be honest with you, but no. There are no Crash Bandicoot games available on disc format for the PS3. You can buy the first three on the Playstation Network, but other than Nitro Kart, they were the only Crash games developed by Naughty Dog, who sold the rights to make the games. Crash Bandicoot: Wrath of Cortex was the first game developed by Traveller's Tales. Due to big disagreements between Traveller's, Vicarious Visions, Sony and Vivendi who were to publish the game, it all got extremely murky which is why Wrath of Cortex reviewed quite badly and was nothing like the open world game we were promised at the time.

The fallout between Vivendi and Sony would ultimately seal the one-time mascot's fate, as no more games would be released on Sony consoles as exclusives. The rights changed hands a few times before finally falling into the hands of Activision and we all know how they like to make life easy for everyone.




Rumours have been swirling around that Crash will be back on the PS4 in some manner, however these are all unconfirmed so far. Maybe, just maybe, the reboot that has been spoken about will actually happen and we may get to see another Bandicoot game on a Sony console.

Finally from Jonny, he asks about a subject that may or may not be of interest to some American readers.

Why has there not been a management sim game on a console for so many years?
Note- by management sim, I believe he means a football(soccer) manager game, IE- Championship Manager or LMA Manager.

Let me do a little bit of background for the less-informed readers out there, since I don't know how successful "soccer" management games are over the pond. The Championship Manager franchise was absolutely huge over in Europe and then it became Football Manager. Before it became FM, Championship Manager and it's rival LMA Manager had come success on the PS2, with FM releasing a successful version on the Xbox 360 in 2007.

The big reason Football Manager creators have cited for not releasing another title for either the 360 or PS3 is not sales related, rather the console integration. Despite the huge amount of processing power required for the massive database to run, they believe the game isn't suited to the console style and don't want to half-arse an attempt to port again. Sport Interactive head Miles Jacobson has been recorded as saying they may look to re-invent the game for consoles at some point, much like Civilisation Revolutions had to do to make the game work out slightly better for the controller. Which it probably never will. Because they don't work right on consoles.

Now, I get to hand over to regular reader and all round top guy, GVIL who sent me some questions via Facebook.

I know you said you were a Sega fanboy back in the day. Were you still a fanboy when Sega said they were only going to make software? And how did you feel about it?





Yes, my love for Sega has been pretty well documented throughout my tenure here on 411 Games and I'm sure my bias will have shone through even to those of you who have only read my last two columns, let alone all of my Retronomicon efforts. I'd call the Master System and Dreamcast my two favourite consoles ever, while the Saturn holds a very special place in my heart, despite all of the issues surrounding it. By the time Sega announced that they would be developing software exclusively and leaving the console race, I was disappointed that there wouldn't be another piece of hardware from them, but I'd also "grown up" enough by then to understand the decisions involved and why it had to happen.

As far as enjoying the software that followed, not so much. My love for Sega remains with their consoles rather than the games they've made since changing their strategy. I'd actually love to see them look at rebooting some of their classic franchises for the current generation. An Eternal Champions game that looked and felt as good as Injustice? Or a new Streets of Rage game in an open world setting?

OR HOW ABOUT JUST GIVE US SHENMUE 3 ALREADY?

No Glad0s. Actually, this leads us on quite nicely to his next question.

What game that was never released would you still like to play?

Now, not going to beat that Shenmue 3 drum again, because that's far too obvious, or games that haven't been announced that we should still conceivably see soon, ie- Left For Dead/Portal 3, can I just say I'd really like to play that awesome Alien game we were promised?




Thinking of two really big ones that have been rumoured over the past few years, inSane by Guillermo Del Toro was a game that really looked like it would take survival horror in an exciting new direction, but the biggest one for me as a huge Batman geek would likely be this little gem.





I realise this week has been fairly video heavy, but give that one a watch. Gotham By Gaslight is one of my favourite Batman stories and it's a shame it was never picked up by a publisher. As much as I feel like we could use a rest from Dark Knight related games until the new one comes out, I'd love to see this one come to life one day, even if it was only as a major DLC.

Anyone else got a game you were REALLY looking forward to before it was cancelled?

Last one from GVIL and my finishing off this week, is one that may be worth skipping, if your name is Justin Watry.

Is the PS1 the most pirated system and easiest to get copy games for? I know every system had copy games but most of them only gamers knew about. Yet with the PS1 you could go into a pub and some matey boy would be selling games.

Around the turn of the millennium, at least in the UK, it was pretty hard to avoid being approached in a bar by some "entrepreneur" offering you video games and the very latest movies on extremely legit discs. These bargains would usually set you back £5 each or 3 for £10, which would be a great markdown on the £40 for games and £20 for a DVD movie that we'd have to spend normally. Ah, those were the days.

Looking at the official statistics for most pirated games, Call of Duty features very highly, as do PC titles such as the Sims and Starcraft. I'm going to go out though and answer the question for what it is.

I'd say yes. The PS1 was EXTREMELY easy to "hack" with the PAL model (I'm not 100% if it was this easy elsewhere, forgive me) being easily tricked into reading copy games with as little as a spring. Yep, that easy. I also didn't know anyone who owned a PS1 who also didn't have a folder/binder full of copied games. Would they all work? Nope. Did everyone know someone who knew "a guy who could get them PS1 games"? Yep. While it's certainly become easier to download and copy games for pretty much any medium, I'd say for ease of access and the volume of PHYSICAL copies of pirated games, the PS1 would very likely win hands down.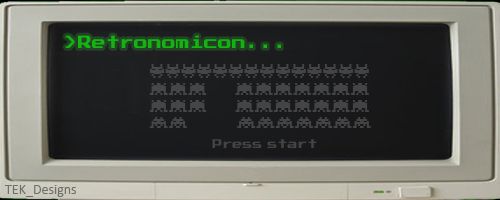 This week I've been able to get back into arranging trades as good stuff seems to be coming my way with some ease. The market has re-kicked after Christmas and with the new consoles becoming fully stocked again, a lot of part time retro-collectors are selling up to buy the Xbox One or PS4, which suits me fine as I've just hit 100 complete in box Mega Drive titles and picked up a mass of Gameboy and SNES titles too. While I may not keep them all, I'll certainly be able to swap them out for stuff I don't already have.

My pick up of the week and featured game for you all this week is the Gameboy version of Snow Brothers. ANY UK readers have this on the NES, email me. Let's talk business.






---


Not much more for you all this week, except for me to say I hope you've enjoyed the column and if you haven't, remember I'm only as good as my questions so if you think you can do better, send any you have to Stewart.411Games@Gmail.com, leave them in the comments section or look up Ask 411 Games on Facebook and hit me up on there. Until next week, enjoy your gaming, enjoy the Royal Rumble and most importantly, check back in on Monday for another edition!
comments powered by