Four Player Co-op 01.22.14: Wii U, Tetris, SimCity, More
Posted by Stephen Randle on 01.22.2014

Is The Division the upcoming game least likely to see the light of day? After terrible sales numbers for last year, is the Wii U a doomed console? Will introducing an offline mode bring players back to SimCity? The 411 staff debates these topics and more in the latest 4PC!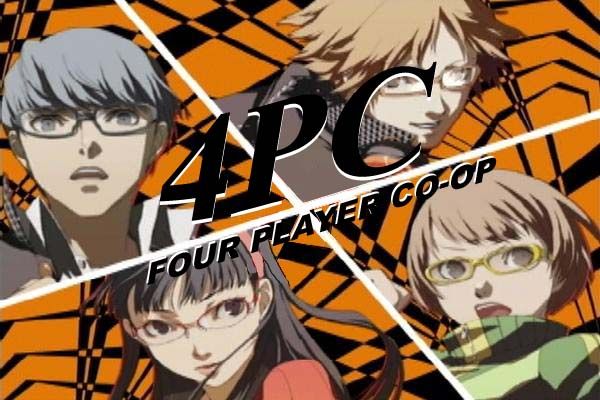 Daniel Anderson has joined the game.
John Cash has joined the game.
Todd Vote has joined the game.



Quizmaster - Greetings, and welcome to another edition of Four Player Co-op, the game where nobody is quite sure what the rules are, but we keep playing every week, and you can't argue with tradition, so here we are. Yep.

Start the game!


---


QUESTION ONE: All right, so Nintendo recently slashed their projections for Wii U shipments for the fiscal year from 9 million all the way down to just under 3 million. Sadly, if in fact the Wii U manages to hit that now-reduced goal it would actually be a big upturn in sales for the beleaguered console. President Iwata was recently quoted as saying that the company is "thinking about a new business structure", including hinting that there might be interest in moving towards developing for phones and other other portable devices. I know I've asked similar versions of this question a lot, but given this new information, how much longer do you see Nintendo continuing to support the Wii U?

Daniel Anderson - Nintendo is going to support the Wii U until they have an alternative. Just because they have admitted that the Wii U is not producing, does not mean they will abandon it. Right now, I do not see Nintendo going the Sega route and just making games with their in house properties, so the only other thing they can do is keep putting out games for the Wii U while working on a new console (and keep supporting, and focus more on, the 3DS). I think we will also see Nintendo make a move to put out more cross platform games on the Wii U.

John Cash - I'm going to stick to my guns and say Nintendo will ride this one out, for better or for worse. It might be a short generation for them, though, as I could see them coming up with a new machine five or six years from now. Thank god they have the 3DS money-printer on 24/7, otherwise the answer to this question would be a lot more simple, "next SEGA".

Todd Vote - I think at this point, even if Nintendo started developing for phones and smart devices, they would still make games for the Wii U, at least to prove loyal to the customers who stuck by them, right? Let's say at the end of 2014 they decide to stop producing the Wii U. The optimist in me wants to say they would continue to make a few games for it through the end of 2015. Of course the pessimist in me sees this whole thing completely different. When Nintendo says they are considering a different business structure, are they talking about just developing for smart devices? Or are they talking about breaking into the crowded smart phone / tablet market? Would the abandon the Wii U completely?

If they go this route, does that mean they aren't going to bother offering their extensive catalog of games on the PS4 or the Xbox One? I can't see them wanting to miss out on the millions... And MILLIONS of dollars that they would be privy to if they did release a Mario, or a Zelda title on either of those platforms. Hell there could be a huge bidding war to get Nintendo as an exclusive for either console.

Quizmaster - We discussed this to a certain extent on Co-operative Multiplayer (which you can conveniently listen to below), but none of these gentlemen were on the show, so you can get even more perspectives. It's really unlikely that Nintendo would come out and say they were giving up on the Wii U, but there's a certain air of inevitable doom that seems to be hanging over it and not getting any better. Similar to what John said, for 235 points, if the 3DS wasn't making so much money, would Nintendo really be so willing to let this lost cause float along?

---


QUESTION TWO: Well, UbiSoft may have delayed nearly every single one of their most anticipated games for this year, but they have announced an intention to publish a next-generation version of the popular franchise…Tetris! Is there really a way to make a "next-gen" Tetris that doesn't totally betray the entire concept of the game? Am I the only one that finds this idea laughable?

Daniel Anderson - I think Ubisoft is desperate at this point to try and get games out this year. There has been so many rumors about games being delayed, they had to put out something to, try to, impress their investors to keep them from selling off stock. Tetris is a big enough name that it will reassure some investors by telling them, "we have this well-known franchise we can release a game for this year". Will it be a groundbreaking game on the new consoles? No. Will it make money? Yes, and that is all they need right now.

John Cash - I am not surprised at all that TETRIS is being made for Gen 8 consoles. It speaks to the strength of the game. I wouldn't really say its laughable either, considering how amazing Pac-Man Championship DX edition is. And to be fair, people have been saying this about Pong and TETRIS since both appeared on the original Playstation. Well it's been 20 years since then, and as far as I know people still play TETRIS on their phones and computers, so why not? LONG LIVE THE L BLOCK!

Todd Vote - Only thing I can think of that they could do is add some cool effects for when you clear a row of blocks. Something similar to what Geometry Wars does with all the different color sparks and whatnot. HD graphics, cleaned up sound. Maybe dub-step all the Tetris music, that would be awesome, said nobody EVER! Shiny new graphics, and music. Other than that, there really isn't a way to mess with the Tetris formula without ruining the game. So yes, laughable. Even more so if you think to yourself that Ubisoft delayed every other game, just so they could get Tetris out the door.

Quizmaster - What Todd said about UbiSoft delaying everything just to ensure Tetris gets made probably isn't true, but it's the appropriate level of rabble-rousing for this sort of topic, and I approve to the tune of 1936 points.

---


QUESTION THREE: Speaking of delays, remember #Driveclub (the hashtag is silent)? It was a PS4-exclusive launch title and also was set to have a stripped-down version released free for PS Plus subscribers as an incentive to get people to pay for the service. It was delayed shortly before release and it's apparently been delayed again, as it will not be ready for the February 22nd Japanese release of the PS4, where it had once again been announced as a launch title. All this talk of launch game delays reminds me of last generation's most infamous piece of vaporware, The Last Guardian. So, of the games that we already know are allegedly on the way for the new consoles, I want you to pick one that you think has the best chance of never actually getting released at all, despite never officially getting cancelled.

Daniel Anderson - I think I am going to have to go with The Division here. According to recent rumors, there is no chance the game is coming out this year. The engine is built, but the world hasn't even been started yet. If that is the case, I can see the following occur. First, Watch Dogs comes out and performs poorly due to it either not working or not living up to promises of things you can do in the game (think Fable). Ubisoft then looks at all games in development and picks an established franchise they can take people off of new IP's to work on and try to get a hit (or well selling game). I think, if that happens, The Division is the most likely candidate to have people taken off it. Then, once people get removed, the game slowly has issues in development, and then eventually gets canceled.

John Cash - It has to be The Last Guardian, doesn't it? I mean they've been hinting at it for over seven years now, and nearly an entire console generation went by since they started showing screens of it. It sounded like an incredibly ambitious effort to begin with, making a more realistic animal AI that also could sometimes be your mount and also other times be your enemy. It's looking pretty grim for the game, especially when you have Fumito Ueda saying in an interview that the game KNACK was taking precedence over it last year.

Todd Vote - If I had to pick one game from both next gen consoles that will never see the light of day, despite never officially getting cancelled,, I think I would choose the Xbone exclusive: Quantum Break. The whole concept might just be to ambitious. You have a video game, and an apparent TV show that are supposed to tie in together, if I am not mistaken, to such a point where the game will stop playing and offer you the chance to watch the TV show to see more relevant information that you can use in the game? I think it is a fantastic concept, but is it just too much to undertake?

Quizmaster - John goes off the board and picks Last Guardian itself, which is actually eligible for consideration since it has not yet been officially cancelled, only put "on hiatus". Make no mistake, though, that game is never coming out, so John earns 2835 points.

---



QUESTION FOUR: And, after EA spent a lot of time telling people that it was impossible, they have revealed that they will be releasing a patch for SimCity that will allow you to play the game in offline mode. Of course, this really doesn't fix any of the other big issues with the game, but hey, maybe it's enough to get someone interested again. Is it really enough? What do you think?

Daniel Anderson - Most people who stuck with SimCity through all their problems probably will appreciate the patch, but I do not think it will be enough to get more people to buy the game. The damage is done, and EA has to move on and just try to improve with the next game (hopefully using what happened with Assassin's Creed 3 and Black Flag as an example of how to get people to forget about a bad game in a franchise and improve it at the same time).

John Cash - I think too many good games have come out since all this ridiculousness with EA and SimCity happened for people to be interested in coming back. It's hard enough playing a game with ZERO problems all the way through these days without jumping into another game for a bit and then forgetting about the first game for a while, so I can't see too many people going back for more pain with SimCity.

Todd Vote - This issue hasn't been resolved yet? Shit I thought we were done talking about the Sims last year. I don't think there is much that will sell any new copies of the game, but if I already bought it, yeah, I might play it again.

Quizmaster - Has anyone ever tried to reboot a reboot of a popular franchise? What would you call that? How do you title it, since the reboot was already "SimCity"? These are the questions that keep me up at night. Thanks a lot, EA.

---


BONUS QUESTION: Hey, has anyone noticed that the Winter Olympics are coming up? Are you excited? Because I'm excited. But then, I'm Canadian, if there weren't already Winter Olympics, we'd probably just do them ourselves. But what about your excitement level?

Daniel Anderson - Sorry, I am not a big fan of the Olympics. I used to enjoy them more as a child, but then we got all the drug scandals (and I learned just how corrupt the IOC is when awarding who gets the Olympic games) and I just stopped caring. I will still like to see the US do well, but I will not make it a point to watch specific events or anything like that.

John Cash - My hype level is about an 8, I really enjoy the Winter Olympics! Olympic hockey is a must watch, snowboarding and skiing are always pretty entertaining, and ever since I got to watch people hone their Curling skills during a stay in Austria I have been utterly fascinated by the sport. Even stuff like Luge, Skeleton, and Bobsled can be edge-of-your-seat type stuff, despite the repetitiveness. GO CANADA (and America too I guess, when Canada ends up being too polite to win everything.)

Todd Vote - I can't wait for Curling. I know it sounds like I am being a smart ass, and to an extent, I am. But yet, every time I pass a TV station that happens to be showing some curling, there I am, putting the remote down, and watching the shit out of it. Also, I would have to watch Cool Runnings again to see the story of the Jamaican Bob-sled team!

---
HIGH SCORE
PLAYER 3 WINS
CURLING: YOU CAN'T HELP BUT WATCH IT
PLUS IT GIVES CANADA SOMETHING TO FALL BACK ON
IF WE SOMEHOW DON'T WIN GOLD AT HOCKEY
COME BACK NEXT WEEK TO TRY AGAIN

411 on Twitter!
Quizmaster's Twitter
http://www.twitter/411mania
http://www.twitter.com/411games
http://www.twitter.com/411wrestling
http://www.twitter.com/411moviestv
http://www.twitter.com/411music
http://www.twitter.com/411mma
comments powered by