SPOTLIGHTS
411 Games Fact or Fiction 2.20.14: Slim Vita, Titanfall, South Park: The Stick of Truth, More
Posted by Daniel Anderson on 02.20.2014

Was making Titanfall's beta available to everyone on Xbox One and PC a good move? Did South Park: The Stick of Truth's gameplay make us more interested in it? 411's Jeremy Thomas and Todd Vote debate these topics and more!

Hello everyone and welcome to this week's edition of Fact or Fiction. As always, I am Daniel Anderson, and I hope everyone has had a good week. For anyone who is wondering, Titanfall is awesome on the Xbox One. I really am enjoying the beta. It is a lot of fun and the match size feels pretty good with the amount of stuff going on each level. Anyway, this week we have 411's Todd Vote going up against Jeremy Thomas (Randle is out while he and his wife adjust to their newborn). Let's see what they have to say, shall we?


1.) You are less likely to contribute to game funding after Kickstarter was hacked.




Todd Vote - Fiction: To be perfectly honest, the chances of me ever contributing to anything on Kickstarter was very slim to begin with. Don't get me wrong, Kickstarter has been a good thing for a lot of companies, and it has helped get games and movies made that otherwise wouldn't get a chance. It's just not something I ever saw myself contributing to. Kickstarter being hacked is sadly an expected evil at some point in this day and age. Everything gets hacked these days.

The way you decide if you can trust a company again is not whether or not they were hacked, but how they handle the situation moving forward. Does the company act like it is no big deal, and try to keep it all quiet, or do they fess up to what happened and be totally honest with their customers.

Jeremy Thomas - Fiction: I'm generally not less likely to do much of anything after a site gets hacked. Hackers are out there, and some small nefarious few of them they do these kinds of things sometimes. Anyone conducting any sort of business online involving their personal information, whether Amazon, or Kickstarter, or even just Facebook or Gmail, should be aware of that. The difference between the companies in how they store their information and what people get. Kickstarter has said that no financial information was disclosed, and that people should change their login information but they're safe. That's good enough for me. Funny enough, I actually happened to donate to a new project the day after it happened, so this was an easy Fiction for me.

Score: 1 for 1 - I didn't think that this wouldn't keep anyone from contributing to Kickstarter, and it is good to know that it hasn't seriously changed people's opinions of the service.


2.) You are interested in Transformers: Rise of the Dark Spark.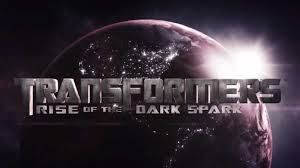 Todd Vote - Fact: I've been very satisfied with High Moon's previous Transformer games. Well, to be more specific, I loved War for Cybertron. Fall of Cybertron was good. So the only one that I was less than satisfied with was, big surprise, the movie tie in game, Dark of the Moon. I hear this new game is to act as a sequel to both Cybertron games, while also acting as a sort of prequel to the new Age of Extinction movie that is heading our way. Luckily the look of the game more resembles the Cybertron games, and not the Transformer movies. So yes, I am looking forward to this game.

Jeremy Thomas - Fact: If only vaguely. I had a little fun with Transformers: Fall of Cybertron but I didn't love it by any stretch of the imagination. I expect that I will feel the same way about Rise of the Dark Spark. This one is supposed to bridge the continuity between the films and the games, and I don't have a high opinion of most of the films so that doesn't help. But without a huge amount of information out there I will say that there's a small amount of interest because I will give most games a chance unless my past experiences with the series are particularly bad.

Score: 2 for 2 - The only reason I am nervous about the game is that this isn't being made by High Moon.


3.) You doubt Amazon will buy Xbox from Microsoft.




Todd Vote - Fact: Wait, is this even a thing? Hold on, let me google that right quick… I'll be damned… it is a thing apparently. Just a rumor, but rumors start somewhere, right? I don't see this happening. I think if Microsoft were to get out of the console business, they would not do it right at the start of a new console generation… Maybe that is just me.

Jeremy Thomas - Fact: Aaron Greenberg has already called it ridiculous, but let's pretend for just a moment that he's covering for private ongoing negotiations (he's not, but we can pretend). There is no way that Microsoft would let the Xbox go, and there's no way that Amazon would be willing to pay what Microsoft would potentially want for it. Amazon is kind of invested in the other ways that they're going to try to take over the world, such as their Instant Video service, their drone delivery service, their psychic predictions of what you're going to buy and so on. Not to mention that little "we sell books and things" deal they have on the side. It's a goofy rumor that I discounted the second I saw it.

Score: 3 for 3 - I don't really see this happening. The most I can see is that Amazon and Microsoft enter into some type of partnership on the console. Time will tell, but I think this is a rumor that got started by someone to see if people would run with it.



---
*~Twitter Break!~*
411Mania
411Games
411Wrestling
411Movies & TV
411Music
411MMA
---




4.) After watching the video for Stick of Truth, you are more interested in the game despite the numerous delays.



Jeremy Thomas - Fact: The delays never bothered me, because I am all about a studio waiting until a game is fully ready and as good as it can be before releasing it. It's not like it was held off until it became considered vaporware or anything. (Hello, Duke Nukem Forever. Yes, I just like taking shots at that game.) But that being said, the gameplay video is fantastic and looks like something I'll enjoy the hell out of. It appears to be as close as you can get to being in a South Park episode and isn't that what we want from a South Park game? "So tell me, are you sure you want the name douchebag?" made me laugh more than it should have.

Todd Vote - Fiction: This game is sort of a double edged sword for me. On one hand, it is South Park, so it has my attention. On the other hand it is an RPG, so I keep wondering to myself if I would even enjoy the game. The video, and the numerous delays on the game haven't helped or faltered my anticipation of this game. I still want to give it a shot, still unsure about whether or not I would buy it.

Score: 3 for 4 - I was nervous about the game. Yes, there have been several games that have been delayed for one reason or another and ended up being a good game, but there have been others that have ended up being horrible after delays. The gameplay made me laugh, and, as Jeremy said, it was the closest you can get to being in an episode of the show.


5.) The Slim Vita will not significantly increase Vita sales in the US.




Jeremy Thomas - Fact: I don't see it bumping Vita sales much. A little bit? Yeah, sure. That's entirely possible. But most people who were going to buy a Vita probably already have. There will be some who have a PS4 who use this opportunity to finally get a Vita, and that's probably the primary market Sony will be aiming for, but how big of a market is that, really? I certainly don't think it's a bad move by them; it's just not one that's going to turn the Vita from a reasonable success into a massive one.

Todd Vote - Fact: Why would it? It's not really a complaint I ever hear about the Vita, whether or not it is just too big. I suppose the slimmer model may spike a few sales figures, but I wouldn't expect it to have a significant, lasting impression overall.

Score: 4 for 5 - Sounds like everyone is in agreement here. I wonder how much money, if any, Sony is losing on the Vita.


6.) You like Titanfall opening the beta to everyone on PC and Xbox One.




Jeremy Thomas - Fact: I don't have a strong opinion either way for how it affects me personally. I already had a beta invite and was digging it; more people doesn't make my experience worse or better. However, more people DOES make the launch better as they get a better sense of stress testing and other purposes of a beta. You always want the biggest sample you can. Personally I'm excited for the game, and I disdain multiplayer as a rule so that tells you how good it is. Anything they can do to make sure the game is server issue and bug-free makes me a happy camper.

Todd Vote - Fact: Absolutely. The announcement that the game was only going to feature 6 on 6 matches hit some gamers pretty hard. So it makes sense to open the beta, let people get an idea of what they are buying into. It was absolutely a good idea.

As far as the game itself, I've heard mixed reactions. Some people seem to think it is fantastic others seem under-whelmed with it. Our own Stewart Lange had this to say on Facebook: "Titanfall beta. Think my £50 is safe. Still cool, but not for me."

Have to wonder if this is going to be the game changer they are hoping it will be.
.

Score: 5 for 6 - I like that they are inviting more people in to stress-test the servers. I really have been enjoying the beta, and recommend anyone who is slightly interested in the game to give it a shot. The 6 v 6 match limit does not hurt the game at all.

Bonus Question: Out of all the next gen games announced to come out before summer, which game do you think will sell the most?

Jeremy Thomas - It's gotta be Titanfall, Watch_Dogs or maybe LEGO The Hobbit. Of those three, I think the anticipation is greatest for Titanfall thanks to the beta building some real hype and it gettting the serious promotional rush, so I'm going to go with that even though I personally am most looking forward to Watch_Dogs. I think they will all be huge sucesses regardless.

Todd Vote - I'll go out on a limb and say Infamous: Second Son.

That wraps up this week's edition of Fact or Fiction. Jeremy and Sean went 5 for 6 falling one question short of a Perfect Score. This is the point where I generally promote 411 Game's official podcast. We are still going strong without Randle, and actually staying on topic a little more. Here is last week's show, and I hope you will join us for the live broadcast on the chat:



I hope everyone has a good week, and until next week, happy gaming.

comments powered by