SPOTLIGHTS
Four Player Co-op 2.26.14: Titanfall, Tony Hawk, Nintendo, More!
Posted by Stephen Randle on 02.26.2014

Is Titanfall our most anticipated game coming in March? Is resurrecting Tony Hawk a good idea? Are we glad that the Year of Luigi is finally over? The 411 staff debates these topics and more in the latest 4PC!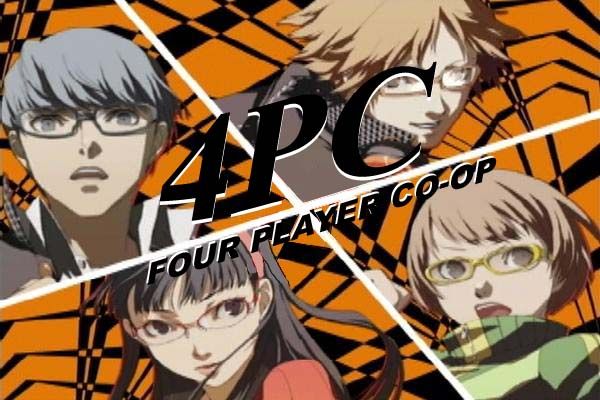 Mathew Sforcina has joined the game.
Todd Vote has joined the game.
Dan Watson has joined the game.
Jeremy Thomas has joined the game.



Quizmaster Greetings, and welcome to another edition of Four Player Co-op, the game where the dumbest video game news is given great importance and turned into a no holds barred struggle for useless points. It's the next best thing to the Roman Colisseum!

Start the game!


---


QUESTION ONE: Good news, everyone! New games are coming! Yes, after the post-launch holiday drought, finally, finally, we're about to get smacked in the face with a near-avalanche of top titles, including some for the new consoles! Here's just a taste of what's coming out in the next month or so: the Thief reboot, South Park: The Stick of Truth, inFamous: Second Son, Dark Souls 2, Metal Gear Solid: Ground Zeroes, and oh yeah, I almost forgot, there's also that Titanfall thing. Any upcoming releases tickling your fancy?

Mathew Sforcina - Nope. Hell, I only just got Dark Souls (PTD edition on 360), and I haven't touched it yet, still slogging through Batman: Arkham Origins. And once those are 'done', I'll be opening WWE 2K14 and then once I'm bored with that I'm heading back to Fallout: New Vegas because it's been far too long since I retried The Courier's Mile. Toss in the several games I've still got on the backlog (Hi Mass Effect!) AND all the free games I'm downloading from Gold that I've yet to touch, I could game for a solid year or so without problems. Of course, none of the new games coming out interesting me also help. South Park and Dark Souls 2 I'm waiting to see if it's good in South Park's case and if I like 1 in Dark Souls 2's case so yeah, I don't plan on spending much over the coming months. Which is good, since I'm broke as...

Todd Vote - The South Park game has my attention, believe it or not. I know it is an RPG, but it's South Park, that earns it a chance. I've never really been into the Thief franchise, and I don't have a PS4, so I can't get to excited about InFamous: Second Son.

Dan Watson - Titanfall is pretty solid. I've been playing the beta and have been thoroughly impressed. South Park could be a fun game to play for a while on the new console as well. I may pick up Metal Gear. Dead Souls was extremely tough and got old fast for me but who knows maybe I will give it another go. Other than that I'm pretty booked up on time right now.

Jeremy Thomas - There are a few in there I'm looking forward to. Primary among them is Titanfall. I have to admit, that surprised me because I'm not big on multiplayer and my interest in that game had taken a major hit when they revealed that there wouldn't be any single-player campaign. But having tried out the beta, I got hooked. The setting is bad-ass and the gameplay is a lot more fun than I was anticipating; there's a ton of enjoyment to be had in setting your Titan to Auto-Follow and then running around on foot killng people. The campaign will only add to the fun factor, I'm sure. I'm also interested in the South Park game, which looks like it captures the fun of the series nicely, and the Thief reboot because—well, because it's Thief. Those are the big ones for me.

Quizmaster - South Park looks like it takes the consensus, for 231 points, which makes sense because it's a last-gen game and I know at least two of our players don't have new consoles. Also it's South Park and somehow still popular, which explains why even Todd is interested in an upcoming RPG.


---


QUESTION TWO: More good news, everyone! The Tony Hawk franchise is alive again! Yes, Activision and Tony Hawk have found their way back together, and it looks like we'll be getting more games from the once-beloved skateboarding franchise, and by "once-beloved", I mean, "before they introduced a crappy skateboard peripheral and killed the series". The original trilogy of Tony Hawk still stands as a satisfying bunch of games, and Tony Hawk Underground was also pretty good, but do you have any interest in more Tony Hawk games?

Mathew Sforcina - Nope. I never played the original Tony Hawks, and while I did own and enjoy Underground (my Create-A-Skater was actually pretty good, I thought. I don't need sliders on every possible measurement, I just want the end result to not suck) the series as a whole hasn't exactly popped up on my radar. By all means I'm more than happy for the games to continue coming out, provided they are good/that people enjoy them, but I'm not desperate for their return nor boycotting anything out of anger. Most games produced don't interest me, but I do not begrudge their existence.

Todd Vote - Sure, as long as it is done more like the games of old or like the THUG series. I never got a chance to play either of the two games that came with the skateboard peripheral. to be perfectly honest, I never wanted to try either of those titles. There is a reason I am not a real life skateboarder. Mostly because I do not want a broken neck. So as long as they go back to the skateboarding games of old, I would be interested in what they can bring to the table.

Dan Watson - This excites me more than the list above. Tony Hawk games were a great break from shooters and Madden for me in high school. I'd love to see a return to how some of the older games played. Let's hope they get this right.

Jeremy Thomas - Couldn't care less. I was never a big fan of skateboarding games anyway because I don't and never have skateboarded. There were some interesting things that they did with it but it was just never my thing. That being said, I know that other people have interest in it so more power to them. I think reviving a franchise as dead as Tony Hawk was (is?) is a strange move, because that genre is very specialized. It would be like trying to throw out a new Rock Band or Guitar Hero—sure, some (including me) would be happy with that, but are the majority of gamers really going to care? I just don't see this as being a huge success.

Quizmaster - Hey, one out of four ain't bad for Tony, so Dan gets 538 points for being the sole survivor of the wave of destruction that was Tony Hawk Ride. My next question has to be: when does Activision try and revive Guitar Hero?


---


QUESTION THREE: Even more good news, everyone! Nintendo has officially announced that the dreaded Year of Luigi will finally come to an end as of March 18th! I don't know if they have a game to release that day to mark the event, but at least our long international nightmare is over. Yes, Nintendo really did give over nearly fifteen months of promotional power in order to put out a small handful (read: three) of Luigi-related games, while allowing Mario 3D World and Link Between Worlds to sneak onto shelves in the midst of the console release weekends. Seriously, has there ever been a less effective promotional campaign for anything related to video games?

Mathew Sforcina - Nope. Oh, wait, I mean Yes, Absolutely. I mean, this was just meaningless with no real outcome and, at worst, an additional pebble slipped in Nintendo's pocket while they were fitted with concrete shoes and tossed off the Jersey Boardwalk. I mean, in a genre with White Power billboards, distributing illegal weapons to journalists, advertising on gravestones, encouraging illegal behaviour and all sorts of ad campaigns that were offensive, crude or downright silly, the winner loser is still "John Romero's about to make you his bitch", thank you very much.

Todd Vote - Who? I kid, I kid. I see no problem with the year of Luigi. So they put out three games focused on Mario's brother. What was so bad about it? I tend not to pay attention to marketing that doesn't concern me, so I haven't really been keeping an eye on what Nintendo has been doing. What was so bad about the Year of Luigi?

Dan Watson - What calendar was Nintendo using? How does a year end after 15 months? This promotion really hurt Nintendo. No one gives a damn a bout Luigi. I would've rather seen a year of Yoshi or Wario with Wario unleashing "glitches" on the WiiU. Luigi is boring and brings nothing to the table. Just another failure from Nintendo.

Jeremy Thomas - I'm trying to think of a less effective promotional campaign but I really can't. The idea of devoting so much time to such a secondary character might have worked if you had several major related releases coming out—or hell, at least a few. And don't get me wrong, Luigi's a decent-enough dude. But selling other franchises short so you can try and launch a few Luigi games? That's some Square Enix Final Fantasy: The Spirits Within-level stupidity there. In fact I would list that one but they didn't really promote Spirits Within worth a crap because they knew by the time it came for marketing that it was going to bomb. Long story short: way to go, Nintendo. Enjoy your distant third-place in the console war.

Quizmaster - Ooh, Jeremy takes the Spirits Within low blow for 1842 points, but nice effort from Sforcina with the reference to Daikatana. If I'd had as much invested in first-person shooters from John Romero as I did in Final Fantasy, perhaps the roles could have been reversed.


---


QUESTION FOUR: And in the vein of a thousand monkeys eventually typing the complete works of Shakespeare, I give you Twitch Plays Pokemon, in which over 70,000 random people have spent over a week trying to play a streaming emulation of Pokemon Red by inputting commands in the chat simultaneously and letting the game respond to every single one in the order received. Even more incredibly, at the time I sent these questions out, they had actually succeeded at getting six gym badges! Any thoughts on this incredible...let's call it a social experiment?

Mathew Sforcina - Nope. Something on the internet that was very silly got popular and attracted attention. Stop the [CENSORED] presses.

Todd Vote - If I do not understand this at all, does it mean I am finally to old to be a gamer? Seriously, what is the point of this? What is the end game? What was the reason it was started? While you are answering all of that, just go ahead and get off my lawn too.

Dan Watson - That's crazy. Not a fan of Pokemon at all but that's a pretty impressive group that it brought together.

Jeremy Thomas - I think it went better than I expected it to. There are so many people out there who would try to screw with the whole thing that I thought it would just be flooded with making the game tank as much as possible for the lols. I think they should continue this trend with Facebook games somehow. See how badly they can destroy a game like Farmville by planting the worst crops ever (or whatever you do to tank that game), or even something like an MMO. Nothing like a healer rushing up to attack the instance boss with their puny weapon to make a PuG freak the hell out. (Also, I say this only because I don't play MMOs anymore and so it wouldn't piss me off.) Anarchy FTW!

Quizmaster - I think the real story is, 70,000 random people working at cross purposes still got farther in Pokemon than I ever did.


---


BONUS QUESTION: Are you kidding? Look at all the good news I already gave you! I've got a kid now, I don't have any more time, you'll have to fill this space on your own.

Mathew Sforcina - Nope. Not at all.

Todd Vote - I hate ice. and I hate falling on ice. Seriously, Spring can get here at any time. I've caused myself a great deal of pain by being as graceful as I am on the ice. It's taken me about 45 minutes to get these very brief answers typed for this week due to not being able to type much with my right arm. So be careful out there.

Dan Watson - Congrats to the Quizmaster on the Baby Quizmaster. I'm going back to sleep after working a never-ending schedule.

Jeremy Thomas - Let's take this opportunity bid a sad farewell to the Oculus Rift, which is suspending production this week due to parts shortage. Don't worry, Virtual Adepts…you will have your Reality 2.0 at some point, it's just not happening yet. (That's a White Wolf RPG reference. Yeah, I'm an uber-dork, I know.) And also, let's celebrate the return of Father Quizmaster, who has shown his supreme resilience and badassery in coming back so soon after having a kid! You're the best, Father Quizmaster. (No, I am not above pandering for a win. This is news to you people?)

---
HIGH SCORE
PLAYER 1 WINS
YOU HAVE TO RESPECT THE DEDICATION
TO NEGATIVITY.
COME BACK NEXT WEEK TO TRY AGAIN

411 on Twitter!
Quizmaster's Twitter
http://www.twitter/411mania
http://www.twitter.com/411games
http://www.twitter.com/411wrestling
http://www.twitter.com/411moviestv
http://www.twitter.com/411music
http://www.twitter.com/411mma
comments powered by