SPOTLIGHTS
Four Player Co-op 04.30.14: Star Wars, Uncharted 4, Resident Evil, More
Posted by Stephen Randle on 04.30.2014

Did Disney make the right move by declaring the Star Wars games like Knights of the Old Republic non-canon? Will the exodus from Naughty Dog affect the next Uncharted game? The 411 staff debates these topics and more!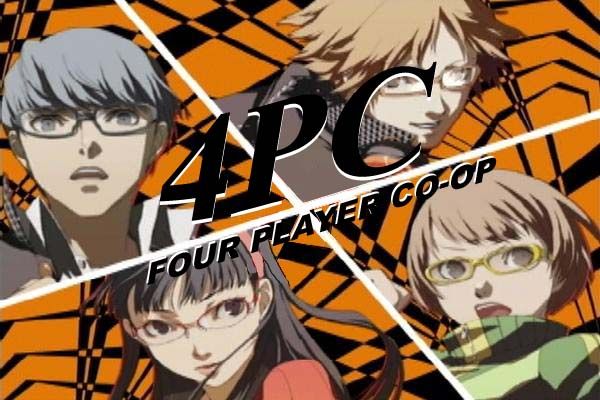 Sean Garmer has joined the game.
Todd Vote has joined the game.
Adam Larck has joined the game.



Quizmaster Greetings, and welcome to another edition of Four Player Co-op, the game that celebrates the beginning of spring by...doing exactly the same thing we do at the dawning of every other season. This is the Internet, not a golf course.

Start the game!


---


QUESTION ONE: We start with something that is not strictly related to video games, but what the hell, it's my column, I do what I want. Anyway, Disney has made it official, Star Wars fans, the existing Expanded Universe is no longer considered canon in any way, shape or form. The only canonical Star Wars material, as of right now, are the six movies and, for some reason, the animated Clone Wars television series. For gamers, this means that things like Knights of the Old Republic, the events of The Force Unleashed, and the greatest man who ever lived, Kyle Katarn, no longer exist in the history of Star Wars, and the only true canon will be any material that comes out in the future. I know we're not all massive Star Wars geeks (although I am), but are you a little bummed that so much material is being ignored as Disney moves forward with their shiny new toy?

Sean Garmer - I'm not the biggest Star Wars fan like my compatriot on Cooperative Multiplayer Robert Cooper is, sadly he couldn't be here to write about his disdain for this move by Disney. I can understand where Disney is coming from here though. They only want things to be canon that they are going to directly profit from or slap their logo on in the future. They see profit and dollar signs in attracting kids to Star Wars with the Clone Wars cartoon, so they make that canon. And there would be no Star Wars without the movies, so they have to accept those. However, the books, comics, and video games are not a big deal to them so they don't see the need to make them part of the canon. Disney had nothing to do with all those past video games and have even gone as far as licensing Star Wars games to EA. As a big Disney movie fan, this bothers me because this is basically Disney brainwashing future Star Wars fans into not liking anything that doesn't bear the Disney logo when it comes to Star Wars. I'm sure if it wasn't against the law, Disney would probably say that none of their animated films were inspired by actual books, plays, stories, or other works of art. As a person that likes to read lore books about my favorite video games, I like that one form of media can spawn a bunch of others and they can all be tied together into one universe. Disney has broken that for Star Wars fans and I feel their pain. 

Todd Vote - It doesn't bother me all that much. How often was the expanded universe recognized in the films anyways? Not to much, to my knowledge. This in no way means that the EU is going away, it just means business as usual, and the mouse-house can eliminate certain expectations from the new trilogy of films. Moving forward, this news doesn't mean that the expanded universe is lost forever, what's to stop them from reintroducing certain aspects of the EU back into the main canon. 

Adam Larck - I find this to be a bit of a surprise. You've had this universe being built for years now, and now most of the universe has been thrown out the window. Why not keep it and add to it? Think that would have been the best thing to do with the canon instead of making it just worthless after years of crafting.

Quizmaster - Everyone who tries to understand my feelings get 321 points. I'll just be over here in the corner, clutching my copy of the Thrawn trilogy and muttering dark threats against the Mouse.

---


QUESTION TWO: I don't know if you've noticed, but quite a few high profile people have left Naughty Dog, creators of the critically and financially acclaimed Uncharted and Last of Us franchises. In the last few weeks, head writer Amy Hennig, game director Justin Richmond, and now art director Nate Wells have all parted ways with the developer. In addition, the man who did the voiceover (and had a character in the game) for the Uncharted 4 teaser that was revealed a few months back has been telling people that his role was recast recently and he's also no longer working with Naughty Dog. It may all be a coincidence, but with this many top-tier employees leaving in such a short period of time, are you getting a little worried about what might be going on with Uncharted 4, and Naughty Dog in general?

Sean Garmer - As someone that just recently purchased a PS3 and is getting to enjoy the Uncharted series for the first time, I have to admit I am a little worried about what this means. If Naughty Dog simply wanted a fresh take on Nathan Drake heading into a new generation of consoles then that's fine. But the fact that these are all high profile names involved with the series has me wondering what this means for Uncharted. What does the Last of Us guys taking over creative duties on Uncharted say about the direction they are headed?  We don't know enough to really say much about this, but I do think this means the direction is unclear and that this game isn't going to be coming out anytime soon. I'd say Holiday 2015 at the supreme earliest. 

Todd Vote - People come and go in studios all the time. But, so many people leaving such a high profile studio and such a high profile project in seeming succession? That is probably reason for a bit of alarm. Why are they all leaving? What is going on within the studio that is causing such a shake up?

Adam Larck - The departures do help raise questions about what's going on at Naughty Dog. Are their conflicts between owners and directors, or are people just getting burnt out all at once? Either way, I think Naughty Dog will stick around, but the quality of upcoming titles may be a question mark.

Quizmaster - I think Sean brings up the most interesting point, for 1843 points. With that many people leaving, how long will it be before we get Uncharted 4? I'd be willing to bet he's probably got the right time frame of late 2015, if we're lucky.

---


QUESTION THREE: So, apparently there's someone who has developed a fan-made Sonic the Hedgehog game for the Oculus Rift. Watch the video below and see how long you can go before it makes you queasy (WARNING: You should probably avoid watching this video if you get motion sickness easily). Are you intrigued by the concept?



Sean Garmer - The video didn't make me queazy, but I can totally see a ton of people vomiting just watching this. I'll admit it is cool to be able to imagine yourself as Sonic doing all the running around, but I don't know that I would want to get this if I had an Oculus headset. I'm more of an old school guy with Sonic and I like seeing the character do all the running. 

Todd Vote - Okay, now I am a bit more interested in this. The concept seemed like it worked pretty well. I still just can't get past that visor though. Maybe it's just because all my friends are dicks, but I don't think I would be able to wear that while playing games, without someone doing something to me. But getting past that bit of paranoia, I can actually see how this could be a thing. Possibly even a fun thing. But remember, Facebook owns it now, so we will only see virtual farms and shit. I guess I will just continue to wait for that Holodeck

Adam Larck - The concept is interesting, but I don't think fast games are made for the Oculus. Sonic and other games that use motion blur and constant fast moving will probably never work on the Rift. That is, unless getting sick sounds fun to you.

Quizmaster - Adam's got a good point, for 2281 points, because even that demo doesn't truly have the speed factor of a traditional Sonic game, and I don't think you could do one without half the people playing it suffering motion sickness as a result. The Oculus has come leaps and bounds in VR tech, but I don't think we've hit that true 1:1 required for fully lifelike movement. It's nice to know we're in the ballpark, though.

---


QUESTION FOUR: And Capcom has announced that they will reveal Resident Evil 7 at E3 this year. Are there more games or movies in this franchise at this point? More importantly, do you care about Resident Evil at all anymore?

Sean Garmer - I still watch the movies when they come out for rental because I like them, but after Resident Evil 4 I stopped caring about Resident Evil the video game. I'm sure if they truly go back to their roots and take RE back to being a Survival Horror Game there could be more for the series. But if they continue down the action line I think diehard fans of RE will continue to diminish more and more. 

Todd Vote - I will always care and be interested in Resident Evil. I think that RE6 catches a lot of unnecessary flack. I actually enjoyed the game on several playthroughs. Admittedly, a return to the horror that made the franchise into the juggernaut it is today would be ideal, but I am also okay with the franchise continuing on as is. The movies have always been mindless fun for me (If you are looking for a lot of philosophy and meaning in a zombie flick, you are barking up the wrong tree). 

Adam Larck - I never have really been a fan of the Resident Evil series, so don't care much about it anyway. Given the trend of recent games, I'm sure a few will like it, but most will hate the changes and say it's a terrible game. That's how the last two titles have been, right?

Quizmaster - God, I gave up after Resident Evil 3: Nemesis and Resident Evil: Apocalypse, respectively, but somebody must be watching and playing these things for them to continue. Adam's probably the most right, but I worry about awarding him 4385 points to justify his cynicism.

---


BONUS QUESTION: We are more or less a quarter of the way through 2014. I know, where does the time go? Anyway, it's never too early to name some early contenders for Game of the Year, so has anything grabbed your attention so far this year?

Sean Garmer - Let's see, South Park:  Stick of Truth deserves a mention because of how great they brought the world together in a game and still made it feel like a really long episode of the show. Telltale continues to prove why they are the best at what they do with Wolf Among Us and Season 2 of Walking Dead. As far as RPG's go, Bravely Default is a lovely ode to the role-playing games of yesteryear. I'm still trying to get through the first Dark Souls, but I've heard great things about Dark Souls II. Then we get to Hearthstone. Hearthstone has really grabbed me and made me want to play at least two or three card battles a day, if not more, when I have free time. I've always been a fan of Yu-Gi-Oh and still play the video games, I even played Magic 2013 when it became Free for Gold, but there is something about Hearthstone that makes it a game I have to play everyday. Maybe it was how it eases you into everything and I didn't have to know a ton of rules to understand it. Perhaps it was that the game makes you feel as if you actually own all these cards and you can build decks while switching through pages, or that it's free to play and I've earned about 15 card packs just winning matches. Whatever it is, I'll just say I'll probably still be playing it in 2015. And Hearthstone has even made me go through and play other Blizzard Games like Warcraft II, Diablo, Diablo II, and Starcraft. Speaking of Diablo, the Reaper of Souls expansion has gotten me interested in seeing what all that fuss is about. Finally, I'm really hoping Child of Light turns out to be the masterpiece everyone keeps claiming it's supposed to be, because I'm really considering buying it on Day 1 when it comes out this week!

Todd Vote - Actually no, there really hasn't been much that has stood out to me this year. Trials Fusion is another awesome entry into that series, I suppose, but it is really just more of the same. Not necessarily a bad thing, but it isn't going to net any game of the year honors. 

Adam Larck - So far this year, I look for the early GOTY contenders to be Titanfall and Infamous: Second Son. Those games have given me a lot of entertainment and I keep coming back to them. Outside of that, I can't think of too much else right now.

Quizmaster - Normally I don't do this, but I just wanted to pop in and mention that the game we voted Game of the Year, Tomb Raider, had already been released by this time in 2013. Nothing against Titanfall or inFamous, but I don't see history repeating itself this year.

---
HIGH SCORE
PLAYER 2 WINS
MIGHT AS WELL GIVE HIM THIS ONE
BECAUSE IF HE VOTES FOR TRIALS: FUSION IN GOTY
HE'S GOING TO BE DISAPPOINTED
COME BACK NEXT WEEK TO TRY AGAIN

411 on Twitter!
Quizmaster's Twitter
http://www.twitter/411mania
http://www.twitter.com/411games
http://www.twitter.com/411wrestling
http://www.twitter.com/411moviestv
http://www.twitter.com/411music
http://www.twitter.com/411mma
comments powered by