E3 2014: Xbox Media Briefing Recap
Posted by Liana Kerzner on 06.10.2014

"Gamers are shaping the future of Xbox, and we are better for it." -- Find out what the new Xbox attitude means!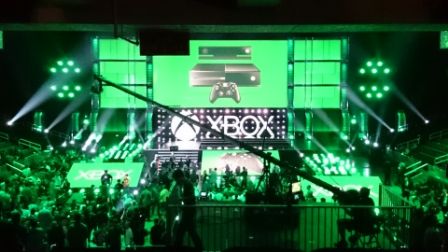 Xbox Never Apologizes, but this E3 2014 presser was as close as they're likely going to come. With a stripped down stage concept and minimal celebrity presence, this year, Xbox was really all about games.

Those games were a more eclectic mix than we're used to seeing from Xbox. Although Call of Duty got its traditional opening spot in the presentation.

Callof Duty: Advanced Warfare is starting to look... well, like Halo, with jet propelled jumps and power armor. The severed limb ending of the the wowed the crowd, however, so we'll call this a win for the CoD franchise and its first access add-on content for the Xbox One.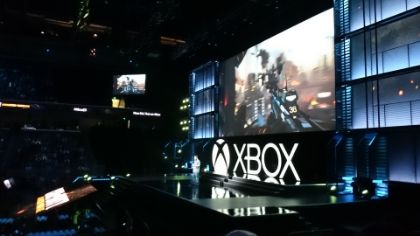 Before Call of Duty picked up the energy, the press conference was a game of buzzword bingo – as the Reddit Games guy sitting next to me called it -- full of sound and fury, signifying nothing. The production values on the pre-game show were terrible, complete with jump cuts and a wifi connection that didn't work worth a crap. Also, no woman who looks comparable to Major Nelson would ever be able to host an Xbox press conference. The most interesting part was the preview of a new snap function that has integrated achievements help.

Killer Instinct Season 2 got a trailer in, with a new character named T. J. Combo... who looks like a character from Mike Tyson's Punch Out coming out of retirement. That's not a bad thing. Just saying.

Forza, meanwhile, is, by far, the shiniest game franchise on any Xbox. They cleverly milk the "I want it now!" factor with a very cool track, Nurburgring, available today. Forza Horizon 2 was also announced, featuring day/night cycle and dynamic weather in 1080p.

Evolve, the newest coat of paint from the makers of Left 4 Dead, got a decent amount of time too. It looks like another game that will be great if you have three friends that aren't assholes. Hey, if it ain't broke, don't fix it.

There were a lot of third-party games with exclusive Xbox content included. I'll be brief about those games to spare my comments for my hands-on articles. Assassin's Creed: Unity looks like Assassin's Creed 2 with Assassin's Creed 4's sense of scope. Dragon Age Inquisition has definite Skyrim influences. Lara Croft: Rise of the Tomb Raider featured her in therapy, which was really weird. And The Witcher III looked like... the Witcher with a beard, more blood, and some refined inventory and skills management.

The highlight of the amateurish pre-game show was the arrival of the Sunset Overdrive bus, complete with smooshed mutant on the front grill. Of course, Sunset Overdrive promises to "change the rules of a traditional shooter", which is, by definition, impossible.




Xbox is putting a big push behind Sunset Overdrive. It's like a mashup of Ratchet and Clank and Dead Rising, with a side of "guys, don't take this stuff seriously.". Sunset Overdrive puts a twist on shooters by adding a 1960s Batman "Bam! Pow!" element, as well as a massive dose of self-awareness. But how does it play? Stay tuned for further updates.

Sunset Overdrive was followed by a hilarious Dead Rising 3 DLC trailer, where you can cosplay your favorite Capcom characters in honor of Capcom's 31st anniversary. It was a huge crowd pleaser. Next up was Harmonix, and its Fantasia title, as well as a download-only Dance Central game called Dance Central: Spotlight. I'll try to find out more info on both titles, because they seem to be the only game-focused reason to own a Kinect anymore. (Full disclosure: I love Dance Central. Dance Central and The Voice are the only two girly things I do.)

I was somewhat disappointed by my first look at Fable Legends, a multiplayer extension of the Fable franchise. Fable Legends had Lionhead's humor fully on display, although I doubt a lot of the RPG elements like owning houses and having families will carry over. The big innovation in Albion is the ability to play as the villian, which appears to be a variation on a tower defense type of gameplay that's going to require pretty quick reflexes. All of this is cool, but it remains to be seen how they get any sort of story into this sort of game. Equally odd was Project Spark, which I thought was made by the Disney Infinity people, because it's so much like Disney Infinity's Toy Box mode. But Conker is in it.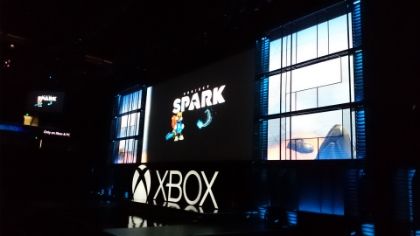 Another exclusive was Ori and the Blind Forest, which was like Limbo with a bigger budget.

And then we were on to Halo, but not the already-announced Halo 5. Instead, we're getting the Halo Master Chief edition, with Halo 1 – 4 – Including a remastered version of Halo 2 – and a live action Halo series featuring a new character. This greatest hits collection is going to sell, however, if only because it includes beta access to Halo 5: Guardians.




Then they got into the ID @ Xbox program, and buzzed through a bunch of indie titles which will be appearing on Xbox Live. The ID @ Xbox program will provide tools for indie developers to self-publish on Xbox Live, which I'd imagine has to have Steam somewhat worried. It's good to see Xbox finally taking steps to actively embrace indie games, since the XBL Marketplace was once a pivotal platform for games like Bastion.

Phantom Dust was announced as getting a reboot. A new exclusive fantasy IP called Scalebound was unveiled, and the conference closed with a super exciting trailer for a new Crackdown game.




And then we got t-shirts and were sent on our merry way.

First-party brand extensions were definitely the theme at this Microsoft conference, which is good, because it shows that they know that they're back to being "the other system", and are counting on people buying both the Xbox One and the Playstation 4 for the various exclusives. I like the kinder, gentler, more conciliatory Xbox attitude, and I'm now convinced that the Xbox One will have a respectable roster of games by holiday 2015.
comments powered by